CARVE HER NAME WITH PRIDE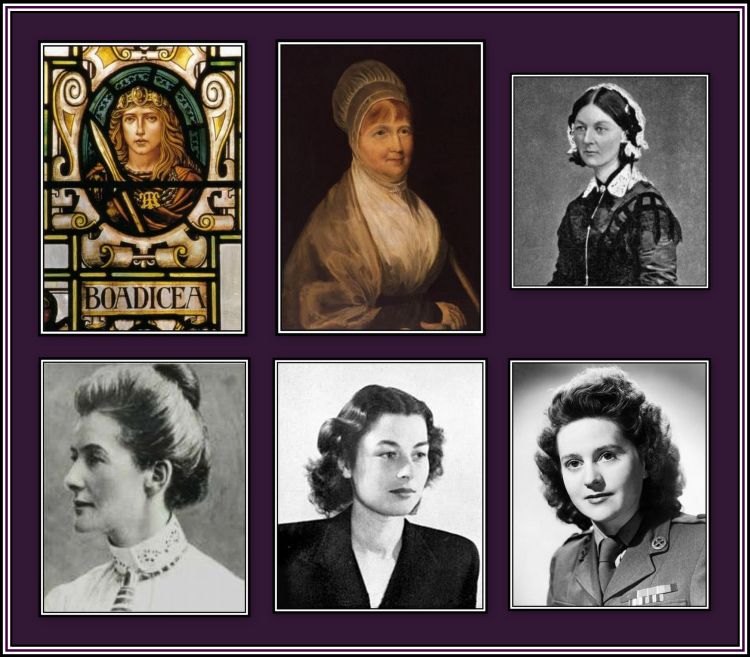 Top Row: Boadicea, Elizabeth Fry & Florence Nightingale
Bottom Row: Edith Cavell, Violette Szabo and Odette
INTRODUCTION
Something that is quickly apparent to anyone visiting London is the number of statues found around the city. These include statues to Queen Victoria, various kings, statesmen and military giants. There are also statues to religious leaders, scientists, engineers and a number of women. The first statue that I noticed as a child was that of Queen Boadicea at Westminster Bridge. I remember learning about her deeds and being impressed after hearing how she had ridden her chariot through the Roman ranks and mowed them down as she went! Later I learned of the dedication shown by a number of other women throughout British history. Each in their own way displayed remarkable dedication and a willingness to stand up for what they believed regardless of the danger that it often put them in.
I remember learning of Elizabeth Fry during History classes at school. I admire her for the efforts she made to reform prison conditions in the eighteenth century including the notorious Newgate Prison. As a child I remember passing the Old Bailey, which was built on the site of the prison and found the building formidable. I always hoped never to go inside and stand in the dock.
It was mother who first introduced me to Nurse Cavell and Florence Nightingale. I remember being taken to see Edith Cavell's statue and standing before it as mother told me of her bravery. I was very upset when I learned how she died.
Two other women that I admired were heroines of World War II. Violette Szabo and Odette Sansom performed remarkable feats of bravery while working behind enemy lines for the Special Operations Executive.
Click here to read about these two great women at my other website East End Memories
Over the years, my admiration for the women has not lessened. I continue to admire and appreciate their achievements and marvel at their tenacity and dedication, which few of us can ever hope to emulate and which led to some giving up their lives rather than renounce their beliefs.
——oooOOOooo——
——oooOOOooo——
NURSE EDITH CAVELL – WHEN PATRIOTISM IS NOT ENOUGH
——oooOOOooo——
FLORENCE NIGHTINGALE (to appear soon)
——oooOOOooo——
ELIZABETH FRY (to appear soon)
——oooOOOooo——
Click here to return to the TABLE OF CONTENTS
——oooOOOooo——