THE ODEON ISLEWORTH

DIDN'T THIS BUILDING USED TO BE A CINEMA?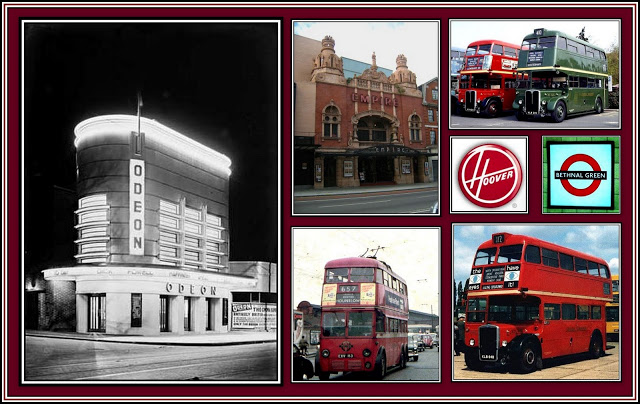 PART FOUR: WHAT A REMARKABLE ODEON THIS IS!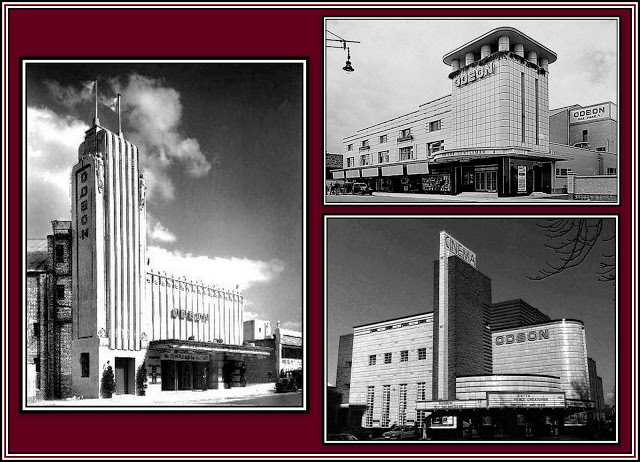 Didn't there used to be an Odeon here?
Left: Odeon Chingford; Upper Right: Odeon Bridgewater, Somerset; Upper Left: Odeon Harrogate
After leaving Isleworth Depot, I did not make my way back to Hounslow and then home, as I needed to see all of the trolleybuses that were in service that day and so see all of the vehicles operating at the depot. As I said, normally this would require waiting at the intersection where the various routes serviced by a depot, but in the case of Isleworth, there was only one route and so to see the remaining vehicles, all I needed to do was to choose a spot and wait until the task was done. However, instead of waiting in one spot, I decided that I would journey on one of the Rolls-Royce of Trolleybuses and see if they really were special.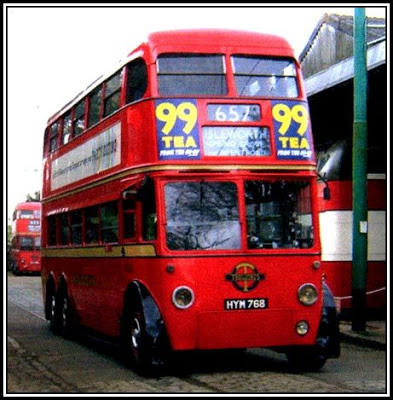 The Rolls Royce of Trolleybuses
The 657 route was between Hounslow to Shepherds Bush. Although this is not a great distance and the fare in today's money was almost nothing, being young and having little money, I had to be choosey on what I spent what I had. In order to save a few pennies, I decided to walk a little before getting on the bus. As I walked down the road, I took note of the trolleybuses passing me.
Scenes of Trolleybus Route 657



1. Hounslow Terminus; 2. The Bell, Hounslow; 3. Isleworth Station;
4. Busch Corner; 5. Stamford Brook; 6. Kew Bridge;
7. Turnham Green; 8. Chiswick; and 9. Shepherd's Bush
These photographs were taken by Geoff Bannister on 5th May, 1962.
At this time, the trolleybuses on Route 657 were no longer Class Q1,
as most had been withdrawn from series and exported to Spain.
The trolleybuses shown here are of the K Class (1100 and 1200 series)
except for photograph number 2, which is a Class Q1 trolleybus
that was evidently still in service at the time of photography.
As I made my way along the London Road, I came across the most amazing of buildings, which seemed to consist of a series of whirls. This remarkable of buildings turned out to be an Odeon cinema, but it was like nothing I had seen before and certainly nothing like other Odeons where I used to live. I remember that the Odeon was at the corner of the London Road and a side street and that the auditorium extended back along the side street. I cannot remember what was playing at the time, but I spent some time looking at the advertisements on either side of the façade. I do recall wanting to go inside, but my meager monies did not allow this. I promised myself to return soon and go in and see if the building was as remarkable inside as it was out.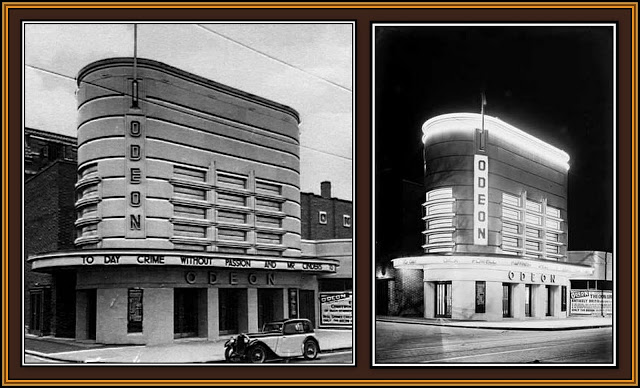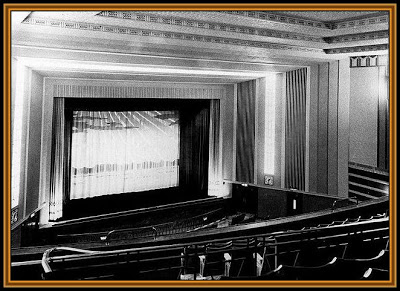 The Odeon Isleworth
Top: exterior by day and by night
Bottom: the auditorium
The Odeon Isleworth was designed in Bauhaus style by George Coles (1884-1963) and was remarkable for its streamlined curved entrance block. A number of years later I read that the external form of the cinema was said to resemble a 1930s-style radio set! The building was even more striking at night as a result of its illumination by a series of neon tube lights that were positioned horizontally across the façade. The interior décor was in the art deco style and although lacking excessive signs of ostentation was nonetheless appealing to the eye for its simplicity.
BAUHAUS
permeated all walks of life
architecture,
furniture,
graphic art,
theatre,
photography etc
This Odeon was the third cinema designed by George Coles for Oscar Deutsch owner of the Odeon Threatre Circuit.

Oscar Deutsch founder of the Odeon Theatre Circuit
ODEON ……. Oscar Deutsch Entertains Our Nation
George Coles also designed a number of other cinemas including the magnificent Gaumont State in Kilburn, the Carlton (ABC) in Islington, the Trocadero at the Elephant & Castle and the equally spectacular Troxy in Stepney. These were true picture palaces, and in my opinion, masterpieces.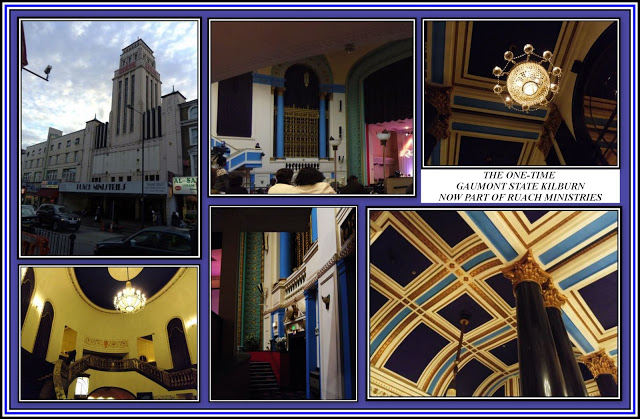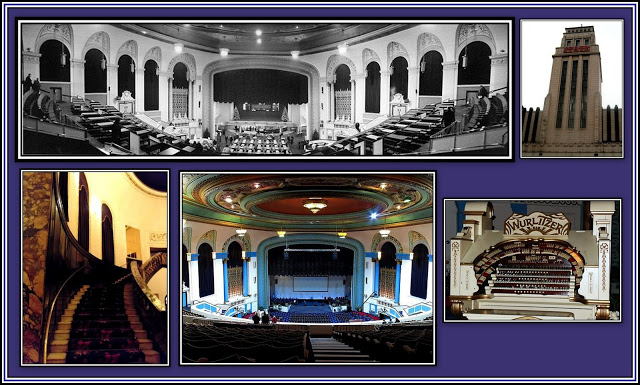 The Gaumont State opened on 20th December, 1937and was built for the Hyams Brothers by George Coles as a Gaumont Super Cinema. The Tower is 120 feet high and once housed a radio station. The cinema closed in 1980 and it became a MECCA Bingo Hall (although part of the building had been used for Bingo since 1960). The building was awarded Grade II Listing in 1980 and was sold to Ruach Ministries in 2007 and now serves
as a church.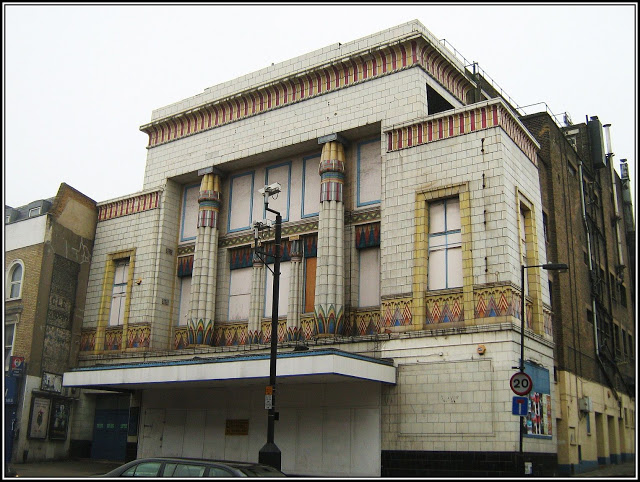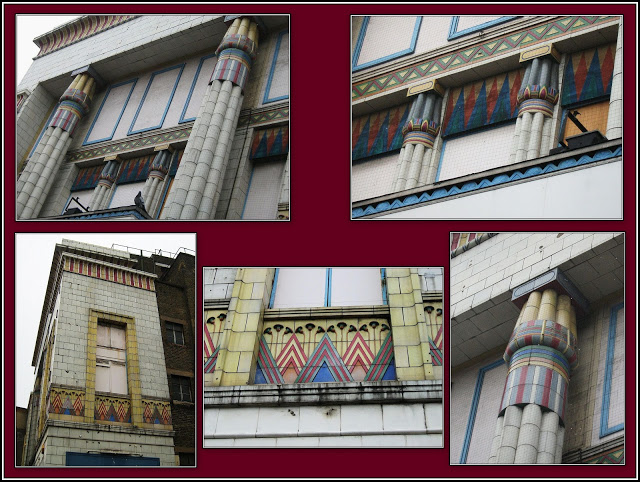 The Carlton Islington opened in September 1930 and has a remarkable Egyptian style facade with a foyer in Empire style and an auditorium in French Renaissance style. It was taken over by the Associated British Cinemas Limited in 1962, but closed in 1972 and became a MECCA Bingo Hall until 2007. It is a Grade II Listed building and is said to re-open soon as a church.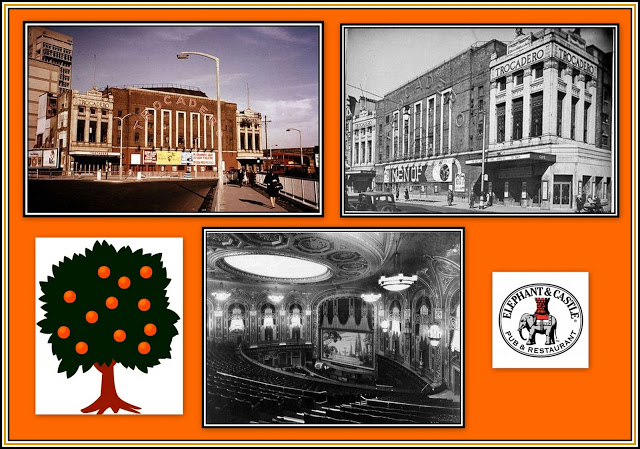 The Trocadero Cinema was built for the Hyams Brothers as a Gaumont Super Cinema by George Coles with the auditorium in Italian Renaissance style. The cinema opened in 1930 and was closed in 1960 and later demolished as part of the renewal plan for the area.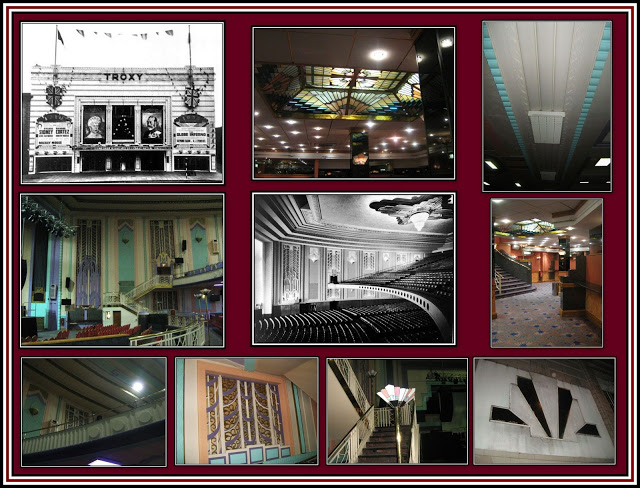 The Troxy Stepney – photograph taken by Martin Tapsell
The Troxy Stepney was designed by George Coles and opened in 1933 as a cinema and for live shows until 1960 when it closed. Between 1963 and 1977 it became the London Opera Centre where opera singers were trained in association with the Royal Opera House, Covent Garden. In the 1980s, the Troxy was taken over by MECCA and used as a Bingo Hall until 2005. It received a Grade II listing in 1990 and was purchased by Asburn Estates who after returning it to its former glory reopened it as a functions venue.
George Coles was involved in the design of eighty-six cinemas throughout Britain, many of which were Odeons. The Odeons cinemas were renown for their decorative Art Deco styling, which became known as the Odeon Style, and which was a direct result of George Coles' impute.
Some Cinemas that received the 'George Coles Touch'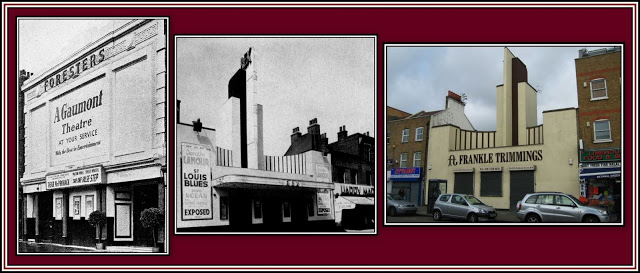 Left: The Foresters; Middle: The Rex, later Essoldo Bethnal Green; Right: The Essoldo today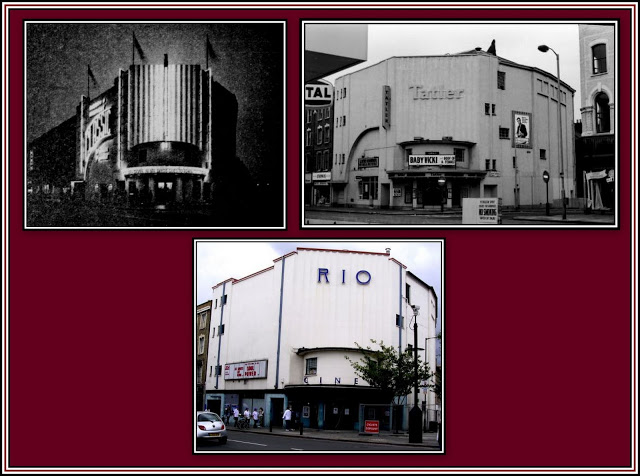 The one-time Classic, then Tatler and now Rio Dalston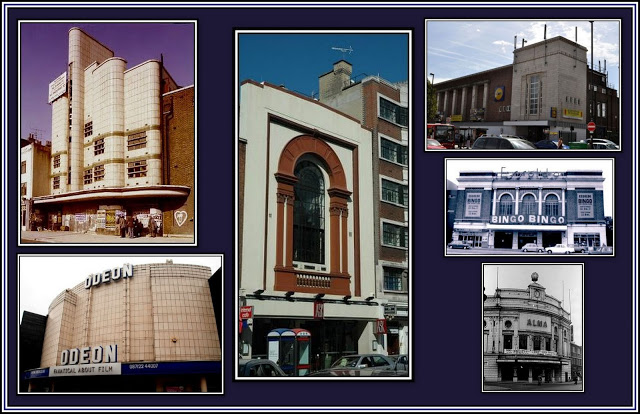 Right Upper: Odeon Deptford; Right Lower: Odeon Muswell Hill;
Middle: Metropole Victoria;
Left Upper: Odeon Southall; Middle: Essoldo Hayes;
Left Lower: Alma Luton
George Coles was also involved in the design of the People's Palace, now part of Queen Mary College (University of London), which I remember going to one Sunday evening with my parents when I was very young and seeing the film Gunga Din. I remember being very upset at the end of the film and had difficulty in not crying. George Coles did not only design cinemas and theatres, as he was also the architect of the British Home Stores on Rye Lane, Peckham, which has since become a Primark store.
The People's Place, Mile End Road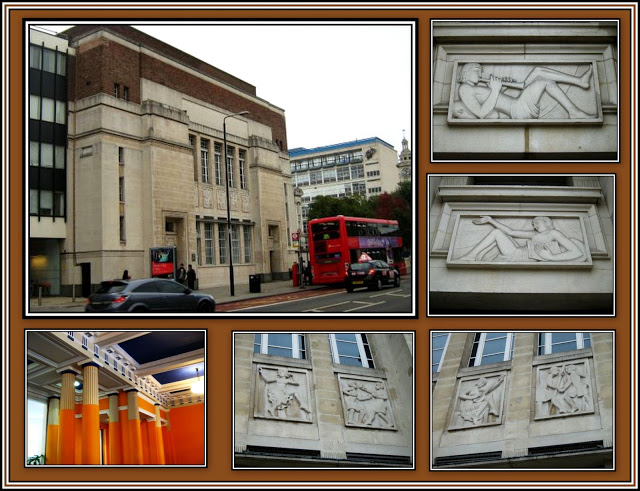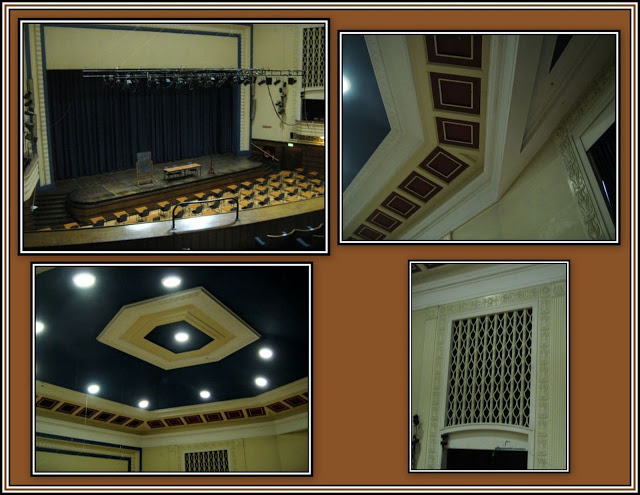 Today's People's Palace was built in 1936 with George Coles as architect. The exterior is in Portland stone with seven base-relief panels by Eric Gill. The auditorium was used as a cinema, live entertainment and for meetings.
It was closed to the public in 1954 and became part of Queen Mary College of the University of London.  In 2009, it became a Grade II listed building.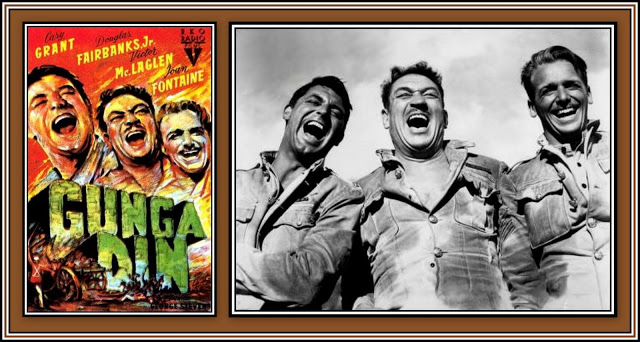 The only film I ever saw at the People's Palace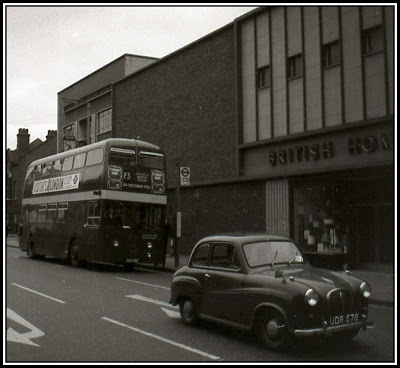 This photograph was taken by John King and shows part of the British Home Stores in Rye Lane, Peckham designed by George Coles. This now a Primark store.
——oooOOOooo——
The Odeon Isleworth opened on 20th March, 1935 with the film, Dandy Dick, with Will Hay and continued screening until 1957 when it closed as a result in the decline of cinemagoers. The cinema closed on 5th January, 1957 with a double feature of That Certain Feeling with Bob Hope and Eva Marie Saint and Gun Brothers with Buster Crabbe. Apparently with its closure, the building was sold and became a film studio. Of course I knew nothing of this and would have to wait a number of years before I would cross the path of the Odeon Isleworth once more and be made aware of what happened to it.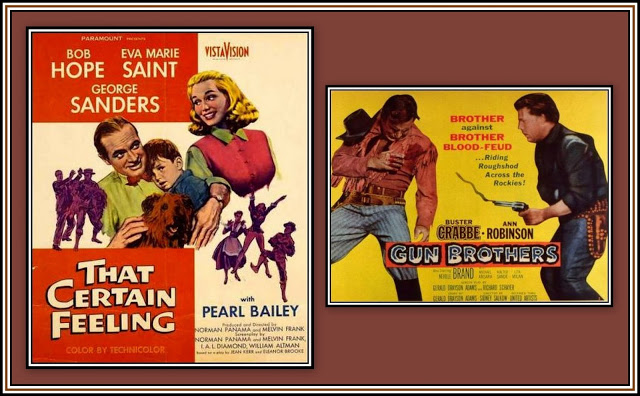 The last films shown at the Odeon Isleworth
After finding the remarkable Odeon Isleworth and studying its external form, I continued along the London Road and waited at the next bus stop for the next bus to come along. Not long afterwards, a 657 came majestically towards me and stopped. I got on the bus and made my way to the upper deck and sat on the driver's side and sat in the empty front seat so as to be able to see the registered numbers of the trolleybuses coming towards me with ease.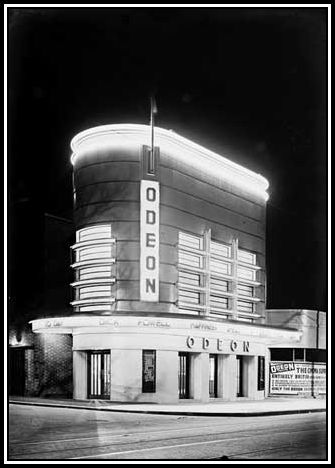 I remember enjoying my ride on that trolleybus and finding that it gave a smooth ride without jolts. The Q1 Class of trolleybuses was indeed special and in my humble opinion worthy of its name as The Rolls-Royce of trolleybuses. I also remember promising myself that I would come back to Isleworth in the very near future and go into the magnificent Odeon. After all, such an amazing building as this could not be ignored.
Sadly, I never did come back and go inside. Time passed and things happened and it would be a great number of years before I was to find myself in the area once more, as the reader will learn.
One important thing that came from this journey and the discovery of the Odeon Isleworth was that I never again just looked at a building.  And so began a lifelong interest in architecture with a particular emphasis on theatre and cinema.
——oooOOOooo——
Click here to go to
PART FIVE: THE ROAD TO RICHMOND – CROSSING THE RIVER
——oooOOOooo——
Click here to return to PART THREE: THE ROLLS-ROYCE OF TROLLEYBUSES
——oooOOOooo——
Click here to return to THE ODEON ISLEWORTH Home Page
——oooOOOooo——
Click here to return to the TABLE OF CONTENTS
——oooOOOooo——