THE ODEON ISLEWORTH
DIDN'T THIS BUILDING USED TO BE A CINEMA?
I never set out to find the Odeon Isleworth.  In fact in 1956, I did not know of the existence of Isleworth, let alone it was an Odeon, when I first came across it.  At that time, I was far more interested in Rock 'n' Roll, combing my hair into a quiff at the front for the benefit of attracting the girls and trolleybuses than cinema building architecture.  Soon after moving from the East End of London, I had set out on a journey to discover some of the trolleybuses of West London, and in doing so, found much, much more.

Interests: Getting that right look, Girls & Rock 'n' Roll
PART ONE: THE TROLLEYBUS & THE DEFINITION OF AN ICON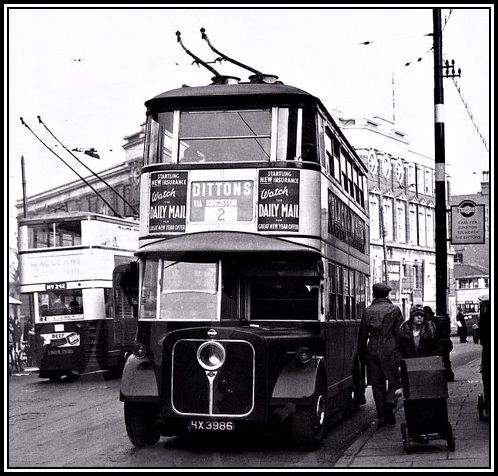 LONDON'S FIRST TROLLEYBUSES – CLASS A2
Copyright AEC
Permission given by Old Bus Photos
The London red double-decker bus is iconic. Everyone knows what it looks like and everyone knows where it comes from. A retired bus is practically de rigueur at most tourist sites around the world. Here the bus, now generally roofless, is constantly ready to ferry visitors around for a quick tour of a specific place. Of course, as long as the bus is a double-decker and bright red, it passes as the quintessential London bus. But to those who grew up knowing the range of the London Transport fleet of buses, not all red double-decker buses are what we would call the true London bus!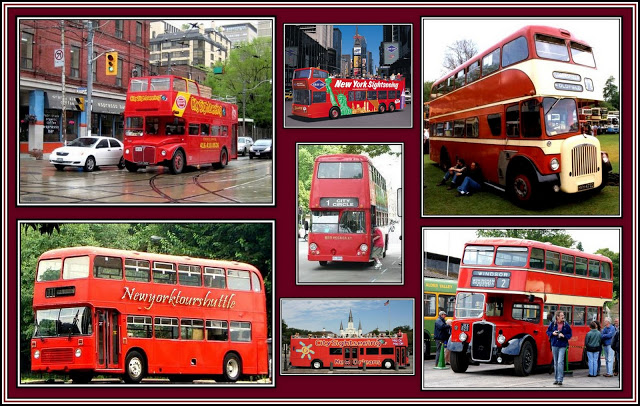 Not every red double decker bus is a London Bus!
Only the one in the Left Upper corner is.
This is RM 2210 photographed at Dundas Square, Toronto in May 2011 by
Geoff Bannister
——oooOOOooo——
In November 1956, we moved from Bethnal Green to Langley, which was in Buckinghamshire at the time. I was none too pleased at leaving London, but had little say in the matter. Once I was uprooted, I had a choice: either spend the rest of my years sulking and grumbling or find some advantages associated with the move. And at first it was my interest in London buses that came to my aid.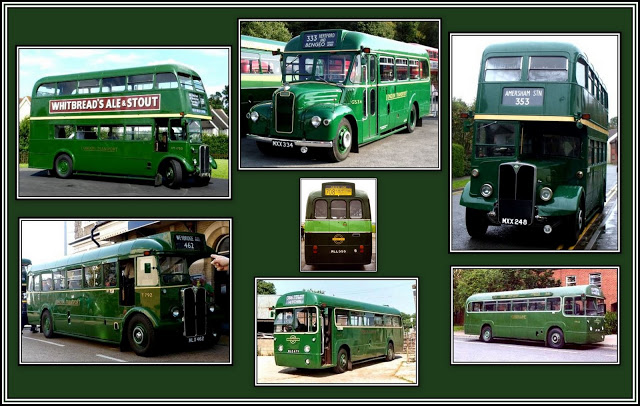 London Country Buses of the 1950s
In 1956, I was very interested in the London Bus Fleet and especially in its trolleybuses. I have been brought up with trolleybuses and lived with their rumbling by my front door. I have seen their poles spring off the overhead wire when the driver took his turn at Mile End Gate a little quickly and watched them come careering towards me as I stood at the window above the Pie 'n' Mash shop only to see it spring back just seconds away from smashing into our home and showering me with broken glass.
Of all the double-decker buses present in the fleet, I found the London trolleybus to be especially majestic particularly and far superior to all other buses. The trolleybus was an electric bus, which captured power from overhead wires via two long poles. It was introduced in 1882 in Germany and was soon found throughout Europe, however the first British trolleybus did not enter service until 1911 in Bradford and Leeds.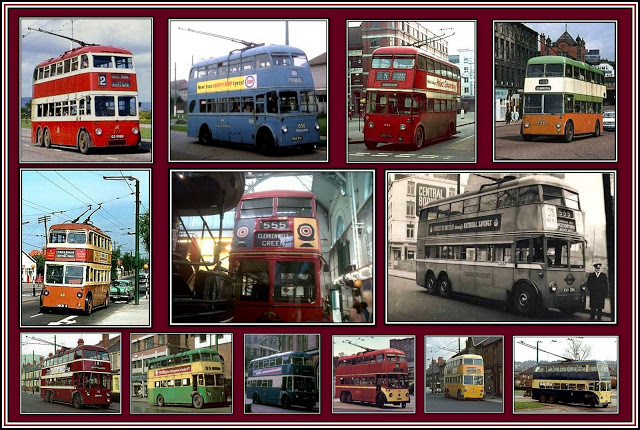 British Trolley Buses
Top Row, left to right: Belfast, Walsall, Manchester and Glasgow
Middle Row, left to right: Maidstone and London;
Bottom Row, left to right: Reading, Wolverhampton, Bradford, Huddersfield,
Newcastle-on-Tyne and Rotherham.
Watch ONE HUNDRED YEARS OF BRITISH BUSES AND TROLLEYBUSES, Part 3
for more on the history.
London's first sixty trolleybuses were operated by London United Tramways and came into regular service on 16th May, 1931 and serviced the Kingston, Teddington, Surbiton and Wimbledon areas until 1952. They resembled the motor bus and unlike later trolleybuses were built with a halfcab. Although they were housed at Fulwell Depot throughout their service, several were loaned to Bexley Depot for training purposes prior to that depot's conversion to the trolleybus. The first sixty trolleybuses were of the A Class with numbers 1-35 belonging to Class A1 and numbers 36-60 to Class A2. The subclasses apparently differed in electrical equipment.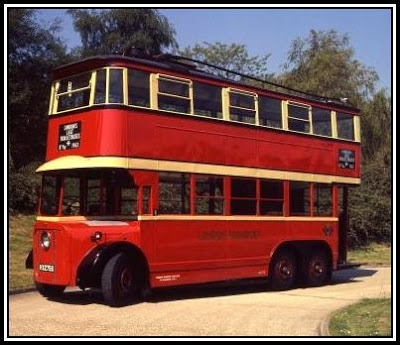 Diddler – Class A1 Trolleybus – No. 1
This name Diddler was not used by the general public,
but was one employed by the staff using them.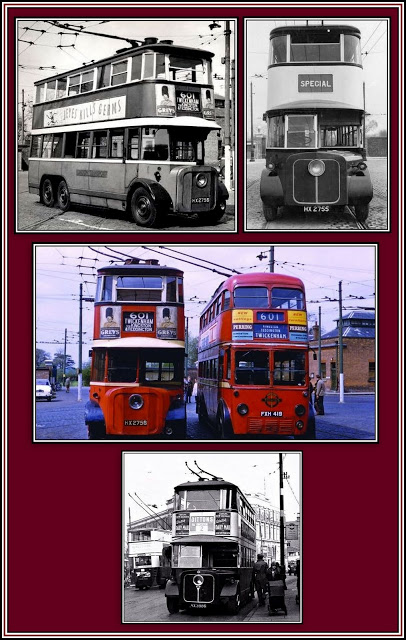 With the passage of the London Passenger Transport Act in 1933 came the proposal to replace all of London's trams with trolleybuses. Replacement began with the routes north of the Thames, but was halted at the outbreak of the Second World War. Following the war, those routes still serviced by trams south of the river and the Kingsway Subway were replaced by diesel buses and not by the trolleybus. Unfortunately by 1948, the London trolleybus had fallen out-of-favour.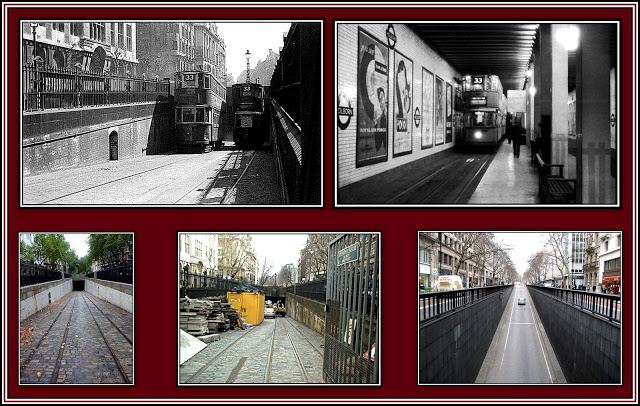 The Kingsway Subway
Opened as a Tramway (top right and left) in 1906 and closed
once trams (routes 33 and 35) were withdrawn from service on 5th April, 1952.
The Subway was subsequently used for the storage of a variety of commodities including buses.
In 1964 part of the southern end opened as the Strand Underpass (bottom right) while
the southern end between the Strand Underpass and the Embankment has been
converted in a restaurant-cum-bar.
In the 1950s, operating electric trolley buses was found to be no cheaper than using diesel buses. Unfortunately their environmental benefits had not been fully appreciated and by 1954 it was decided that all trolleybuses should be replaced with London Transport's newest diesel bus, the Routemaster (RM), and that the entire trolleybus network once the largest in the world should be scrapped by 1971. In hindsight, this move would seem somewhat unfortunate especially in light of our greater consciousness of changes to the environment and the burden of an ever increasing cost of diesel.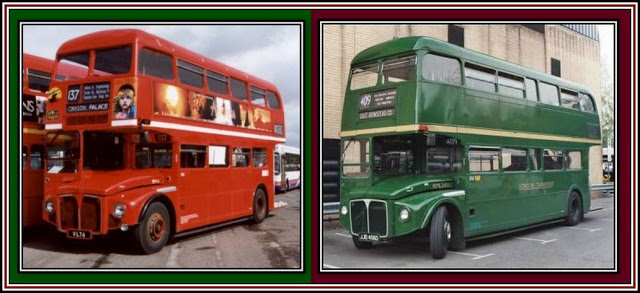 The Routemaster in red and green livery
My father had been similarly affected when the last tram ran and came to the end of its journey at New Cross Depot in the early hours of 6th July, 1952. My father had been born in Dulwich in South London and raised in Camberwell and had been surrounded by trams for most of his early life. He found these lumbering beasts to be as appealing as I found the trolleybus. He used to tell us of the times he went to the cinema at the Elephant & Castle, which was once a vibrant area and known as the Piccadilly of South London, and how it was once a great crossroads of tram routes. He used to enjoy watching the tram conductors flip switches back and forth to allow their tram to cross the intersection or else twist and turn around a corner and speed off to another part of the city.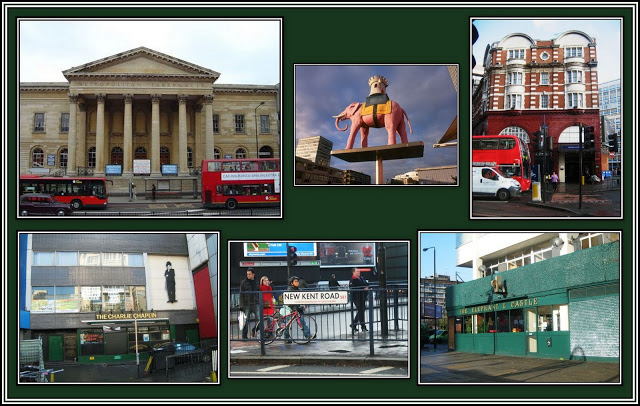 The Elephant & Castle
Top left: the Metropolitan Tabernacle where Charles Haddon Spurgeon was pastor from 1854 until 1892. The Tabernacle was destroyed in 1892 leaving only the portico and again in 1941 as a result of bombing during the Second World War.
Top middle: Elephant & Castle statue; Top right: underground station entrance;
Bottom left and right: public houses of the area;
and Bottom middle: street sign.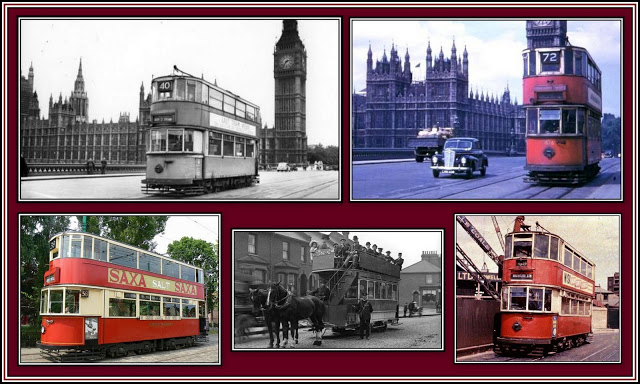 London Trams
Horse drawn trams were introduced into London in 1860 and ran
along Victoria Street, Westminster.
When steam-powered trams (1873) were introduced, they
performed badly and were soon withdrawn.
Other trams powered by compressed air and cable were tried,
but it was not until after the storage battery was invented that an
electric train was tested on London streets (1883).
The first fully operational electric tram service with power
delivered from overhead wires went into service
in London in 1901.
When I was a child, my father enjoyed going South of the River to revisit his old haunts. I remember him proudly showing my mother and me the magnificent Trocadero, the huge picture palace with huge orange and green neon lights that sat on the corner of New Kent Road and talked equally proudly of its Mighty Wurlitzer organ and of the remarkable sounds that it produced. He also enjoyed revisiting the public house, the Elephant & Castle, and later would relive his playing of the piano there and having the whole clientele sing along as he did. And he would also talk of the Old Kent Road and of Charlie Chaplin who was born and lived in the area until he left for America and fame and fortune.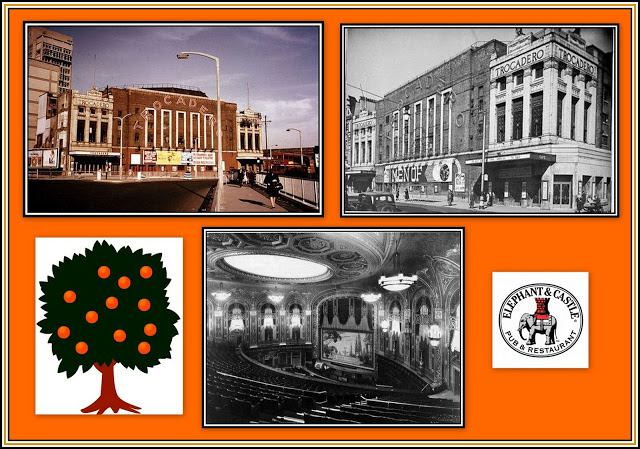 The Trocadero, New Kent Road, Elephant & Castle was opened in 1930 and demolished in 1966.The cinema housed the largest Wurlitzer organ in Europe, which is to be installed at the magnificently restored Troxy, Stepney.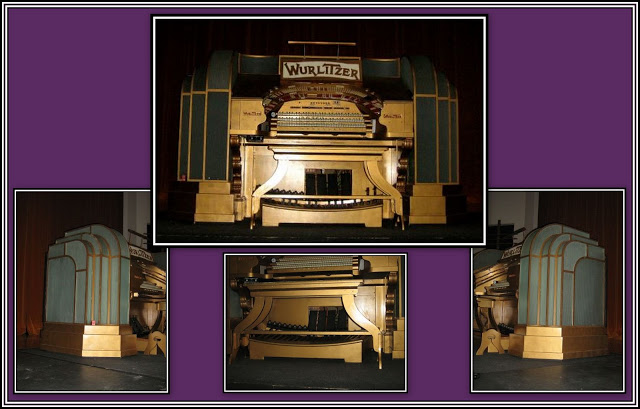 The Mighty Wurlitzer Organ at the Musical Museum at Kew Bridge.
The organ was built in 1929 and installed at the Regal, Kingston in 1932.
Click here to listen to the Mighty Wurlitzer.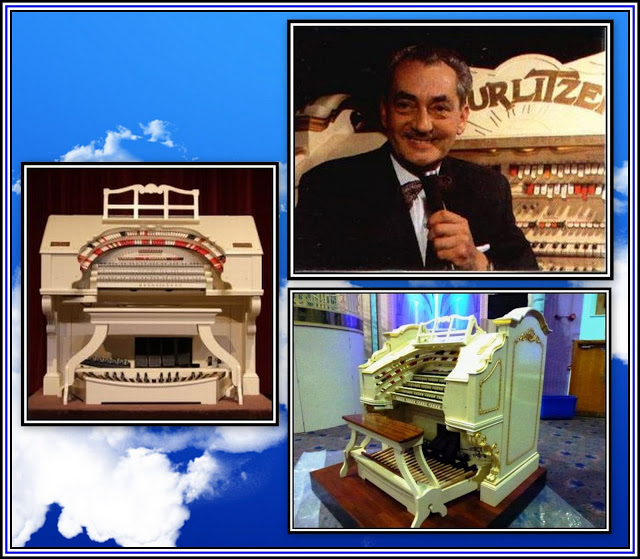 Reginald Dixon (1904-1985), British theatre organist
He was primarily known for his position as organist at the Tower Ballroom, Blackpool,
a position he held from March 1930 until March 1970.
For additional SINGALONGS, click here and here!
Coming from the East End, I was not especially impressed with my father's London, I regret to say. I liked the lights of the Trocadero, but little else. I remember the Elephant & Castle in those days. It was filled with life and noise. I recall the hustle and bustle of the crowds of people coming and going and of the clattering and clamouring of the trams. I never warmed to trams. They were like huge cumbersome monsters and I found them intimidating. I used to watch them lumber across the intersection and disliked the occasional spark that exploded as the tram pole crossed the points. My father loved seeing this and stood as if mesmerized while I wanted to move on!

Today, I regret my lack of enthusiasm!
I remember that on an occasional Thursday evening, my father would persuade my mother to foregoe going to the cinema or the Hackney Empire to take a number 25 bus from Mile End Gate to Holborn. Here we caught a number 33 tram and traveled through the Kingsway Subway. I always felt as we were being swallowed whole when the tram made its way down the incline and into the Subway. I did not enjoy this ride as the lights in the tram were constantly going out and leaving us underground in the dark for what seemed to be an age. The tram was very noisy and the ride was far from smooth. My father always stood during the journey despite there being seats available. He peered around the tram and read the advertisements placed above the windows and often laughed at the amusing ones. Occasionally he would leave my mother and me and run upstairs to smoke. He was obviously having a great time! I was always happy when we came out of the tunnel and onto the Embankment.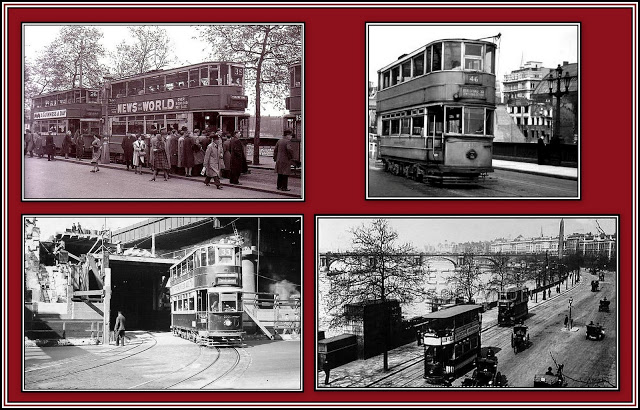 Trams at the Embankment
I am grateful to Leonard Bentley for allowing the photograph (bottom left) of a tram leaving the Kingsway Tunnel showing the demolition of the old Waterloo Bridge to be reproduced here
Of course, I would love more than anything to go back and relive those rides once again. I would make every effort to enjoy the ride and share the joy that my father obviously was experiencing. But, alas …..!
——oooOOOooo——
Withdrawal of the trolleybus began on 4th March, 1959 when routes 654, 696 and 698 were replaced with RT buses. The second stage began in April 1959 and involved routes at the Clapton and Lea Bridge Trolleybus Depots, again with RT buses. Following these two stages, it was planned that all trolleybuses would be replaced by the Routemaster (RM). There were a total of 13 stages to the withdrawal and it was to occur in the reverse order of their introduction i.e. eastern routes first followed by those serving West London.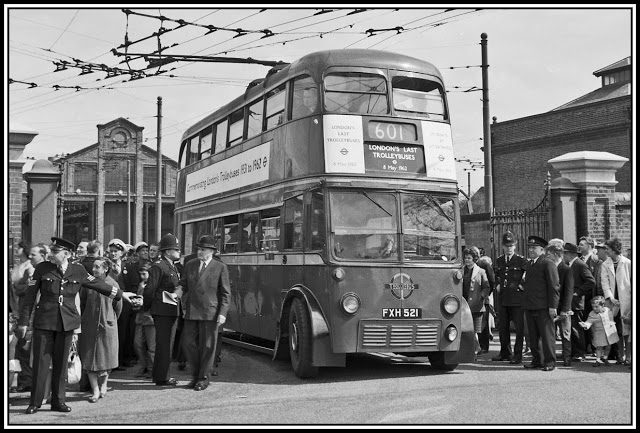 Class L3 Trolleybus No. 1521 at Fulwell Depot on 8th May, 1962
The last 653 trolleybus servicing the route between Aldgate Bus Terminus and Tottenham Court Road ran on 31st January, 1961. The withdrawal was part of the Trolleybus Conversion Stage 4 and the trolleybus route that I had taken when I first went to school became the 253. Apparently overnight and in what must have seemed like the blinking of an eye, the overhead wires were removed and all other evidence of the trolleybus disappeared! The RM buses that serviced the 253 route were housed at the one-time Edmonton and Highgate Trolleybus Depots, whereas the 653 trolleybuses had been maintained at Highgate Depot only. Geoff Bannister has informed me that once the trolleybuses were withdrawn from service, their depots became known as garages. I am grateful to him for sending me this information.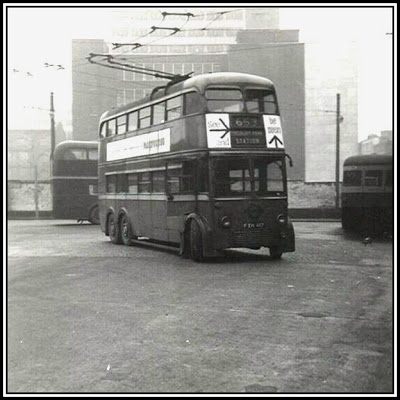 Class L3 Trolleybus No. 1417 at Aldgate Terminus
The 555 that travelled along the Hackney Road to Old Street, Clerkenwell and to my secondary school before rumbling on to Red Lion Square, Bloomsbury was withdrawn from service on 14th April, 1959 as part of the Trolleybus Conversion Stage 2 and replaced by route 170 using RTL buses based at Wandsworth and Clapton Garages.
Class K2 Trolleybus No. 1253 at the London Transport Museum
The last trolleybus ran in London on 8th May, 1962, which was earlier than planned since London Transport had decided to accept an offer from a Spanish consortium and sell those buses introduced in 1948. It was a bitter pill to swallow, especially when at one time there had been 68 routes served by a total of 1,811 trolleybuses, which had made it the largest such system in the world.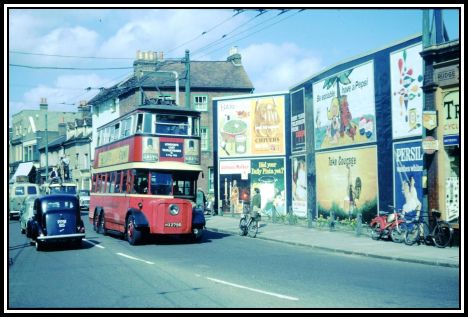 The Last Day – Diddler, Trolleybus No. 1, was brought out of retirement and
traveled its old route one final time.
As I was saying, in 1956 when we moved out of London and the trolleybus was still in service and there were 1,584 still in operation. The original 60 trolleybuses had been replaced and 16 had been totally destroyed during the Second World War. There were others that were damaged during The Blitz and also withdrawn.
——oooOOOooo——
One good thing about our move was that it allowed me to check out the trolleybuses speeding through the streets from their depots at Isleworth (closed 8th May, 1962), Fulwell (converted into a bus garage; currently the Head Office of London United Busways) and Hanwell (converted into a bus garage; closed in 1993). The reader needs to be aware that at this time, the average person did not travel across London to other boroughs unless visiting a relative or moving home. And since I had no relatives in West London, these areas were unchartered country to me and were thought of as romantic and interesting places.
After a few months of living in Langley, I was ready for a dose of London, albeit the west of London. And so on a Saturday morning in early 1957, I took the 81 bus to Hounslow, which at that time was serviced by perhaps the best of London's diesel buses, the RT. Prior to the introduction of the Routemaster, the RT was the standard London Transport bus. And to my way of thinking, this bus signified perfection in design and deserving of the term icon and as being thought of as the archetypical London bus.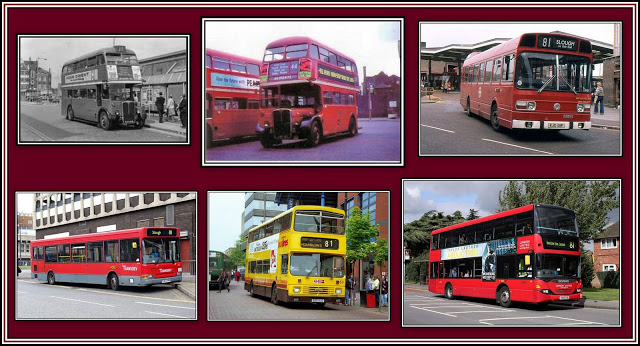 Various Bus Types used to service Route 81
including several types of RT (top left and top middle)
The first RT was built for London Transport in 1938 by the Associated Equipment Company (AEC) and for those technically minded, was fitted with an 8.8-litre engine until the new 9.6-litre version became available together with an air-operated pre-selective gearbox, which was made by Bosch and requiring the company to find a British equivalent once the Second World War broke out. A total of 151 of these buses, A.E.C. Regent, Model 0661, were built. Eventually, the AEC Regent III RT was built in 1939 and became the standard red bus in London during the 1950s. A total of 4,825 buses were produced, but were not all in service at the same time and many were in green livery and used on the London Country Bus Routes. There were some variation in the chassis of the early buses compared to the later ones; most notable was the position of route indictors at the junctions of the front and rear with the roof of the older models. All of London's buses underwent periodic full service, which being fully stripped down and rebuilt every five years, at Aldenham Works, which handled the maintenance and repairs of 50 buses each week and operated from 1956 to 1986. The RT remained in service on London streets until 1979. This bus, to my way of thinking, is the best looking bus every made!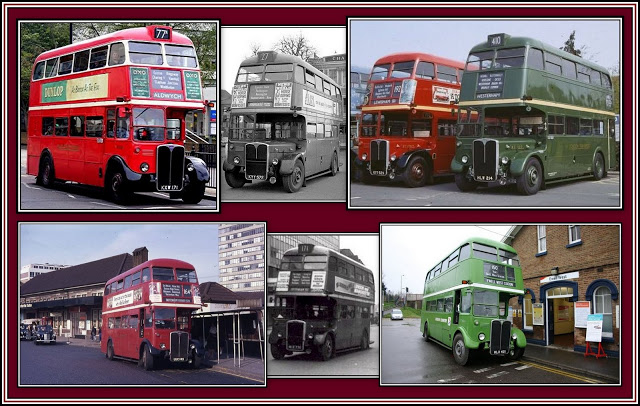 RT Buses
A.E.C. Regent (Model 0661) and A.E.C. Regent III (Model 0961) in red and green livery
(Bottom middle is in fact an RTL)
There were several variants in operation at the same time as the RT: the Leyland Titan RTL, easily recognised by the presence of the classic Leyland radiator and the RTW, which unlike the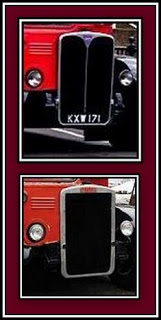 RT that was 7 feet 6 inches wide, was 8 feet in width. A third variant was the Regent Low Height, RLH, which was a version of about one foot shorter in height and used on services between 1950 and 1971 in central and country areas where low railway bridges precluded the use of the RT. RTLs were in service from 1948 to 1979, RTWs from 1949 to 1966 and RLHs from 1950 to 1971.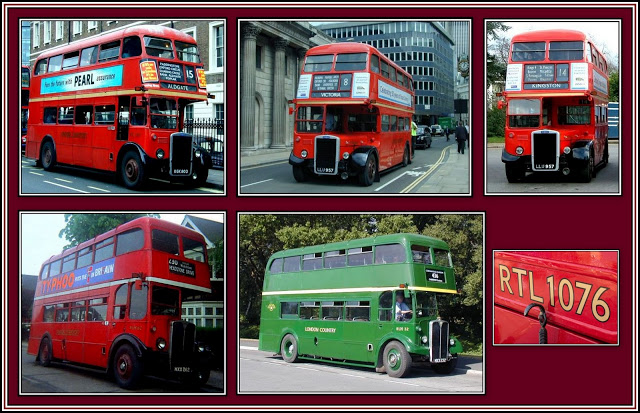 RTL, RTW and RLH Buses
Top Left: RTL 129; Top Middle and Right: RTW 467; Bottom Left: RLH 62;
and Bottom Middle: RLH 32.
There were 1,631 RTLs (Leyland PD2/1 Titan), 500 RTWs (Leyland PD2/3 Titan) produced.
A total of 76 RLHs in two batches were produced,
the first of 20 (A.E.C. Regent Mark III, Model 9612E)
and the second of 56 (A.E.C. Regent Mark III, Model 9613 E) buses respectively.
In 1954, the Routemaster, RM, prototype was introduced at the British Motor Show at Earls Court. It was built by AEC and Park Royal Vehicles and a total of 2,876 were eventually produced. The first RM entered service in 1956 and the last in 1968. Again, for the technically minded reader, the RM was almost one ton lighter than the RT thanks to its innovative design, which used techniques developed by the aircraft industry and lightweight aluminum and was the first bus to have independent front suspension, power steering, a fully automatic gearbox and power-hydraulic braking. The original intention was to introduce this bus as a replacement for London's Trolleybuses and later for the older RTs.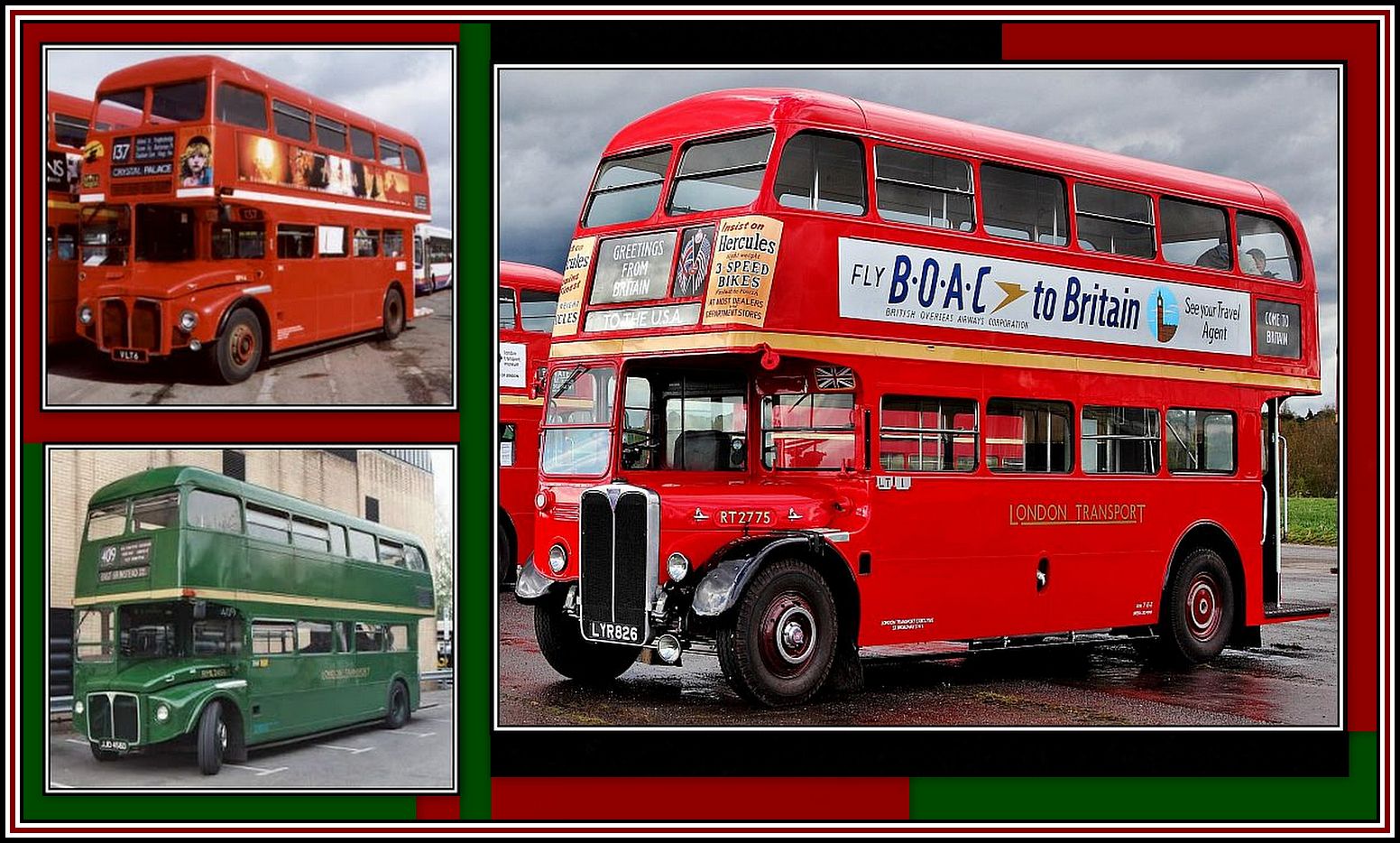 Since I liked the trolleybus, I fear I did not warm to the RM and felt insulted whenever I saw retired examples in various parts of the world being referred to as The Iconic London Double-Decker Bus. This title I feel should be reserved for the RT!  In my opinion, the RT is a beautifully designed bus – no other diesel or petrol bus came close to matching its sleek grace of line.
The RM was officially withdrawn from London bus service on 9th December, 2005, however there are two services in Central London referred to as Heritage Routes (routes 9 and 15) maintained to delight visitors, and I hasten to add, ME!  Yes, even me!
Despite my initial dislike of the RM, the numerous buses that followed and formed part of the London Transport bus fleet caused me to rethink my position and conclude that the devil I knew was far better than the ones to come! I have to give the RM its full credit, as it gave good service for fifty years.  I also have to add that although NOT an RT, it none the less had a certain sleekness of line that I slowly discovered which has proven reasonably pleasing on the eye!
Click here to watch The Routemaster Bus, Part 1, Part 2 and Part 3.
Articulated buses were not allowed on British roads until 1980 when buses built by Leyland-DAB were introduced to Sheffield. They were soon withdrawn, as they were costly to maintain. Articulated buses built by Mercedes-Benz Citaro were to replace the RM in London, but have proven to be unpopular and also allow an increase in the number of free rides, as these buses easily allow a traveler to hop on and hop off via the central doors without the driver seeing. Apparently these buses were withdrawn from London in 10th December 2011, I am happy to say with the final journey taking place on route 207.

London Bendy Bus
This bus was produced by Mercedes-Benz Citaro
The first time I rode on a Bendy Bus was in 1972 on a visit to Budapest. I remember getting on the bus and not finding any where to buy a ticket. I also got the impression that those joining on my journey were not paying their fare. As a result I went on to travel all over the city without once paying. To my credit, before leaving the city I gave some money to a charity in recognition of this treat.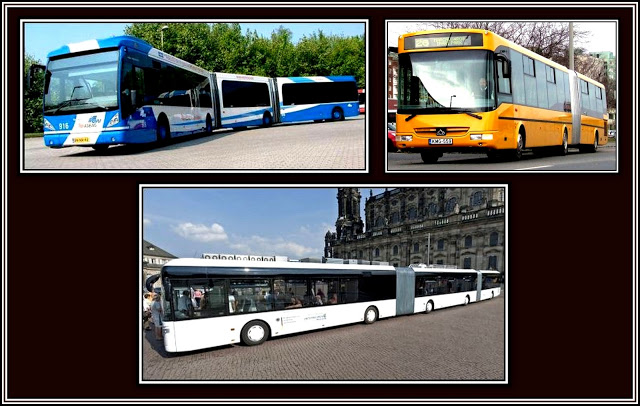 European Bendy Buses
Those I traveled on in Budapest were much older than these and probably had a poorer suspension.
During a visit to London a few years back, I had to travel between Stratford and Central London several times on a 25 Bendy Bus. As there were few seats, I had to stand throughout my whole journey. When I arrived at my destination, I felt nauseous from the constant stopping-and-starting and jolting I was forced to endure and from being flung about the bus since the momentum generated was such that attempts to maintain oneself in an upright position were next to impossible. Tragically there is only one bus route between Stratford and Central London today, the 25, whereas when I was a child, there were several. Were those routes still in operation today, I might have avoided such indignities and the insults inflicted by the controversial Bendy Bus!
Paris has also succumbed to the Bendy Bus however Parisians seem content with them more than did Londoners. Mind you, when I look at the huge number of steps that have to be tackled at some of the Metro Stations, I have to confess that given the choice between going down steep flights of stairs only to climb up others immediately afterwards and journeying on a Bendy Bus, I found the vomit-inducing bus slightly more preferable, but as the French say, in reality, c'est kif kif bourricot, meaning, it's the same – both equally objectionable!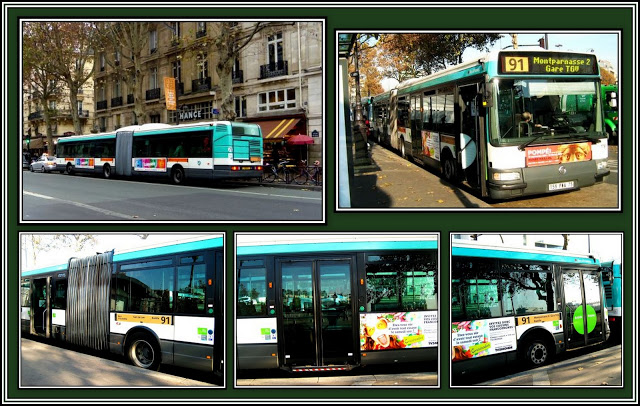 Parisian Bendy Bus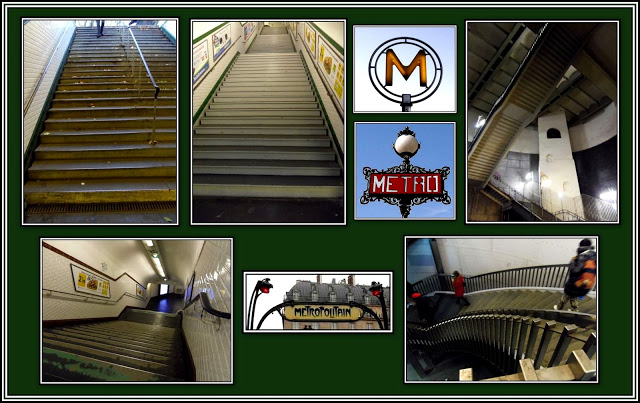 The Stairs of the Metro
Apparently during his early campaign for re-election, the current Mayor of London, Boris Johnson, bent to public demand, and advocated the scrapping of London's Bendy Bus (articulated bus) and proposed the development of a new generation of Routemaster.
NB4L, the New Bus for London, is a double-decker hybrid bus with front, middle and rear doors and was built by Wright Bus, a Northern Ireland-based company, after six coach builders were invited to submit proposals for a new bus in 2009. Three sets of doors were introduced in order to speed boarding. A prototype was built in 2011, and following its testing on London roads, the new bus entered service on 27th February, 2012 on route 38. Apparently the initial cost of the bus as well as its operation and maintenance are not cheap and there are fears that the current companies operating London's bus routes may not be able to afford them. There also seems to be some problem with the rear exit, which may well limit it being available for export. Despite these fears, I have recently learned that following the re-election of Mayor Boris Johnson, 600 additional NB4L have been ordered and will enter service during his current four-year term. Naturally the bus is not without its critics, but the public will have to watch and wait to see how it does in service.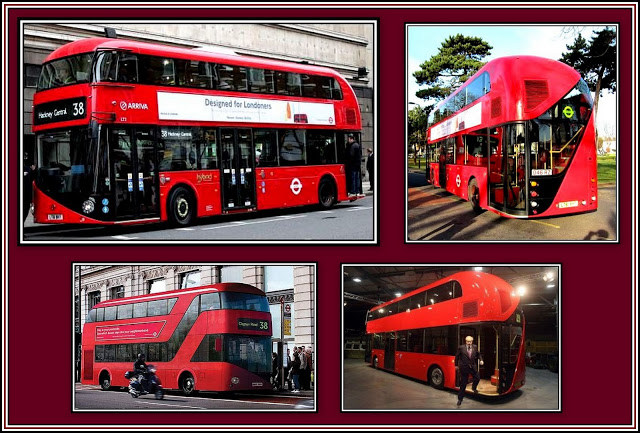 The NEW BUS 4 LONDON
——oooOOOooo——
I would like to give special thanks Geoff Bannister for his help given during the writing of this story and for allowing a number of his photographs to be reproduced here.
——oooOOOooo——
There are a number of short videos at You Tube, which are worthy of your attention:
The arrival of Trolleybus Number 1348 at the Sandtoft Trolleybus Museum where it was to be restored;
and
its reintroduction to the public at the East Anglia Transport Museum (Carlton Coville)
after its partial restoration at Sandtoft Trolleybus Museum
(set to Tchaikovsky's Capriccio Italiano);
the event was covered by Anglia News.
London Trolleybuses – East Anglia Transport Museum, Carlton Colville, May 2012
More of the Sandtoft Trolleybus Museum – Part One and Part Two
Brain Maguire being interviewed about the Sandtoft Trolleybus Museum
on Radio Humberside on 27th July, 2011
BOTH OF THESE TROLLEYBUS MUSEUMS ARE WORTHY OF OUR SUPPORT
——oooOOOooo——
Manny wrote:
My favourite London trolleybuses were the ones I remember in Kingston. These were the Diddlers. My brother and I would travel all over the London Transport area to collect bus, trolleybuses and tram numbers. Going through the Kingsway Tunnel was one of our favourite rides.
——oooOOOooo——
Steve wrote:
Great stuff Charles! Your story revived memories of watching the trolleys switching and sparking as I peered out of my front bedroom window opposite Morden Underground Station in South London. These were amongst my earliest memories as a 3- or 4-year old around 1949 or 1950. My mother and I had moved to a flat above the John Collier Tailors (the one-time Fifty Shillings Tailor – later advertised as The Window to Watch) after my parents were first divorced.
It was also good to see the green double deckers again. Routes 406 and 406a were our local buses to and from school in Epsom. Route 711 was the local single-decker Green Line route, which came up from Reigate via Kingswood where we lived on its way to the distant and exotic-sounding High Wycombe, a journey that must have taken three or more hours via Central London.
I must go and seek out the Musical Museum at Kew, which you mention. I have been going to Kew Gardens regularly for years now, but I had no idea that the Museum was there. Or perhaps I did, but had forgotten. According to my wife, we used to pass it every night on our way home from work!!!
——oooOOOooo——