THE GRANADA THEATRE CIRCUIT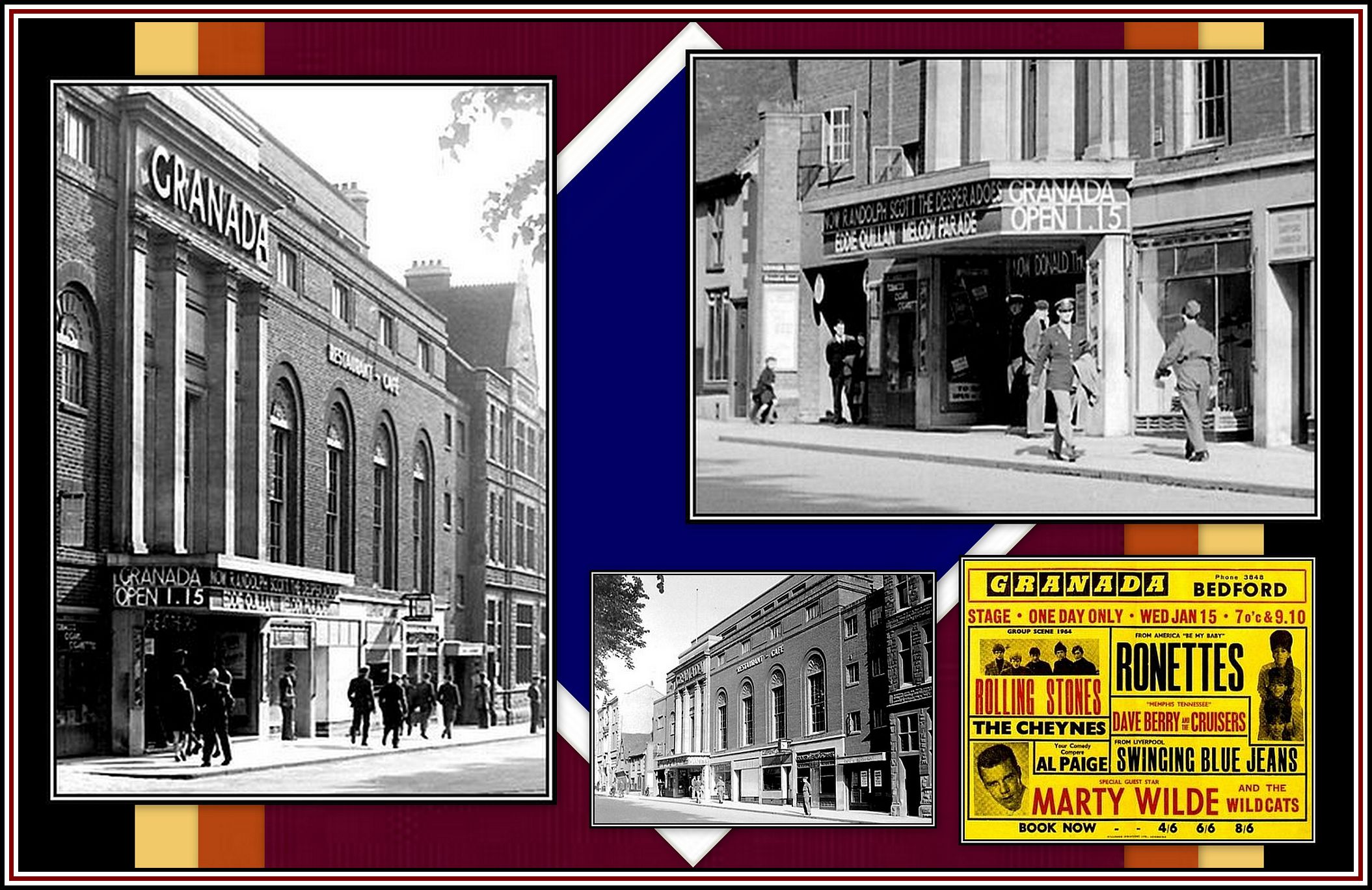 The Granada Theatre Bedford during the days of the Second World War
Top Right: Both American and British Servicemen are seen walking past the theatre, and if you look carefully, a Granada Sergeant is on duty and standing at the entrance.
Bottom Right: poster from a 1960s Stage Show
—ooOoo—
PART TEN: STARTING ANOTHER CIRCUIT
THE GRANADA THEATRE GREENWICH
-oOo-
The interior design of the Granada Theatre Greenwich differed from other Granada Theatres of this time in that it did not follow the template introduced at Maidstone, but resembled more the Empire-Granada Theatre Edmonton. The building was designed by C. Howard Crane, an American who had designed a number of Fox Theatres in the U.S.A.  Sidney Bernstein evidently did not like the interior design offered, as it was replaced with one by Theodore Komisarjevsky.  However the new design did not have the traditional Komisarjevsky look, but like the Granada Theatre Edmonton, was modernistic and somewhat plain.  Since Cecil Audrey Massey was not involved in the design for this theatre, balcony rows were not in an undulating style.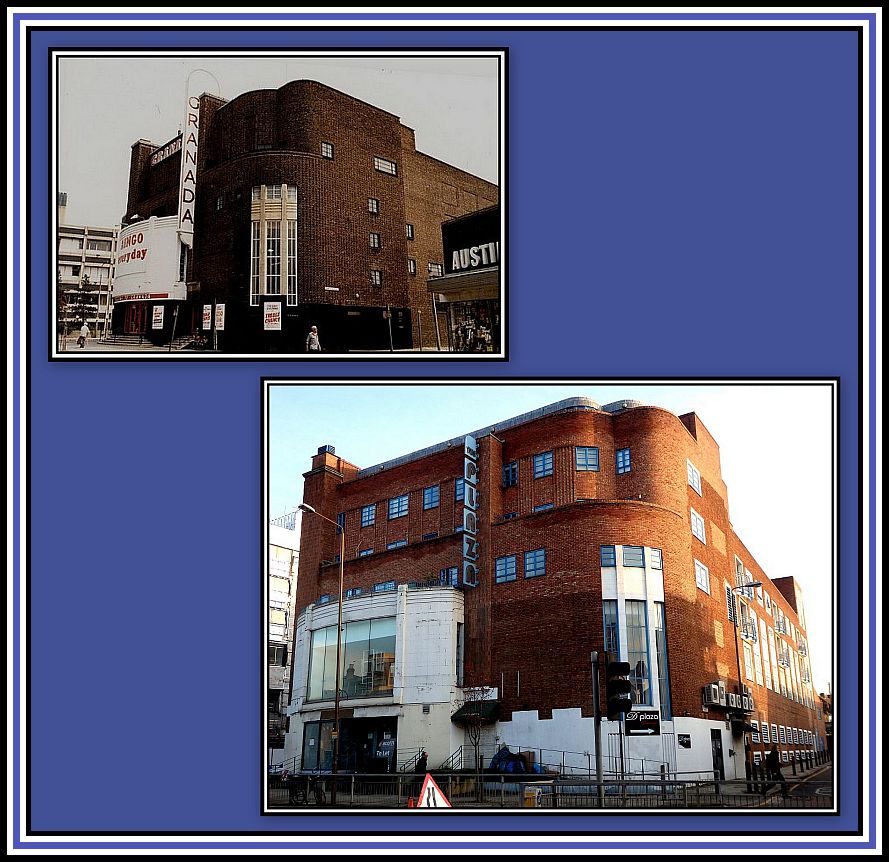 The Granada Theatre Greenwich 
The theatre  closed in  June 1968  and  became  a  Granada  Social  Club  (Top).  
It was later converted into apartments  and business space (Right), shown here in 2014
-oOo-
An article in the Kentish Mercury just before the theatre opened declared it as being built for Mr. and Mrs. Greenwich.   More of the history of this theatre and recollections by patrons, including Joan Collins may be found at The Greenwich.co.uk guide to … 234 Trafalgar Road.
-oOo-
The theatre was opened in September 1937 by Gracie Fields with the presentation of Elephant Boy with Sabu and Midnight Taxi with Brian Donlevy and was equipped with a Wurlitzer Theatre Organ and full stage facilities with some 1,900 seats.  Donald Thorne played the Organ at the opening.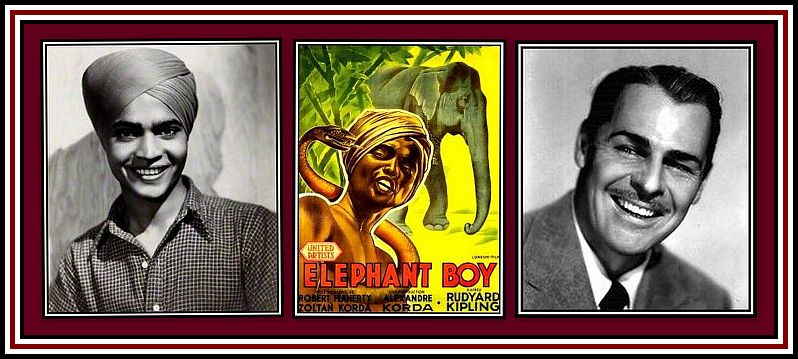 Left: Sabu; Centre: Poster; Right: Brian Donlevy
-oOo-
In 1963, Bingo was introduced on a part-time basis.  When the Theatre closed in 1968, it was converted into a full-time Granada Social Club.  After the Theatre  closed, the Theatre Organ was sold and put into storage in Leicestershire where it is being restored.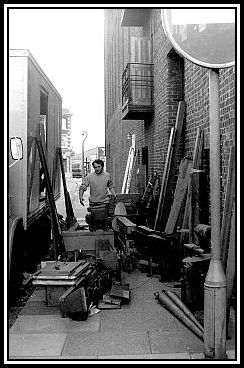 Removal of the Theatre Organ from the Granada Theatre Greenwich
-oOo-
In 2000, Bingo came to an end and permission was given to convert the building into apartments and business space.  At various times, the main foyer and circle foyer have been converted into a nightclub, a Chinese restaurant and an Off-Track Bookies.  At one time, part of the Theatre space was considered for conversion into a church.
—oooOOOooo—
to see a series of photographs of the former Granada Theatre Greenwich as it is today.
—oooOOOooo—
PART 10: STARTING A CIRCUIT
 —oooOOOooo—