HOLD ON A MINUTE ……
DIDN'T THIS USED TO BE ……?
I learned a lesson on the 555 Trolleybus in the autumn of 1958 and over the years this lesson has been reinforced in me a number of times:
Throughout life one observes that things change.
People come into one's life and stay awhile and then leave. Fashions change. What one once liked may seem less interesting as one ages. However, on occasion I can still be surprised when suddenly faced with a dramatic and unexpected change and I find myself as stunned as I was on that day when the melody of Tea for Two rung in my ears in cha cha tempo!
-oOo-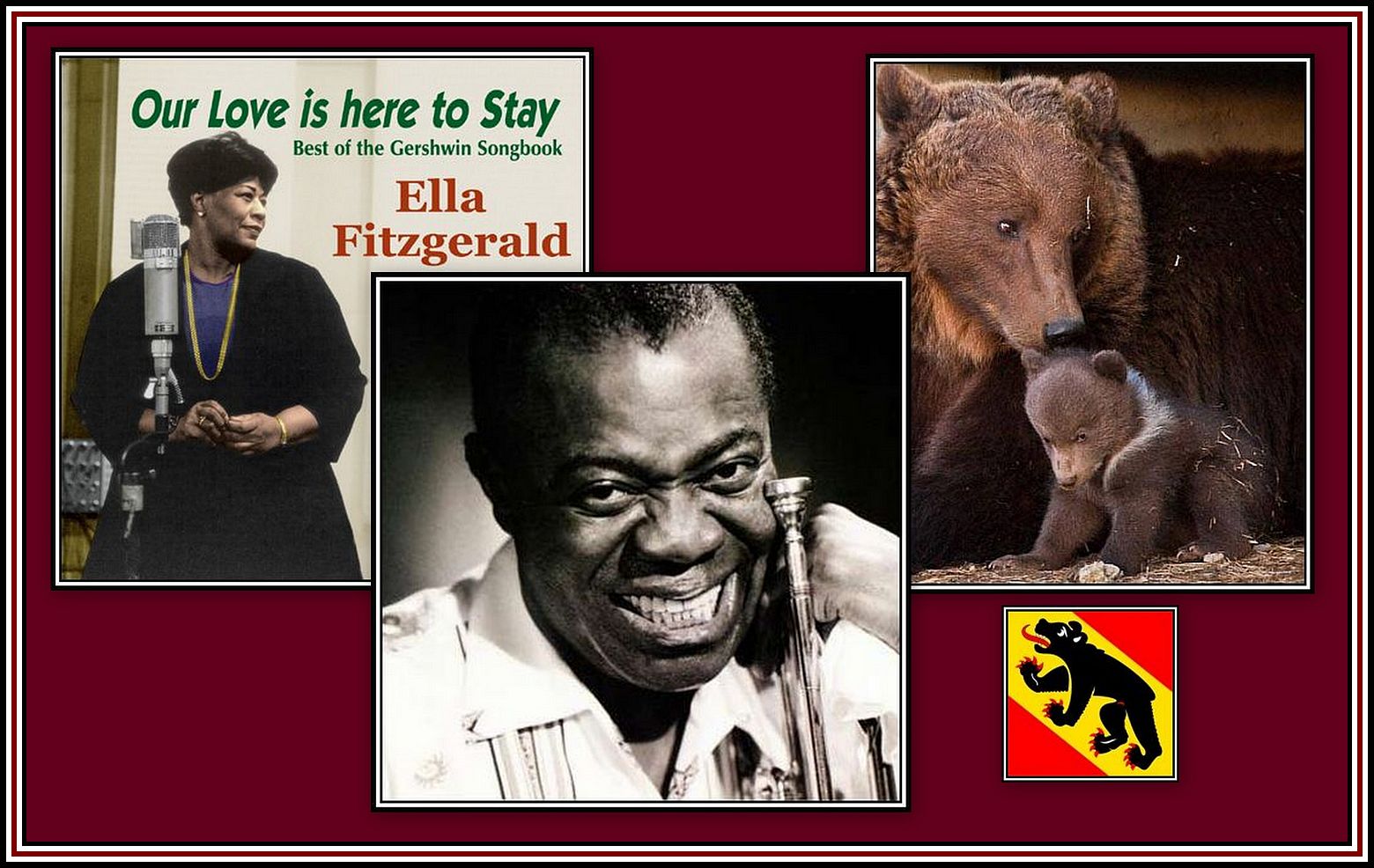 MARGARET MULLER
OUR LOVE IS HERE TO STAY
Our Love is here to stay – Ella Fitzgerald & Louis Armstrong 
One particular shattering example comes to mind, which happened to me in Bern, the spotlessly clean and delightful capital city of Switzerland.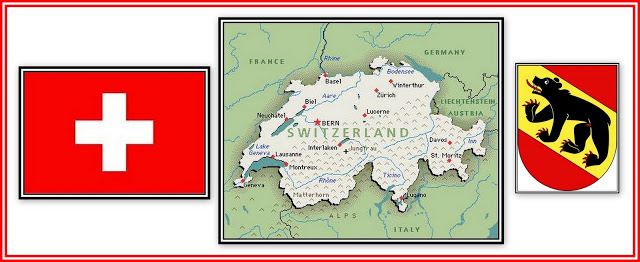 I appreciate that this website deals with tales of London, but this particular story, I feel, is too good to allow geography to preclude its presence here.
During the early 1970s, I worked periodically in Bern. As I said Bern was a delightful and spotlessly clean city, but it seemed to me that it was filled with somewhat cold and distant people who were remarkably formal in their dealings with each other and foreigners alike. I remember that my time in Bern was clouded by the reconstruction of the railway station, which brought periodic chaos to the Bahnhofplatz.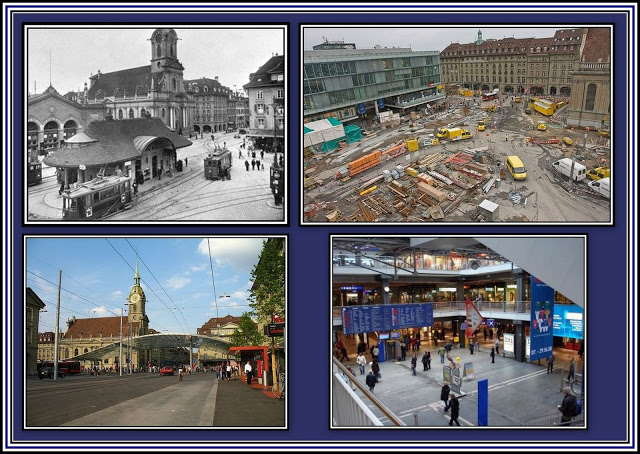 Bern Hauptbahnhof
Top right: as it was; Top left: as I saw the Bahnhofplatz for the first time;
Bottom right: the Bahnhofplatz today; Bottom left: inside the new station
Apparently in 1982, the old town in the centre of Bern was named a UNESCO World Heritage Site and in 2010 the city was considered as one of the world's top ten cities for the best quality of life. I certainly agree that Bern is a beautiful and historic city, however when it came to enjoying my life there, I was limited since to fully appreciate what was available, a great deal of money was required. While living there, I found that my quality of life was certainly not on a par with the locals. I was based in France at the time and found that my French salary was severely stretched by the costs of housing, food and travel in Bern and left little extra to allow me to enjoy fully the delights of the city. Although I had to exercise excessive choices on what to spend my money and maintain a degree of frugality, I was able nonetheless to enjoy my time there. (Allow me to take a minute to thank those who showed me great kindness and generosity during my sejour in Bern.)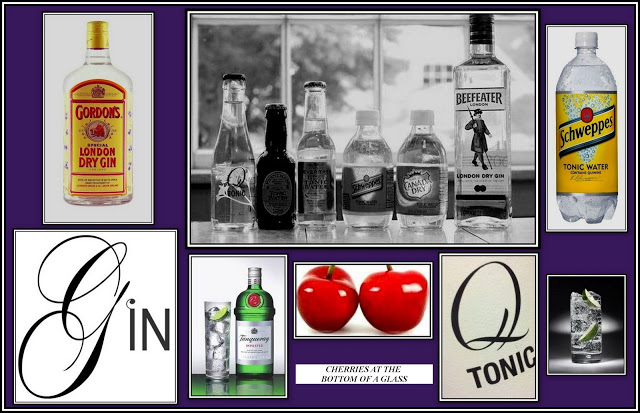 Bern was founded by Duke Berchtold V of Zahringen in 1191. Legend has it that the duke said he would name the city after the first animal he met on a hurt and this happened to be a bear. As a result, the bear became forever associated with the city and appears on its coat-of-arms. The area chosen by the duke for the city was a hilly peninsula surrounded by the River Aare.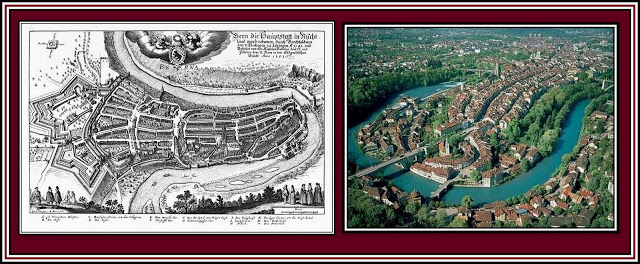 The City of Bern in the 14th Century (Left) and in 1960 (Right)
From the 16th Century, there has been a bear pit, Bärengraben, in the old city where its heraldic animals were housed. In 2010, there were four bears maintained close by in an open air enclosure close to the Nydegg Bridge, Nydeggbrucke, while two younger bears are housed at the zoo. Prior to 1840 when the Nydeggbrucke was built, the only bridge crossing the River Aare at Bern was the Lower Gate Bridge, Untertorbrucke. The original wooden bridge was built in 1256, but was washed away in 1460 and replaced by a stone one and completed in 1490. There is a small chapel in the bridge column on the city side, which was blessed in 1467.

Bridges of Bern: Left: the Lower Gate Bridge, Untertorbrucke; Right: the Nydegg Bridge, Nydeggbrucke
The western boundary of the city between 1191 and 1256 was marked by the Zytglogge Tower, which over the years has served as a guard tower, a prison and a clock. Today the clock still marks the entrance to the old city and has become a major attraction when the hour is struck. The clock has an east and west face, as well as two bells, one for the hours and a smaller one for the quarters, which are struck by gilded strikers. It is also an astronomical clock, which was added in the 15th Century and its faces depict the seasons and the time of day. The workings of the clock cannot support leap years and the calendar date has to be reset each 29th February.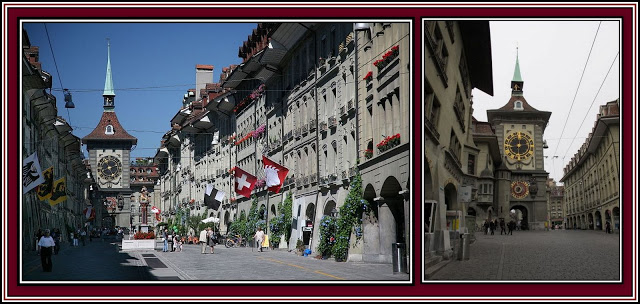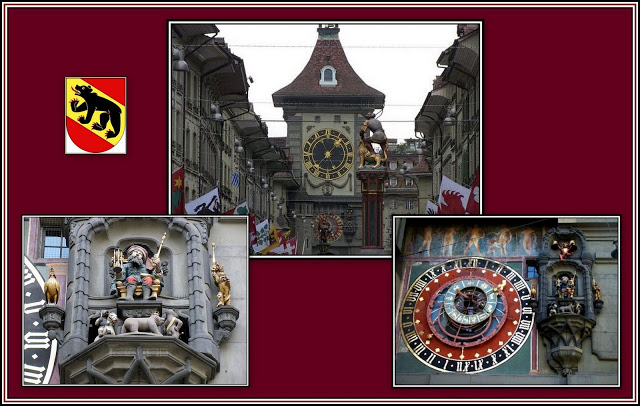 The Zytglogge has served as a guard tower, prison, clock tower, centre of urban life
and as a civic memorial.
The main streets of the old city are lined by medieval promenades and covered arches. Sheltered within the promenades is a variety of quality shops, which constitutes one of Europe's largest covered shopping areas.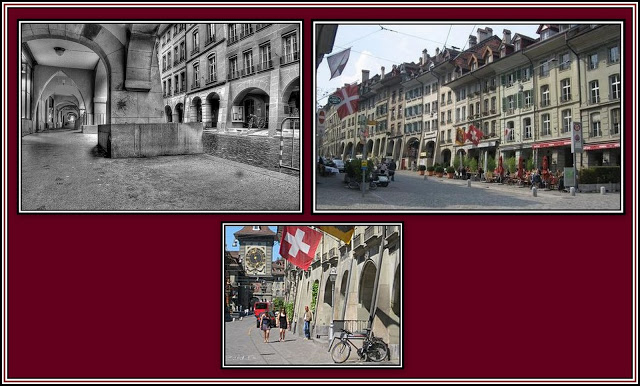 There are over a hundred fountains in Bern, eleven of which are found on the cobbled streets of the old city. These fountains are crowned with renaissance allegorical statues and were produced in the 16th Century. Each is the work of Hans Gieng except for the Zahringerbrunnen, which is a memorial to the founder of Bern and is the work of Hans Hiltbrand.

Fountains of Bern
Far left: Anna Seiler Brunnen (founder of Bern's first hospital in 1354); Inner Left: Mosesbrunnen;
Inner Right: Samsonbrunnen; & Far Right: Gerechtigkeitsbrunnen (Justice Fountain)

Fountains of Bern
Far Left: Vennerbrunnen (Banner Carrier Fountain); Inner Left: Lauferbrunnen (Runner Fountain);
Inner Right: Klindlifresserbrunnen (Ogre or Child-Eater Fountain); and Far Rght: Zahringerbrunnen (founder of the City of Bern)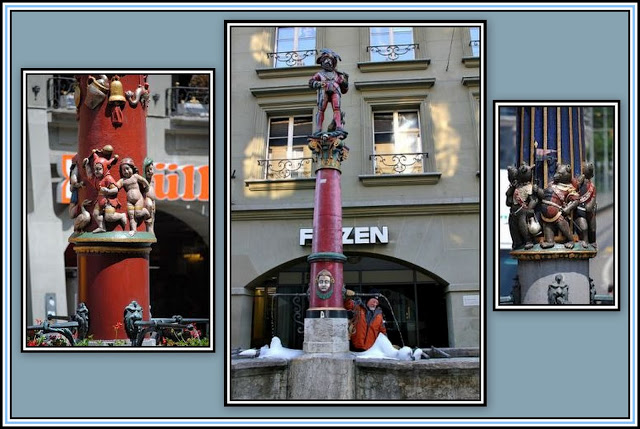 The Ryfflibrunnen Fountain (Centre) and fountain decoration
Within the confines of the old city are the Town Hall, Rathuis and Bern Minster. The Minster is a Swiss Reformed Cathedral built in the Gothic style with construction begun in 1421. The first church built on this site was in 1191 and was damaged in 1356 by an earthquake. With the increase in wealth of the city, plans were drawn up for the building of a new and grander church, which is seen today. The current bell tower is the result of various changes made to the original tower and has 254 steps to the top. The cathedral had a large churchyard, Munsterplattform, which during the 20th Century was made into an open park that allows viewing of the river and the section of the city known as the Matte.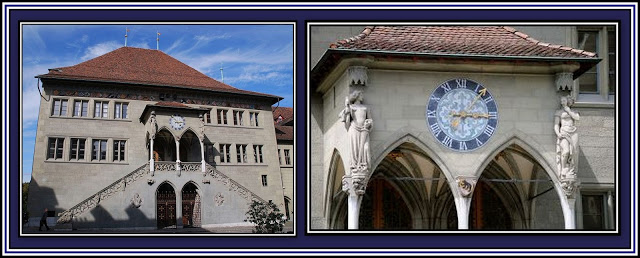 The Rathuis (Town Hall)
Left: Bern Munster; Right: Munster with Munsterplattform on the Extreme Right
The Mattequartier is situated in the southeast region of the peninsula and today may be reached from the main part of the old city by a lift at the Munsterplattform. It is also possible to reach the Matte by walking down a long wooden stairway, which looks remarkably daunting when first seen and difficult to manipulate when first tackled. The Matte was once the site of workshops and mercantile activities, which brought complaints about the noise from the people living up in the old city.
I always thought of the Matte as being like the East End of London, where trades producing unpleasant fumes were relegated to avoid offending the delicate nostrils of the inhabitants of the City of London. As the River Aare flows past the Matte, it was diverted through three artificial channels to power three watermills built in 1360. In the early 1900s, the windmills were replaced by a small hydroelectric plant. Close to the plant is a Schiffilandte, ship landing-place, which allows boats to moor and allow the loading and unloading of goods transported on the river.
While I lived in Bern I rented a room in an old house in the Matte. I liked this area very much. The area was filled with ateliers of both artists and craftsmen and the pavement was hidden from the street under arches. In the late evening, the path was dimly lit and generally empty of pedestrians with only the sound of river across the street to break the silence. Occasionally there was a mist, which gave the area a somewhat erry appearance and cause one to scurry with some speed. The general quietness of the area was usually broken on Friday evenings, as singing and yelling were often heard from the locals, as they made their ways home after passing some time at the local inn.
Each morning I had to climb the stairs up to the old city in order to get to work and then walk down them each evening to get home. Unlike most of Swiss colleagues, I did not go home for lunch. The thought of descending and ascending those steps more than once a day was too much for me and so I preferred to remain at work where I ate lunch!
I cannot remember exactly how many steps there were to the staircase, but I remember that they were of wood and steep. I recall each morning I would begin ascend by running up the stairs and continuing on for as long as possible until I was forced to stop to catch my breath. I noted that there were many much more older people than me climbing the stairs as the same time and managing to get to the top without the need of a break. Eventually I succeeded in getting to the top with stopping, but this triumph occurred just as I was about to leave Bern and return home. Once I came back, I had to recondition myself again before being able to get to the top without stopping. At this time, I still smoked and I remember promising myself that I would soon stop the habit, which of course, I did not – not for a number of years!
I remember each morning when I got to the top of the stairs I generally met an old man coming towards me. He was well-dressed, as were all Bernese at the time, and wore a trilby hat. As he came closer, he would raise his right arm and take hold of his hat just as he reached me and raised it while greeting me and then return his hat to his head – all done in one sweeping motion and without the loss of a step. I was impressed by his dexterity and by his greeting in the local dialect: GRROOS GOTT.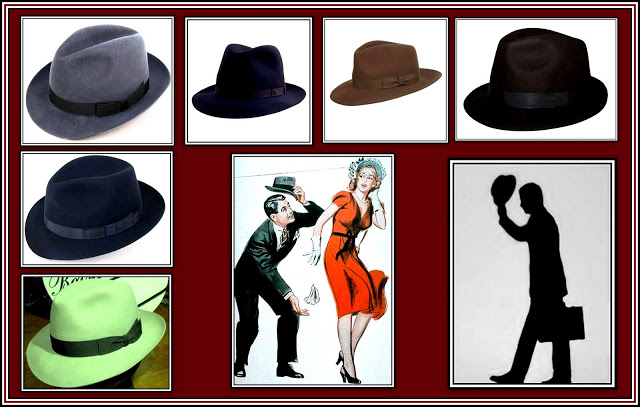 Bern is part of what is called German Switzerland. This means that officially the most common language spoken is German, but although German or Hoch Deutsch is spoken, written and read in the schools of the Canton of Bern, the locals speak to each other in a dialect known as Bernoise or Bernese German. Apparently, each Swiss Canton has its own dialect, which sounds unique to the uninitiated. I especially liked the greetings in Bernese, as they were generally said employing a very serious tone and accompanied by a slight bow of the head, and in the case of the old man, a lifting of the hat.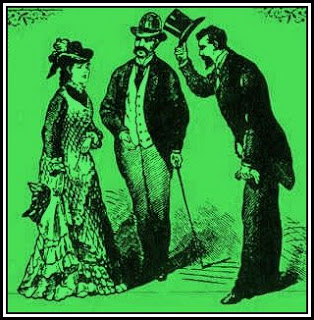 There appeared to be three possible greetings: the generic Grrooserch, meaning Greetings or Good Day; Grooserch Mitanand, meaning Greetings to all; and Grroos Gott, whose exact meaning escapes me, but involves God. Once I mastered these expressions, I amused myself greatly by employing them with the non-Swiss at my place of work and with those Swiss with a sense of humour!
I find it amusing to note that had the old BBC Television Programme, Dixon of Dock Green (1955-1976), shown on Swiss and dubbed into Bernoise, Constable, later Sergeant George Dixon, would have greeted viewers each week with Grooserch Mitanand in place of his usual 'Evenin all!' and 'Ga-nite all!'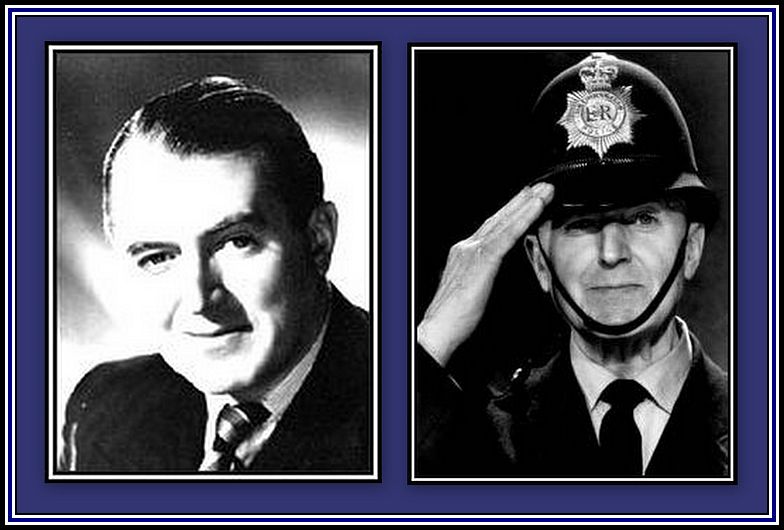 Jack Warner, 1895-1981
Although Bernese is not a written language, there are a number of chansonniers or troubadours who perform their songs in Bernese German. The most famous of these writer/singers is Mani Matter. Mani Matter was brought up in Bern and soon began performing his songs in the city. He gained fame and became very popular throughout German Switzerland. Tragically he was killed in 1972 in a car accident while coming home from performing. His songs are still popular and are often sung by other performers.

I heard many troubadours while in Bern and enjoyed their sounds very much despite not understanding Bernese German. My favourite song was about a young man who is attracted to a young woman, Kathi, who works at the Tobler factory and naturally carried the odour of chocolate wherever she went. This song, Mis Kathi schmockt nach Schoggolat, was written by Bernhard Stirnimann who was part of a group of singers known as the Berner Troubadours. I am very grateful to Ms Pat Gerber for finding the links used here.
While in Bern, I worked at the Theodor Kocher Institut, which is a research institute associated with the University of Bern. Emil Theodor Kocher was born in Bern in 1841 and studied in Zurich, Berlin, London and Vienna and obtained his doctorate in Bern in 1865. He became the Professor of Surgery at the University of Bern and was awarded the Nobel Prize in Physiology/Medicine in 1909 for his work on the Thyroid Gland. However, he worked in a number of other areas including surgery, Osteomyelitis (bone infection) and the theory of Hernia Strangulation. His book, Chirurgische Operationslehre (Theory on surgical operations), was reprinted six editions and was translated into most modern languages. It described many operations, mostly in abdominal surgery and the surgery of joints. His book, Erkrankungen der Schilddrüse (Diseases of the Thyroid Gland), discussed the etiology, symptology and treatment of Goitres and his ideas on the physiology and pathology of the Thyroid Gland caused controversy. He is also credited for the invention of the Kocher's Surgical Clamp. In 1912, he donated 200,000 Swiss Francs to the University of Bern for the establishment of a research institute in Biology. Theodor Kocher died in July 1917.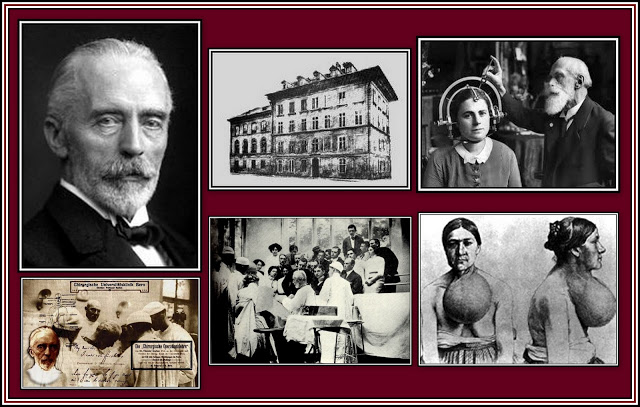 Top Left: Theodor Kocher; middle left: drawing of the Institute; Top Right: grand rounds;
Bottom Left & Middle: surgery scenes; and bottom right: a patient with an extreme Goiter.
I remember causing a small scandal at The Kocher soon after my arrival. I made the mistake of openly asking who Theodor Kocher was! The room went silent and I found myself surrounded by shocked and startled people. I wondered if I should send for smelling salts or not! Eventually, the silence was broken when a brave soul regained his composure and then asked, in a somewhat snooty manner, if I had not ever heard of Herr Professor? Obviously I hadn't! Herr doktor Professor did not come up much in conversation in the East End, I'm afraid. Although my heroes were not cowboys, they weren't Swiss Professors either! Unfortunately, this was not the only gaff I have made in my life. One particularly spectacular one comes to mind! This faux pas happened when I was ………… but this should be saved for another time.
Needless to say, I did learn who Theodor Kocher was and quickly realised that he was indeed someone to admire. However, I don't think those present that day ever forgave me for not being totally au fait with the life of their beloved Herr doktor Professor!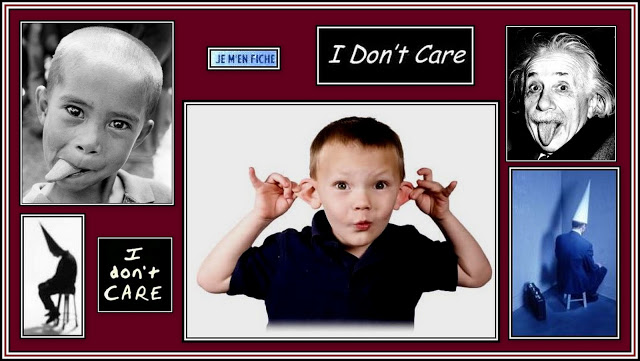 The Tobler factory where Toblerone was made was close by The Kocher. As I walked to and from work, my nostrils were filled with the perfume coming from the factory. Once I got used to the odour of chocolate, I soon began to sympathize with the young man in the song! As delicious as Toblerone is, I find that I can still only eat it in moderation and only on rare occasions. I recently learned that the Tobler family that owned the factory and the product sold the company in 1970 and it was merged with Suchard. Later Tobler-Suchard merged with the coffee company, Jacobs, forming Jacobs Suchard. In 1990, this company was bought by Kraft Foods. Today Toblerone is produced for worldwide distribution in a factory at Brunnen, close to Bern.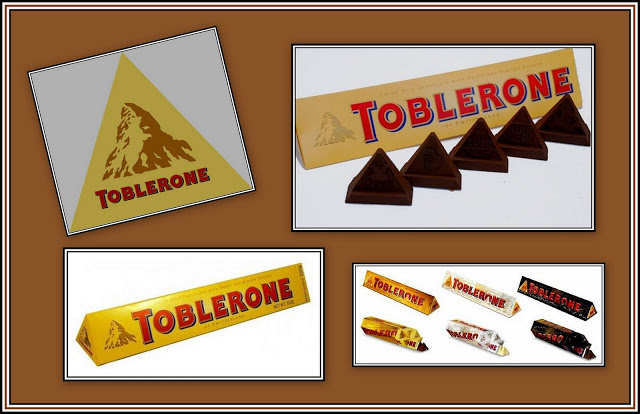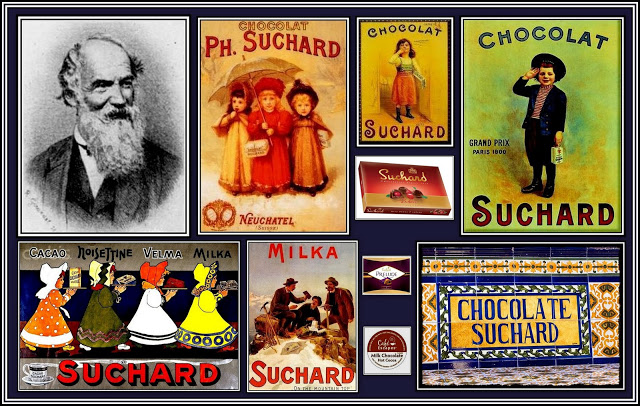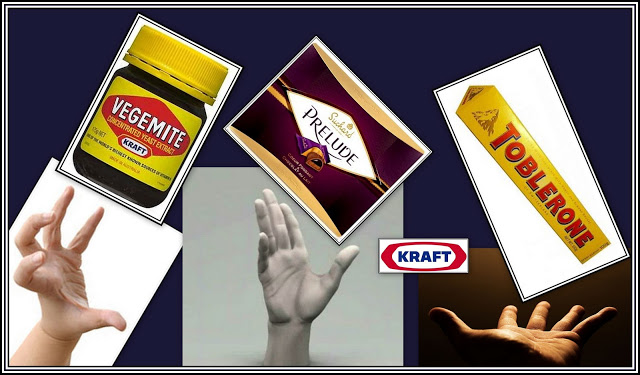 On my way to work each day, I used to walk past two shops that I liked very much. They were on the right-hand side of Kramgasse, close to the Zytglogge, in the old city, and hidden from the road under an arch. The first shop sold clocks and displayed in the shop window were two clocks that I found appealing. I remember promising myself that I would buy both clocks before leaving Bern once my work was complete. The other shop was what used to be called a Notions shop, one that sold cottons, needles and associated necessities to the sewer and was named Margaret Muller.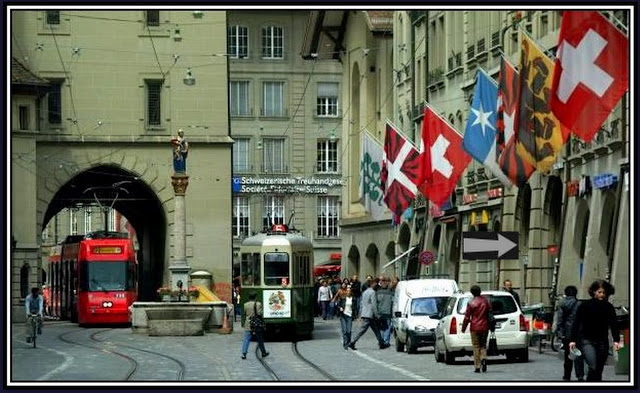 Arrow points the way to where the shop, Margaret Muller, once existed under the archway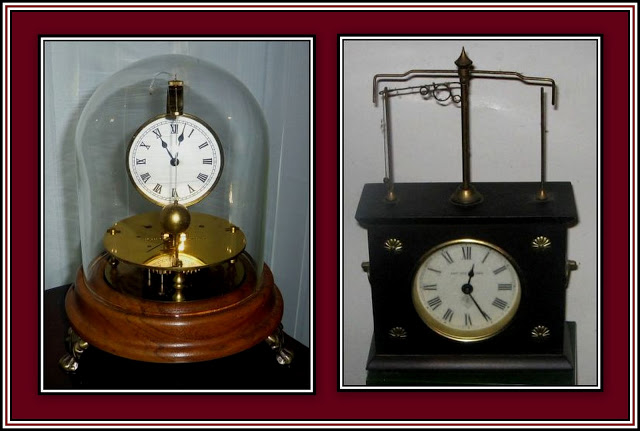 I agree that for me to be attracted to a Notions shop would seem somewhat strange, but I discovered the shop by chance and I soon realised that it was like no other. Actually I was walking home with a colleague from work who also lived in the Matte. Apparently his wife had requested that he stop at the shop on his way home and purchase some thread for her.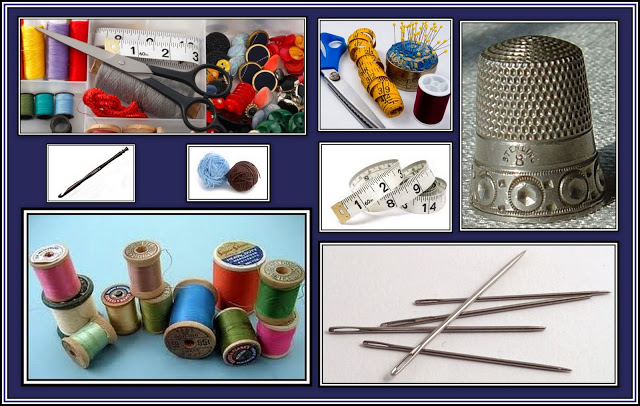 Immediately upon entering the shop, I felt as if I had gone back in time and was immediately captivated by what I saw. The interior was filled long tables on which were a huge number of rolls of cloth of a variety of colours along with various forms of lace. However, this was not all that caught my eye. What grabbed my attention was the sewing circle in the middle of the shop. The circle consisted of four or five women of various sizes and ages each busily sewing. As we made our way into the shop, each woman in unison stopped her work and looked up for no more than a second and offered a Grrooserch, the usual greeting heard throughout Bern, and immediately returned to her work. My colleague replied while I smiled and mouthed some response.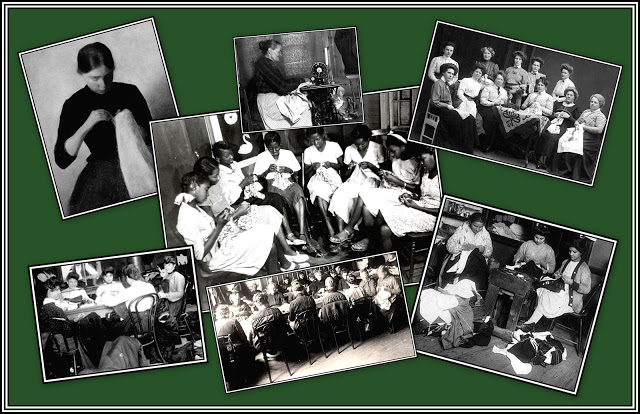 Sewing Circles
I remember not being able to believe my eyes! The interior of Margaret Muller was like another world. It was certainly like nothing I had seen before and was like a scene from earlier times. I stood there, frozen to the spot, fascinated by what I saw. There was a stillness, a tranquility that seemed to permeate throughout the shop. One felt as if the outside world had no place at Margaret Muller.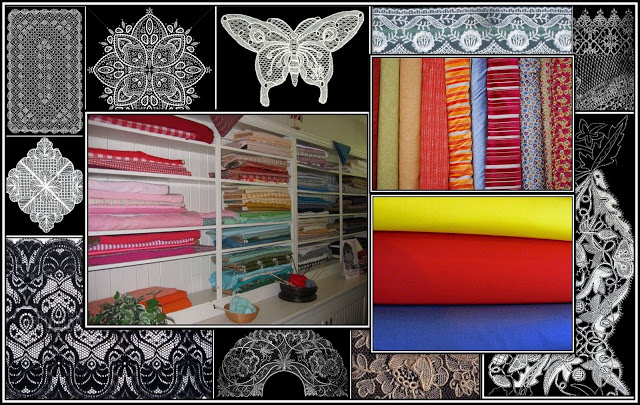 The staff also proved fascinating to me. I hate to admit it, but I used to refer to them very rudely as the old birds, despite the fact that not all of them actually were old. Although they dressed alike and had similar hair styles, the old birds varied in age. One was perhaps in her early 30s, several in their 40s, another in her 50s and finally one who easily looked to be in her 90s! They each wore what used to be called, Twin Sets except for the oldest bird. A twin set consisted of a cardigan and a simple sweater beneath of wool and in an insipid pastel colour. This combination was once popular with women of a certain age and of a certain class: a very proper group of ladies who displayed genteel behaviour and properly enjoyed tea. None of the women applied make-up to their faces, which had a somewhat pasty look resulting from a lack of exposure to sunlight. They each wore their hair in a manner that could never be described as stylish. Their hair was long and heavily plaited and arranged across the head thereby giving the women an austere look. The youngest, I remember, was the heaviest of the troupe, but I do remember that she had a perfect complexion.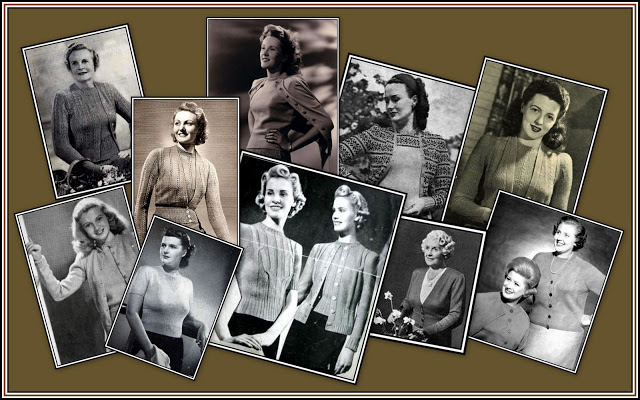 Twin Sets
While my companion was served by a non-sewing member of the establishment, I was left to wander about the shop and periodically peep back to study the old birds who now ignored us totally and continued to busy themselves with their work in complete silence.
As we made our way out of the shop, the gaggle of women once again looked up and momentarily stopped their sewing and offered the greeting again, which obviously was also used to say goodbye. Once outside the shop, I plied my companion with questions about the shop. Who were the old birds? How long had the shop been in existence? Who was Margaret Muller? and so on. My companion was not especially helpful and had few answers. However he did say that the shop had been where it was for years and that there was always a sewing circle in waiting for as long as he could remember – and he was now well into his sixties!
After this primary encounter with the world of Margaret Muller, I made sure that I passed the shop each time I walked along Kramgasse. I always stopped and peered through the shop window. No matter how early I went to work, the old birds were in place, but they were always gone when I passed by on my way home in the evening. Perhaps once or twice a week, I would sneak into the shop to see them. I would inspect the fabrics and try to look as if I was interested in buying a metre or two, which I am sure never fooled the sewing circle were they paying attention. I never dared ask a question of the staff and if ever it looked as if I was going to be accosted and asked if I needed help, I scampered out of the shop in double quick time.
I learned from observation that there were seven women that made up the sewing circle. They were not all present at any one time, but obviously worked in shifts or days. The younger lady was most often present as was the one in her apparent 90s. I liked the oldest bird the best. She was tiny and had a Dowager's Hump that betrayed her age. She had pure white hair that was plaited and pulled across her head in the style of the other old birds. She did not dress as the others: she wore a black dress under a long white pinafore. She was amazingly thin, but her bony fingers were dexterous and able to manipulate her needle and thread with remarkable speed. I imagined that if she moved too quickly or if she picked up anything with weight, she would undoubtedly suffer the breakage of a bone.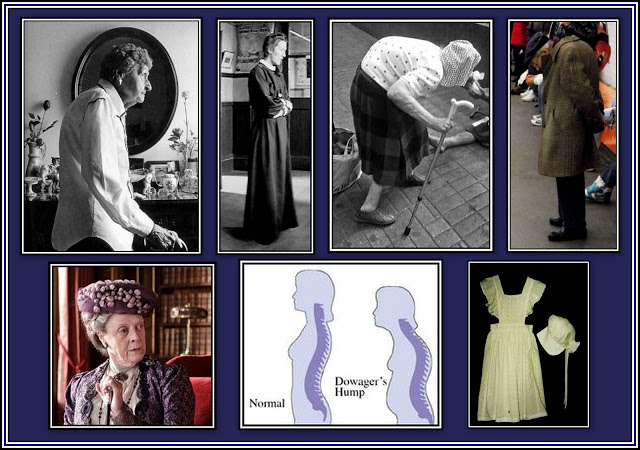 It is not only women who are afflicted with a Dowager's Hump, men can also be similarly afflicted as the picture at the Top Right reveals. I saw this gentleman on a Sunday afternoon at the Metro Station, Cite, in Paris during a visit in November 2010. I have to say that he was the first male that I had seen with this condition.
I have to admit that I gained much pleasure from the goings-on at Margaret Muller and I soon began to associate the song, Our Love is Here to Stay with the shop:
In time The Rockies may crumble ….
Gibraltar may tumble ….
They're only made of clay ….
But our love is here to stay!
Whenever I went inside the shop or even when I walked passed it, I took to humming the song while the lyrics ran through my head. However, out of deference to this remarkable establishment, I changed the final line to:
Margaret Muller is here to stay!
I honestly believed that the shop would exist no matter what – earthquakes, famine, world war – forever! I imagined that there was an endless supply of old birds in waiting, biding their time peacefully, sitting quietly and growing older and then being allowed to join the sewing circle! I assumed that this was a honour, rather like being allowed to join the Knights of the Round Table!
I think that I told everyone that I knew about Margaret Muller and took to describing the old birds in glorious detail and acting out their greeting as well! This gave me great pleasure. Naturally, most of the people that I told about the establishment looked at me with a look on their faces that told me that they thought I had lost it!
I remember that on one occasion upon returning to Bern after a visit home, I made my usual way along the Kramgasse on my way back to the Matte. I crossed the street as I wanted to peep into the shop window of Margaret Muller to see if there was anything new. It had been perhaps a month since I had seen the shop and I was keen to see it and the old birds again.
By now, as far as I was concerned, Margaret Muller deserved to be mentioned in Browning's Pippa's Song:
The year's at the spring,
And day's at the morn;
Morning's at seven;
The hillside's dew-pearl'd;
The lark's on the wind;
The snail's on the thorn;
God's in His heaven –
All's right with the world!
Yes, All's right with the world – G-d's in his heaven and Margaret Muller's on Kramgasse!
However upon arriving at the shop, I suddenly felt as if I had been struck forcefully in the solar plexus for Margaret Muller was no longer there! The clock shop was still present and my two favourite clocks were busy noting the time in the display window, but Margaret Muller was no more! Evidently the fabrics and lace together with the needles and thread had been bundled up and taken away!  But worse yet, the old birds had flown the coup! I peered into the shop. Where once bright fabrics dazzled the eyes, paintings had now taken their place. How could this be? What had happened?
I have to laugh now as I remember actually wondering if the Rockies had crumbled and if Gibraltar had tumbled and I hadn't heard! But no, they were still there, but alas, Margaret Muller was no more!  Unlike our love, Margaret Muller had not been destined to be here to stay after all!  I returned to the Matte in a daze.
I never did discover what happened at Margaret Muller and why the shop closed. I soon realised that not only did no one know, but more importantly, no one seemed to care! When I broke the news to my colleagues at the Kocher, I got little reaction. I learned that most of them had never even noticed the shop! Even the person who first introduced me to the shop was little affected by the tragic news. His only response to it was to sniff and return to his work. I was especially disappointed by his response, as I thought at least he would have shown some interest in the matter, but no. Evidently, I was alone in thinking the shop and the old birds were an institution, something to treasure and to nurture. Although I did not know the old ladies personally, they had become associated with my time in Bern and I felt a great sense of loss now that they were gone. I left the Kocher early that day and walked home on the opposite side of the Kramgasse so as not to pass the shop.
Of course I was being overly sensitive. After all wasn't Margaret Muller just a shop, nothing more and nothing less? Wasn't the Odeon Hackney Road and the Excelsior just cinemas? Times change; people change; and the needs and fashions of society change. The populace of Bern had moved on and was now obviously content to buy their thread and notions elsewhere and allow the shop and the old birds to pass into memory and be forgotten.
I have to confess that with the demise of Margaret Muller and the loss of the old birds, my fascination with Bern lessened and, soon after once my work was complete, I bought my clocks and returned home. I have never returned to Bern – some how I lack the heart.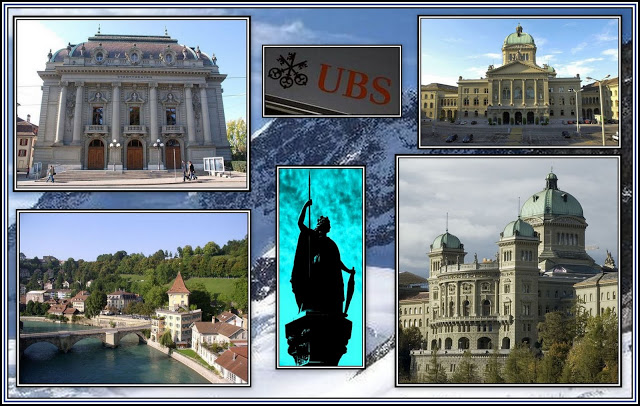 Final Scenes of Bern: Top Left: the Stadttheatre; Top Middle: USB logo; Top Right: Federal Parliament Building, front view; Bottom Left: the Lower Gate Bridge, Untertorbrucke; Bottom Middle: statue of Helvitica, symbol of the national personification of the Swiss confederacy; and Bottom Right: Federal Parliament Building, rear view.
——oooOOOooo——
Our love is here to stay was written by George & Ira Gershwin for the film, The Gershwin Follies in 1938 where it was sung by Kenny Baker. It was also used as the main theme music for the film An American In Paris in 1951. Numerous singing artists have recorded the song, which is now regarded as a classic. Links to a number of versions of this song are given following READERS COMMENTS.
READERS COMMENTS
A reader living in Soloturn, which is about 30 minutes on the motorway from Bern, says that she moved to Switzerland in 1966. She says that her husband is familiar with the old Tobler factory in Bern and she has kindly offered us a English translation of Mis Kathi schmockt nach Schoggolat:
Ms Pat Gerber writes:
My husband, Marcel, remembers when the Tobler factory existed in Bern. He says that it was on Langasse, not too far from the centre of the city. He also remembers that the area had a very strong chocolate aroma in the air.
I have the original words of the song in Swiss German and have made a rough translation for your readers, as follows:
When I stand in the traffic jam in the morning at Loeb on the corner
At ten past you discover a chocolate scent in the dust.
My Kathi smells of chocolate, she works at Tobler in Bern.
And often the east wind is blowing
I love Kathi even more than expensive pralines.
Most women smell of Chanel Number 5 like Tabou and Arpege.
I smell my Kathi also even before you see her.
My Kathi is special; there is no other like her.
I just need to take a breath and already find my appetite.
And the best, listen to what is coming,
Saturday night I dream of hot cocoa,
Where the aroma is.
As I said, this is a rough translation of the song – it is meant to give the gist, the essence of the lyric, and not meant to be a full poetic version in English.
Marcel has also found a short television piece produced by the S.F.S., a Swiss television channel, which formed part of a news magazine in 2001, and which presented the history of the company, Tobler, maker of Toblerone, and includes a short tour of its factory on Langasse, Bern. The commentary and interview with a past employee is in Bernese German, but again one can get the gist or the taste of the programme without too much difficulty. The piece shows the mixing of the chocolate, its production and finally its wrapping to produce the finished product. In addition, one is treated to the making of some hand-made chocolates. The programme ends by saying that the factory on Langasse was closed when the company merged with Suchard.
I hope your readers enjoy the television piece.
Pat Gerber
——oooOOOooo——
Ms Pat Gerber wrote later to say:
By the way, I don't know if you know it, but the Bärengraben (Bear Pit) no longer exists as such. Since the number of bears grew, it was decided (and quite rightly) to build them something bigger and better. The bears are now situated along the River Aare in a large enclosure where they have room to swim, run around and live their bear-lives to the full.
Gruessech is also used as a greeting in Solothurn where we live. It is the familiar plural form and has established itself into Bernese and Solothurn Dialects while Gruetzi, the more polite form is used in Zurich. The Matte inhabitants once widely spoke their own Swiss Dialect, which was known as Matteänglisch (Matte English). Today only a few speak it and is not easy for the rest of us to understand.
Pat Gerber
——oooOOOooo——
I would like to thank both Pat and Marcel Gerber for their kindness in making this information available and also for Pat's kindness in translating Mis Kathi schmockt nach Schogglot for us.
——oooOOOooo——
Additional versions of Our Love is here to stay:
and
Kenny Baker, who introduced the song
——oooOOOooo——
Click here to return to EPIPHANY ON THE 555
——oooOOOooo——
Click here to return to the HOLD ON A MINUTE……. Home Page
——oooOOOooo——
Click here to return to the TABLE OF CONTENTS
——oooOOOooo——