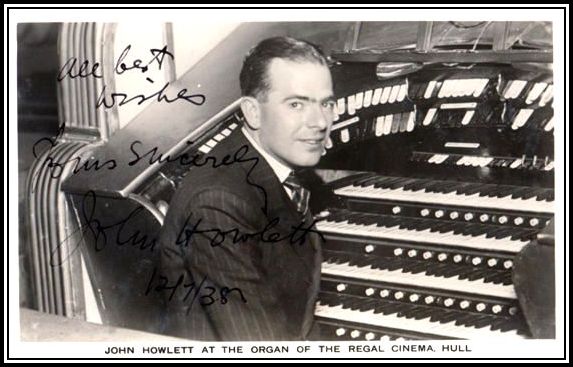 -oOo-
BELFAST & PLAYING FOR THE BBC
After a few months at the Regent Cinema, John was transferred to PCT's Classic Cinema in Belfast, which was the city's premier cinema at that time.
Classic Cinema Belfast
John remained at the Classic Cinema in Belfast for nine months.  Here he played an eight-rank Model F Wurlitzer Theatre Organ that had been installed at the time of the cinema's opening in 1927 when it was played by the organist, Leslie Simpson.  It was while he was at here that John made his first broadcast for BBC Radio playing the Theatre Organ of the Classic Cinema.  He made three broadcasts each week and went on to broadcast seventy-seven times from this venue.  Interestingly enough, he received no additional payment from either PCT or the BBC for making these broadcasts!
Later in his career, John made a large number of broadcasts for the BBC from a number of venues and which will be addressed later.
-oOo-
John Howlett at the BBC Theatre Organ playing Humoresque by Antonin Dvořák (1841-1904)
that was recorded in 1962 and included in a programme for the BBC Light Programme
-oOo-
Although John had chosen to pursue a career as a Theatre Organist, he never abandoned his love of playing the Pipe Organ and continued to play Church Organs whenever possible.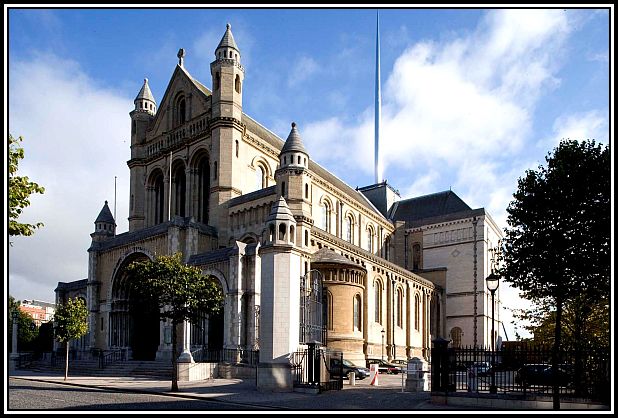 St. Anne's Cathedral Belfast
During his stay in Belfast, he developed a friendship with the Organist & Choirmaster of St. Anne's Cathedral, who invited him to play the Cathedral's three-manual Harrison Pipe Organ and this led to additional invitations for him to play a number of other Church Organs throughout the City.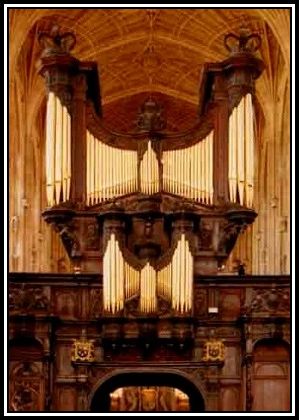 The Harrison Pipe Organ of Kings College Cambridge
-oOo-
It was at this time that talkies were gaining in popularity in the U.K. and increasing numbers of people were going to the cinema each week.  In addition, many of the Cinema Circuits were installing Theatre Organs in their cinemas to provide additional entertainment in the hope of attracting more patrons, which proved to be to their liking.
At this time, the Theatre Organ was still considered somewhat of a curiosity to many customers.  John later said that during these early days, the mere addition of certain ranks to a Theatre Organ, such as chimes and drums, was sufficient to bring some members of the audience to their feet, as they cheered their appreciation.
These were indeed heady days!
-oOo-
John Howlett at the BBC Theatre Organ playing Rosa Argentina by Paul Renaro
included in a programme for the BBC Light Programme from 1962.
—ooOoo—
ACKNOWLEDGEMENTS
I would like to thank Mr. John Leeming for his invaluable help in the preparation of this piece and for uploading the musical pieces to digital format.
Special thanks are offered to the family of Mr. Howlett, and in particular to Ms Amanda Ratcliffe and Ms Emma Coleman, for providing photographs and information on his life.
I would like to thank Mr. Paul Bland for providing a number of photographs and links.
Many thanks for allowing the reproduction of photographs, drawings and information are also due to: Mr. Gavin Jones of the Black Country Bugle; Mr. Adam Phillips of the Express & Star, Wolverhampton; Ms Emily Randall, Senior Membership Development Officer at the Historical Association, Bournemouth; Mr. Michael Stead, Heritage Team at Bournemouth Library, Bournemouth; Mr. Matthew Lloyd for allowing the drawing of the Putney Palace that is reproduced from his website; and Mr. Nick Smith.
Special thanks are offered to Mr. Anton Stromlund for providing a copy of his playing of a Danish children's song.
—ooOoo—