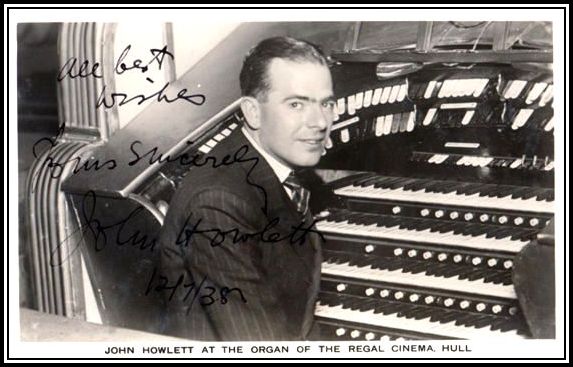 -oOo-
BECOMING A THEATRE ORGANIST
During the time of John's tutelage in the art of the Theatre Organ under the direction of Mr. Maclean, he was earning thirty shillings a week (i.e. one pound fifty pence in today's currency) as a clerk in the accounts office of Brentford Gas Works.  His first position as an Orchestral Organist earned him a weekly salary of four pounds ten shillings per week (i.e. four pounds fifty pence in today's currency)!  From that time on, John was always able to earn a reasonable/good salary for his playing of the Theatre Organ.
-oOo-
John's talents as a Pipe Organist and Choir Master were recognised early in his musical career and it did not take long before his talents as a Theatre Organist were also recognised.
In 1930, at the age of 24, John won an open competition for an Original Organ Interlude.  The open competition had been sponsored by Mr. G. Wales Beard of Christie Organs and was organised by the Melody Maker publication.  His winning piece was based on Shakespeare's The Seven Ages of Man speech and his prizes consisted of a gold watch and ten guineas from both the Management where he was employed and The Compton Organ Company since he was playing one of their Theatre Organs at the time of competition.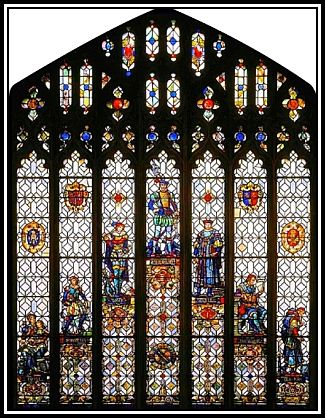 Stained Glass Window showing The Seven Ages of Man
-oOo-
Following this, and throughout his long career, John was eagerly sort after and was able to pick his post.   One of the many positions that he was offered was that of Theatre Organist at the Tower Ballroom in Blackpool, however he decided against its acceptance.
-oOo-
John's first position as an Orchestral Organist was at the Electric Theatre Bournemouth, which had opened in 1921.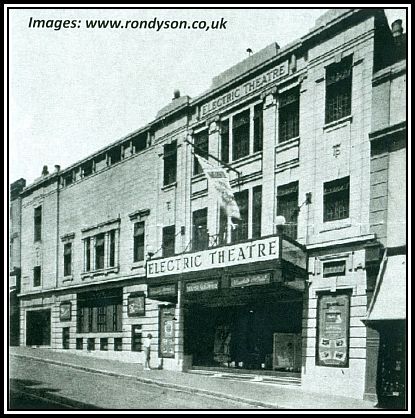 The Electric Theatre Bournemouth
This photograph appears at  www.rondyson.co.uk
and was found thanks to Mr. Michael Stead at Bournemouth Libraries
Here John played a one-manual/11-stop Hill, Norman & Beard Straight Organ and was a member of a nine or ten piece band under the direction of Mr. Edward (Ted) Felton Rapley.  He held this position at the Electric Theatre until it was converted into a Variety Theatre.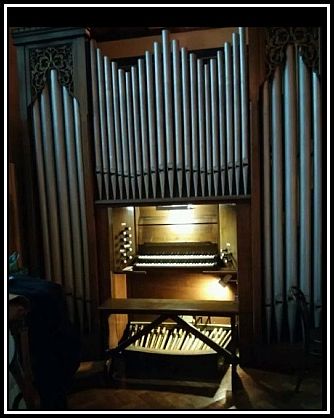 Organ front of the Pipe Organ by Hill, Norman & Beard installed at
Our Lady and St Catherine of Sienna Catholic Church in London
-oOo-
I am very grateful to Mr. Michael Stead of Bournemouth Libraries for providing the following photographs showing the front cover of the August 6th, 1928 edition of The Electric Theatre's Weekly Magazine together with several views of the Theatre from the late 1950s and mid-1960s.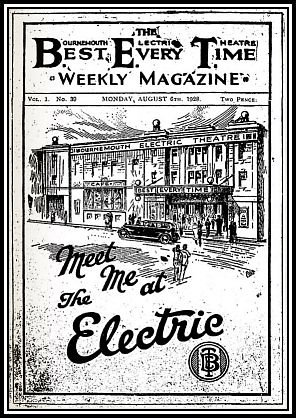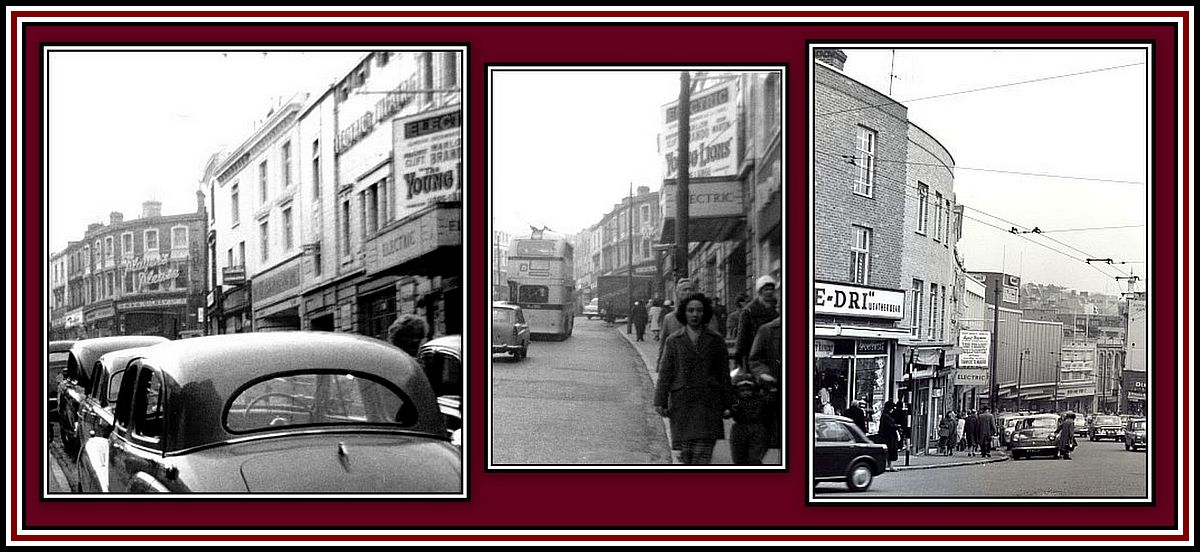 -oOo-
Following his time at Bournemouth, John was employed at the Putney Palace where apparently Organists rarely remained for longer than a week!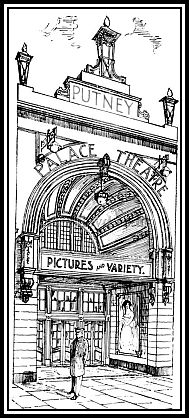 A Sketch of the Putney Palace Theatre Entrance reproduced from
the Theatre's opening souvenir programme of the 11th October, 1926.
Reproduced from Arthur Lloyd.co.uk with the permission of Mr. Matthew Lloyd
Mr. Howlett managed to last here for one week and two days!  He readily admitted that this post required more experience and a greater ability to tolerate the manager than he possessed at the time!  Seemingly the manager did not fully appreciate John's ability to play the five-rank Compton Kinestra installed at the cinema and they parted ways.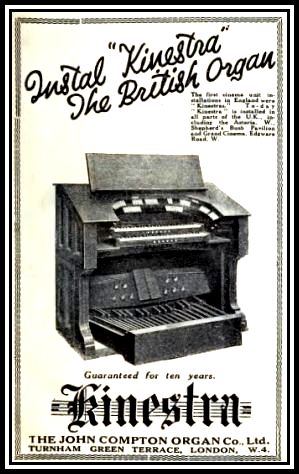 – oOo-
Undaunted by this experience, John continued on in his quest to be a full-time Theatre Organist and secured his next position at the suggestion of his friend Jimmy Taylor.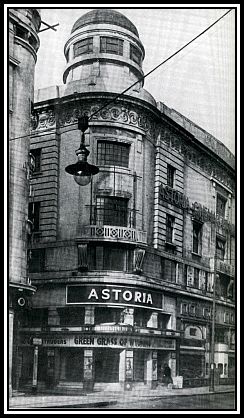 Astoria Theatre Charing Cross Road
This photograph is reproduced from the Flickr Page of Warsaw 1948
Mr. Taylor recommended that he present himself at the Astoria Theatre Charing Cross Road in the hope of securing the post of stand-in Theatre Organist while the resident solo Organist, Mr. G.T. Pattman who had opened The Theatre in 1927 and who was now indisposed.  At its time of opening, The Theatre had been equipped with a three-manual eight-rank Compton Theatre Organ.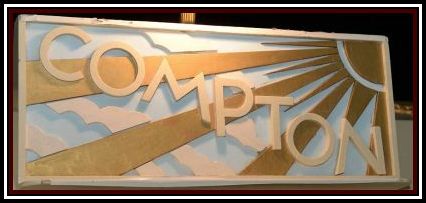 John's position required him to open the show, as well as play with the Fred Kitchen (1872-1951) Band, which was in residence at the time.  For the duration of his employment here, he worked seven days a week and received what he considered to be a huge salary!
-oOo-
Meanwhile, Mr. Quentin Maclean had recommended John for employment with the Provincial Cinematograph Theatres (PCT) Circuit. 
-oOo-

The PCT Circuit was the first national chain of cinemas to be established in Britain and it had established a Picture House in the centre of many cities which were built to a high standard in order to attract a more affluent clientele.  The Picture House featured a full orchestra to accompany the silent films and also offered many additional features to maintain their attraction to such a public.  It was also a common feature of these Picture Houses, as well as those of other circuits, to find a Theatre Organ installed to provide entertainment of patrons, thereby requiring a constant supply of suitable musicians to play them.


The PCT Circuit was acquired by the Gaumont British Picture Corporation in February 1929.
-oOo-
In 1928, John was offered a position by The PCT Circuit with his first assignment being as a Second Organist at the West End Cinema in Birmingham, which PCT had taken over in 1926.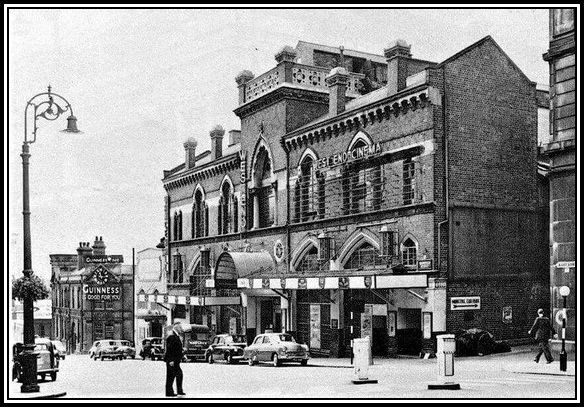 The West End Cinema Birmingham
A two manual eight-rank Model F Wurlitzer Theatre Organ had been installed at the cinema, which was opened by the organist, Charles Willis.  John was to remain here for only a few months, as PCT had another assignment for him, which provided him with a promotion.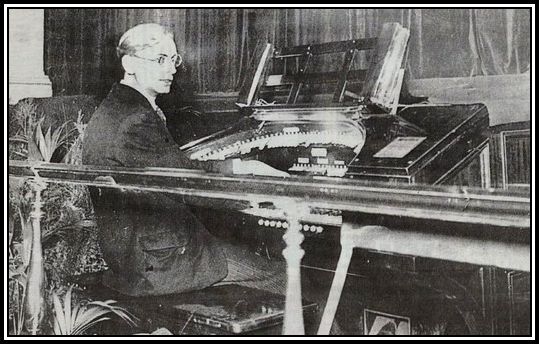 Theatre Organist Ernest Alden at the Wurlitzer Theatre Organ of the West End Cinema Birmingham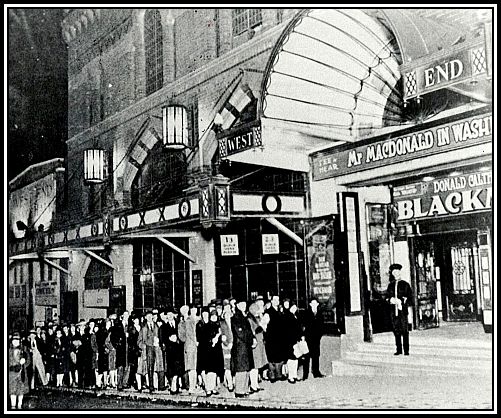 Photograph of the West End Cinema that appeared in the
Birmingham Mail, 13th March, 2015
-oOo-
Following his time in Birmingham, PCT sent John to Dudley where he was to open the Circuit's newly built Regent Cinema and to remain as the Resident Solo Organist.  The Regent Cinema was equipped with a two-manual six-rank Wurlitzer Theatre Organ (F Series) and a review of his playing appeared in the local newspaper where the reporter described John, who was still only 22 years of age and recently married, as a brilliant young Organist.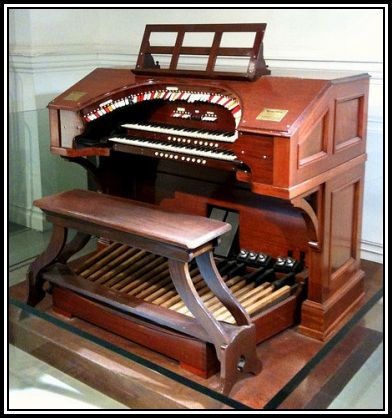 The Console of the New Gallery Cinema Wurlitzer Theatre Organ (F Series)
-oOo-
Interestingly enough, the Theatre Organist who followed John at the Regent Cinema Dudley was a young Reginald Dixon.
—ooOoo—
ACKNOWLEDGEMENTS
I would like to thank Mr. John Leeming for his invaluable help in the preparation of this piece and for uploading the musical pieces to digital format.
Special thanks are offered to the family of Mr. Howlett, and in particular to Ms Amanda Ratcliffe and Ms Emma Coleman, for providing photographs and information on his life.
I would like to thank Mr. Paul Bland for providing a number of photographs and links.
Many thanks for allowing the reproduction of photographs, drawings and information are also due to: Mr. Gavin Jones of the Black Country Bugle; Mr. Adam Phillips of the Express & Star, Wolverhampton; Ms Emily Randall, Senior Membership Development Officer at the Historical Association, Bournemouth; Mr. Michael Stead, Heritage Team at Bournemouth Library, Bournemouth; Mr. Matthew Lloyd for allowing the drawing of the Putney Palace that is reproduced from his website; and Mr. Nick Smith.
Special thanks are offered to Mr. Anton Stromlund for providing a copy of his playing of a Danish children's song.
—ooOoo—