CARVE HER NAME WITH PRIDE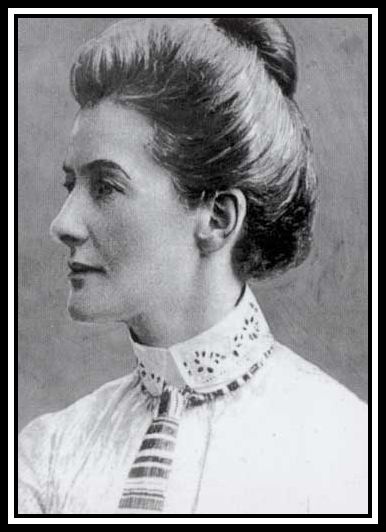 NURSE EDITH CAVELL:


WHEN PATRIOTISM IS NOT ENOUGH




PART TWO
Edith Louisa Cavell was born in 1865 in the village of Swardeston, near Norwich where her father was a vicar. After being employed as a governess both in England and Belgium, she entered training to be a nurse at the Royal London Hospital (1900-1905) under the direction of Matron Eva Luckes. In 1907, she became the matron of L'École Belge d'Infirmières Diplômées, a newly established nursing school in Brussels and in 1908 she launched the nursing journal, L'Infirmiere. Once the First World War was declared in 1914, the nursing school and associated clinics were commandeered by the Red Cross.
Once the German occupation of Brussels began in November 1914, Nurse Cavell began sheltering British troops and helping them escape to The Netherlands. This service was extended to allied troops and to Belgian and French boys of military age. The German authorities became suspicious of her activities, which was fueled by her outspoken opinions and led to her arrest in August 1915 and being charged with the harbouring of Allied soldiers. According to records, she admitted to helping 60 English and 15 French soldiers along with some 100 French and Belgians of military age to escape and was prosecuted for these actions at her court-martial.
Nurse Cavell was found guilty of the charges laid against her. According to German Military Code, which was applicable to both Germans and foreigners in times of war, guilt of treason was to be punished by death. She is well known for making the statement, Patriotism is not enough, I must have no hatred or bitterness towards anyone and for her strong Christian ideals. Her beliefs led her to help anyone in need, which included both German and Allied soldiers. She is also known for stating, I can't stop while there are lives to be saved.
Although Baron von der Lancken, the German civil governor at the time, stated that Nurse Cavell should be pardoned because of her complete honesty and because she had helped save so many lives including both German and Allied, General von Sauberzweig, the military governor of Brussels, ordered the immediate execution of the death penalty.
Once Nurse Cavell was sentenced to death, the British Foreign Office said that it was powerless to intervene on her behalf. However, the Americans who were not at present at war with Germany tried to apply diplomatic pressure on her behalf. In addition, not all German officials were in favour of her execution since she had been known to help German soldiers as well.
Despite these and the efforts of others, Nurse Cavell was executed on the 12th October, 1915, at 6 o'clock in the morning at Tir National Shooting Range in Schaerbeek by a German firing squad. Her last words to the prison chaplain were: Ask Father Gahan to tell my loved ones later that my soul, as I believe, is safe, and that I am glad to die for my country. Her execution was greeted by condemnation throughout the world along with extensive press coverage.
Following the execution a group of Belgian women buried Nurse Cavell in a grave adjacent to St. Gilles Prison. Once the war ended, her body was returned to England and a memorial service was held at Westminster Abbey. After this, it was then transported to Norwich and finally to Life's Green where she was laid to rest.
Nurse Cavell is remembered by the memorials built in her memory throughout the world. In addition there are numerous medical and nursing facilities named in her honour including a wing of Homerton Hospital in Hackney and the School of Nursing at the University of East Anglia in Norwich. There are also a number of streets, schools, gardens and bridges named in her honour in Britain and other countries. It is said that Edith Piaf, the famed singer, was named after her and in fact it is believed that Nurse Cavell is responsible for the name Edith becoming popular in France.
——oooOOOooo——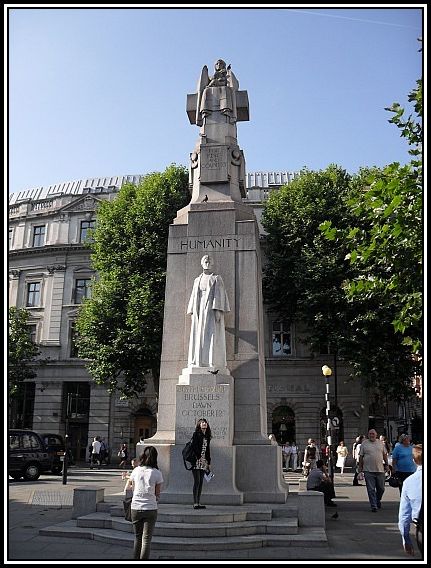 Since my mother admired Nurse Cavell, it is not surprising that she liked to visit her memorial at St. Martin's Place, close to the North-East corner of Trafalgar Square. Whenever we went to the West End, we seemed to find ourselves standing in front of the memorial at some time during our visit. My mother would stop and linger there for a while. She always gave me the impression that each time she came across the memorial it was as if it was for the first time. At each visit, she used to stop, look at the plinth and mouth the words of the inscription and shake her head and complain bitterly about those that had Nurse Cavell shot. Next, she mentioned her half-brother, George whom she loved very much and who had been killed in the Second World War. Her eyes always filled with tears as she remembered him. Once she wiped them away, she sighed deeply and turned to the statue and made the same comment regarding Nurse Cavell's height. When I was young, I had the habit of reminding my mother that she followed this routine each time she came to the memorial. She always denied it and told me that I was too smart for my own good. As I got older, I developed more compassion and understanding, as well as the habit of standing beside her and shaking my head in agreement with her feelings.
In the meantime, my father was disappearing in the distance. He had the habit of walking a head and seemed oblivious most of the time that he had left home with us. Eventually it would dawn dawn on him that he had a wife and son somewhere and he would stop and smoke a cigarette while he waited for us to catch up. And once we did, he grumbled for a while telling us how slow we were and then take off again.
——oooOOOooo——
The Nurse Cavell Memorial was one of the first of such Memorials that I remember seeing in London as a child. Naturally I was very impressed and remembered the austerity associated with the lady. I remember my mother telling who the lady was and how she had been a heroine and had been shot for helping soldiers escape. I was greatly affected by what I was told. Throughout my childhood, I visited the memorial numerous times and it became a great favourite of mine along with The Gladstone Memorial at the Aldwych.
A point aside, I remember the first time that I saw The Gladstone Memorial. I was being taken to the Stoll Theatre in Kingsway. I was being taken to my first West End theatre and about to see the original London production of Oklahoma! I was especially taken with the smaller statues around the central one of Gladstone and really liked the curved sword held by one of the figures who was about to kill a snake.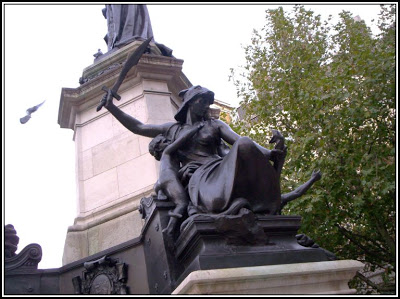 The Nurse Cavell Memorial was the work of Sir George Frampton R.A., P.R.B.S. (1860-1928) and is of white marble and was unveiled in 1920. I have read that it is 7.6 metres high and of grey granite. The statue of Nurse Cavell stands on a plinth before a cross in the nursing uniform that she wore as she stood before the firing squad at her execution. The representation of Nurse Cavell shows her exactly as I believe she was: serene, stoic and without fear. Who could not but admire her? A woman and child appears at the top of the cross and symbolizes Humanity and in particular to symbolise the allies coming to the aid of Belgium during the First World War.
The memorial was not well received at the time of its unveiling. It differed greatly from Sir George's other works. The major criticism was not of the figure of Nurse Cavell, but that it was dwarfed by the mass of granite behind it. In addition, the figures representing Humanity did not escape critique. Many found such criticism to be unwarranted especially since Sir George did not charge for his work and time.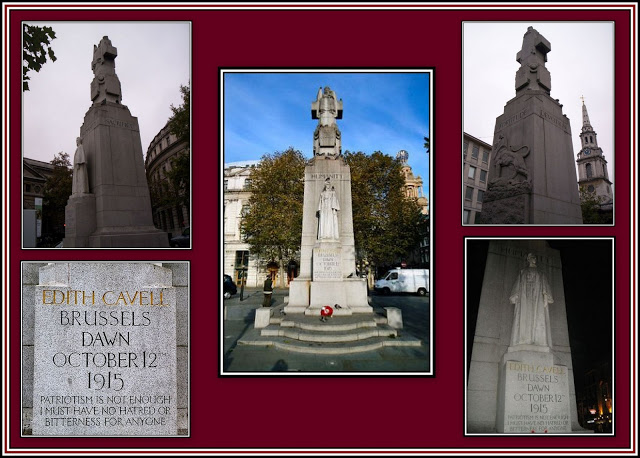 ——oooOOOooo——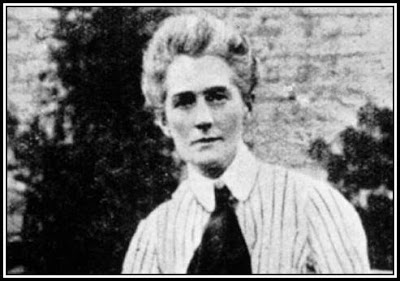 At the end of the First World War, Nurse Cavell's remains were brought to London for a state funeral at Westminster Abbey. The railway van that transported her remains from Dover to London is maintained as a memorial to her and is open for viewing at Bodiam Railway Station in East Sussex. Following the state funeral, her remains were taken to Norwich and finally laid to rest on the 19th May, 1919 on the east side of Norwich Cathedral where a graveside service is held in remembrance each October.

One of the first memorials to Nurse Cavell was by Henry Alfred Pegrmin, which is found in the grounds of Norwich Cathedral. It was unveiled by Queen Alexandra in October 1918.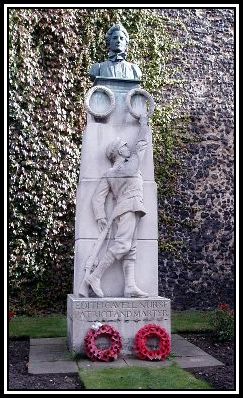 Norwich is an interesting city with a long history. I lived there at one time and used to enjoy going to the cathedral and visiting Nurse Cavell's grave and memorial. What I always liked about Nurse Cavell grave was its simplicity, which is where its charm and grace lies.
Norwich Cathedral is a beautiful structure with fine cloisters and is constructed from flint and mortar and faced with a Caen limestone. Building began in 1096 and was completed in 1145 and the original wooden Norman tower can still be seen with the stone spire being erected in 1480. The cloisters is the second largest in England, those of Salisbury Cathedral being the largest.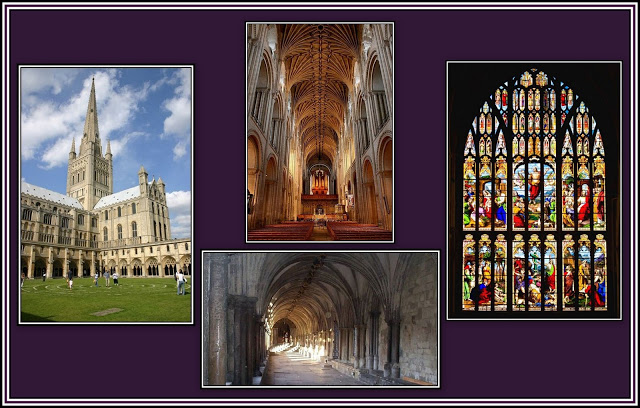 Unfortunately the cathedral was partially in ruins in the early 17th century and in 1643 an angry Puritan mob invaded the building and destroyed all everything associated with the Catholic Church. During the Civil War, the cathedral was left to decay and was abandoned for almost twenty years. It was not until after the restoration of the monarchy in 1660 that plans began to be put together to return the cathedral to its former glory. Norwich is one of only three English cathedrals to lack a ring of bells, the others being Salisbury and Ely Cathedrals.
I enjoyed exploring the cathedral and especially liked to sit and admire the remarkable fan-vaulted ceiling. I used to walk around the cloisters and always spent some time at the grave of Nurse Cavell before making my way out into the cathedral grounds. The cathedral grounds house a number of fine buildings, some of which were covered with creeper that were especially colourful during the autumn months. The cathedral also has a fine organ and I remember attending a number of recitals during my time in Norwich.
The area surrounding the cathedral has great charm. Elm Hill is especially delightful. It is a winding cobbled street filled with the usual bookshops, curio establishments and tea rooms to attract visitors. However, at certain times of the year and at particular times of the day, the area is relatively free of people and it was at such times that I liked to walk here and allow my information to run wild.
Close to the cathedral is another wonderful treasure of Norwich, the Maddermarket Theatre. The theatre stands on the site of the medieval market where the scarlet dye called madder was sold during the days when Norwich was the centre of the wool trade. As a result, the area became known as the Maddermarket in the 13th Century. The theatre building was originally a Roman Catholic Chapel and later became a hostel and finally a warehouse. Eventually, it was abandoned and became derelict. It was rediscovered by Walter Nugent Bligh Monck who was impressed by the domed vaulted ceiling and appreciated the acoustic quality that it gave to the building. Mr. Monck purchased the building and after its restoration made it the home to his band of amateur actors known as The Norwich Players who are still in residence today. I attended a number of productions at the theatre during my stay in Norwich and enjoyed them immensely.
There are numerous other memorials to Nurse Cavell in various parts of the world. One that I especially like is close to The Shrine of Remembrance, the War Memorial in Melbourne. The memorial is of a marble bust with bronze panels mounted on a granite pedestal and was executed in 1926. It was produced by Margaret Baskerville who studied sculpture at the Royal College of Art in London and who became one of Australia's most accomplished sculptors. Money for the memorial was raised by , which proved to be so well-patronised that the additional monies was used to inaugurate the Edith Cavell Trust Fund and used to help injured war nurses. The Trust remained active until 1974.
There is a monument to Edith Cavell and Marie Depage in Brussels and an inscription on a war memorial in the German municipality of Schaerbeek at Tir National naming the 35 people executed by the German army during the First World War. There are also memorials in Peterborough Cathedral and at the U.S. Headquarters of the Red Cross in Washington, D.C. and a dedication on the war memorial on the grounds of Sacred Trinity Church in Salford in Lancashire.
It is some consolation to know that her name continues to live on and that her sacrifice is not forgotten.
——oooOOOooo——
One last memory is associated with a less than happy time of my life. I remember that it was about 10 p.m. on an early spring evening in 1953 and my mother and I were making our way to the Nurse Cavell Memorial in Trafalgar Square before getting a bus home. We were walking along Charing Cross Road and were in a sad state. We were on the verge of having to move home and had been up until then unsuccessful in finding a new place to live. Our plight was of great concern to my mother, as it was not a time when there were many vacant places available.
I remember we were walking along and had reached the point where the Garrick Theatre was on the opposite side of the street. We were about to walk by a little garden and come to the entrance of the National Portrait Gallery when my mother suddenly stopped and looked down at the ground. I did too and as she moved her right foot, there beneath it was a pound note. My mother quickly picked it up. In those days, a pound was indeed still worth a pound and was able to buy a reasonable amount. My mother looked around to see if anyone was looking for their lost money, but the street was practically empty. My mother said that we were lucky to have found the note, as we were in dire need of it at that precise moment. We then continued our walk and made our way to the Nurse Cavell Memorial. As we did, I noticed that we had an added spring in our step.
——oooOOOooo——
-oOo-
Final Note: whenever I go to London, I never fail to visit the Nurse Cavell Memorial and, just like my mother, I linger there a while. I am happy to see that there are always others there no matter what the hour although sadly there are never as many as in the past.  I like to think that they are fully aware of who the tall woman with the austere look was and what she did.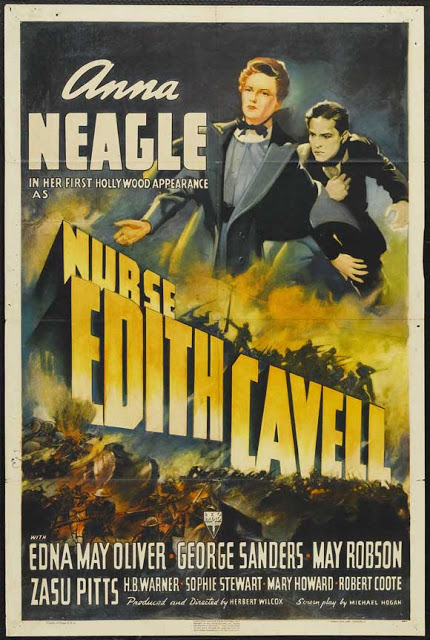 Edith Cavell – with Anna Neagle as Nurse Edith Cavell and directed by Herbert Wilcox
——oooOOOooo——
Although not relating to Nurse Cavell, the Queen Elizabeth's Hospital for Children in Hackney Road was a hospital near and dear to the residents of the East End.  I received care there often as a child and on one occasion underwent an emergency operation in the middle of the night that certainly saved me from suffering permanent brain damage.
For 150 years, the hospital offered excellent service to children.  It was closed in 1997 and since then has sat empty and the building has been left to rot away.  One is surprised that the Council seemed unable to devise a plan whereby such a large building could have found a use that would serve society.
Now it seems that the facade is to be kept and the remainder demolished to make way for ……….. (drum roll!) …….. luxury apartments.  One wonders who is going to live in them!
The link below is to an article written for East London Lines about the hospital.  I was kindly interviewed during the preparation of this article:
The Queen Elizabeth: 150 Years of Hackney History
——oooOOOooo——
The 12th October, 2015 marked the Centenary of Nurse Cavell's execution.
BBC Radio marked the occasion by airing the special service held at Norwich Cathedral where her grave is close by.
BBC Radio 4 Sunday Service from Norwich Cathedral to mark the Centenary of Nurse Cavell's death
-oOo-
BBC Radio 4 – Prayer for The Day: 12th October, 2017
The Anniversary of the death of Nurse Edith Cavell
——oooOOOooo——
Click here to take A DETOUR INTO CHEMISTRY & MEDICINE
——oooOOOooo——
CLICK HERE to return to NURSE EDITH CAVELL: WHEN PATRIOTISM IS NOT ENOUGH – PART ONE
——oooOOOooo——
Click here to go to BOADICEA – THE WARRIOR QUEEN
——oooOOOooo——
Click here to return to CARVE HER NAME WITH PRIDE Home Page
——oooOOOooo——
Click here to return to the TABLE OF CONTENTS
——oooOOOooo——