THE GRANADA THEATRE CIRCUIT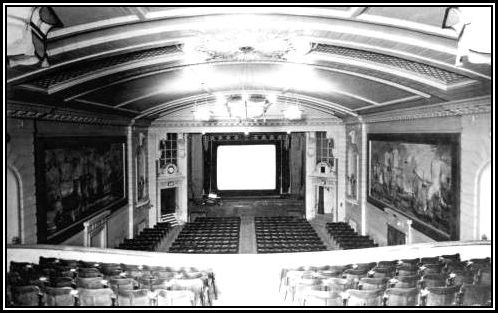 The Palace Cinema Slough destroyed by fire on V.J. night
and rebuilt as The Century Theatre
PART TWELVE:
THE SLOUGH GRANADAS & MISS CANDY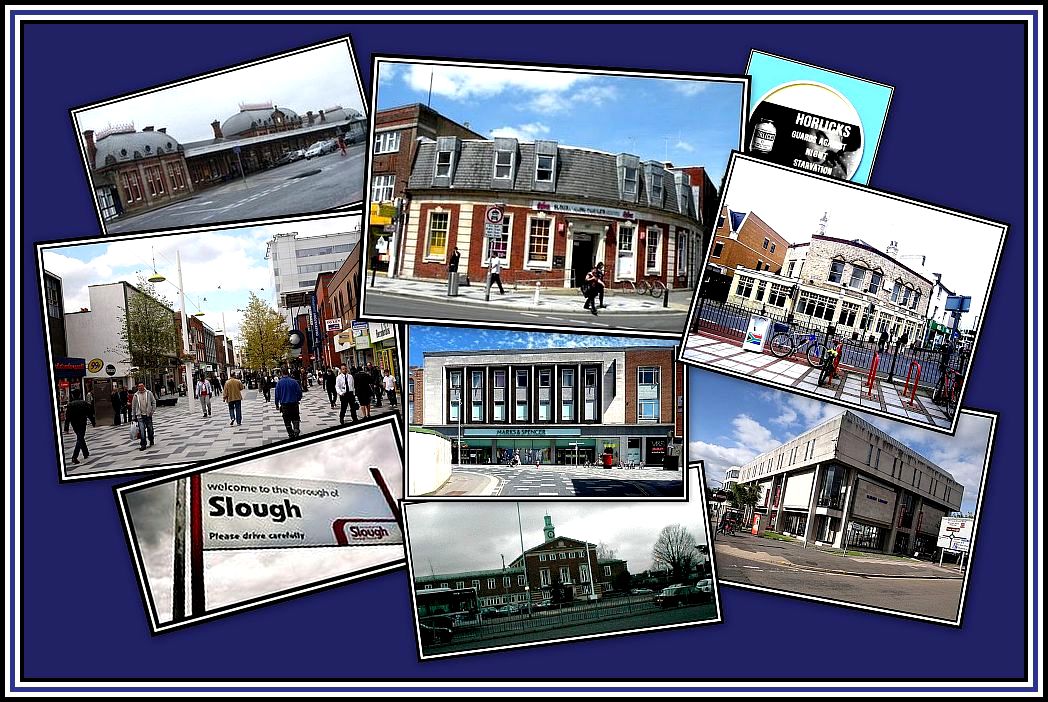 PAGE FOUR:
OTHER BUILDINGS OF SLOUGH
—ooOoo—
I remember early 1957, as it was when Asian 'Flu' hit us in the U.K., and hit us hard. My mother and I were struck down for a week, but my father seemed to be immune from it and had to take care of us. My mother was furious when she saw the mess he had made throughout the house! By Friday I was feeling better and decided that I had to go out or I would go nuts.  I had saved up one pound in pennies, half-pennies and other assorted coinage and this money was burning a hole in my money box!
I went into Slough at lunchtime on Saturday and went into one of the two very dull and old-fashioned 'record shops, Hickies and Bucks Music Store, which I was to work at a number of years later. These shops were music shops and sold musical instruments and sheet music and a few tasteful 'records! I disliked these shops, as they both had miserable decor and a staff that was not only ancient, but better suited to work in a library!
I went to Hickies, as it was closest to the Town Centre, and found the place jumping! The staff was in a flap since they could not cope with what was going on! There were three listening booths at the back of the shop, and from each one I could hear, out of sync, I could the tune, That'll be the Day, coming out from them. The noise was deafening!  Inside each booth, the listeners were jiving and having a great time, as were a number of customers in the shop. Almost all of the customers were singing along to one of the versions coming from the booths!  A setting for chaos!
To someone not familiar with the music or with a dislike for it, it must have seemed like Bedlam! The management was beside itself! They were trying to remain clam and professional, but they were losing the battle.  As funny as the situation was to me, I realised that the manager and staff had lost control of the shop and he had probably called the police for help in returning the shop to order.
I realised that departure was perhaps the better form of valour!  I quickly moved to the counter where I was treated very shabbily when I dared to ask one of the shop assistants for a copy of this particular tune and The Great Pretender / Only You by The Platters.  Although she was normally a person with a dreadful disposition, I did feel sympathy for her that day.  She was in quite a state and matters were made worse, as her hair, which had been maintained in a chignon, was starting to fall apart!
I took my 'records without checking the change given me and quickly made my way out of the shop.  Outside, a police car was just pulling up at the entrance to the shop. When I got home I noticed that the poor sales lady had given me not only my change, but my original money back by mistake!
In those days, I was young and sadly not shy of a little pilfering, I have to admit, and so considered this to be a windfall! These 'records turned out to be the last 78's I was to buy new, and incidentally, I never did go into Hickies again!  The shop and my old school on William Street were demolished in the late 1950s to make room for Slough College of Further Education, which later became one of the new universities, but since had to close as asbestos was found to be present!
There were two Dance Halls in Slough when I lived there: one above the Adelphi Theatre and a second, the Carlton Ballroom, on the High Street.  At one time, I used to chose the 'records that were used at the Sunday Afternoon Dances at the Carlton Ballroom.  These 'records came from Bucks Music Store who did a deal with the Carlton for free publicity, which I fear never increased its business.
Slough had no permanent legitimate and the nearest theatre was the Theatre Royal Windsor, which was located on Castle Hill, directly opposite Windsor Castle, and about two miles from Slough Centre. Later, I learned that the Aldephi Theatre had been used for stage shows and pantomimes at one time.  However during the time I lived in Langley, the Adelphi Theatre was used for Rock 'n' Roll Stage Shows and Wresting Events and these continued until the theatre's conversion into a Granada Social Club.
THE GRANADA THEATRE CIRCUIT
——oooOOOooo——
——oooOOOooo——
Click here to return to PART TWELVE:
THE SLOUGH GRANADA THEATRES & MISS CANDY
PAGE THREE – THE GRANADA & ADELPHI THEATRES OF SLOUGH
——oooOOOooo——
Click here to go to PART THIRTEEN: THE END OF AN ERA
——oooOOOooo——
Click here to return to PART ELEVEN:
THE GRANADA THEATRE WOOLWICH
——oooOOOooo——
Click here to return to THE GRANADA THEATRE CIRCUIT
Home Page
——oooOOOooo——
Click here to return to the TABLE OF CONTENTS
——oooOOOooo——