THE ODEON ISLEWORTH

DIDN'T THIS BUILDING USED TO BE A CINEMA?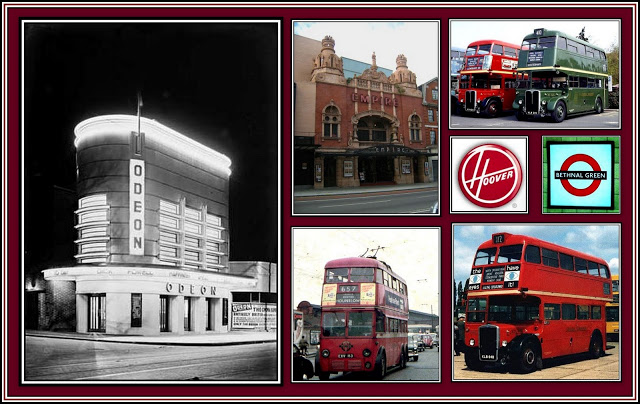 PART SEVEN: THE ROAD TO RICHMOND – MAKING DISCOVERIES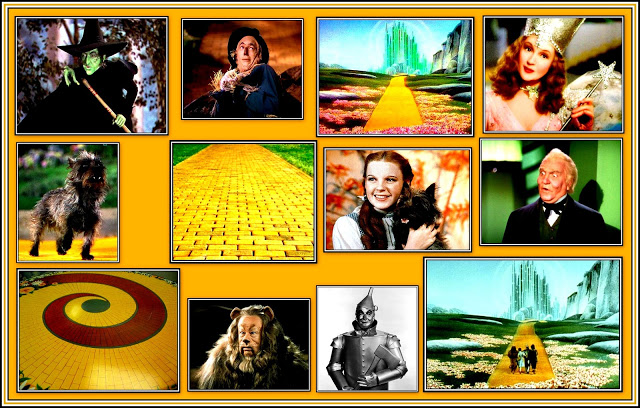 It is better to travel hopefully than to arrive
Is there anything better than sitting in the front seat of the upper deck of a London Transport bus? Perhaps not everyone's cup of tea, but definitely my Transport of Delight!
I was happy to get on the bus at the start of the journey at Clapham Junction, as it meant that I could have my pick of the seats. It had been a while since I sat on the upper deck of a London bus and even longer since I sat in one of the front streets. London buses move very fast about the streets and with modern suspension, poor unsuspecting souls like me, can be thrown about the bus with ease. Generally, this has led me to journey on the lower deck and to find a seat as quickly as possible!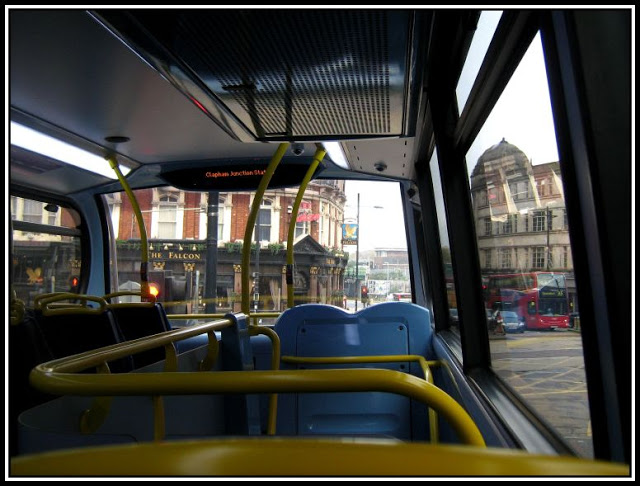 Starting out on The Road to Richmond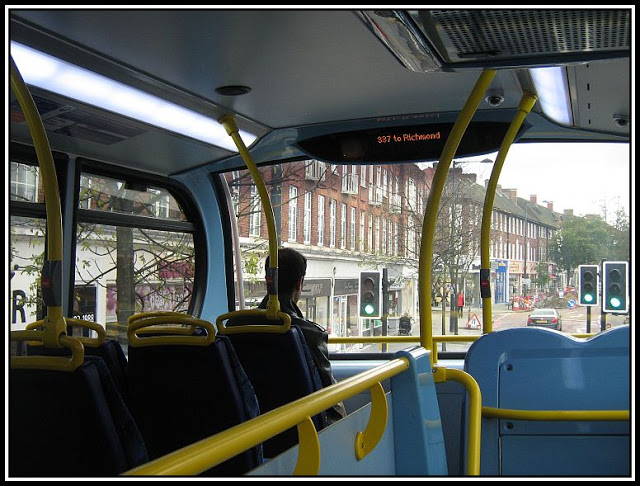 The simple pleasure gained from sitting in the front seat of the upper deck of a London bus
——oooOOOooo——
DISCOVERING SURPRISING WANDSWORTH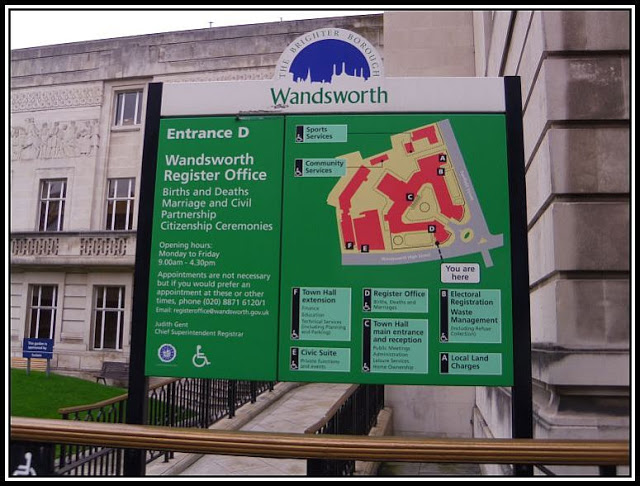 Wandsworth – The Brighter Borough
My journey began well and immediately brought me to an interesting and surprising area once it left Clapham Common and rumbled along St. John's Hill and into Wandsworth. This was an area of London, which was totally unknown to me. My father used to talk of it and always gave me the impression that it was an area with some charm. Naturally this was met with a sniff from me! My initial dislike of anything in South London took yet another beating once we arrived at Wandsworth Town Hall. This is a surprisingly delightful building designed by Edward A. Hunt and opened by Queen Mary in 1937 and was obviously deserving of being examined further and explored to the full and which I was to do on another visit.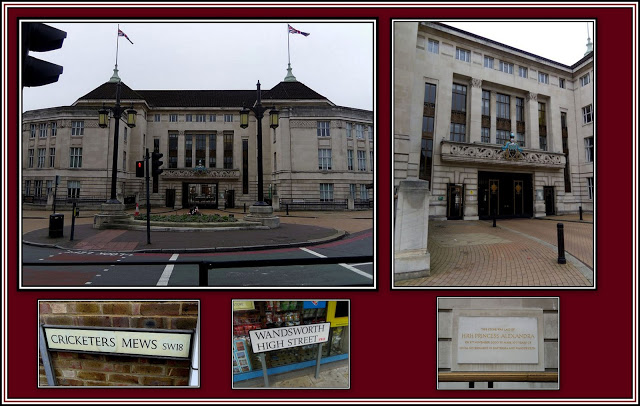 Wandsworth Town Hall
The external design of the Town Hall is simple although along the High Street there are a number of stone reliefs depicting incidents and industries in the history of the five parishes (Wandsworth, Streatham, Clapham, Putney and Balham-Tooting) which made up the Metropolitan Borough of Wandsworth.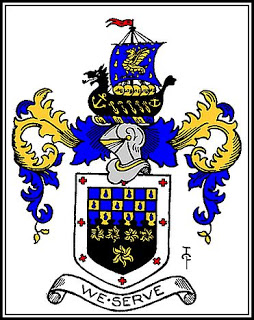 In July 1902, Wandsworth was granted its own coat of arms. The blue wavy division represents the Rivers Wandle and Thames. In 1685, Huguenot refugees arrived in the area and the blue drops on the coat of arms represent the tears of their struggle. The five stars represent the constituent former parishes. At the top is a long boat, with a dragon's head, commemorating 9th century Danish incursions along the river. The motto of the borough council was We Serve.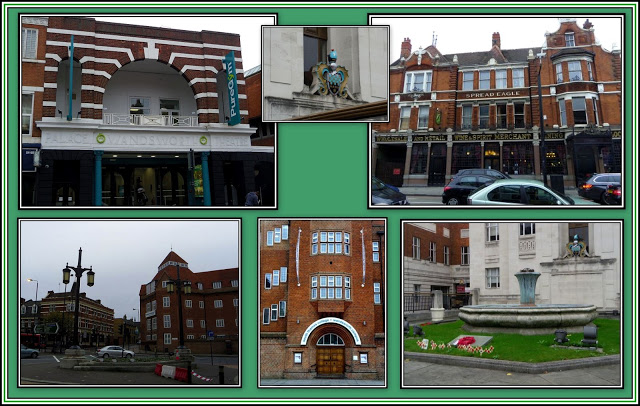 Wandsworth Buildings
Top Left: Palace Theatre, now a gym; Middle: Coat of Arms;
Top Right: Spread Eagle public house;
Bottom Left & Middle: South Thames College, Wandsworth Campus;
Bottom Right: Fountain & War Memorial at the Town Hall
——oooOOOooo——
DISCOVERING A WETLAND ………….. IN LONDON?
But to return to my trip to Richmond: a truly interesting and surprising, as well as informative part of my journey came when the bus passed a road with a signpost pointing the way to the London Wetland Centre.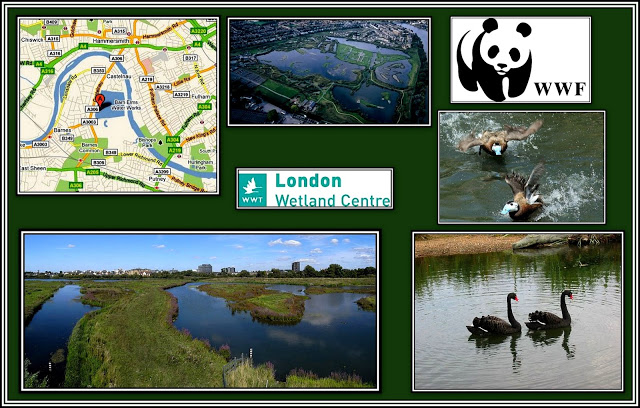 Click here to watch a video about the WWT London Wetland Centre
The London Wetland Centre was opened in 2000 and is a reserve managed by the Wildfowl and Wetlands Trust (WWT) in Barnes. The area was originally four disused Victorian reservoirs close to the Thames and covers an area of over 100 acres and has created a range of wetland features that has allowed many birds not found elsewhere in the city to make their home in significant numbers. The centre was the first of its kind to be set up in Britain and is considered a success. I was very surprised to learn about the centre. Somehow one does not think of such a sanctuary in an urban setting. It is amazing what can be done when those with vision come together.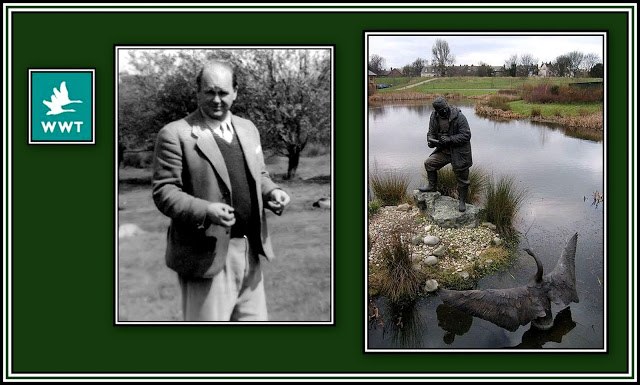 The Wildfowl and Wetlands Trust (WWT) was founded by
Sir Peter Scott in 1946
Right: statue of Sir Peter Scott at the London Wetland Centre
——oooOOOooo——
HE WHO LAUGHS FIRST DOES NOT ALWAYS LAUGH LOUDEST
The amusing part of the journey to Richmond began when the bus indicator now present on most London buses informed me that I was about to pass through East Sheen. Immediately, I began to laugh, first quietly, then loudly and finally uncontrollably!  Fortunately I still carry a handkerchief, which I thrust into my mouth to deaden the sounds.
-oOo-
Now before you reach for your keyboard and begin to write to me, read on and see what follows at the end of this story please.
-oOo-
Most people of my age understand immediately why I found the name East Sheen to be amusing, while the rest of society would think me nuts for laughing out loud on that bus.
When I was a child, I used to enjoy Hancock's Half Hour, one the classic radio comedy shows of the 1950s presented on the BBC Light Programme. The writers were Ray Galton and Alan Simpson who went on to write other great shows including Steptoe & Son.  Hancock's Half Hour centred round the comedian Tony Hancock playing a less-than-successful comedian, Anthony Aloysius St John Hancock and his assortment of friends and was set in his rundown home at 23 Railway Cuttings in East Sheen.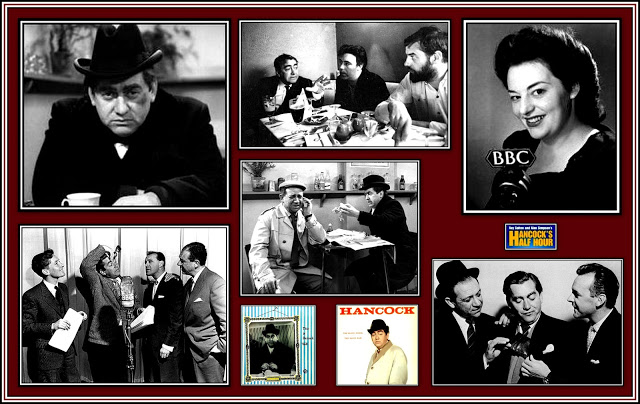 Hancock's Half-Hour
Top Left: Anthony Hancock; Top Middle: with Alan Simpson and Ray Galton (writers);
Top Left: Hattie Jacques;Centre: with Sidney James;
Botton Left: Kenneth Williams, Tony Hancock, Bill Kerr and Sidney James;
Bottom Right: with Sidney James and Bill Kerr
Watch: The Blood Donor
and
12 Angry Men
The programme was a wonderful situation comedy and was highlighted by Hancock's interactions with his pals. My friends, family and I listened to each new episode when it was aired and listened again when they were repeated. We found the programme to be immensely entertaining and each episode invariably caused me to laugh uncontrollably to the point where I ached, which is something that rarely happens today.
Throughout the numerous series, Hancock's assortment of friends came and went, but those that I especially liked were: Sidney James who played a spiv, a wideboy, a con man, someone who was always into dodgy deals and who constantly outwitted Hancock and who had a characteristic evil-cum-dirty laugh; Bill Kerr whose character came from Wagga Wagga in Australia (I have to confess that even before going to Australia, I'd decided that once I got there I wasn't leaving the country without visiting this town!) and who spoke slowly and deliberately and who was considered to be less than bright and used to refer to Hancock as Tub; Hattie Jacques who played Griselda Pugh, Hancock's secretary and occasional girl friend of Sidney James and unlike previous female characters also provided comedy; and Kenneth Williams in his first sortie into radio comedy and who played numerous roles whenever funny voices were required.

The Town of Wagga Wagga found between
Melbourne and Sydney on the Murrumbidgee River in New South Wales
Hancock's Half Hour was broadcast on the radio between November 1954 and December 1959. There was also a television version, which was produced from 1956 to 1961. The last television series was titled simply Hancock, as it ran for twenty-five minutes! Only Sidney James was a regular on both the radio and television series, although he did not appear in Hancock.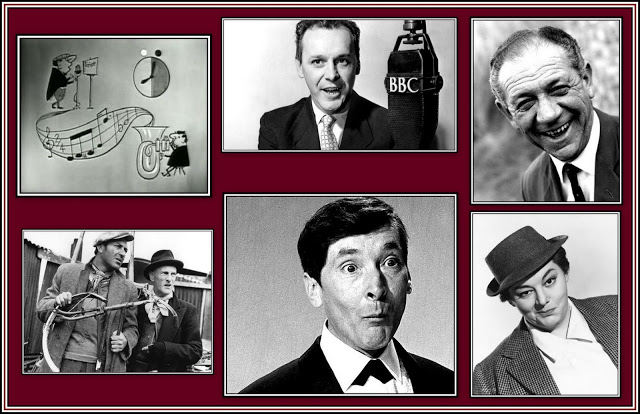 The co-stars of Hancock's Half-Hour went on to have successful careers in radio, television and film
The writers, Ray Galton and Alan Simpson, also wrote the highly successful comedy show Steptoe and Son (Bottom Left)
The programme brought notoriety to East Sheen, a very middle class and well-to-do area that implied that it had a poor and dilapidated section, which it did not. I am afraid to say that as a result of this programme, I have never been able to hear its name without laughing and doing so loudly and for an extended period of time!
Once we were about to enter the actual precincts of East Sheen, my laughter grew louder and even more uncontrollable.  I had tried burrowing my face in my hands, but to no avail.  I also tried coughing and even a sneeze, but I continued to convulse!  Now desperate, between guffaws I searched for my handkerchief, and once found, I stuffed as much of it as possible into my mouth! Unfortunately each of my feeble attempts to hide my laughter only caused my fellow passengers to notice me more than they might have done had I just laughed and allowed them to think me nuts and simply laughing at an hallucination!  I was in a pitiful state, as the bus slid into the centre of the town.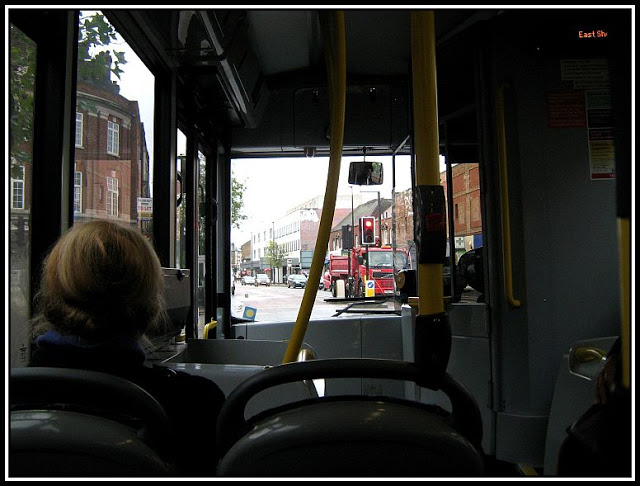 Arriving in the heart of East Sheen
Because of my coughing, spluttering and laughing, I did not get to see the splendour of East Sheen. I am glad to say that there were few passengers leaving the bus here and even fewer waiting to get on, so the bus was able to take off and carry me out of East Sheen with some speed. Thankfully the remainder of the journey to Richmond was evidently less informative since I remember little of it and obviously less amusing since I was to arrive at my destination in a moderately composed state.
——oooOOOooo——
AND FOR THOSE READERS WHO HAVE SPOTTED MY ERROR
Please have patience for a little longer, as all will now be explained in the next tale.
——oooOOOooo——
A TALE OF TWO BOROUGHS …… A ROSE BY ANY OTHER NAME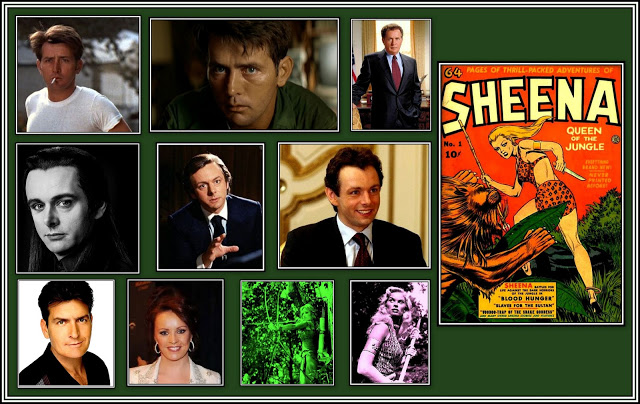 Will the real SHEENA please stand up!
Many readers will have noticed by now the error that I have made in the last story. Be that as it may ……… believe me, I readily admit my error ….. but indulge me a little further and allow us to let at the reasoning for it!  After all, don't we live in an age when nothing is ever the fault of the person committing the error, right?
My early education suffered from my inability to 1) distinguish the difference between similarly sounding words and 2) an inability to spell in English.
When I started school in January 1948. Along with five other children, I joined a class whose members' academic career had begun earlier in September of that year and who were already reading and writing by the time we joined the class. Despite knowing the alphabet and being able to count, I was still at a disadvantage compared to my more advanced cohorts. Our teacher attempted to catch us up, but I fear I never did.
Soon after starting school, I was absent for a week. I must have been ill, but I can not remember what the ailment was. I remember hearing Mickey Rooney talking about his gambling habit. He said that the first time he went to a race track, he lost $2. After a brief pause, he said that he next spent about two million dollars trying to win that initial two dollars back!  And so it was for me!  I feel as if I spent the remainder of my academic life trying to catch up on that lost week!
As anyone who knows me is well aware I have an inability to spell. English spelling has always been an art I have never mastered. I regularly failed Dictation as a child and was constantly scolded, chastised and even beaten for my failings. Strangers, friends and acquaintances have rarely shown me any sympathy when it came to my inability to spell. Naturally as a child, I easily dealt with the inability of others to sympathise with my plight …….  a simple bashing generally worked wonders!  I found that many of those so-called smart people lacked the ability to defend themselves and one good bash strategically placed was generally sufficient to remind them that perhaps it was not advisable to laugh with such glee at my failings and those of others.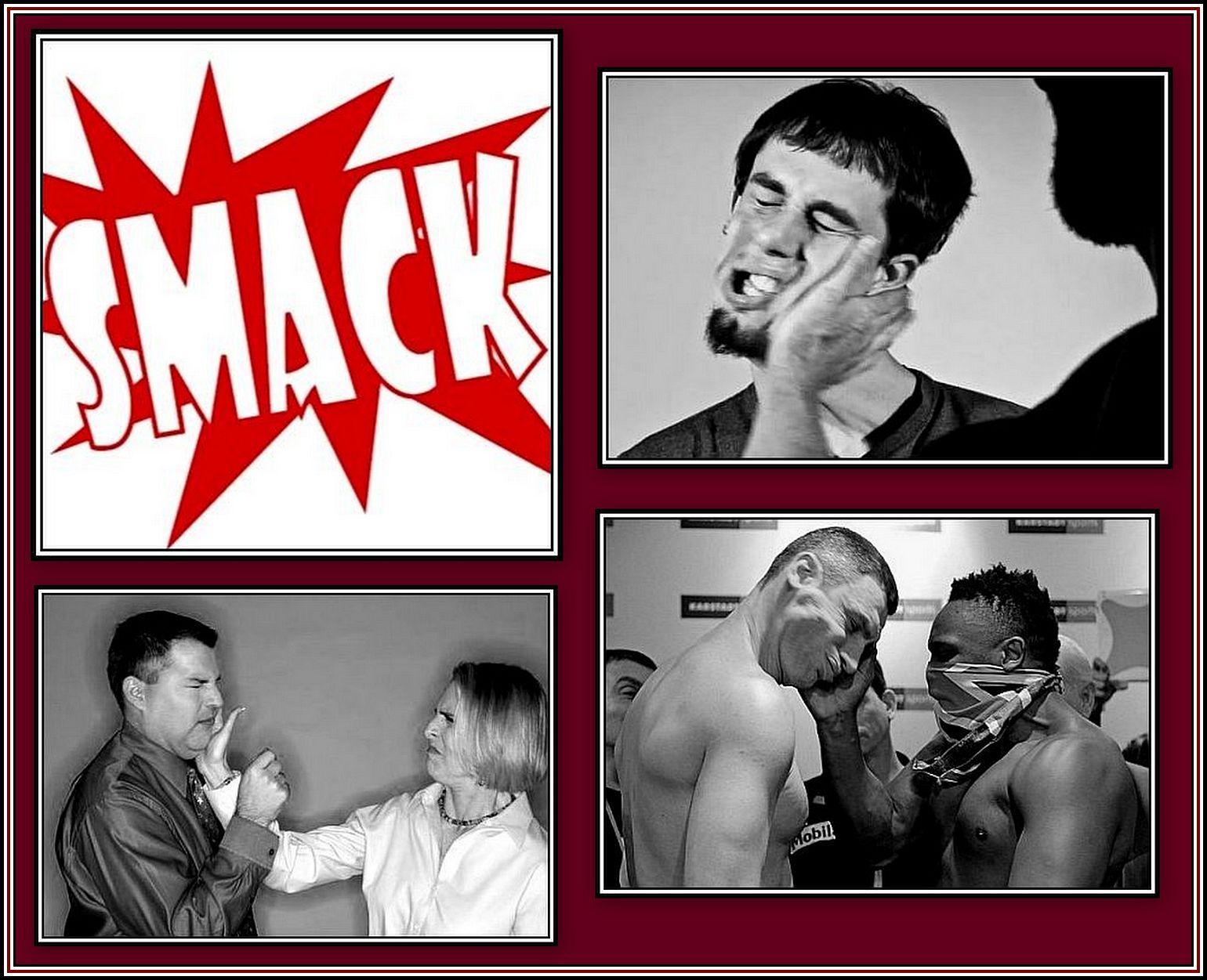 Throughout my life the subtleties of the English language have remained lost on me. It was not that I lacked the ability to appreciate the language of Shakespeare. On the contrary, I have always enjoyed reading and even joined the Bethnal Green Library at a young and tender age and regularly borrowed books.  I also enjoyed the plays that I saw in my youth and continue to do so. However I do have to confess that the joys of poetry have failed to leave a lasting impression on me.
Anyway let me add that in spite of this, no matter how often I was told …….
I before E except after C with some exceptions …….
if there was a chance …… even the merest possibility of misspelling a word …….. I did!  And let us not discuss words ending in –ANT and –ENT, as I never failed to confuse them.
After reading my essays and other written works, any of my teachers became so frustrated that they could not but hurl my exercise books across the room in despair.  I have had to endure the groans of so-called better-educated-friends whenever they read one of my gaffs.  I was most likely seen as a pathetic creature by many teachers and tolerated in a somewhat patronising manner!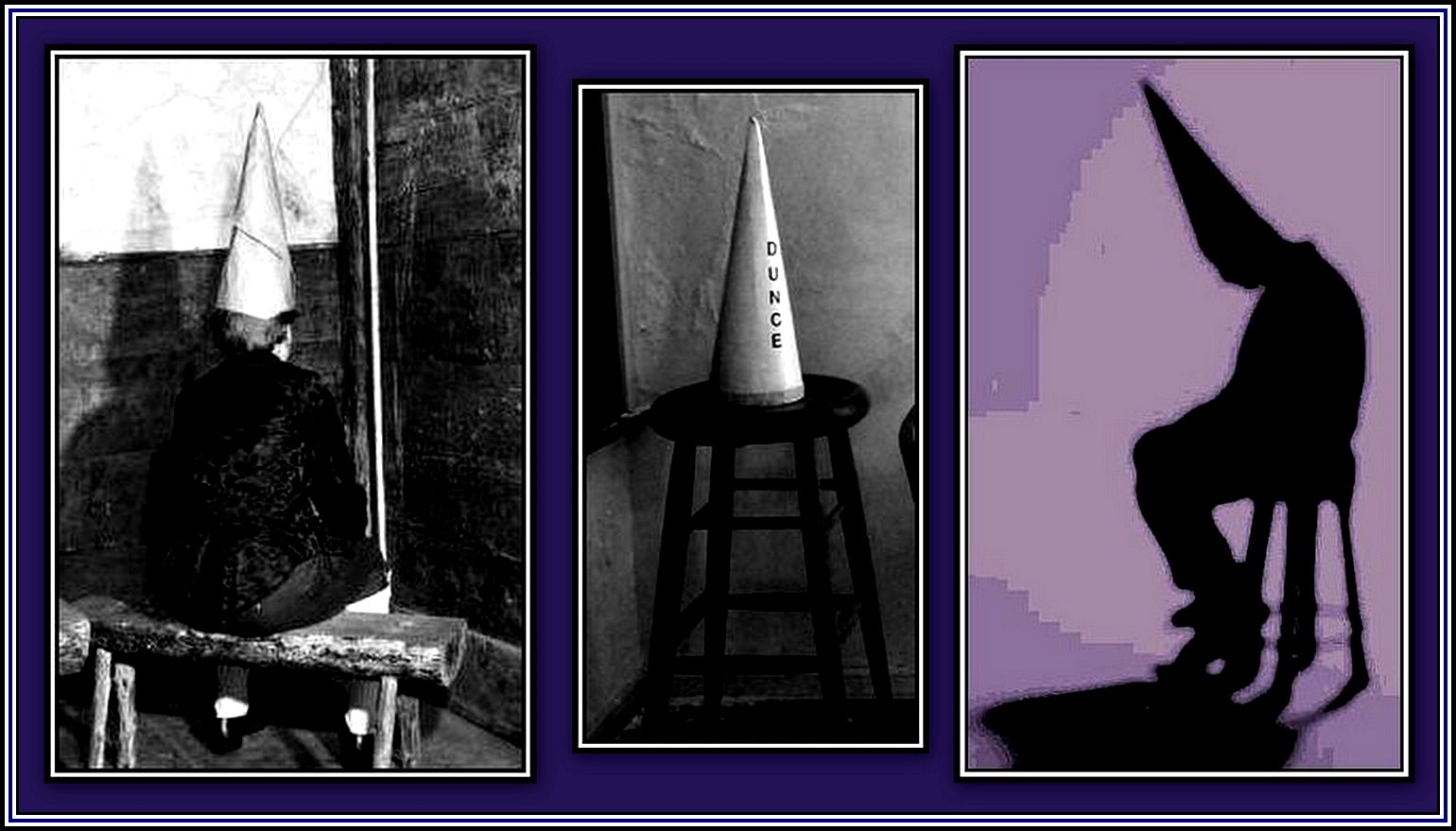 Alas my woes do not end with my inability to spell correctly every word in the Oxford English Dictionary, but extended beyond and brought me more grief.   I also suffer from an inability to distinguish between similarly sounding words. To my obviously impaired ear, such words sound the same!  This can often cause me to confuse the meaning of words. I remember that I was 22-years of age, and already with a Bachelor of Science degree, before I learned that a PLACARD was not pronounced PLAY-CARD!  I was mortified when I realised the distinction.
With continued age and despite the reading of a vast number of books, the writing of a slew of articles and stories, as well as doing my best to train in various professions, my inability to master the English language has followed me wherever I went.
At one point in my life, I moved to France. Here I was amused to find that I was able to spell French words perfectly well and was often asked to do so by my French colleagues. I always believed that this ability came from the fact that, as a child, I had not missed the class where sounds were explained. Another joy of living in a foreign land came when I realised that no one was criticising my spelling of English unless of course they were natural-English speakers.  A few of these people proved to be as beastly as certain of my countrymen. Sadly, I was too old to dish out suitable punishment to them by now and had to rely on an acid-tongue and sarcasm to keep them in their place!  Which I did and do!
I hope that the Americans in the audience will forgive me here, as I do not wish to give offense: I find that I have been happiest here in the United States since most of the people I have had to deal with – both educated and not-so-well-educated – do not hold correct spelling in such high esteem. They do hold these ridiculous Spelling Bees where nerdy kids compete to see who can spell idiotic words that few use, but this is not a quality that most find of value today except for the overly pushy parents of so-called bright kids.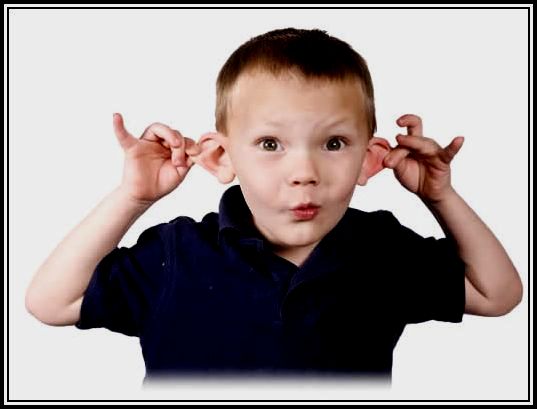 Living here in the U.S., I have found that my manner of speaking and how I sound (i.e. my accent, which incidentally, I refuse to admit to having one!) are taken to mean that I am somehow ABOVE and BEYOND any language failings.  It is a given here that my spelling and mis-pronunciations are not to be questioned by them since they assume that I employ correct usage.  I bless ALL Americans for their kindness and for making these assumptions, albeit (or is it albe-them?) incorrect!  Bless those Americans for feeling inadequate and not daring to question me!
——oooOOOooo——
And now dear Readers I come, at last,
to the point of this interlude
in the saga of the Odeon Isleworth!
——oooOOOooo——
Since I had absolutely no idea how to spell many words ……. to my way of thinking ……. it is quite reasonable and completely understandable, although obviously not correct, that I confuse the usage of certain similarly sounding words.
Again in my defense, I remind the reader that I suffer with two impediments ……. and inability to distinguish certain English sounds and a second inability to distinguish similarly sounding English words, which can result in my confusing certain words.
After reading this series of stories, a friend of mine who is a fellow admirer of Hancock's Half-Hour, informed me that the setting of the show was in EAST CHEAM and not EAST SHEEN!
At first I was mortified!  And then after a few minutes, I found myself laughing.  What else could I do?  It seems my inability to either see or hear the difference between words such as SHEEN and CHEAM led me once again into the realm of confusion!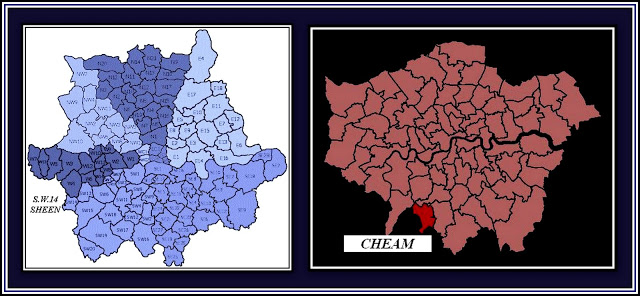 Map of London showing the location of both SHEEN (S.W.14) and CHEAM
(the eastern section of CHEAM was the setting for Hancock's Half-Hour)
With this simple explanation, I am now ready ONCE MORE to throw myself on my sword and admit to yet another gaff.
For those of you who are unfamiliar with the various areas of London and environs, East Cheam is perhaps unknown to you. For those who were not fortunate enough to grow-up listening to one of the greatest radio programmes ever produced, Hancock's Half-hour, the humour associated with this area would naturally escape them too. To my cohorts and me, as revealed here, the mere mention of the words, EAST CHEAM, causes us to collapse into a heap of gelatinous protoplasm at your feet while choking from our gales of laughter.
And so I must confess that on the road to Richmond the bus carried us through EAST SHEEN and not EAST CHEAM.  Mind you, it's an ill wind, as had I known this, I would not have choked with laughter on the bus and not been able to relate the joys of Hancock's Half-Hour to the reader!
——oooOOOooo——
Click here to go to PART EIGHT: SURPRISING RICHMOND
——oooOOOooo——
Click here to return to
PART SIX: THE ROAD TO RICHMOND – DOWN THE HILL & UP THE JUNCTION
——oooOOOooo——
Click here to return to THE ODEON ISLEWORTH Home Page
——oooOOOooo——
Click here to return to the TABLE OF CONTENTS
——oooOOOooo——