THE GRANADA THEATRE CIRCUIT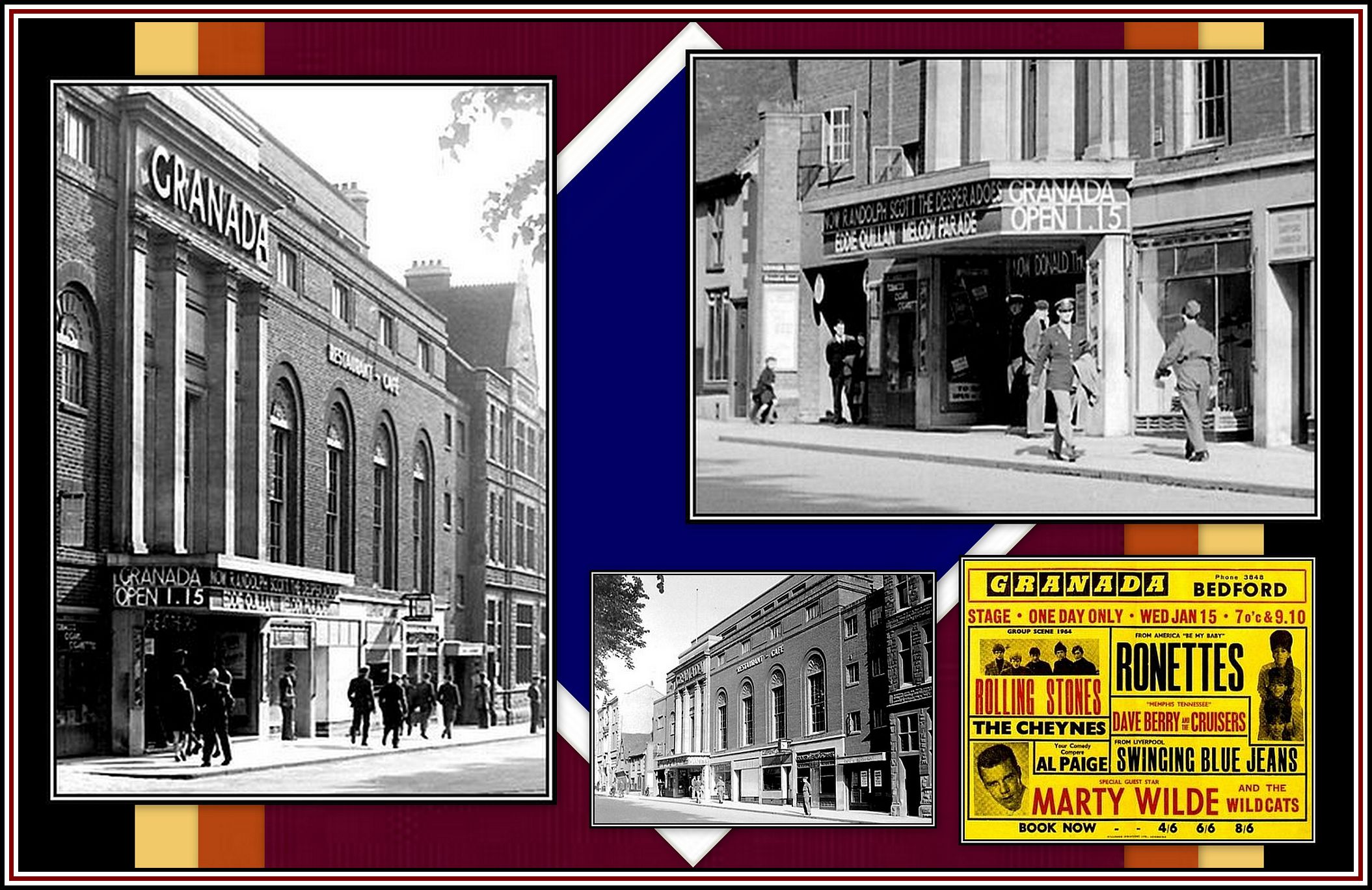 The Granada Theatre Bedford during the days of the Second World War
Top Right: Both American and British Servicemen are seen walking past the theatre, and if you look carefully, a Granada Sergeant is on duty and standing at the entrance.
Bottom Right: poster from a 1960s Stage Show
—ooOoo—
PART TEN:

STARTING ANOTHER CIRCUIT


CONTINUED
—ooOoo—
WAR TIME, THE END OF THE PURPOSE BUILT THEATRES, 
BUT CONTINUING TO ADD TO THE CIRCUIT THROUGH TAKE OVERS
-oOo-
With the declaration of the Second World War, the building of theatres and cinemas came to a stop.  Granada Ltd. managed to get the work finished on the Granada Theatre Kingston despite war having been declared a few months prior to the opening.  Once the war ended, building materials were in short supply, and what there was, was needed to build houses and buildings of national importance.  Restoration of damaged theatres and cinemas and the building of new ones had to wait.
Although Granada Ltd. never built any new Theatres after war ended, the company managed to increase the size of the Circuit to a maximum of 56 Theatres from the ten that Mr. Bernstein oversaw when he took over from his father.  Despite the the difficulties that business encountered after the war, Bernstein Theatres/Granada Ltd. were able to expand by taking over various cinemas either in partnership with others or else completely.  In addition, the company started a mobile cinema circuit that was to tour various sites in the South of England.  Seemingly, the circuit had a short half life.
Mr. Bernstein acquired a number of cinemas by taking over those run by other circuits and included those given here:
In 1946, Granada Ltd. acquired the London & District Cinema Circuit with the exception of the Imperial Clapham Junction, a less than salubrious venue.  The Circuit included cinemas in Aylesbury, Chichester, Epson, Hounslow and Plumstead.  None were going to produce large profits, but those in Aylesbury, Chichester and Epson did reasonably well as they were able to screen first-run films since they were the only cinemas in their areas.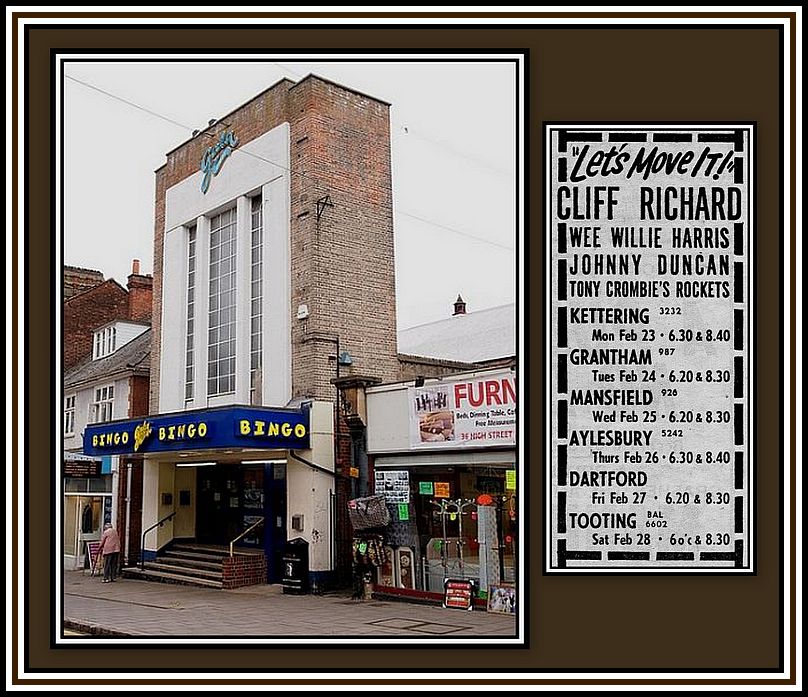 The Granada Theatre Aylesbury
The photograph of the theatre is reproduced by permission of photographer, Kevin Lane
The Theatre opened in 1925 as the Grand Pavilion Cinema. It was taken over by Granada Ltd. in 1946 and was renamed Granada in 1947.  The theatre closed as a cinema in 1972, but soon reopened as a Granada Social Club.  In 1991, it became a Gala Bingo Club.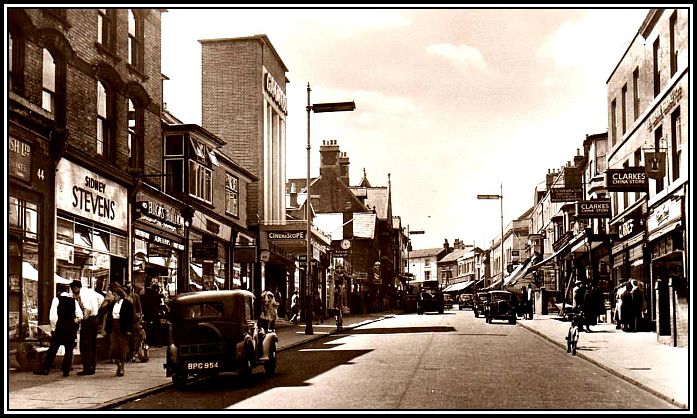 High Street Aylesbury in the mid-1950s showing the Granada Theatre on the left
This photograph appears with permission of Paul Bland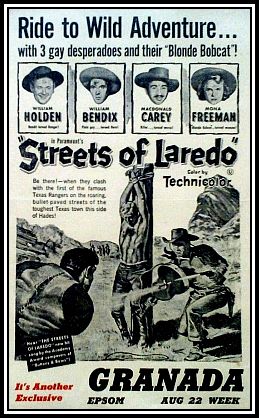 An advertisement for the Granada Theatre Epsom showing 'another exclusive'
This advertisement appears with permission of Paul Bland
-oOo-
The Corn Exchange in Chichester was built in 1832 and became a theatre in 1884 and a full-time cinema in 1927.  It was taken over by Granada Ltd. and in 1948 renamed the Granada Exchange. In 1980 when permission was refused to allow Granada to turn the building into a Bingo Hall or a triple cinema, it was closed. The building had been granted Grade II status by English Heritage in 1979.

The Corn Exchange-Granada Theatre Chichester
Since its closure in 1980, the erstwhile Corn Exchange has been used as retail establishments including a restaurant.
(Left) as a cinema; (Right) as the building is today, a shop; this photograph was taken by
Xavier de Jauréguiberry and is reproduced with permission.

In 1947, Granada Ltd. purchased a number of cinemas including the Regal Kettering and two cinemas in Sevenoaks as well as another smaller cinema in Kingston.  The Regal Kettering was the best of this batch.  It was a large cinema and the best cinema in the town, as George Cole had been its architect.  Princess Diana's father, Earl Spenser, had opened the cinema in 1937.

The Regal-Granada Theatre Kettering

The Regal Cinema opened in 1936 and was taken over by Granada Ltd. in 1947.  The Theatre closed in 1974 and reopened as a Granada Social Club in 1975 after overcoming difficulties in obtaining a license.  In 1991 it became a Gala Bingo Club.

Also in 1947, Granada Ltd. acquired the Dominion in Acton, which had opened in 1937.  The cinema was a first-rate building with an Art Deco interior design by Frank Ernest Bromige.  It was immediately renamed, Granada, and screened first-run ABC releases.  This theatre continued to screen films until it closed in 1972.  It was re-opened as a Granada Social Club and continued as such until the chain was sold to Gala Bingo in 1991, which continued to operate it until 2014.  The building has been granted Grade II listing by English Heritage.

The Granada Theatre Acton
Left: as a Granada Social Club; Right: as was until recently, a Gala Bingo Club

-oOo-

In 2014, the Granada Theatre/Gala Bingo Acton was closed and sold and has since reopened as the Destiny Christian Centre.  In November 2014, I visited the building and the Minister of the Church was kind enough to show me around it for which I was very grateful.  The Minister kindly allowed me to take photographs of the building during its renovation and these may be viewed by Clicking Here.

The Erstwhile Granada Theatre Acton, now The Destiny Christian Centre (2014)

1948 saw Granada Ltd. purchase three cinemas in South London.  These were cinemas of the Alfred O'Connor Circuit and included the Regal Kennington, the State Thornton Heath and the Broadway Deptford.  Each cinema underwent changes once they became part of The Granada Theatre Circuit.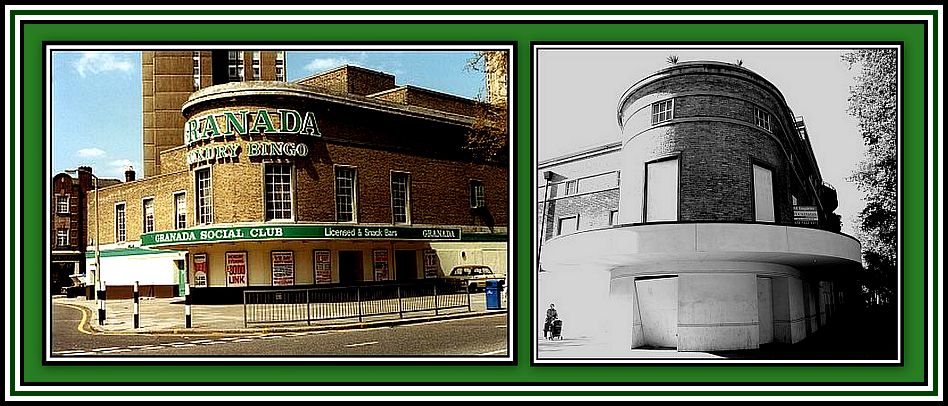 The Regal-Granada Kennington
Left: as a Granada Social Club; photograph taken by dusashenka; Right: as it is today
The Regal Cinema opened in 1937 and was taken over by Granada Ltd. in 1948.  It was renamed Granada in 1949 and closed in 1961.  It quickly reopened as a Granada Social Club, and in 1991, became a Gala Bingo Club, which wa closed in 1997.  The auditorium was demolished in 2004 and replaced by flats, but the facade and the entrance of the theatre remain.
In 1949, Granada Ltd. took over the nine cinemas of the Medway Cinemas.  This take-over included cinemas in Dartford (Kent), Grantham (Lincs) and three additional cinemas belonging to a subsidiary, Excelsior Super Cinemas, the Rialto and Albany at Upper Norwood (Crystal Palace) and the State Sydenham.  The State Theatre in Dartford was opened in December 1935 and had a facade of brick and terracotta tiling with a large central window. It was renamed Granada soon after its take over.  It had been fitted with a Compton 3Manual/6 Ranks Organ which unfortunately was damaged during flooding in 1968. The Organ was repaired later and sold to Gunton Hall Country Club in Suffolk in 1979. According to Cinema Treasures, the organ is now at Dingles Fairground Museum in Devon. The theatre closed in June 1975 and was converted into a Granada Social Club and opened in October 1975.  In May 1991, it became a Gala Bingo Club, which is still open today.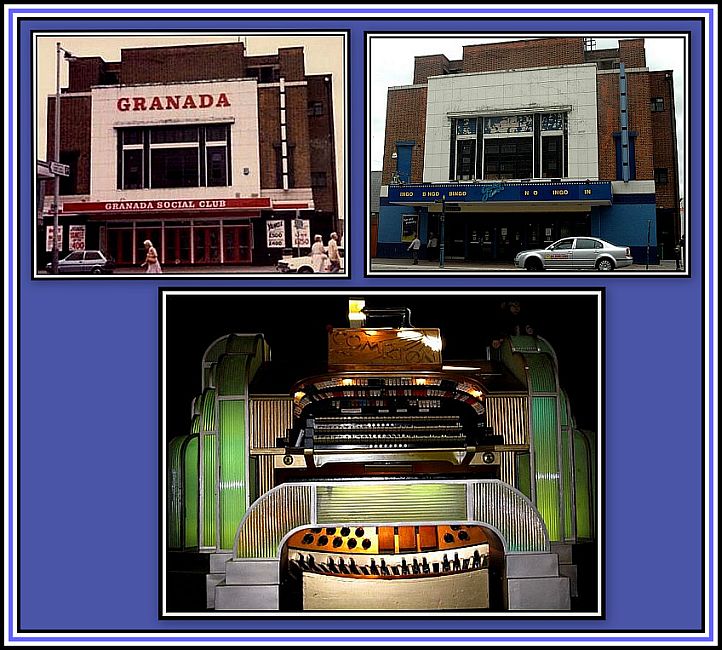 The Granada Theatre Dartford
Top Left: as a Granada Social Club; Top Right: as a Gala Bingo Club
Bottom: The Compton Organ that was originally installed at the theatre is now installed at Dingles Fairground Heritage Site. This photograph was taken by CharmaineZoe
-oOo-
DETOUR
During my ramblings through the Internet, I came across a website dealing with The History of Dartford Hospitals and discovered this wonderful photograph of Nurses and their Sister from a bygone era.  Until I finally get around to writing my story of Florence Nightingale where I will include this photograph, I think that it deserves to be seen now.  As a result I am putting it here for the present.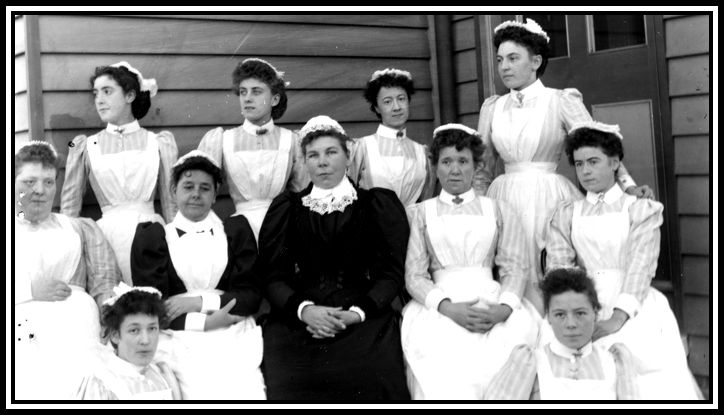 This photograph appears with the permission of Ms Francine Payne
-oOo-
—ooOoo—
These final additions in 1949 brought the total number of theatres operated by Granada Ltd. to 56.  According to Allan Ayles in his book, Sidney Bernstein was much involved with film production at this time and Mr. Ayles therefore feels that the impetus for circuit expansion was due to Cecil Bernstein.
-oOo-
Although the circuit added a few more cinemas during the 1950s, the major expansion was over.  Those cinemas added at this time included another cinema in Woolwich (Woolwich Cinema) and one in both Brixton (Empress Theatre) and Pitsea (Broadway Cinema).  The final addition was in Slough (Adelphi) where the circuit already operated two theatres.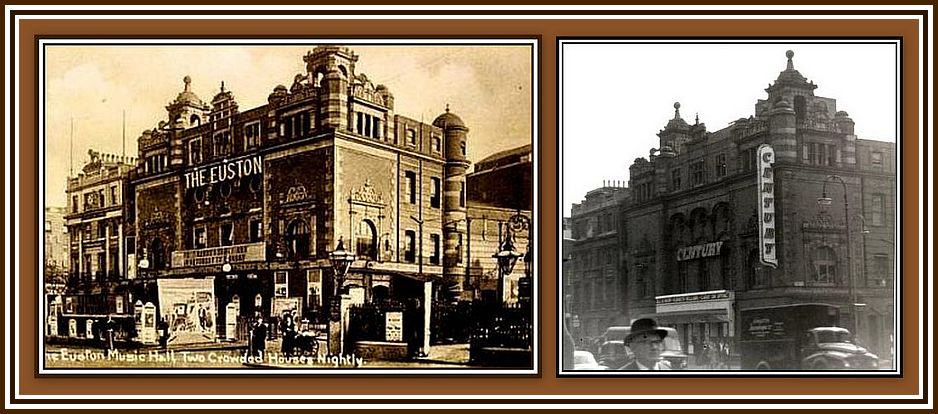 The Euston Palace of Varieties  Kings Cross & Century Theatre
The Euston Palace of Varieties (Left) opened in 1900 and became the Century Theatre (Right) in 1952.
The photograph of the Palace came from Cinema Treasures and that of the Century was taken by Shamus Dark.
The Century Theatre was renamed Granada in 1967 and then closed in 1968. The Theatre was demolished soon after and was replaced by an extension of Camden Town Hall.
-oOo-
The Broadway Cinema Pitsea
The Broadway Cinema opened in 1930  and  was  taken over by   Granada Ltd.  in 1954. It was renamed the Century Theatre in 1955 and closed in 1970.  It became a full-time Granada Social Club in 1971 and then a Gala Bingo Club in 1991.  It apparently closed in 2009.
-oOo-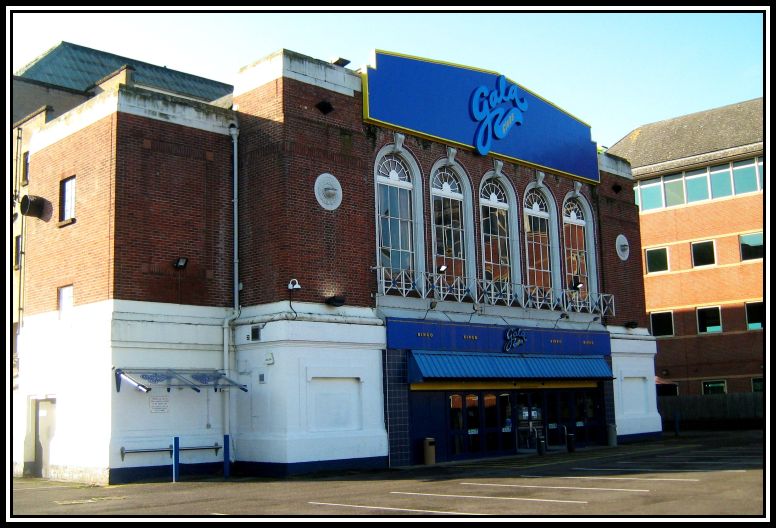 The Adelphi Theatre Slough
The Adelphi Cinema opened in 1930 and was taken over by Union Cinemas in 1933.  The ABC Circuit took control in 1937 and then by Granada Ltd in 1953.  The Theatre closed  in  1973  and  became  a  Granada  Social  Club  and  later  a Gala Bingo Club in 1991.
For more information on this theatre, see Part Twelve of this series.
—ooOoo—
During this decade, some of the circuit's Theatres would close and the first to do so was the Regal Rugby.  Although sadly the first, it was tragically not to be the last.
Despite the changing of the times, being good businessmen,  the Bernsteins were always looking elsewhere for business opportunities and had found one and seized upon and went on to have huge success.
—ooOoo—
Footnote:  It is of interest to note that in 1949, Sidney Bernstein considered making an offer for the RKO Circuit in the United States.  The American Government was forcing films studios to divest themselves of their cinemas in the hope of increasing competition.  Evidently this transaction did not take place and the RKO Circuit was sold to others in 1950.
——oooOOOooo——
ACKNOWLEDGMENTS
Some of the history of the theatres appearing here came from The Granada Theatres by Allen Eyles.  I am grateful to Mr. Eyles for this great book.
I would like to thank Simon Gledhill for his help by answering the many questions asked.
I would like to thank The Organ Society of Australia (Queensland) for their help and to Mr. Ian McIver.
I would like to thank Andrew Gilbert for providing information on the Plaza-Granada Sutton.
I would like to thank Len Rawle, dusashenka, Peter Towell, Gary Painter & Gordon Barr of Scottish Cinemas, David Cresswell, Kevin Lane, Graham Atkinson, Andrew Woodyatt and Joshua Abbott for allowing their photographs to be reproduced here.
I would also like to thank Mr. Adeel Anwar, Club Manager of Gold's Gym, Harrow for his kindness in showing me around the former Granada Theatre Harrow.
I would like to thank Clive Polden of the Cinema Treasures Association for allowing their photographs to appear here.
I would very much like to thank Robert Plummer for allowing his photographs to be reproduced here.
I am extremely grateful to the following who were kind enough to show me around former Granada Theatres: Mark Featherstone  (Granada Theatre Clapham Junction),  the Minister of the Destiny Christian Centre, Acton (Granada Theatre Acton), the owner of the former Granada Theatre East Ham (which is soon to reopen as a Function Centre) and to the owner of the South Bank Fitness Centre (Granada Theatre Wandsworth).  
Special thanks are given to the Assistant Manager of the Tesco Supermarket Greenford for help and consideration.
I am especially grateful to Paul Bland for sending some copies of photographs that appear here and for offering helpful comments and very useful facts.
Finally, I would like to thank Kenneth J. Clemetson for contacting the Collège Claparède in Geneva and finding out that the Wurlitzer Organ of the Granada Theatre Clapham Junction is still in playing order.
——oooOOOooo——
PART 10: STARTING A CIRCUIT
 —oooOOOooo—