THE LIFE & TIMES
OF
DOCTOR SAMUEL JOHNSON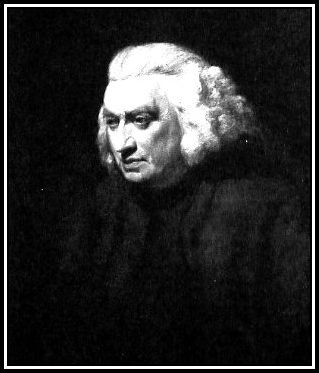 Dr. Samuel  Johnson (1709-1784) 
-oOo-
Once again, may I recommend that the reader listen to the following piece of music while reading about James Boswell: Life after Doctor Johnson.     
The  music  is I know that my Redeemer Liveth from The Messiah by Handel and is sung by Elisabeth Schwartzkopf. 
-oOo-
JAMES BOSWELL
THE

9TH

LAIRD OF AUCHINLECK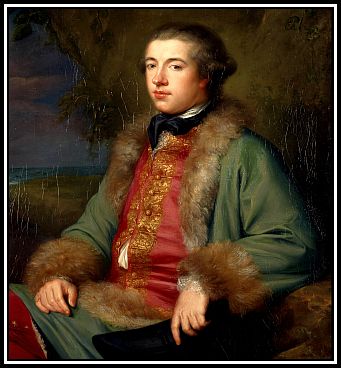 James Boswell at 25 years of age (1765); painted by George Willison (1741–1797)

-oOo-
JAMES BOSWELL
LIFE

AFTER

 DOCTOR JOHNSON
-oOo-
THE LAST YEARS OF DOCTOR JOHNSON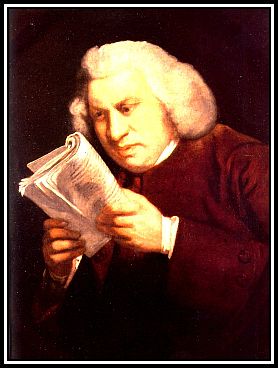 Portrait of Doctor Johnson by Sir Joshua Reynolds painted between 1772 and 1773.   Doctor Johnson did not enjoy being seen as short-sighted; Boswell noted in his Life of Samuel Johnson LL.D. (1791) ……. he would not be known by posterity for his defects only …. I will not be blinking Sam.  This is one of a series of portraits by Sir Joshua Reynolds, which were hung in the Library of Streatham Park, home of Henry and Hester Thrale.
In addition to traveling to Scotland with Boswell and later publishing his Travel Narrative, A Journey to the Western Islands of Scotland, the 1770s were prolific times for Doctor Johnson.  During this decade, he wrote a number of pamphlets on a variety of subjects in support of Government policies.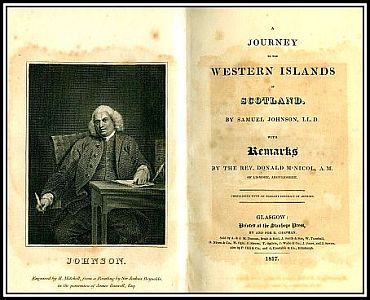 Doctor Johnson's support of Government policies were in contrast to the political position that he held during his earlier years where he rarely supported the Government.  It should be remembered that in 1762, Doctor Johnson had been awarded a Government Pension.  George III (1738-1820) had granted this at the urging of Thomas Sheridan (1719-1788), the actor, and John Stuart, the third Earl of Bute (1713-1792) who was Prime Minister between 1762 and 1763.
-oOo-
One such pamphlet written by Doctor Johnson was The False Alarm where he openly attacked John Wilkes (1725-1797).  Mr. Wilkes was a journalist, politician and a Radical and who had attacked John Stuart once he became Prime Minister in his Radical weekly publication, The North Briton.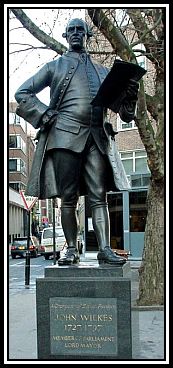 Statue of John Wilkes found in Fetter Lane in the City of London
The Radical Movement was a political group that helped transform the The Whigs into the Liberal Party.  Mr. Wilkes used his journalistic skills to publish his criticism of Government policies and also of George III who issued a warrant for Mr. Wilkes' arrest in 1763.  In 1769, he was expelled from Parliament on several occasions even though he had been duly elected.  In addition, he was highly critical of Government policies towards the American Colonists.  Later in 1770, he was appointed a Sheriff of London, and in 1774, he became the Lord Mayor of London.  Once he was reelected to Parliament, he fought for Freedom of the Press and continued to support the American Colonists and disagreed with the sending of troops.  In addition, Mr. Wilkes was considered to be a Libertine, as a result of his lifestyle.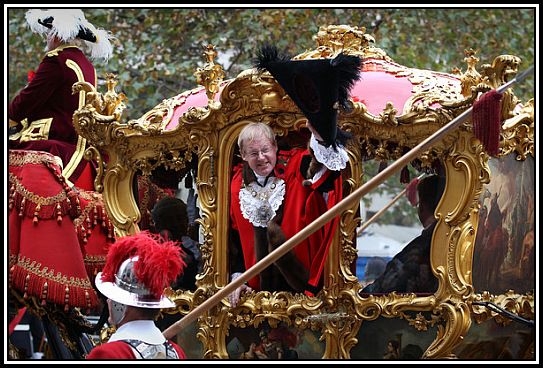 The 684th Lord Mayor of London, Sir David Wootton, 2011-2012
-oOo-
In 1771, Doctor Johnson published his pamphlet, Thoughts on the Late Transactions Respecting Falkland's Islands in response to the developing Crisis over the Islands over sovereignty between Britain, Spain and France in 1770.  Here, he urged the Government not to go to war with Spain.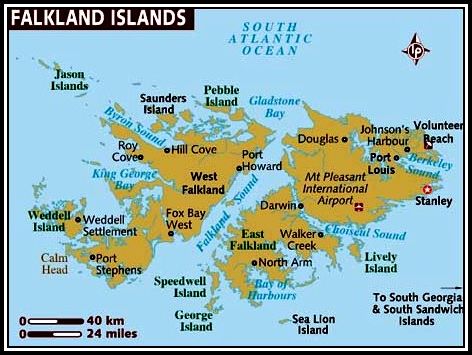 The Falkland Islands in the South Atlantic Ocean
Later in 1774, he wrote The Patriot, a critique of what he viewed as false patriotism.  Doctor Johnson opposed self-professed Patriots, but did value true patriotism.
-oOo-
The last of the pamphlets written in the 1770s was Taxation No Tyranny  and was printed in 1775.  The pamphlet was written in defence of the Coercive Acts and a response to the Declaration of Rights of the First Continental Congress of America, which protested against Taxation without Representation.
-oOo-
The Coercive Acts were passed in response to The Boston Tea Party where the chests of a whole shipment of tea was thrown into Boston Harbour by those demonstrating against the Tea Act of 1773 imposed by the Government in London.  The passage of the Coercive Acts caused the withdrawal of the rights of the State of Massachusetts to self-government, which proved to be one of the key developments that led to the American Revolution in 1775 and The Declaration of Independence on the 4th July, 1776.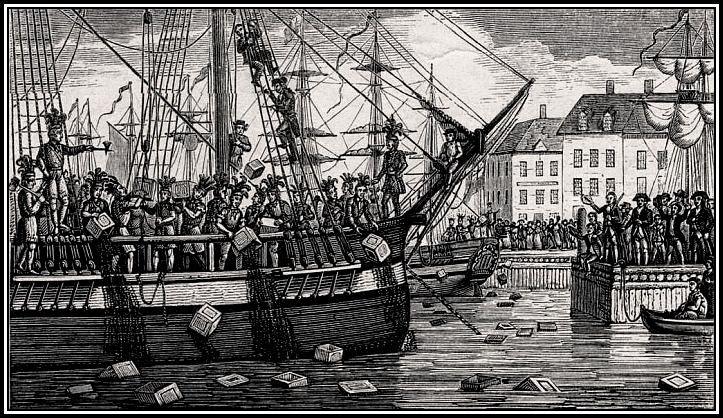 Depiction of The Boston Tea Party
-oOo-
Also in 1770s, Doctor Johnson demonstrated his support of the Reverend William Dodd (1729-1777).  The Reverend was an Anglican minister and a man of letters who enjoyed an extravagant lifestyle.  He was known as the Macaroni Parson and had taken to forgery to clear his debts.  After being caught, tried and convicted, he was hanged at Tyburn, but only after a campaign had been launched in an attempt to obtain a Royal Pardon for him.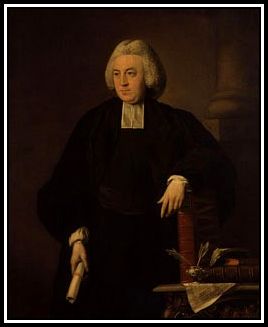 Reverend William Dodd painted by John Russell (1745-1806)
-oOo-
In 1777, Doctor Johnson was asked to write a critical and biographical study of the the lives of English Poets.  His contributions were to appear along side selected works of fifty-two Poets.  It is of interest to note that Doctor Johnson included the work of his friend, Richard Savage (1697-1743) with whom he had lived rough when both were lacking in funds.   Dr. Johnson had written and published an account of Mr. Savage's life, An Account of the Life of Richard Savage (1744).
Doctor Johnson's efforts resulted in the production of six volumes under the title of the Lives of the English Poets, which he completed in March 1781 and proved to be his last major work.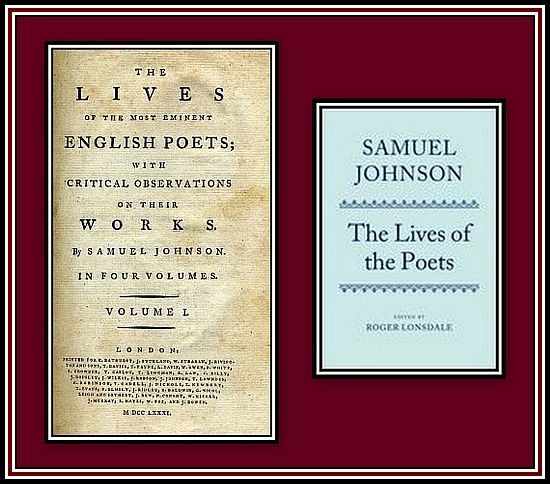 Right, The Title Page of the 1781 Edition of The Lives of the English Poets & Left, The Cover of a Later Edition
-oOo-
During Doctor Johnson's later years, he spent much time with his friends, Henry (1724 or 1730-1781) and Hester Thrale (1741-1821) and lived in their house for a number of years and even made a tour of North Wales with them.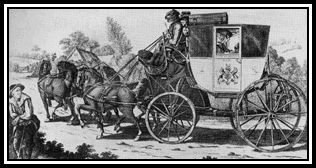 With the death in 1781 of Henry Thrale, this situation changed dramatically, as previously discussed.  Sadly for Doctor Johnson, the comforts afforded to him in the home of The Thrales, now came to an end.
The years, 1782 and 1783, were also not happy ones for Doctor Johnson.  He not only suffered with poor health, but his feelings of forlorn and loneliness were to increase as a result of the deaths of a number of his friends including Robert Levet (1705-1782).  Mr. Levet had been a waiter in Paris and pharmacist in his younger days and had lived at Doctor Johnson's London home since 1762, where he waited on him each morning.  In 1783, Thomas Lawrence (1711-1783), his physician, and Mistress Anna Williams (1706-1783), his housekeeper, also passed away.
Adding to Dr. Johnson's gloom and despair, in October 1782, he learned that Mrs. Thrale had decided to sell the house that The Thrales had shared with him for a number of years.  Apparently, what upset Doctor Johnson more than the selling of the house was that he would no longer be able to enjoy her company on a constant basis.  However, Mrs. Thrale had obviously not forgotten him completely, as she invited him to accompany her on a trip to Brighton in the autumn of 1782.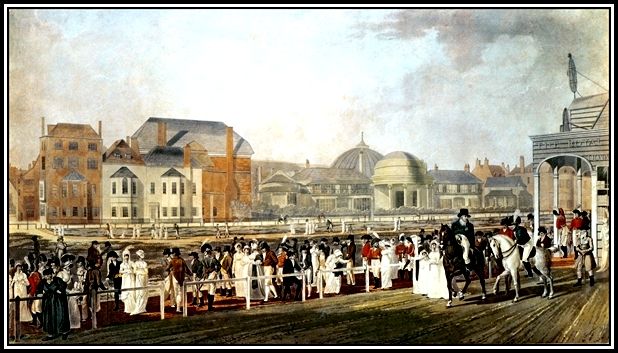 The Old Pavilion & Steyne, Brighton by Charles Rich (reproduced from Jane Austin's World; image by Tony Grant)
-oOo-
In June 1783, Doctor Johnson suffered a Stroke and was unable to speak for several days.  Later he had surgery to help alleviate his Gouty Attacks and was confined to bed for several months.  However by May 1784, his health had improved to the point that he was able to travel to Oxford accompanied by James Boswell.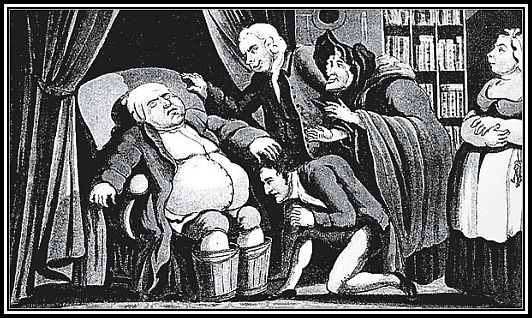 A Gout Sufferer (The Countyway Library of Medicine, Boston)
-oOo-
It was on the 30th June, 1784 that James Boswell met Doctor Johnson for the final time.  They had dined at Sir Joshua Reynolds's home.  At the end of the evening, Boswell accompanied him back to where he was living.  Boswell later wrote …….. We bade adieu to each other affectionately in the carriage.  When he had got down upon the foot pavement he called out 'Fare you well'; and without looking back, sprung away with a kind of pathetic briskness, if I may use that expression, which seemed to indicate a struggle to conceal uneasiness, and impressed me with a foreboding of our long, long separation.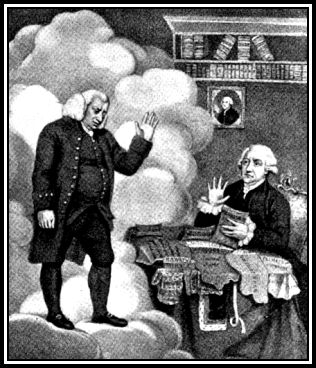 A Caricature of Doctor Johnson and James Boswell from The Life of Samuel Johnson, LL.D. (1791)
-oOo-
In November 1784, Doctor Johnson found himself with little company and must have been feeling miserable, since he told his doctor that ……. you cannot conceive with what acceleration I advance towards death (Reference: Watkins, W.B.C. (1960), Perilous Balance: The Tragic Genius of Swift, Johnson, and Sterne, Cambridge, MA: Walker-de Berry, Inc.).
A few days before his death, Doctor Johnson asked Sir John Hawkins (1719-1789), one of his executors, where he should be buried.  When he was told, Doubtless, in Westminster Abbey, he seemed to feel a satisfaction, very natural to a Poet.
On 13th December, 1784, Doctor Johnson received a few visitors and then rested.   Shortly afterwards he fell into a coma and died at 7:00 P.M. and was buried on 20th December, 1784 at Westminster Abbey.  A wreath is laid on his grave each year on the anniversary of his death.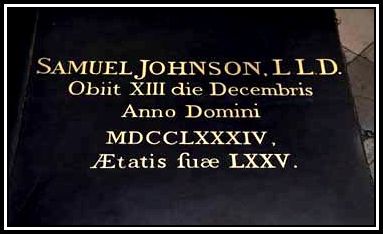 Note: In 1755, the University of Oxford awarded Doctor Johnson the degree of Master of Arts.  Later in his career, an Honourary Degree of Doctor of Letters was conferred on him on two occasions: firstly, in 1765, by Trinity College Dublin and then by the University of Oxford in 1775.
Doctor Johnson never used the title, Doctor, but those that knew him immediately began to employ it.
In 1776, Doctor Johnson returned to Pembroke College Oxford where once he had been a student for a short time and was accompanied by James Boswell.  While there, he toured the College with his former tutor.
JAMES BOSWELL
LIFE

AFTER

 DOCTOR JOHNSON
-oOo-
BOSWELL'S LIFE OF SAMUEL JOHNSON LL.D. & HIS LIFE THERE AFTER
On the 30th June, 1784, James Boswell spent an evening in the company of Doctor Johnson for the final time.  Following their soirée at the home of Sir Joshua Reynolds, Boswell accompanied Doctor Johnson to his home where they took leave of each other adieu in an affectionate manner in the carriage.  Boswell noted that …….
When he had got down upon the foot pavement he called out 'Fare you well'; and without looking back, sprung away with a kind of pathetic briskness, if I may use that expression, which seemed to indicate a struggle to conceal uneasiness, and impressed me with a foreboding of our long, long separation."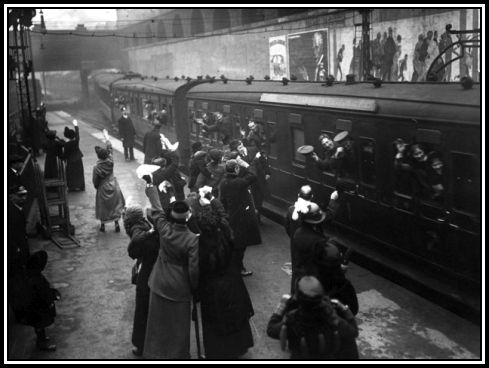 Waving Fare Well
-oOo-
By the late 1770s, James Boswell was descending further and further into alcoholism and gambling addiction.  Throughout his life, from childhood until death, he suffered severe Mood Swings.  His depressions frequently encouraged, and were exacerbated by, his various vices while his more up-beat periods were generally free of his vices.
A number of members of London's Literary World thought Boswell to be somewhat light-weight; his character flaws together with his drunkenness and other vices caused them to dismiss him as being somewhat légère and were not willing to allow him into their group as an equal.  Despite his obvious drawbacks, Boswell had been blessed with good humour and with an innocent good nature, and these traits won him many lifelong friends and opened many doors for him to enter, and had brought him into contact, and later friendship, with the likes of Voltaire, Rousseau and even a Pope, in addition to Doctor Johnson!
-oOo-
Following Doctor Johnson death in December 1784, James Boswell and his family continued to live in Scotland until 1786, when he decided to move everyone to London.   Boswell wished to try his hand at the English Bar and hoped to achieve the success that had eluded him in Edinburgh.  Sadly, his efforts failed to bring him success.
In 1789, Mrs. Boswell died, leaving five children and her husband. Although Bowell had led a life of excesses during his married life, following his wife's demise, he lapsed further into a life lacking moral restraint and fueled by excess alcohol.
With the failure of Boswell's efforts at the Bar in London, he next attempted to stand for Parliament.  Once more he failed, as he did not obtain the necessary support and so was never able to take a seat in the House of Commons.  Boswell now spent his final years writing his  Life of Samuel Johnson.
-oOo-
Thomas Tyers (1726-1787) wrote a short account of the life of Doctor Johnson entitled A Biographical Sketch of Dr Samuel Johnson, which was published soon after his death in the December 1784 issue of The Gentleman's Magazine's.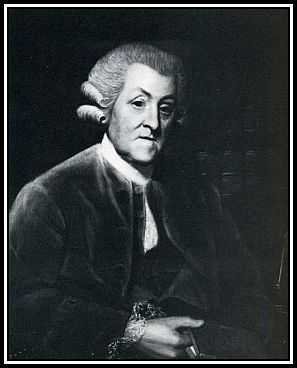 Sir John Hawkins
The first full biography of Samuel Johnson was written by Sir John Hawkins (1719-1789) and published in 1787.   Sir John was one of his friends and a member of The Literary Club and he was made one of the executors of Doctor Johnson's will.
Boswell did not set about publishing his biography immediately after the death of Doctor Johnson.  His biography, The Life of Samuel Johnson, was not published until 1791, some seven years later.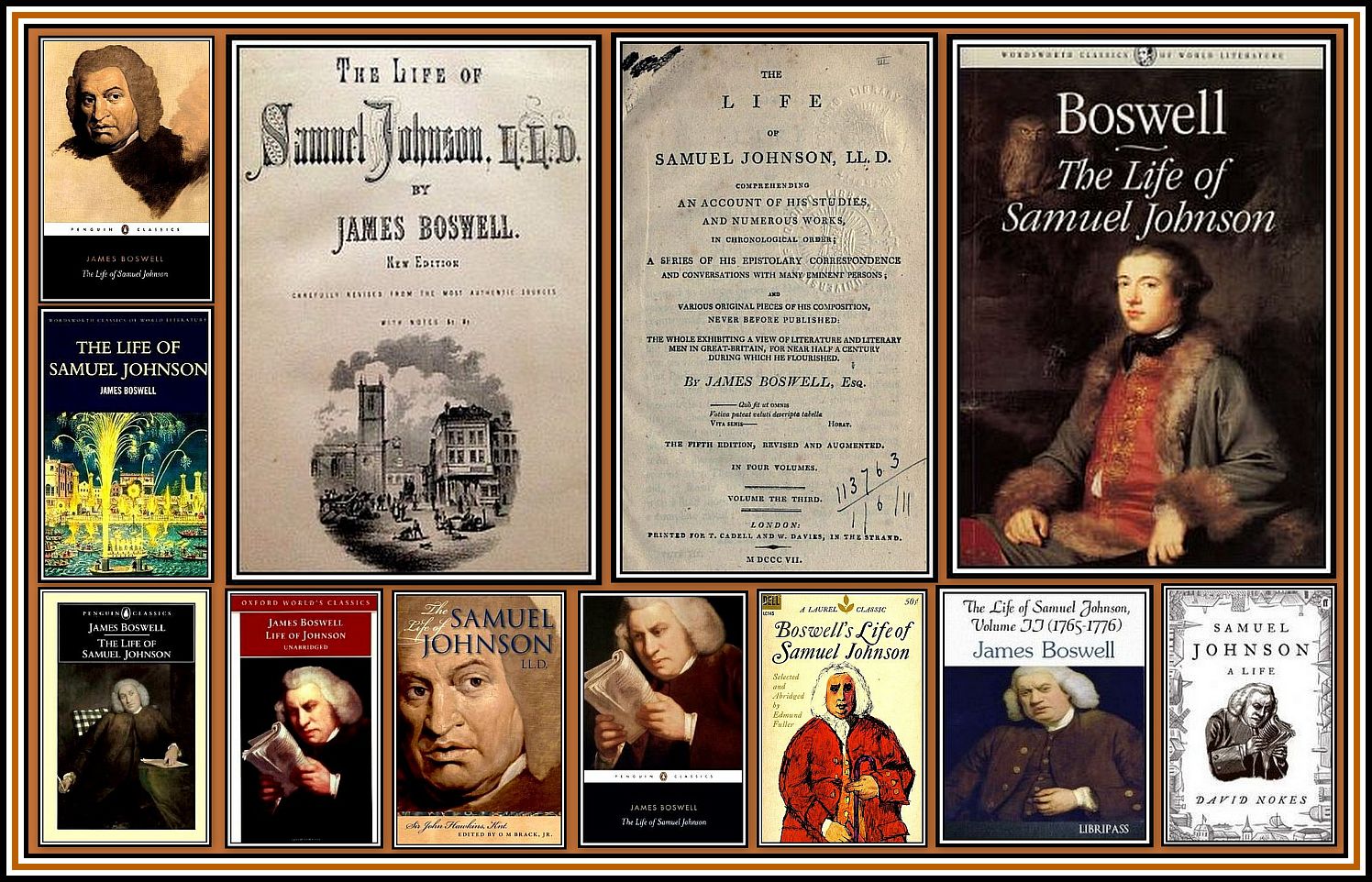 A Number of Editions of Boswell's The Life of Samuel Johnson, LL.D. have been published since 1791
Despite not being the first biography to be published on the life of Doctor Johnson, Boswell's is the most celebrated and the one best known today.  His biography proved to be a popular and critical success at the time of publication.
Boswell's biography has not been without criticism: although he writes about Doctor Johnson's whole life, he was not personally acquainted with his subject until 1763, when he was 54 years old.  However, Boswell under took extensive research into his subject's earlier life.  He also spent an enormous amount of time in Doctor Johnson's company and interviewed him on a vast number of subjects.  Boswell's constant questions occasionally irritated Doctor Johnson; although he enjoyed talking, being interviewed at all times must have been occasionally exhausting.  Boswell was also criticised for taking a number of critical liberties with Doctor Johnson's life, as he made various changes to his quotations and to some of his comments.
-oOo-
When Boswell's Life of Samuel Johnson was published, it brought him the admiration that he had long sought from the literary world.  Critics have agreed that his style of writing was unique: he included direct conversations into the narrative something which was not done at the time.  Apparently, Boswell had made a copy of many of his conversations with Doctor Johnson in his journals and kept them for future use in his biography.
Despite the liberties that Boswell may have taken in the preparation of his account, the biography has been judged as an important stage in the development of the Biography and gives us insight into the life of Doctor Johnson.
-oOo-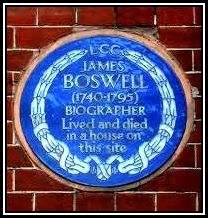 Following the publication of the Life of Samuel Johnson, Boswell's heath began to fail rapidly.  This was a result of the revenges of alcohol and veneral disease and was aggravated by Hypochondria.  He died of complications resulting from his illnesses on the 19th May, 1795 at his home in 122 Great Portland Street and was interred in the Crypt of his family's Mausoleum in the old Auchinleck Kirkyard in Ayrshire.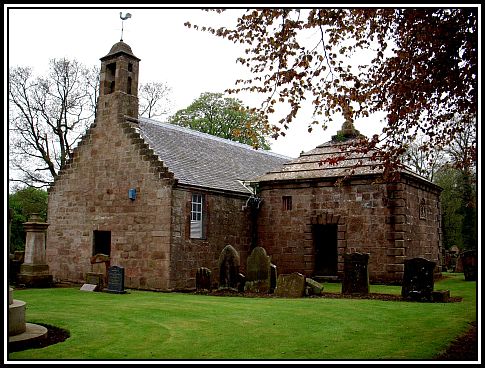 Auchinleck Kirk – The Mausoleum is to the right of the Kirk
-oOo-
Again, may I suggest that the reader listens to this song once more while (hopefully) enjoying this collage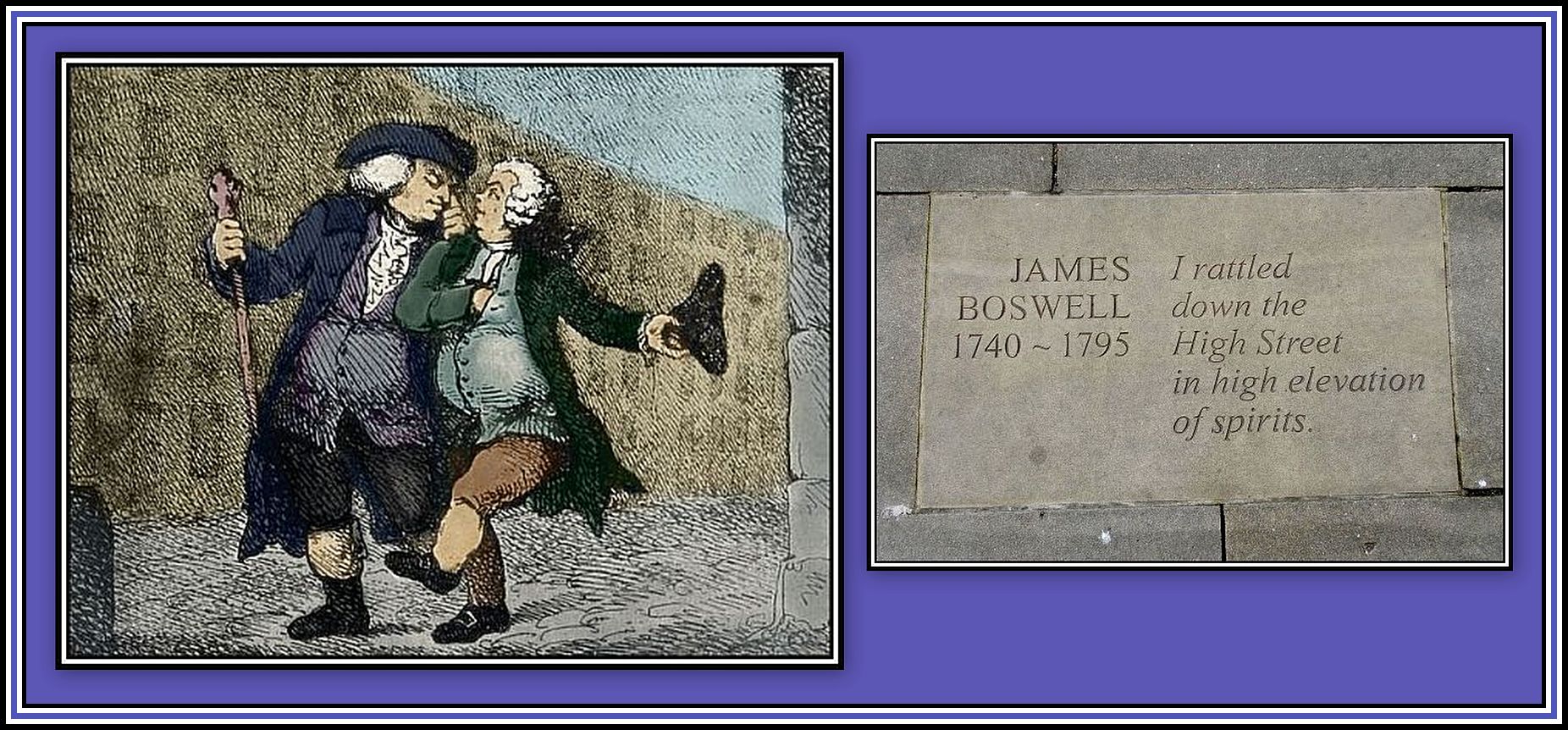 I, who have no sisters or brothers, look with some degree of innocent envy on those who may be said to be born to friends.
James Boswell
——oooOOOooo—— 
to RETURN to the series HOME PAGE
——oooOOOooo——
ACKNOWLEDGEMENTS
I would like to thank Mr. Paul Bland for his help.