THE LIFE & TIMES
OF
DOCTOR SAMUEL JOHNSON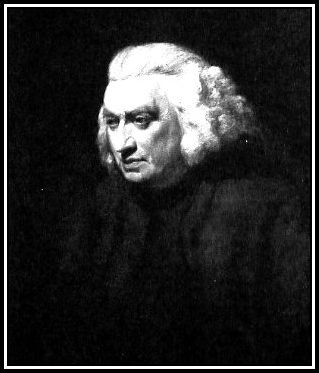 Dr. Samuel  Johnson (1709-1784)
I was born almost dead and could not cry for some time.
-oOo-
Allow me to remind readers that although Samuel Johnson was not awarded a Doctorate until 1765 (by Trinity College, Dublin), habit (and respect) has caused me to think of him, at all times, as Doctor regardless of his actual age.
As a result, I have taken the liberty of referring to him throughout this series by this title.
-oOo-
THE EARLY LIFE OF DOCTOR JOHNSON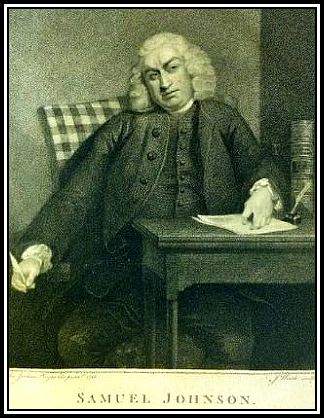 To write the Life of him who excelled all mankind in writing the lives of others, and who, whether we consider his extraordinary endowments, or his various works, has been equalled by few in any age, is an arduous, and may be reckoned in me a presumptuous task …….
 ……. so wrote James Boswell (1740-1795) at the start of his account of The Life of Dr. Samuel Johnson.
-oOo-
May I recommend that the reader listens to this piece of music (Concerto Grosso, Op. 3, no. 1, HWV 312 by Handel) while reading about the life of Dr. Samuel Johnson
-oOo-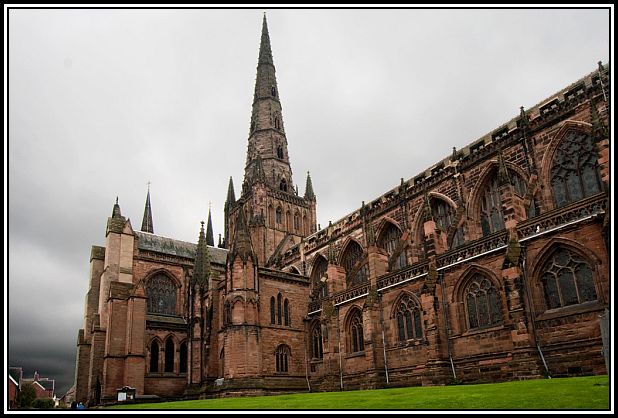 Lichfield Cathedral; this photograph was taken by Alan & Frances
Samuel Johnson was born in Lichfield in Staffordshire in September 1709.  Although both of his parents came from families of means, he said that he grew up in poverty and lived above his father's bookshop in Market Square in Lichfield.  As a baby, he suffered from poor health and was not considered, by his aunt at least,  to be an attractive child!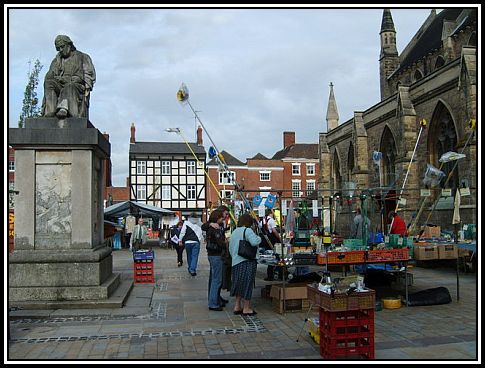 Statue of Dr. Samuel Johnson in the Market Square, Lichfield; this photograph was taken by Mr. Gordon Griffths
-oOo-
As a child, Master Johnson suffered from Scrofula (Mycobacterial Cervical Lymphadenitis), which is an enlargement of the lymph nodes of the neck (i.e. Lymphadenopathy or Lymphadenitis) by a Mycobacterium.  Adults suffering from Scrofula are most commonly infected with Mycobacterium tuberculosis (i.e. the most common infection causing Tuberculosis) while in children, it is generally the result of Atypical Mycobacteria (e.g. Mycobacterium scrofulaceum or other Non-Tuberculous Mycobacteria).
Scrofula was also known as King's Evil.  It was once thought that the condition could be cured by the Royal Touch – that is to say by being touched by the reigning monarch!  Master Johnson was touched by Queen Anne in March 1712, but alas, no cure was had.  He next underwent surgery to help alleviate the condition and was left with scars across his face, neck and body.
-oOo-
Master Johnson was undoubtedly a bright and quick witted child.  At three years of age, he apparently was able to recite passages of The Book of Common Prayer, and a little later, excelled in Latin at Lichfield Grammar School (King Edward VI).
King Edward VI Grammar School, Lichfield; other pupils of note who attended this school include the actor, David Garrick (1717-1779), and playwright and poet, Joseph Addison (1672-1719) 
While studying at Lichfield Grammar School, Master Johnson began to display a variety of Tics, which eventually led to numerous gesticulations that are now believed to have been indicative of Tourette Syndrome.  This condition had profound effects on how Dr. Johnson was viewed by society throughout his life.
Tourette Syndrome is noted in an individual prior to the age of eighteen years.  There is no specific test to diagnose the condition, but those afflicted suffer with Tics.
-oOo-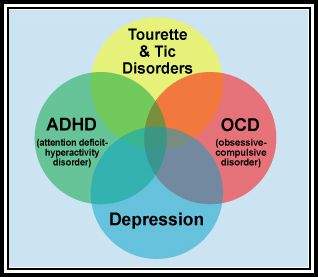 Tics are sudden, repetitive, nonrhythmic movements (i.e. Motor Tics) and utterances (i.e. Phonic Tics) that involve discrete groups of muscles.  Motor Tics are movement-based while Phonic Tics are involuntary sounds produced by moving air through the nose, mouth or throat.
Four characteristics are used to identify and diagnose Tic disorders:
the age of onset of Tics;
duration of the Tic;
severity of the Tic; and
whether Tics are Motor or Vocal or both.
The Diagnostic and Statistical Manual of Mental Disorders (DSM-V) divide Tic disorders into three major catagories: Transient Tic Disorder; Chronic Motor or Vocal Tic Disorder; and Tourette Syndrome.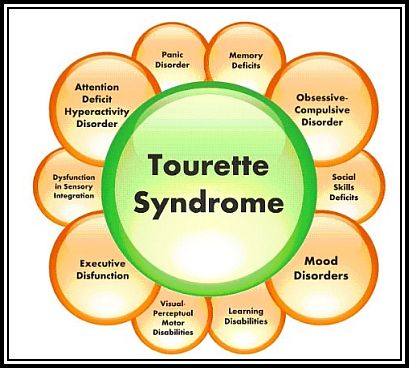 Signs & Symptoms Associated with Tourette's Syndrome
According to the International Parkinson & Movement Disorder Society ……. For the diagnosis of Tourette Syndrome, both multiple motor and one or more vocal tics should have been present at some time during the illness, although not necessarily concurrently; the tics should occur many times a day (usually in bouts) nearly every day or intermittently throughout a period of more than 1 year; and during this period there should never be a tic-free period of more than 3 consecutive months; the onset should be before age 18 years; and the disturbance should not due to the direct physiological effects of a substance (e.g., stimulants) or a general medical condition (e.g., Huntington's Disease or Post-Viral Encephalitis).
The treatment of Tourette Syndrome involves its identification and aiding identifying and the person to manage its most troubling or impairing symptoms.   The majority of cases do not require treatment with medication, however those that do, include those to help the afflicted control their symptoms.  Many patients suffer from other conditions together with the Syndrome:  Dr. Johnson suffered from depression and a number of other ailments throughout his life.  Unfortunately there is no cure for this Syndrome at this time.
-oOo-
In addition to the facial and bodily scars inflicted on him by surgery and from the Tics and Grimaces, Master Johnson also suffered from hearing and vision impairment.  In later life, he was known to also suffer from fits of depression.
-oOo-
During the education of Master Johnson, his father fell into debt.   Hard times required him to aid his family by earning money by stitching books in his father's bookshop.  With the death of one of his mother's cousins, money became available, and in October 1728, he began to attend Pembroke College Oxford.   Unfortunately the inheritance and other forms of help were insufficient to allow him to complete his studies and he had to leave College thirteen months later without a degree.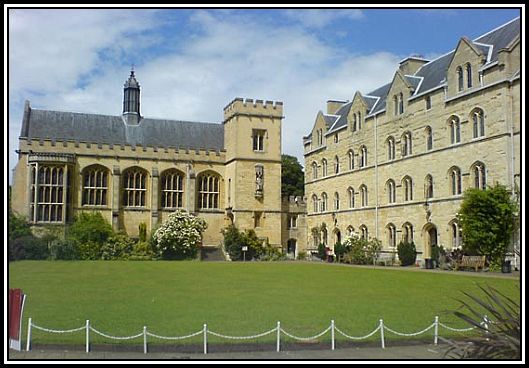 Pembroke College Oxford
While at Oxford, Doctor Johnson undertook a Latin translation of Alexander Pope's (1688-1744), Messiah.  This was be his first poem to appear in print and consisted of 119 lines written in Latin verse.  Apparently, the whole translation was completed in two days and was then submitted to Mr. Pope for his appraisal.  Evidently it was approved, as it was published in 1731.
-oOo-
Doctor Johnson was indeed poor during his youth and during his time at Pembroke College.  However his position did not cause him to be meek and mild!  While at College, his appearance was described as ragged and caused his fellow students much mirth and pity.  Thanks to his haughty manner, this view of him was intolerable and made him angry and reckless in his comments to both fellow students and teachers alike.  Apparently, he was often seen at the gate of Pembroke College dressed in dirty clothes, shoes with holes in the soles and ragged gown scolding a group of students.  Seemingly, he was also loud in his critique of the rules imposed by the College.
Perhaps my suspicions regarding Doctor Johnson personality and attitudes may not have been entirely wrong after all!
-oOo-
In 1755, just prior to the publication of The Dictionary, Doctor Johnson was awarded a Master of Arts Degree.  In 1765 and 1776, he was awarded Honourary Doctorates by Trinity College, Dublin and Oxford University respectively.
-oOo-
After leaving University, Doctor Johnson suffered much mental anguish and had difficulty earning a living.  His Tics worsened and perhaps impeded his ability to gain a teaching position.  In December 1731, his father died after suffering from an Inflammatory Fever.  At this time, he secured a position at a school in Market Bosworth, where he was allowed to teach despite not having a degree.  Although he was treated quite badly at the school, he enjoyed teaching, but since it was not intellectually challenging, he found it to be somewhat boring.  However, by June 1732, following a disagreement with the person in charge of the school, he had left the school and returned to Lichfield.
Following this, Doctor Johnson became a contributor to The Birmingham Journal, the City's first newspaper, which was founded by Thomas Warren (1727–1767), printer, publisher and businessman and a person of influence in the City.   Mr. Warren also published Doctor Johnson's first book, a translation of Jerónimo Lobo's A Voyage to Abyssinia in 1733.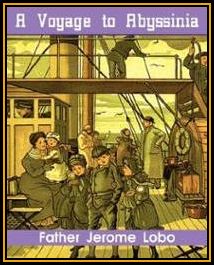 After the publication of his first book, Doctor Johnson returned to Lichfield where he continued with translation work.
-oOo-
To Read About
DOCTOR JOHNSON SORTIE INTO LOVE & MARRIAGE
OR
to RETURN to the series HOME PAGE
——oooOOOooo——
ACKNOWLEDGEMENTS
I would like to thank Mr. Ray Baswinger for his advice.
——oooOOOooo——