THE LIFE & TIMES
OF
DOCTOR SAMUEL JOHNSON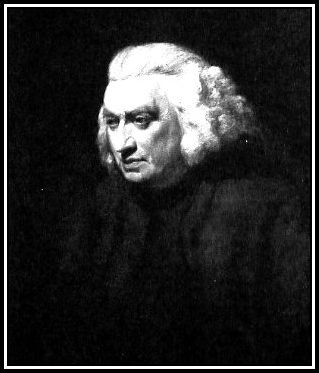 Dr. Samuel  Johnson (1709-1784) ……. 
poet, essayist, moralist, literary critic, biographer, editor & lexicographer ……..
& considered by many as the most distinguished man of letters in English History.
-oOo-
Allow me once more to remind readers that although Samuel Johnson was not awarded a Doctorate until 1765 (by Trinity College, Dublin), habit (and respect) has caused me to think of him, at all times, as Doctor regardless of his actual age.
As a result, I have taken the liberty of referring to him throughout this series by this title.
-oOo-
DOCTOR JOHNSON'S
SORTIE INTO

-oOo-
Forgive me, but I can not resist adding this piece of music here!
-oOo-
After returning from Oxford to Litchfield, a good friend of Doctor Johnson, Harry Porter (1691-1734), became ill and, in 1734, eventually died leaving a wife, Elizabeth Tetty Porter (1689-1752), nee Jarvis, and three children.  Mrs Porter and her husband thought well of Doctor Johnson and she is said to have told her daughter, Lucy, when meeting him that he was the most sensible man that I ever met.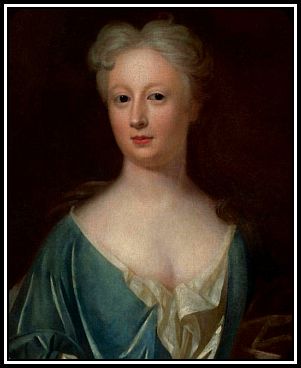 Mrs. Elizabeth Porter painted by Maria Verelst (1680-1744)
-oOo-
Several months after the death of Mr. Porter, Doctor Johnson began his courtship of Mrs. Potter who was now 45 years of age while he was 25.  Mrs. Potter encouraged his advances and it would seem that their difference in age did not concern them too much.  However, this was not the case with her family.  Despite their opposition, they were married on 9th July, 1735 at St. Werburgh's Church in Derby.  One of her sons, Jervis, never accepted the marriage and severed relations with his mother, while her other son, Joseph, came around.  Lucy, her daughter was seemingly agreeable to the union from the beginning.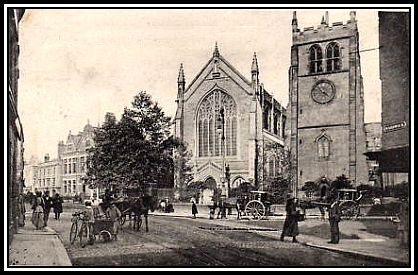 St. Werburgh's Church when it was still in use; this photograph appears with the permission of Mr. David Upton at Old Derby Photos
Dr. Johnson called his wife, Tetty or Tetsey, which are regional contractions of the name Elizabeth.  During their courtship, Mrs. Porter said that she was make her savings available to Dr. Johnson, which she did.  Following their marriage, a Dowry of over £600 was invested in the setting up of Edial Hall, a private school at Edial near Lichfield.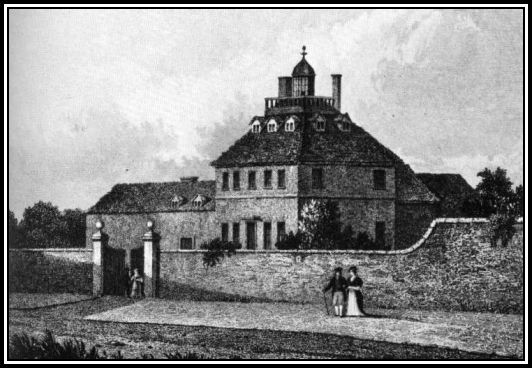 Edial Hall
Doctor Johnson believed that if he ran his own school, he could be a successful teacher.  His school at Edial opened in 1735.  There were three pupils: Lawrence Offley (1719-1749), George Garrick (1723–1779) and David Garrick (1717-1779) who became the most celebrated actor of his time.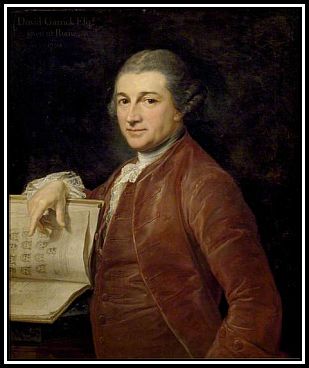 David Garrick painted by Pompeo Batoni (1708-1787)
Unfortunately, the School was unsuccessful and markedly depleted Mrs. Johnson's fortune.  It is believed that the signs of Tourette Syndrome (i.e. Tics etc) were the prime cause of his failure as a school master since it seemingly frightened both pupils and their parents.
-oOo-
As sad and as unfortunate as this may be (and it was), the failure of Edial Hall School meant that Dr. Johnson had to secure work elsewhere.  This other work eventually led to his becoming the most distinguished man of letters in English History!  Of course it is possible that he might well have achieved this accolade as well as being a school master, but alas, this, we will never know.
-oOo-
The failure of the school resulted in Doctor Johnson giving up his teaching plans and to concentrate on the writing of his first major work, the historical tragedy Irene.  
-oOo-
Irene was Doctor Johnson's only play and was written between 1726 and 1749 and was presented by David Garrick at the Theatre Royal Drury Lane in 1749.  The production was successful in that it made the most money earned for Doctor Johnson up until that time, however he considered it to be his greatest failure.  Others have evidently agreed with him since it was not presented again until 1999.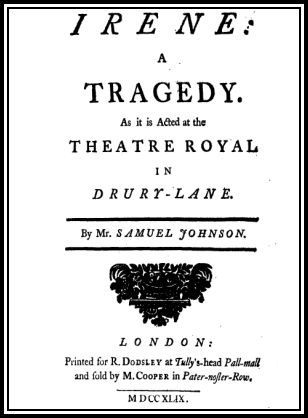 -oOo-
Later, in March 1737, Samuel Johnson left for London with David Garrick.  Mrs. Johnson was to follow later in October.  Doctor Johnson was penniless when he arrived, but was able to stay with Mr. Garrick at the home of one of his relatives.  Not long after, he moved to Greenwich where he was to finish Irene.  Following this, he secured a position as a writer at Edward Cave's (1691-1754) The Gentleman's Magazine, which was the first magazine of its type, and continued to make contributions over a number of years.
-oOo-
It took Doctor Johnson ten years to compile A Dictionary of the English Language and was published in April 1755.  During this time, Doctor Johnson's labours totally disrupted his and his wife's living conditions.  It seems that their house was filled with a vast array of books together with a number of copy assistants who proved noisy workmates.  In addition, he found that he was becoming distracted by his concern with Tetty's poor health.
In order to accommodate his wife and his work, in 1748 they moved to 17 Gough Square where he was to remain until 1758.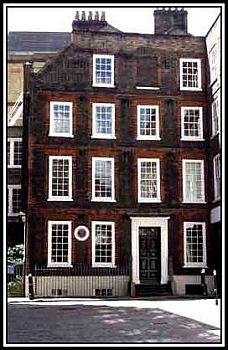 This house is the only residence of the eighteen where Doctor Johnson had lived in London that survives today.
-oOo-
Tetty Johnson died in 1752 at 63 years of age.  She had suffered from ill health for a number of years, which had been worsened by alcohol and medical opiates.
Mrs. Johnson was buried at the Parish Church, St. Peter & St. Paul Bromley.  Unfortunately The Church was destroyed during the Second World War, but was rebuilt during the 1950s.  I have it on authority that her Headstone survived The War and is still present in the churchyard.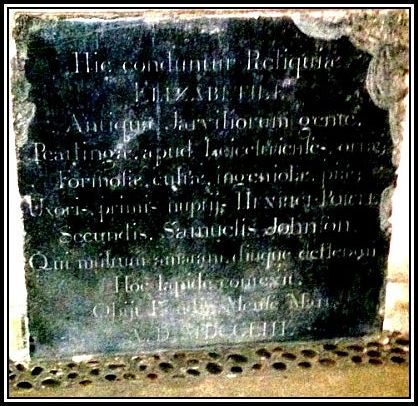 The Headstone of Mrs. Johnson – I regret the poor quality of this photograph, but it will remain here until I am able to go and take one of better quality.
-oOo-
Regarding Mrs. Johnson, Doctor Johnson's companions and colleagues were not especially gracious in their opinion of her.   One person described her as a short, fat, coarse woman, painted half an inch thick, dressed in gaudy colours and fond of exhibiting provincial airs and graces.  Seemingly Mr. Garrick was also less than kind in his description of her, as well as of Doctor Johnson.  Apparently, once he was The Toast of the London Theatre and a Darling of Society, he often entertained his company by mimicking Doctor and Mrs. Johnson.  This generally caused them to convulse with laughter.
However, no matter how others saw Mrs. Johnson, Dr. Johnson evidently had a fondness for her since he described his marriage as a love-match on both sides.  Throughout his life he recalled his wife with fondness and always appeared to remember her birthday.
-oOo-
To Read About
DOCTOR JOHNSON IN LONDON
OR
to RETURN to the series HOME PAGE
——oooOOOooo——
ACKNOWLEDGEMENTS
I would like to thank Mr. David Upton at Old Derby Photos for allowing the photograph of St. Werburgh's Church to appear here and the Vicar, the Reverend Anne Jablonski, of the Parish Church, St. Peter & St. Paul Bromley for providing the photograph of the grave stone of Mrs. Johnson.
——oooOOOooo——