THE LIFE & TIMES
OF
DOCTOR SAMUEL JOHNSON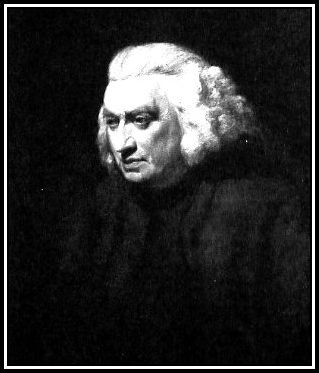 Dr. Samuel  Johnson (1709-1784) 
LIFE AFTER THE DICTIONARY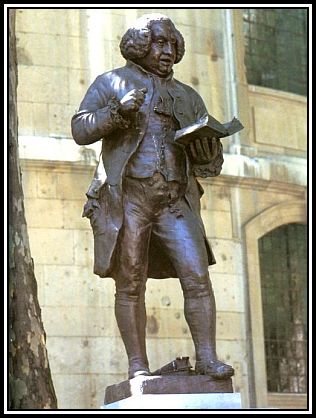 He who does not mind his belly, will hardly mind anything else  ……..   Samuel Johnson
-oOo-
With the successful publication of The Dictionary (1755), Doctor Johnson gained fame and and the admiration of Society.  Unfortunately, what it did not bring him was financial security and he continued to suffer with money problems.
It was not until 1762 that Doctor Johnson finally obtained some semblance of financial security.  At this time, he was granted a pension from George III (1738-1820).  Now he was able to maintain a comfortable lifestyle, which allowed him to travel and pass time talking and dining.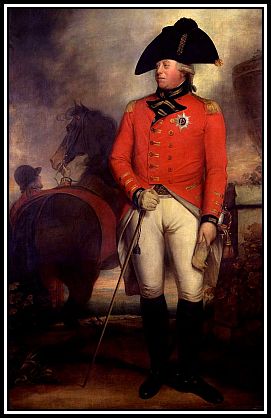 Portrait of George III painted by Sir William Beechey (1753-1839)
-oOo-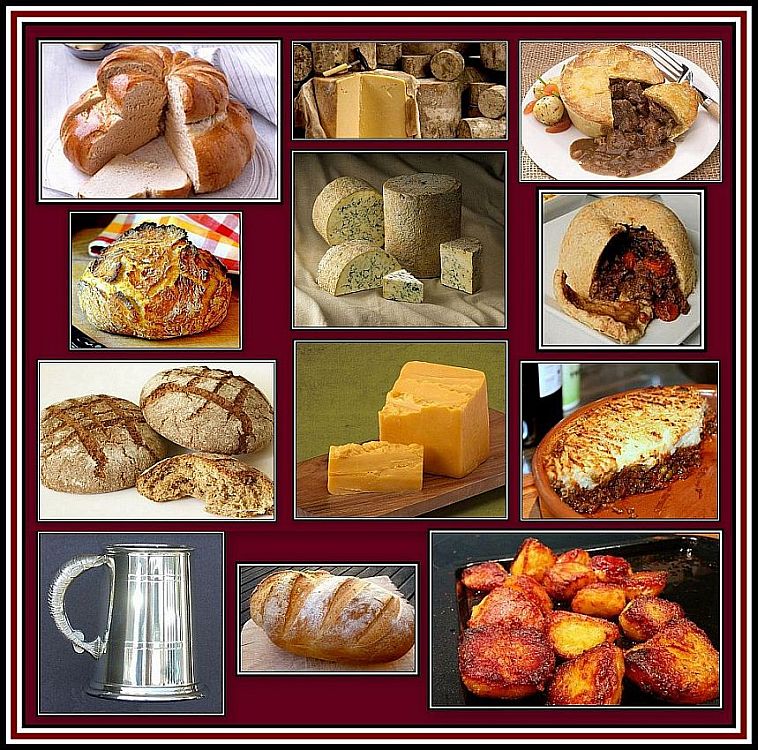 Foods enjoyed by Doctor Johnson and perhaps included a Crusty Cottage Loaf (Top Left), other Country Loaves (Left), Tin Loaf (Bottom Centre), Cheeses (Centre: Cheddar, Stilton & Leicester), Steak & Kidney Pie (Top Right), Steak & Kidney Pudding (Upper Right), Shepherd's Pie (Lower Right), Roasted Potatoes (Bottom Right) and  (Bottom Left) a Pewter Tankard for drinking Ale
Doctor Johnson was known to have a good appetite.  In his youth and early years in London,  he devoured foods ferociously whenever he was able since he was perhaps unsure when and where his next meal would be coming from.  In addition, in those days, he was known not to be too chosey as to the quality and state of freshness of some of the foods that he consumed.
Doctor Johnson dining at The Mitre
-oOo-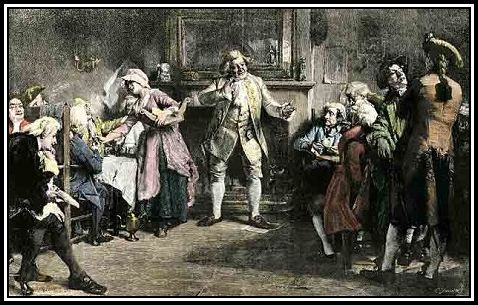 The Coffee House Orator; from North Wind Picture Archives, Alamy 
Being a man of robust character, Doctor Johnson offered both challenging and hilarious talk.  He was sociable in that he enjoyed talking in the Coffee Houses of London and was a member of several Clubs.   Here he met his friends that now included the likes of Sir Joshua Reynolds (1723-1792), Oliver Goldsmith (1728-1774) and the literary hostess, Hester Thrale (1741-1821).  He was of interest to a number of people and went on to inspire several biographies detailing his life, but more of that later.
-oOo-
Coffee had been introduced into England in the mid-17th Century and had become a popular drink mainly since it was thought to have medicinal value.  In addition to coffee, the Coffee House served tea and chocolate, but unlike Inns, Alehouses and Taverns, no alcoholic drinks were served, which is said to have encouraged more serious conversations to take place.
Charles II (1630-1685) attempted to suppress the Coffee Houses since he believed that they were filled with people engaged in Sedition.  His proclamation to have them closed caused public outcry and he was forced to lift it after only eleven days in place.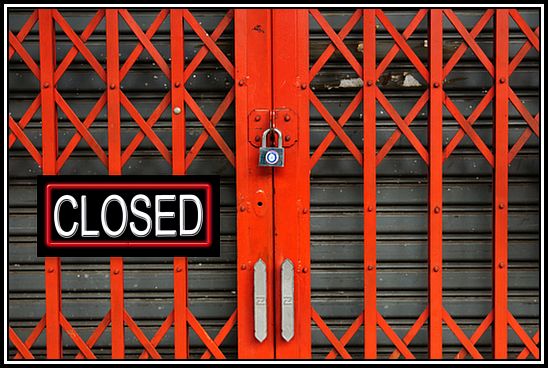 The tradition of tipping waiters and waitresses arose in Coffee Houses.  Patrons that wanted good service and priority seating would drop money into a tin marked, To Insure Prompt Service (i.e. a Tip; hence the term!).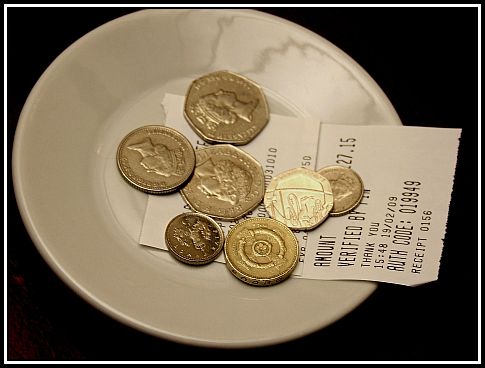 -oOo-
The Coffee House was at its height of popularity during the 17th and 18th Centuries in London and was a place where patrons came to drink the beverage and meet others to discuss matters of the day and Commerce.  Like Clubs, they were establishments where good-fellowship and social intercourse was encouraged while drinking a cup of coffee.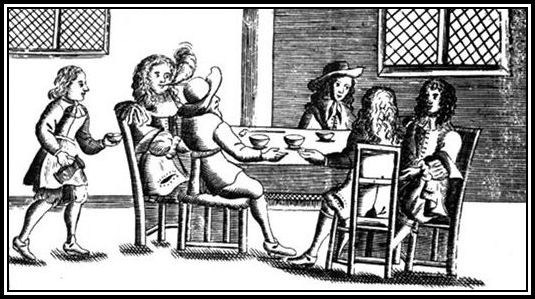 Illustration of a 17th Century Coffee House
However, by the end of the 18th Century, Coffee Houses had mostly disappeared from the social scene in England.
-oOo-
Coffee Houses played an important part in the development of modern Financial Markets and Newspapers.  They were also meeting places for various Political Groups and Intellectuals.
-oOo-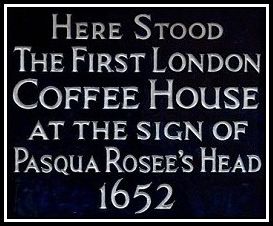 The first Coffee House in England was said to be opened by a man named Jacob in 1650.  Oxford became an important place in the development of Coffee Houses where they were known as Penny Universities.  They became popular with students who met to discuss and debate subjects of mutual interest.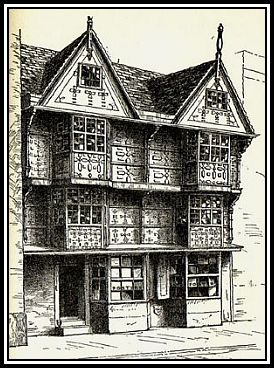 The Turk's Head Coffee House in Cambridge
-oOo-
Patrons were often charged a Penny to enter a Coffee House, which gave them the right to read the Newspapers provided.  At this time, reporters, called Runners, circulated the Coffee Houses and proclaimed the latest news to help keep the patrons aware of current events.
-oOo-
Society at this time was extremely conscious of Class and Economic Status, which helped separate the populace into groups and which did not mix.  The contrary occurred at the Coffee House and was a place that allowed patrons from different Social Class and of different Economic Status to meet on equal ground.
-oOo-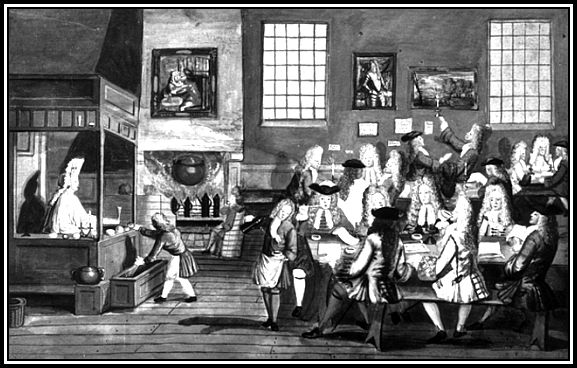 The conversation allowed in a Coffee House was said to conform to a particular manner and standard.  Language was to remain polite and civil.  It is said that such rules were responsible for keeping less desirable elements of Society out!
The first posted Rules and Orders of the Coffee House was printed in 1674.   Whether such Rules and Orders were ever enforced or not is a question of debate.  However if they were: 
Equality was supposed to prevail.  Patrons were encouraged to participate in conversation regardless of class, rank, or political leaning.
The use of bad language was frowned upon.  Seemingly if a swear word was heard, a forfeit of perhaps Twelve-Pence was levied against the coarse fellow that uttered it!
Should a heated disagreement break out, the patron that started the quarrel was required to purchase the offended party a cup of coffee!  Ah, if only the disagreements of today could be so easily settled.
Sacred Subjects, which presumably meant Religion, were barred from Coffee Houses, as was speaking poorly of the State, as well as Scripture.
Games of Chance involving cards and dice were also forbidden.
-oOo-
The character of a Coffee House was greatly influenced by where it was in London, which then determined the type of person that patronised it.  For example: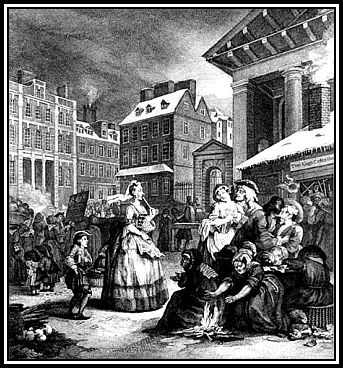 Moll & Tom King's Coffee Shack by William Hogarth (1697-1764); reproduced from The Public Domain Review
-oOo-
Other Coffee Houses became dedicated premises that attracted patronage with a specific business interest.  For example, Lloyd's Coffee House, attracted Merchants and Sailors and became a place where Trade was discussed and Deals involving Shipping were made.   As a result, Lloyd's Coffee House became Lloyd's of London, the Insurance Company.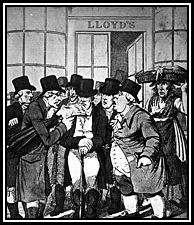 -oOo-
Coffee Houses were associated with News.  Most establishments provided Pamphlets and Newspapers for their patrons to read.  The Coffee Houses became increasingly associated with News, as it became more diverse in  form, which included licensed and unlicensed Print Manuscripts, verbal communication, in the form of gossip, hearsay and word-of-mouth.  Runners were also available to take News of Current Events between different Coffee Houses.  In addition, Bulletins were available announcing sales, sailings and auctions.
-oOo-
The rise of the exclusive Club contributed to the decline in popularity of the English Coffee House.  The Coffee House rules that had once made Coffee Houses accessible meeting places for all sections of society were now changed in order to exclude certain patrons.  Snobbery reared its ugly head, particularly amongst the Intelligentsia.  This group felt that their special qualities entitled them to protection from the common masses and riff-raff!  As a resulot, strangers were increasingly no longer welcome.  In addition, in order to limit entry to certain groups of patrons, some Coffee Houses began to charge more than a penny to allow entrance.
Literary and Political Clubs rose in popularity and the frivolities of coffee-drinking were lost in more serious discussion.  Tea was also gaining in importance as Society's beverage of choice.  The East India Company at this time had a greater interest in the tea trade than the coffee trade.  The Government's policy was to foster trade with India and China and it offered encouragements to anything that would stimulate the demand for tea.  Tea had become fashionable at Court and in the Tea Houses and was growing in popularity with the public.
-oOo-
While working on The Dictionary, Doctor Johnson also wrote literary criticism and was also a poet and a prolific essayist.  He was associated with the periodical,  The Rambler, which was a twice-weekly publication that appeared between 1750 and 1752 and oftentimes, he was the sole contributor.  Before her death in 1752, Mrs. Johnson informed her husband how much she admired his essays that appeared in The Rambler.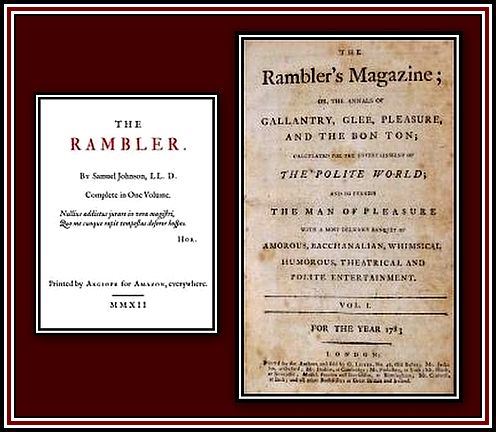 Doctor Johnson also wrote for The Idler and The Adventurer.   The Idler consisted of a series of over one hundred and three essays, of which Doctor Johnson wrote all but twelve, and appeared between 1758 to 1760 in the London weekly, The Universal Chronicle.  Apparently Doctor Johnson wrote a number of these essays at great speed, however all proved popular with his readers.
-oOo-
In the spring of 1763, Doctor Johnson formed The Club, a social group that included his friends Sir Joshua Reynolds (1723-1792), Edmund Burke (1729-1797), David Garrick (1717-1779), Oliver Goldsmith (1728-1774) and others (the membership later expanded to include Adam Smith (1723-1790) and Edward Gibbon (1737-1794). They met every Monday at 7:00 P.M. at the Turk's Head in Gerrard Street in Soho.  These meetings continued until long after the deaths of the original members.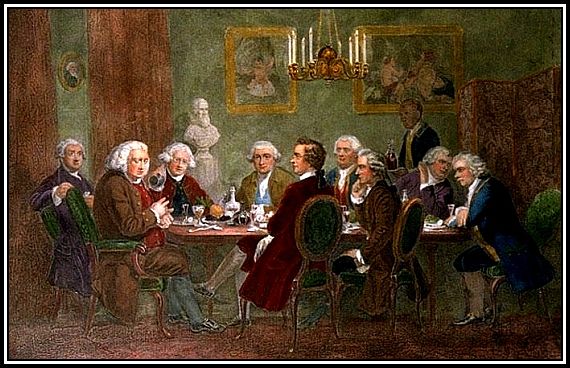 Members of The Club, an engraving by James William Edmund Doyle (1822-1892)
-oOo-
Doctor Johnson's written work was immense and varied and consisted of essays and critical appraisal of poetry and plays.  In 1765, Doctor Johnson fulfilled a long overdue contract and published his own critical collection of the plays of William Shakespeare's (1564-1616).
In the late 1770s, Doctor Johnson began work on a series of critical examinations of English poets and led to the creation of biographies and critical appraisals of fifty-two poets of the seventeenth and eighteenth centuries.   These analytical and biographical sketches were published in several volumes and are usually known as The Lives of the Poets.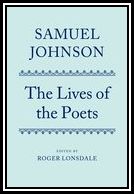 -oOo-
The 16th May, 1763 proved to be one of those days where something extra-ordinary happened although, typically, only a few noticed that an important event took place.  Significantly, the day brought together two men: the elder, a personage of tremendous wit and of great ability, the younger, a person seemingly of limited talent, yet in search of something or someone to whom to dedicate himself.  Dedicate he did, and mesh they most certainly did!
On that aforementioned day, Doctor Johnson visited the bookshop of his friend, Tom Davies (1713-1785). It was in Mr. Davies' bookshop in Covent Garden that he first met the 9th Laird of Auchinleck, James Boswell (1740-1795).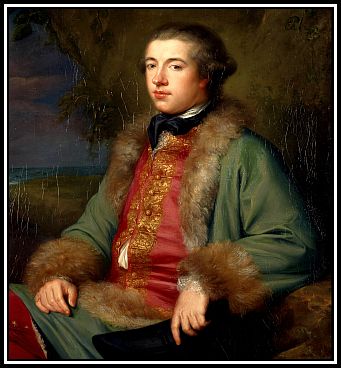 James Boswell at 25 years of age (1765); painted by George Willson ((1741–1797)
The pair quickly became friends and were regularly seen about London in the Coffee Houses, Clubs and in the homes of their contemporaries. James Boswell, 23-years old at the time, would subsequently become Doctor Johnson's first major and most well-known biographer.
Perhaps, at first glance, Doctor Johnson and Mr. Boswell appear to be no more than an eighteenth century Odd Couple. However, they were much more than this! That fortuitous meeting led to the younger's chronicling the antics and abilities of the elder for the benefit of future generations who continue to marvel at his genius.
-oOo-
THE ORIGINAL ODD COUPLE
In keeping with my habit in this series of suggesting that the reader enjoy listening to a musical piece while reading, I am requesting once more that the reader do this once more. Although the chosen piece of music is not by Handel, it nonetheless captures the mood of this section and, in its own way, has become iconic.
Theme of the television series, The Odd Couple (1970-1975)
-oOo-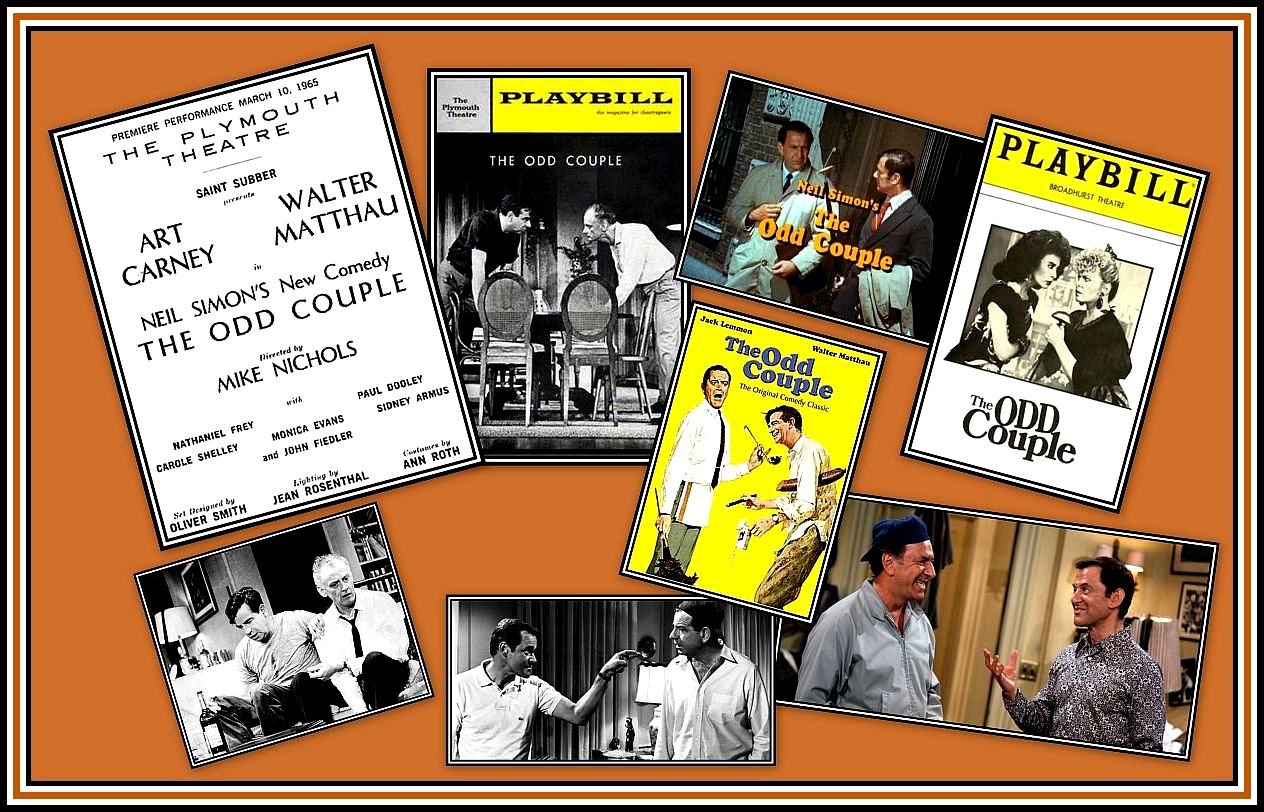 A Variety of Odd Couples
I remember seeing the play, The Odd Couple (1965), but was not overly impressed.  I also saw the film (1968), and again was not too impressed.  However, when I first saw the television series (1970-1975) based on the play, I became an immediate fan and now re-watch the episodes whenever I see them advertised on television.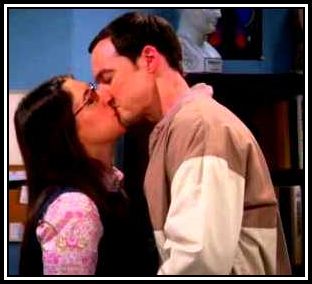 Perhaps the latest in a long line of Odd Couples, Sheldon & Amy of The Big Bang Theory
-oOo-
There have been number of Odd Couples throughout history and a number since the days of Oscar and Felix.  However, when I first saw the caricature of Doctor Johnson and James Boswell, Walking Up High Street, I realised that it illustrated the best example of an Odd Couple that I could imagine!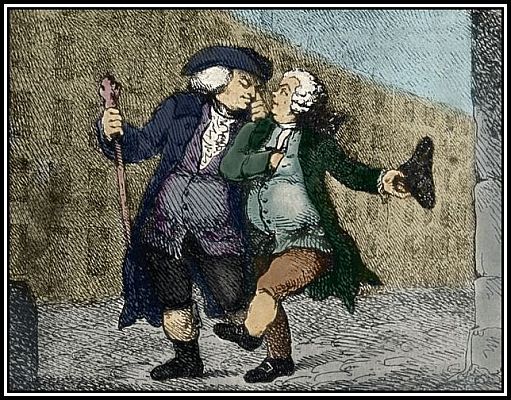 Walking Up High Street
Looking at this print caused me to almost choke with laughter.  To me, I have the impression that The Odd Couple had just left a Tavern and was slightly the worse for too much alcohol.  I like to think that as they walked Up The Hight Street, they found themselves walking in step with a tune that was running through one of their heads, probably Boswell's.
After a minute or two, Boswell begins to hum the tune aloud.  And assuming the Doctor was in a good mood and assuming the little ditty is catchy enough, he starts to hum along, and before long, they break into a step in time to the tune and dance down the street.  This idea is certainly implied by the raising of Mr. Boswell's left leg!
Once my laughter subsided, I thought of a suitable tune to accompany their stroll, and at the risk of appearing disrespectful, I can not but help presenting it to you!
-oOo-
To Read About
JAMES BOSWELL, THE 9TH LAIRD OF AUCHINLECK
OR
to RETURN to the series HOME PAGE
——oooOOOooo——
ACKNOWLEDGEMENTS
I would like to thank Mr. Paul Bland for his help and encouragement with this piece.
——oooOOOooo——