THE LIFE & TIMES
OF
DOCTOR SAMUEL JOHNSON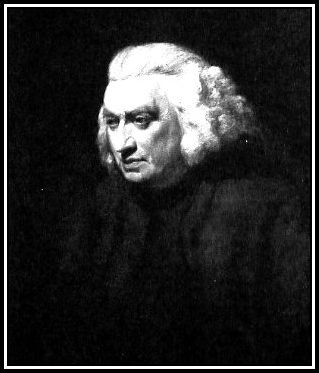 Dr. Samuel  Johnson (1709-1784) 
-oOo-
Once again, may I recommend that the reader listen to the following piece of music while reading about James Boswell: Life apart from Doctor Johnson.
The music is Handel's Music for the Royal Fireworks (HWV 351), a wind band suite composed in 1749 and performed here by The Academy of Saint Martin-in-the-Fields under the direction of Sir Neville Marriner.  The suite consists of: Overture, Bourree, La Paix, la Rejouissance & Minuet and Trio.
-oOo-
JAMES BOSWELL
THE

9TH

LAIRD OF AUCHINLECK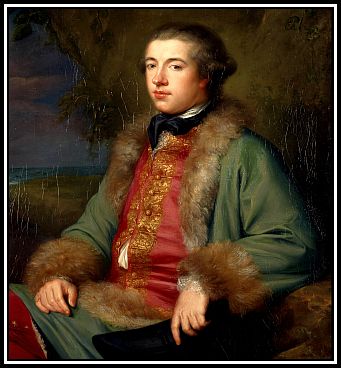 James Boswell at 25 years of age (1765); painted by George Willson ((1741–1797)

-oOo-
JAMES BOSWELL
LIFE

APART FROM

 DOCTOR JOHNSON
OTHER FRIENDS of DOCTOR JOHNSON
Boswell was undoubtedly filled with admiration for Doctor Johnson and plied him with questions during their Meetings and busily recorded his responses in depth in his Journal. However, it would be true to say that he would not be the only person to catch Boswell's attention.
Although Doctor Johnson did not warm to many people, he did have a number of friends in addition to Boswell and Tom Davies who had introduced them to each other and so was not entirely friendless either.
-oOo-
Mr. Henry Thrale (1724 or 1730-1781), owner of the Anchor Brewery in Southwark and Member of Parliament (M.P.), and his wife, Hester (1741-1821) were friends of Doctor Johnson and held great significance for him.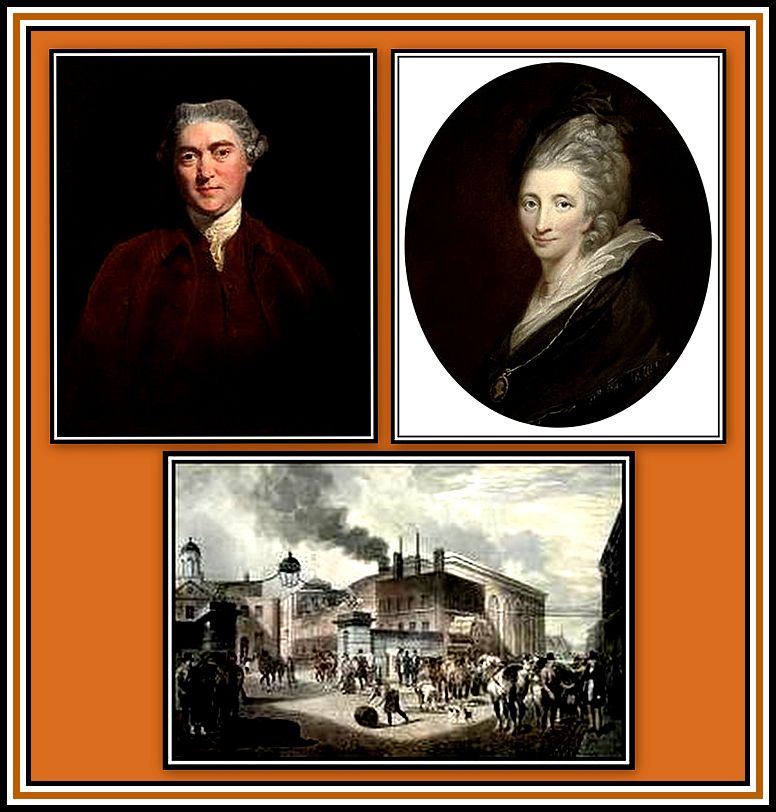 Henry & Hester Thrale and the Anchor Brewery, sold in 1781 and renamed Barclay Perkins Brewery
Doctor Johnson had been introduced to Henry Thrale in January 1765 by Arthur Murphy and soon became great friends with him and his wife who treated as a member of the family.  Later, he moved in with The Thrales where he remained for the next seventeen years until the death of Mr. Thrale in 1781.  He was given his own apartment at The Thrale's Southwark Brewery House and at  Streatham Park Estate.  Streatham Park became the focal point of The Thrales' social life and was a country retreat for Doctor Johnson and a host of other members of their intellectual and artistic circle.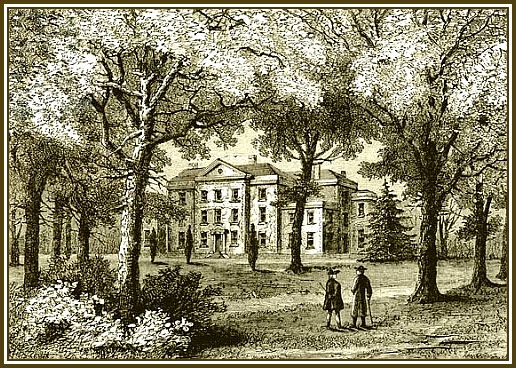 Streatham Park by Edward Walford (1823-1897), 1880; the House was sold in 1825 and demolished in 1863.
-oOo-
It was while living in the home of The Thrales that Doctor Johnson completed and published his writings, The Plays of William Shakespeare, in Eight Volumes in October 1765.
Also in 1765, Doctor Johnson was awarded the degree of LL.D. from Trinity College Dublin.  Although he never referred to himself as Doctor, his friends always employed the title.
-oOo-
In the summer of 1774, Dr. Johnson made a trip to Wales together with The Thrales and their daughter Queeney.  The major reason for the journey was that Mrs Thrale wanted to take possession of her family estate of Bachygraig in the Vale of Clwyd.  She also wanted to show Doctor Johnson the beauty of North Wales where she lived when young.  The tour lasted for over two months during which each kept a diary of their observations.  Although neither intended their writings to be published, they appeared in print in 1995.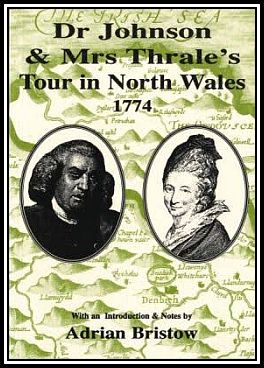 -oOo-
On 25 July 1784, Mrs. Thrales married Gabriel Mario Piozzi, an Italian music teacher. This caused a rift with her daughter, Queenie, and Doctor Johnson, which was only perfunctorily mended shortly before his death later in the same year.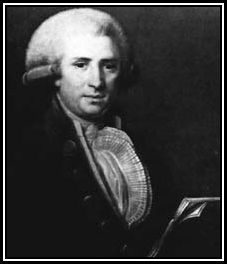 Gabriel Mario Piozzi
During the years that Doctor Johnson lived in her home, Mrs. Thrale maintained a Journal, and this, together with her correspondence of the time, formed an important source of information on him, which she used as the basis of her Anecdotes of the late Samuel Johnson, published in 1786 under the name of Mrs. Hester Thrales Piozzi.  Her account of Doctor Johnson's life helps complete what some consider to be the biased view of his life provided in Boswell's biography, not published until 1791.
-oOo-
Doctor Johnson said of Mrs. Hester Thrale that ……. her colloquial wit was a fountain of perpetual flow.
-oOo-
The Thrales were not, of course, the only friends of Doctor Johnson.  He was liked by some and, perhaps even loved by a few, however he was certainly admired by many, and the number of his admirers has continued to grow over the years.
-oOo-
In 1756, Doctor Johnson was arrested for an outstanding debt of almost £6.  Being without funds at the time, he wrote to the writer and publisher Samuel Richardson (1689-1761) who sent him six Guineas.  Following this act of kindness, the two men became firm friends.
Samuel Richardson painted by Joseph Highmore (1692-1780)
A little later, Doctor Johnson met and befriended the painter, Sir Joshua Reynolds (1713-1792), who so impressed him that he declared the painter to be almost the only man whom I call a friend.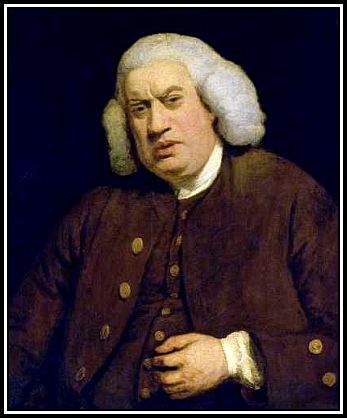 Portrait of Doctor Johnson painted by Sir Joshua Reynolds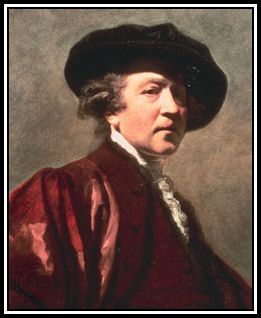 Sir Joshua Reynolds, self portrait
In addition, Doctor Johnson was very friendly with Bennet Langton (c 1736 – 1801) who was a scholar and an admirer.  Mr. Langton had wormed his way into a meeting with Doctor Johnson.  The pair got along well and this led to a long friendship.  He, together with Sir Joshua Reynolds and Doctor Johnson, was a founder member of The Literary Club  in 1764.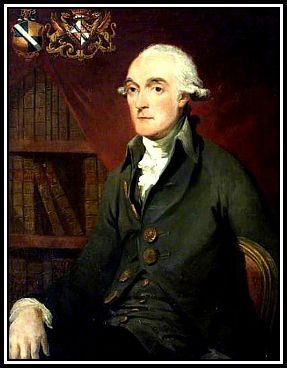 Bennet Langton painted by Carl Frederik von Breda 1759-1818)
Doctor Johnson met Arthur Murphy (1727-1805) in 1754 after Murphy came to see him about the republishing of the Rambler No. 190, and the two became friends.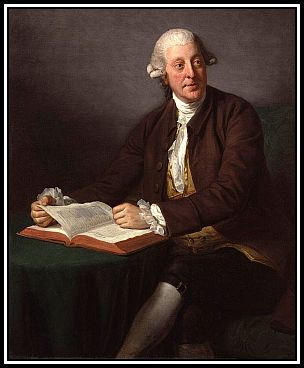 Arthur Murphy painted by Sir Nathaniel Dance Holland (1735-1811) in 1777 
-oOo-
Also in 1754, the  poet, Anna Williams (1706-1783), took up residence in Doctor Johnson's home.  Mistress Williams was poor and was losing her sight, as a result of Cataracts.  Doctor Johnson paid for surgery in the hope of rectify her condition and alleviate her on-coming blindness, but unfortunately, the operation was not successful.  Following this, she became Doctor Johnson's housekeeper and companion and remained so for over thirty years.  Despite her failing sight, Mistress Williams was able to sew and to publish her translation from the French of the life of the Julian the Apostate (331-363: Roman Emperor from 361 to 363) in addition to maintaining his household.  Evidently, he was more than fond of Mistress Williams and was sure to take tea in her company each evening and was not above being playful with her!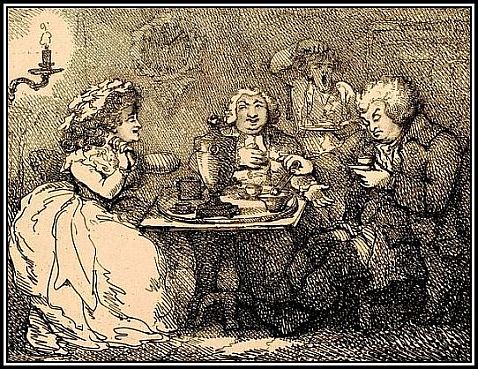 Taking Tea
-oOo-
Doctor Johnson was known to be kind to many poor and down-on-their-luck people.  He often had them come and live in his home and often gave them money even when he was on the verge of poverty himself.
-oOo-
OTHER FRIENDS of JAMES BOSWELL
About three months after his first meeting with Doctor Johnson on 16th May, 1763, James Boswell left for The Netherlands to study Law at Utrecht University.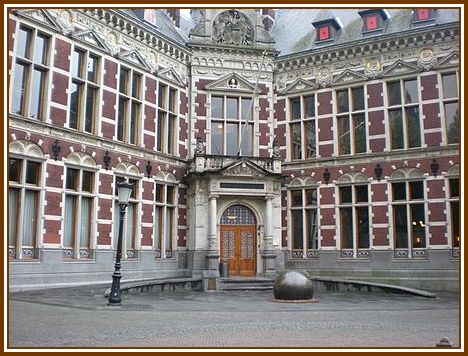 Academiegebouw (Academic Building) Utrecht
At first he was not especially happy, but once he settled into his life there, he met and fell in love with several women.  One was a young widow who he proposed marriage to, but was rejected.  The second was a young Dutch lady of substance, Isabelle de Charrière (1740-1805) who was also known as Belle van Zuylen.  Madame de Charrière was a vivacious woman of unorthodox opinions and was easily Boswell's intellectual superior.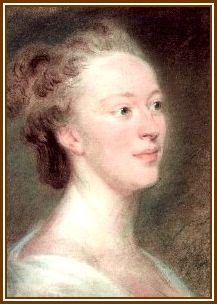 Madame Isabelle de Charrière
Boswell did not remain at his studies for long and soon left The Netherlands to undertake a Grand Tour, which was to last for two years.  During his time abroad, he maintained a Journal and this together with numerous letters formed the basis of two books, Boswell in Holland and Boswell on the Grand Tour.
-oOo-
It is evident that James Boswell had great charm since he was able to win over some of Society's most prominent and distinguished people both in England and on The Continent.
-oOo-
In the autumn of 1765, Boswell traveled to Corsica to meet the independence leader, Pasquale Paoli (1725-1807) who was the President of the Executive Council of the General Diet of the People of Corsica and who had written the Constitution of the state.  When Boswell returned to London, he began to campaign on behalf of the Corsican cause for independence while spending time with Doctor Johnson who received him most cordially.  Once Pasquale Paoli left Corsica and went into exile in London, he continued his friendship with Boswell.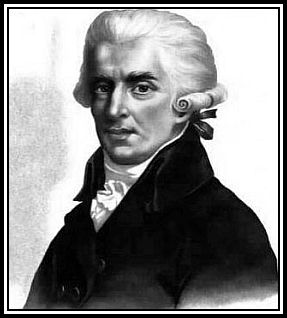 Pasquale Paoli
-oOo-
It was during his European travels that  Boswell meet Jean-Jacques Rousseau (1712-1778) and spent some time in his company.  He became friends with Rousseau and his mistress, Thérèse Le Vasseur (1721-?) and accompanied her to England in February 1766 to reunite with Rousseau who had taken up residency there in January.  During their journey, she and Boswell had a brief affair.  Whether their liaison was pleasant or not is debatable since Madame Le Vasseur is known to have told Boswell, Don't imagine you are a better lover than Rousseau.
Boswell also met Voltaire (François-Marie Arouet; 1694-1778) during his Grand Tour and evidently made a favourable impression on him since he invited him to his home.  In addition, Boswell was even said to have made friends with The Pope when he visited Rome!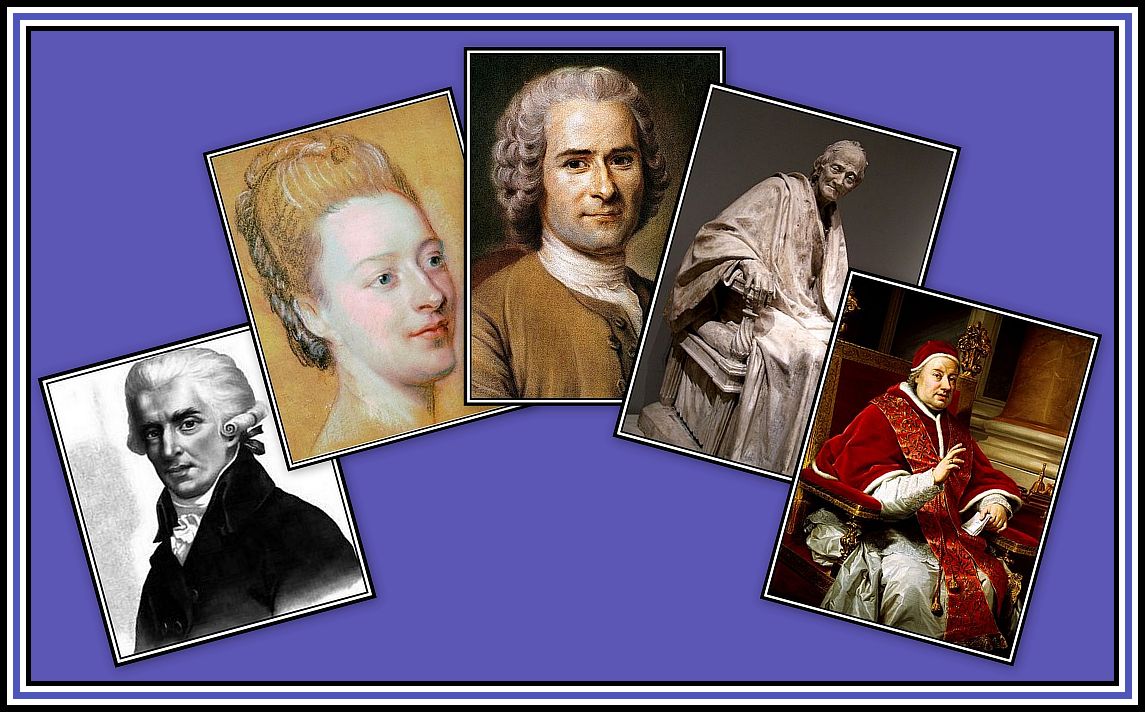 Other Friends of James Boswell: From Left to Right, Pascale Paoli, Madame Isabelle de Charrière, Jean-Jacques Rousseau, Voltaire (François-Marie Arouet) & The Pope
-oOo-
In the spring of 1768, Boswell published his Account of Corsica, Journal of a Tour to that Island, and Memoirs of Pascale Paoli.  The book was a success and was translated into French, German, Italian and Dutch.  Boswell's success as an author came from his innate ability to capture in print the personality of his subject.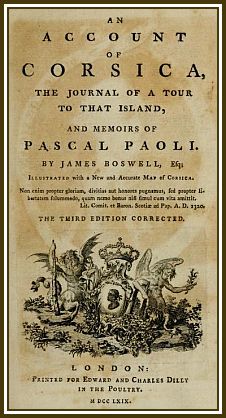 -oOo-
Boswell returned to London in February 1766 accompanied by Rousseau's mistress.  After spending a few weeks in London, he travelled to Edinburgh where he sat his final Law examination.  He was successful and was Called to The Bar.  He practised Law in the Scottish Courts for over a decade, however he never earned much money in doing so, which further put additional strain on his relationship with his father.
During these years, Boswell spent about a month each year in London with Doctor Johnson.  These annual Séjours allowed him not only to mingle with London's literary elite, but also to escape his mundane existence in Scotland.
-oOo-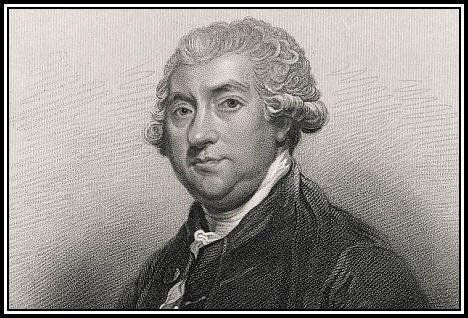 During his trips to London and elsewhere, he often spent time with prostitutes and apparently contracted venereal disease at least seventeen times.  He also drank and gambled too much.  His excesses undoubtedly encouraged his mood swings, which no doubt fueled further indulges.  As a result, he was often caught between the devil and the deep blue sea.  Often he would return home to his wife with renewed promises to change his ways.  Mrs. Boswell seemingly forgave him and soldiered on taking care of their home and their children.
Boswell would have preferred to follow a literary career rather than that of an Advocate.  However, with the help of Doctor Johnson, he was elected to membership of The Literary Club in April 1773.  He must have felt frustration at not being able to follow what he thought was his true calling and apparently suffered with Depression and indulged in a number of vices, which often added to his feelings of gloom and despair.
However, in 1791, once he published The Life of Samuel Johnson, LL.D., he would find himself given the admiration that he had long sought.  Over the years, this admiration has not decreased in the slightest!
——oooOOOooo——
To Read About
JAMES BOSWELL: LIFE

AFTER

DOCTOR JOHNSON
OR
to RETURN to the series HOME PAGE
——oooOOOooo—— 
ACKNOWLEDGEMENTS
I would like to thank Mr. Paul Bland for his help.