THE LIFE & TIMES
OF
DOCTOR SAMUEL JOHNSON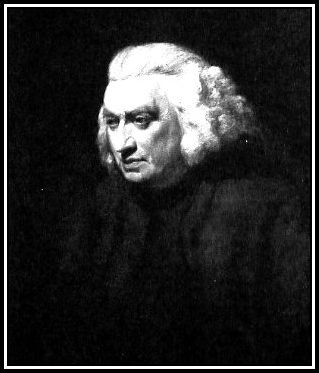 Dr. Samuel  Johnson (1709-1784) ……. 
poet, essayist, moralist, literary critic, biographer, editor & lexicographer ……..
& considered by many as the most distinguished man of letters in English History.
-oOo-
He is a man of most dreadful appearance.  He is a very big man, is troubled with sore eyes, the palsy, the king's evil.  He is very slovenly in his dress and speaks with a most uncouth voice.  This ill-favoured, melancholy man with enormous creative and intellectual powers is named Samuel Johnson.
From The Life of Samuel Johnson, LL.D. by James Boswell
CONFESSION
May I recommend that the reader listens to this piece of music while reading
I am amazed at how little I actually know of someone even when I think that I have learned much about them.  Such a discovery, or should I say, re-discovery, has been brought home to me yet again quite recently when I decided to write about Dr. Samuel Johnson.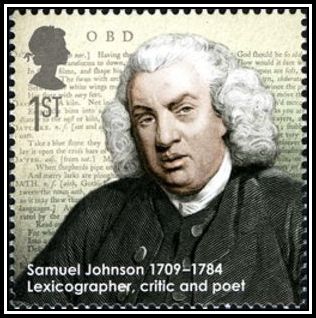 Before starting to write, I consulted various sources to check my facts about the man.  While reading one source, I discovered that what I knew of Dr. Johnson, the man, was completely wrong!  What I knew were facts pertaining to his career; also, what he did; his quotes; and some of his interactions with others, which I hasten I obviously misunderstood!  In fact, I found that my knowledge of Dr. Johnson, the person, was almost nil and what I thought I knew of some his exploits were also incorrect.
How could this be?  I had admired Dr. Johnson since childhood!  I have quoted him on many an occasion.  One of my favourite places to visit in London is Dr. Johnson's House, just off Fleet Street.  I have visited the house on many occasions and have taken visitors there and told them all about the great man since I obviously saw myself if not an expert on him, but as someone who had knowledge of him!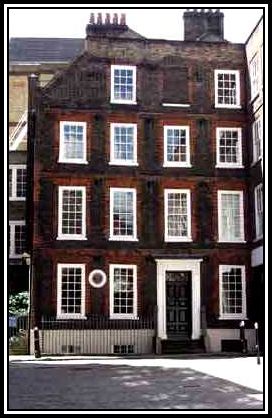 Dr. Johnson's House at 70 Gough Square, London
-oOo-
I first purchased a copy of James Boswell's (1740-1795) biography, The Life of Samuel Johnson, LL.D (published in 1791) when I was about fourteen years of age.  Although I cannot recall with certainty how I discovered Dr. Johnson, I suspect that it was one of his quotes that first appealed to me and was most likely the one on London life.  My family had recently moved from London and I was most unhappy about being uprooted and believe that the quote reminded me of what I felt I had lost.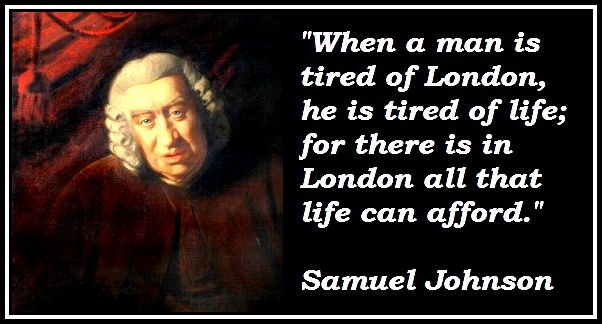 I remember rushing to buy the book on a Saturday morning at a small bookstore, which was once present on Slough High Street.  I read it quickly, or should I say, I devoured it in great haste!  While many of my cohorts hero-worshiped football players, film stars or guitarists, I was greatly taken with The Good Doctor.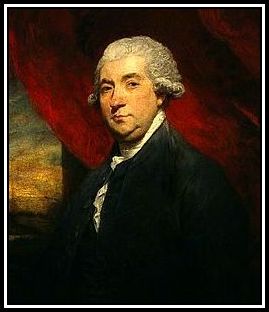 Portrait of James Boswell, painted by Sir Joshua Reynolds (1723-1792) in 1785
-oOo-
While reading various accounts of the life and times of Dr. Johnson, it struck me that in my youthful eagerness to devour the book, I had obviously missed certain aspects that reflected Dr. Johnson's personality!  Had I been too young to fully appreciate the true nature of Dr. Johnson?  Did I skip over certain parts of the book since it did not agree with my view of how he should have been portrayed?  Perhaps if I had read the book a little later in life, I might have gained more insight and developed a different opinion of him.
Over the years, I have dipped into the book on occasion, but sadly, I have not sat myself down and read it again.  This, of course, is a great pity, as I might have avoided my current embarrassment.
-oOo-
Unfortunately, what I thought Dr. Johnson was like as a person became indelibly imprinted in my memory and I obviously believed my opinion to be the gospel truth!  I saw or assumed that Dr. Johnson was a curmudgeon, a forerunner to the grumpy old man!   I believed him not to be a lover of his fellow man and someone who did not suffer fools gladly!  I assumed that even Boswell tip-topped about him so as not to incur his wrath, which I believed to be formidable!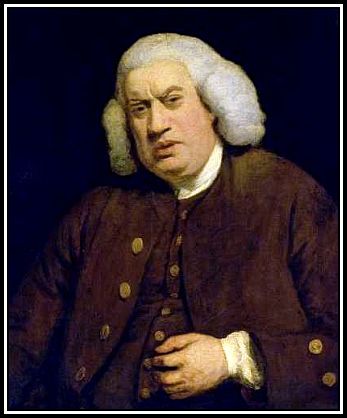 Portrait of Dr. Johnson, painted by Sir Joshua Reynolds in 1772
My view of Dr. Johnson was of him sitting in his home or in a coffee shop, smoking a pipe and expounding on the state of the world or arguing about the definition of a particular word.  I saw him not so much as a speaker, but more likely as someone who growled at others!  Curmudgeon and perhaps not Good Fellow Well Met!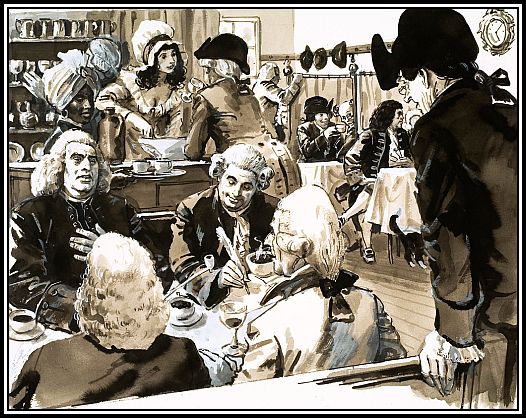 The  Monarch  of  Words,  Johnson, which  first  appeared  in  Look & Learn,  No. 470, January 1971 
and shows Dr. Johnson & James Boswell in a Coffee Shop in Soho
-oOo-
I also believed that Dr. Johnson hated to travel and that his trip to Scotland was undertaken at the behest of Boswell and that he was determined to hate it.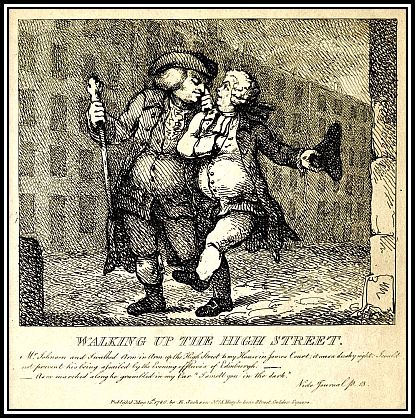 Dr.  Johnson  &  James  Boswell;  Walking  up  the  High Street  (1786)  by  Thomas  Rowlandson  (1756-1827; artist and caricaturist) 
-oOo-
I knew that Dr. Johnson liked cats and have seen the statue of Hodge, one of the cats that lived with him.  However, I read recently that he seemed to like most animals and was also kind to his servants.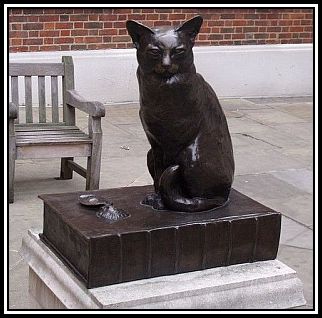 A  Statue  of  Hodge  was  placed  in  the  area  before  Dr.  Johnson's  House  by the Lord Mayor of (the City of) London in 1997 ; the Statue was produced by the Sculptor Jon Bickley 
-oOo-
However, for me, what has been the most startling of discoveries was to find that he liked children!  I had assumed that Dr. Johnson was like an early version of W.C. Fields (1880-1946), who, so I have always believed, did not like children, animals and ventriloquist dummies at all.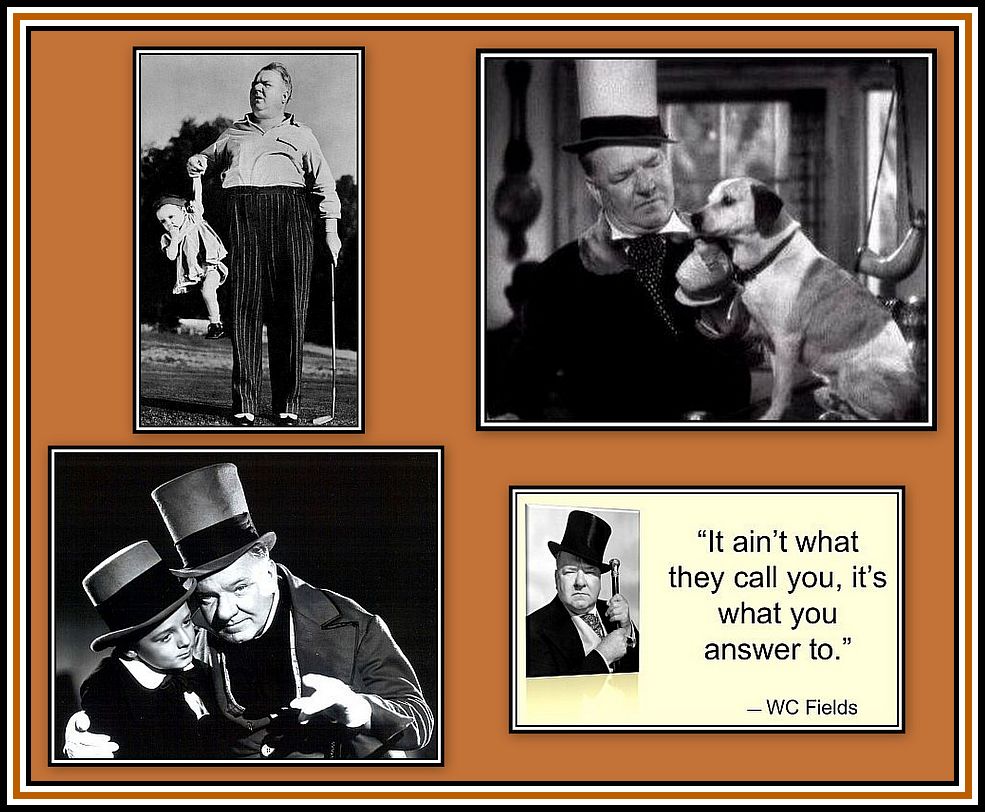 W.C. Fields & Friends
My discovery of Dr. Johnson's apparent affection for children has somewhat amusingly caused me to see him as someone akin to an early version of Alastair Sim's (1900-1976) portrayal of Ebenezer Scrooge after he awoke on Christmas morning and learned that he had not died during the night.  Perhaps this imagery is a little too much.  I doubt if Dr. Johnson was the sort to hop and dance in the streets and tell himself that he did not deserve to be so happy!  But, as Fats Waller (1904-1943) used to say, one never knows, do one!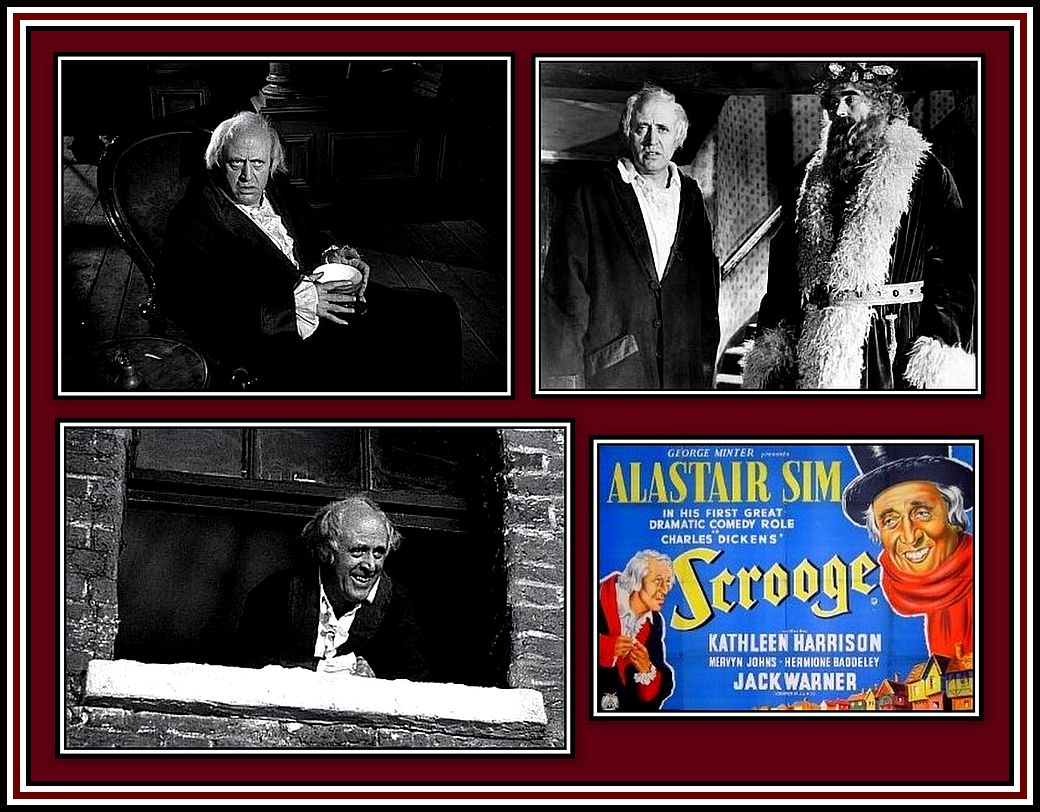 Alastair Sim as Scrooge; Top Left: Before the visitations; Top Right: During the visitation of The Spirit of Christmas Present; Bottom Left: Christmas Day; & Bottom Right: Poster of the Film (1951) 
-oOo-
And so before beginning to read my account of The Life & Times of Dr. Samuel Johnson, be aware, my actual knowledge of my subject may still remain somewhat suspect.  Proceed with caution!
-oOo-
In addition, please note that although Samuel Johnson was not awarded a Doctorate until 1765 (by Trinity College, Dublin), habit (and respect) has caused me to think of him, at all times, as Doctor regardless of his actual age.
As a result, I have taken the liberty of referring to him throughout this series by this title.
-oOo-
BY THE WAY …….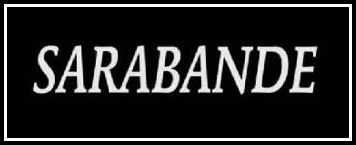 The piece of music offered to the reader at the start of this piece is Sarabande, from George Frideric Handel's (1685-1759) Keyboard Suite in D Minor (HWV 437) (Harpsichord), which was written between 1703 and 1706. but not published until 1733.  Without doubt, Dr. Johnson would have been aware of this piece.
Sarabande from Handel's Keyboard Suite in D Minor (HMV 437) played by Ewald Demeyere
The Zarabanda, as it was originally called, was a dance from Central America where it was popular in Spanish Colonies during the 16th and 17th Century.   It was introduced into Spain and later became popular in Italy and France as a slow court dance.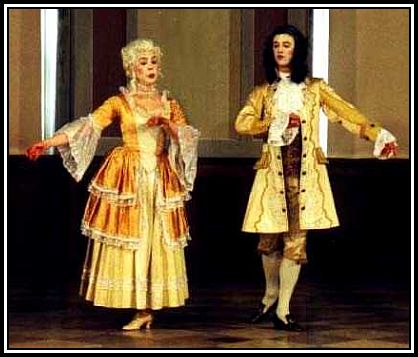 During the 18th Century, Baroque music composers included a Sarabande as the third of four movements in suites of dance music.  During this time, it was not uncommon to follow the Sarabande with a Jig (Gigue in French; Port in Irish).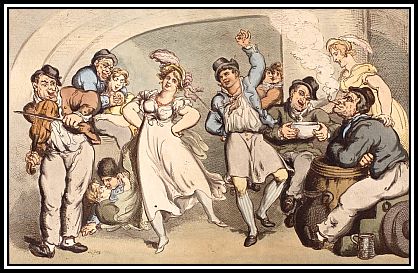 The Last Jig or Adieu to Old England by Thomas Rowlandson (1756-1827)
Jig – from Handel's Keyboard Suite in D Minor (HMV 437) played by Ewald Demeyere
A number of composers included Sarabandes in their work including Johann Sebastian Bach (1685-1750) in his Goldberg Variations.
-oOo-
A Bach Sarabande played by Anne Sophie Mutter
Excerpt from The Goldberg Variations played by Glen Gould
-oOo-
To Read About
THE EARLY LIFE OF DOCTOR JOHNSON
OR
to RETURN to the series HOME PAGE