>
THE LIFE & TIMES OF SAMUEL PEPYS
AND
SAINT OLAVE'S CHURCH
THE LIFE OF SAMUEL PEPYS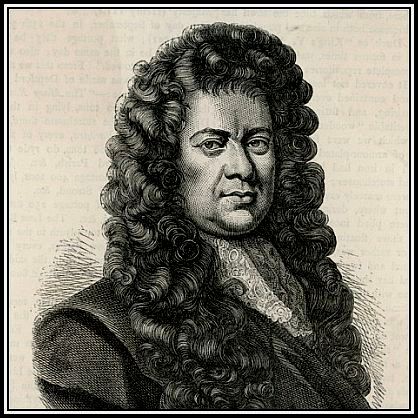 TURBULENT TIMES & SOCIAL CHANGE

Skyline of London Town
Master Pepys, as I like to call him, lived in turbulent times.  He was born in 1633 and died in 1703.  During his lifetime, the very fabric of English Society was shaken to the core, which led to a society much changed by the time matters were settled.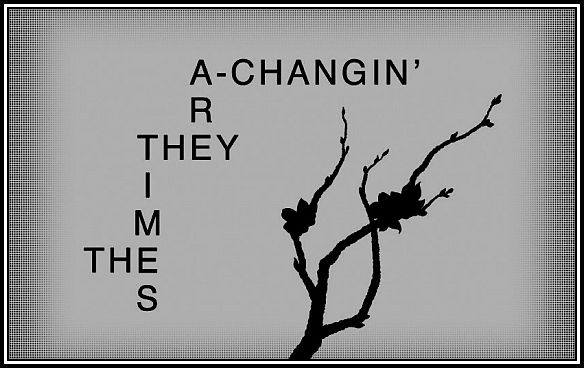 Click here to hear a tune
Obviously Master Pepys would have been aware of some of the events that led to a series of Civil Wars (1642-1651) where Cavaliers and Roundheads fought each other for the right to  determine how the country would be governed.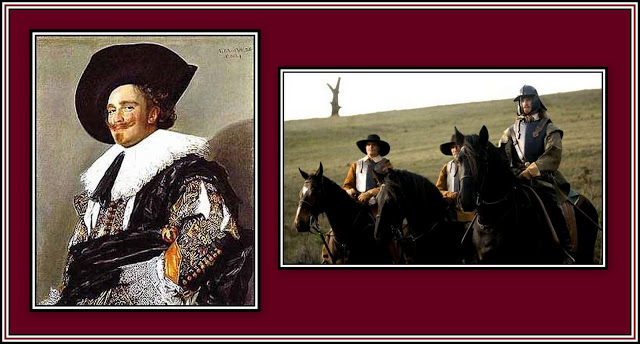 Cavalier & Roundheads – Left: The Laughing Cavalier by Franz Halls (1582-1666)
While at school, it is known that Master Pepys witnessed the execution of Charles I in 1649.  Following this, England, and later with Scotland and Ireland, a Commonwealth was established, which was a Republic where no king ruled.  For much of the eleven years that the Commonwealth existed and no king ruled, the country was governed by a Lord High Protector, Oliver Cromwell (1599-1658).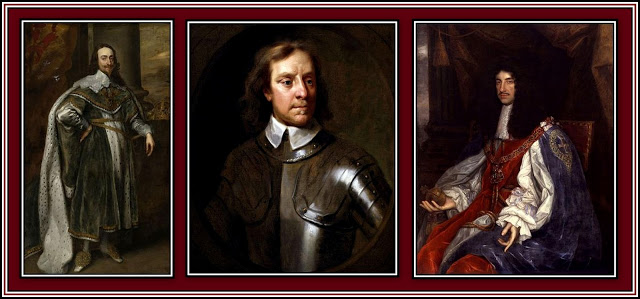 Left: Charles I; Middle: Oliver Cromwell; Right: Charles II (known as The Merrie Monarch)
-oOo-
GLOSSARY OF TERMS
Cavaliers were Royalists; supporters of Absolute Monarchy and believed in the Divine Right of Kings.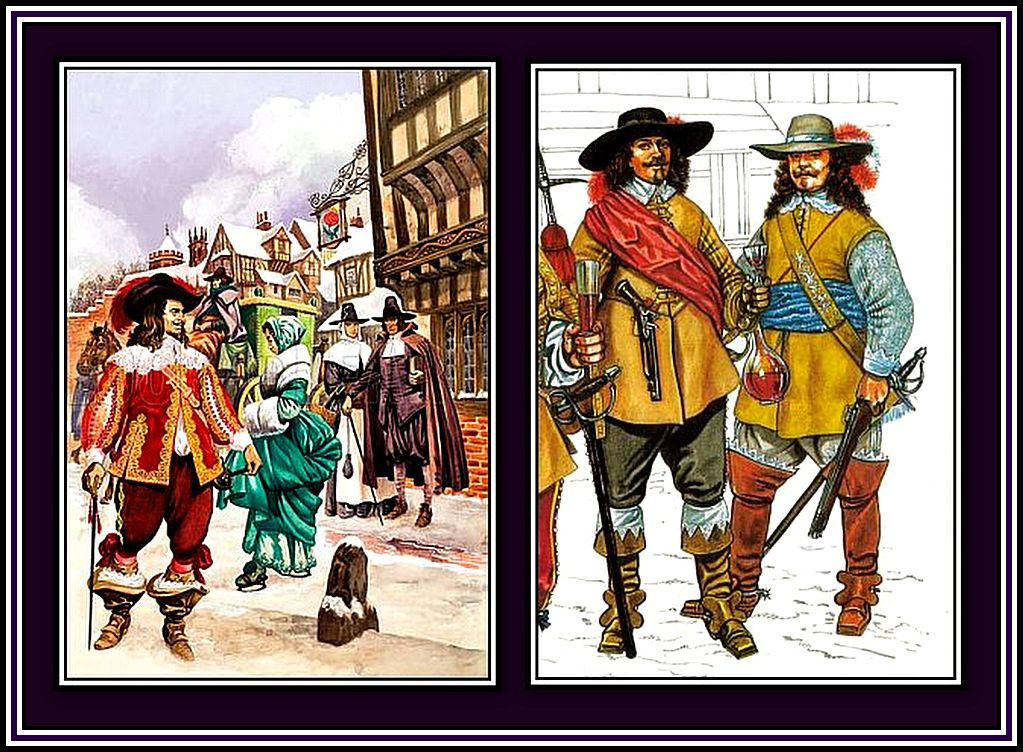 Roundheads were supporters of Parliament and hoped, at first, for a Constitutional Monarchy to rule over England.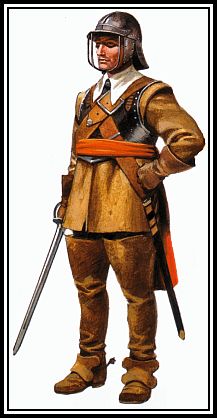 -oOo-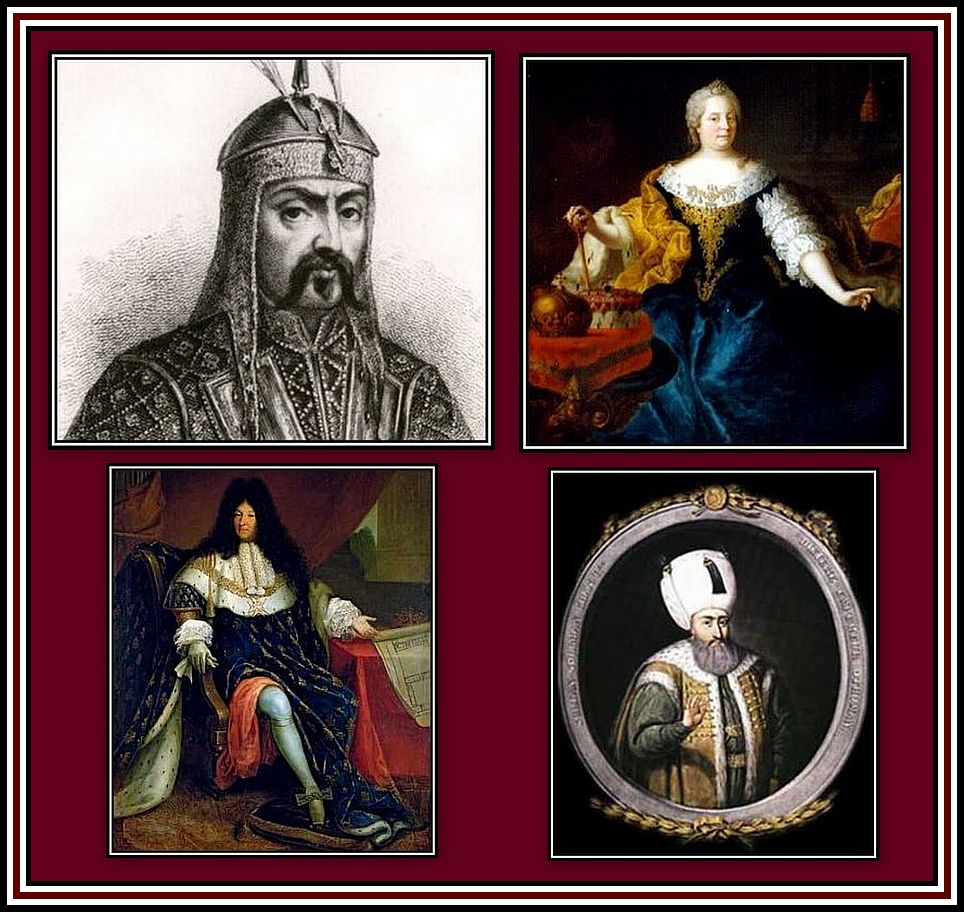 Top Left: Genghis Khan (1162-1227) ; Top Right: Maria-Theresa (1717-1780); Bottom Left: Louis XIV (1638-1715); Bottom Right: Suleiman (1494-1566)
The Divine Right of Kings is a political and religious doctrine that asserts that the Monarchy is not subject to any earthly authority and derives the right to rule directly from The Will of G-d.  As a result of this belief, the Monarchy is not subject to the will of his people.  This was the belief held by Charles I and by the Stuart Monarchs of England before him.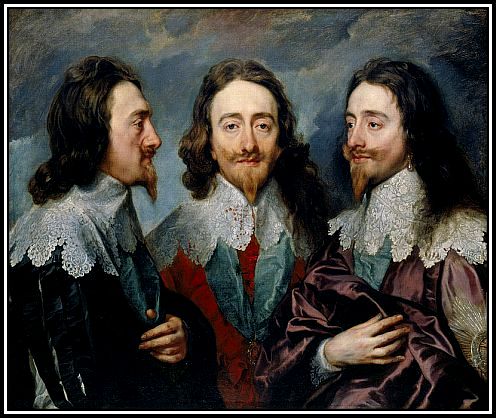 van Dyck's (1599-1641) Triple Portrait of Charles I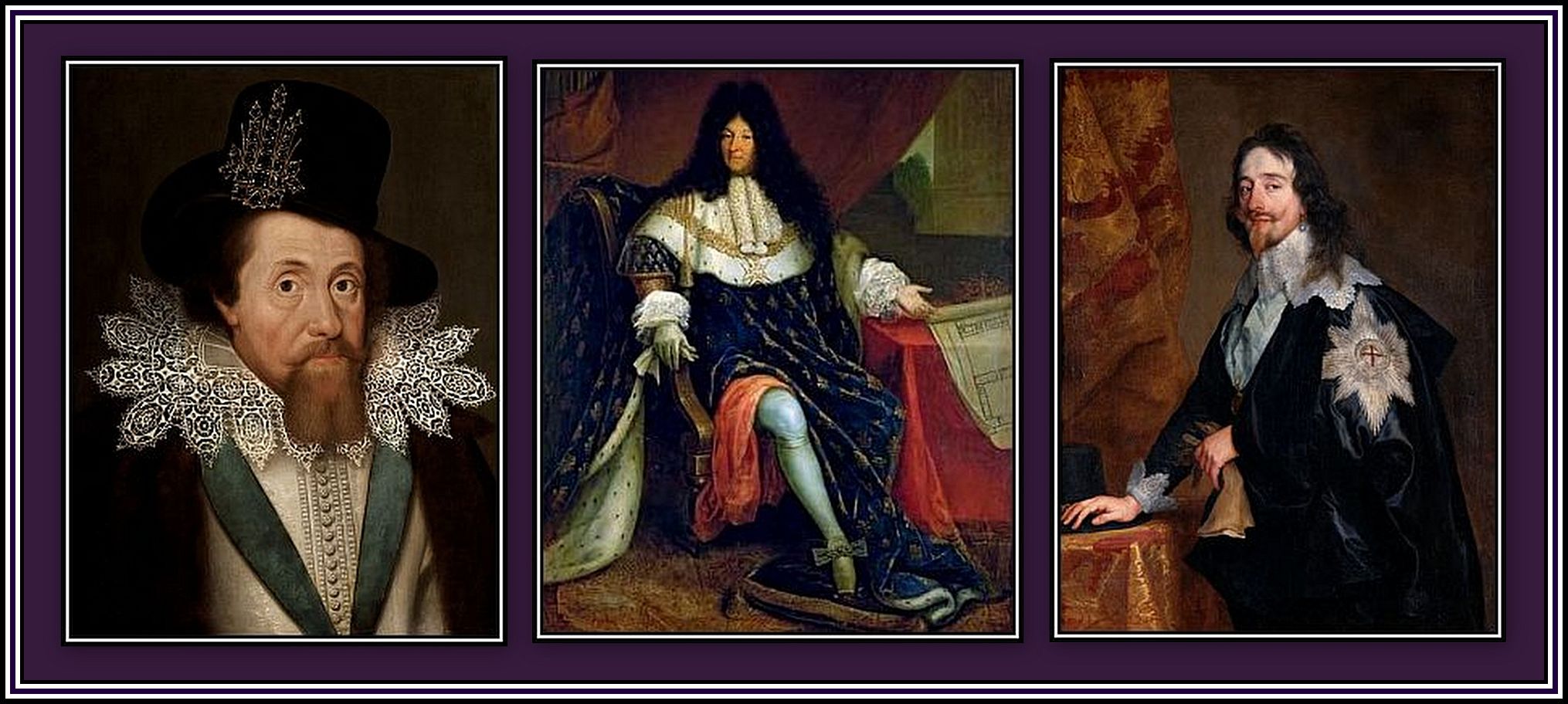 Left: James I (1566-1625); Centre: Louis XIV (1638-1715); Right: Charles I (1600-1649)
Constitutional Monarchy is a Form of Government where a Monarch acts as Head of State while the right to make and pass legislation is with an elected Parliament and not with the Monarch.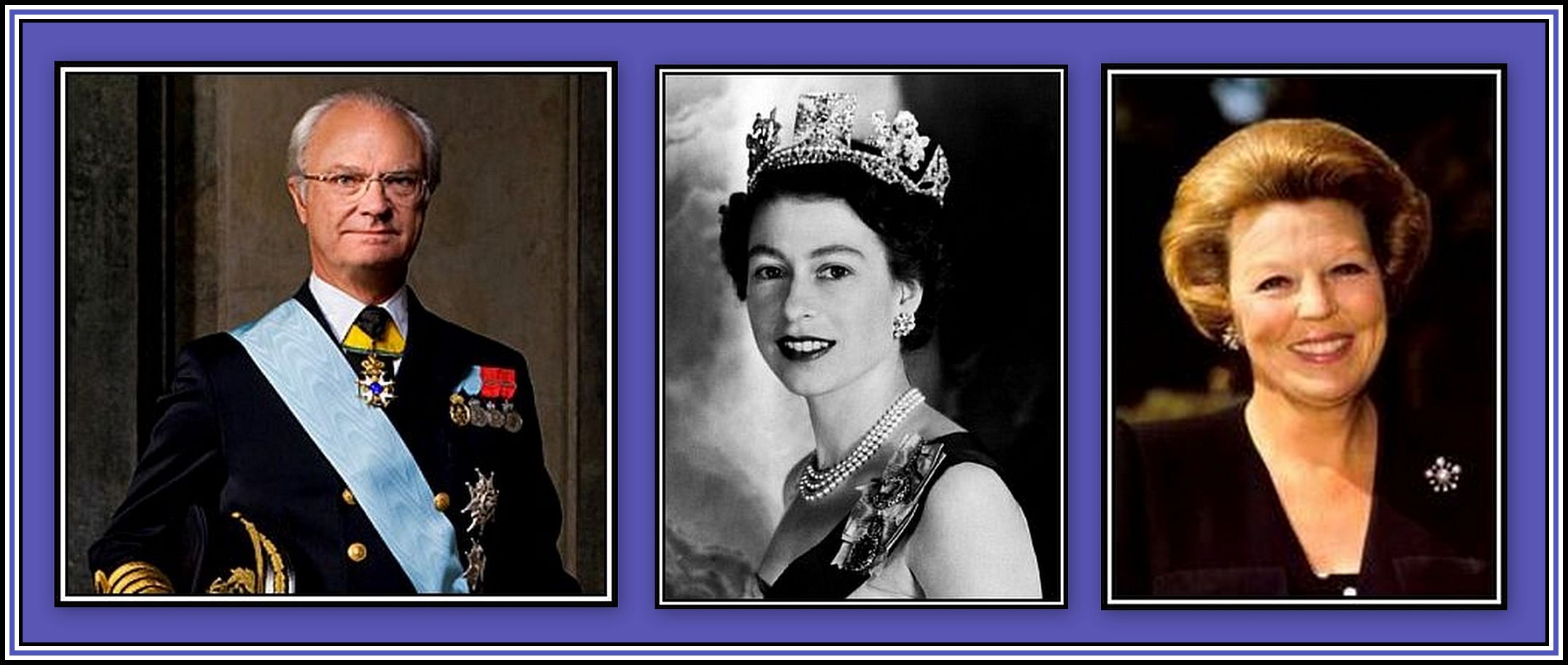 Left: Carl XVI Gustaf of Sweden (1946); Centre: Elizabeth II (1926); Right: Beatrix of The Netherlands (1938)
The Commonwealth was formed in 1649 when England and Wales, and later together with Ireland and Scotland, were ruled as a Republic and continued until 1660.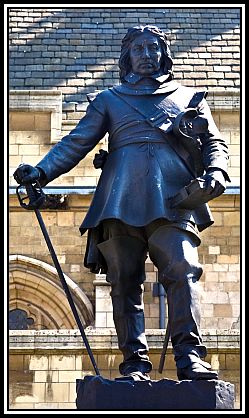 Statue of Oliver Cromwell outside of Parliament
A Republic is a form of Government or country where power resides in elected individuals representing the citizen body and government leaders exercise power according to the Rule of Law.
The Restoration (1660-1785) began in 1660 when Charles II (1630-1685) was restored to the English throne.  Restoration is a word not only used to describe the actual event when the Monarchy was restored, but also  the period afterwards where a new political settlement was established.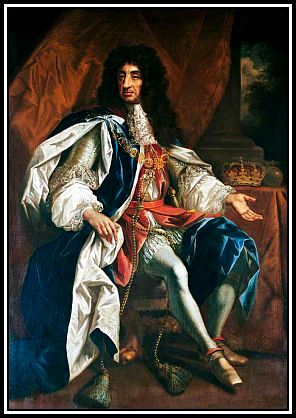 Charles II (1630-1685)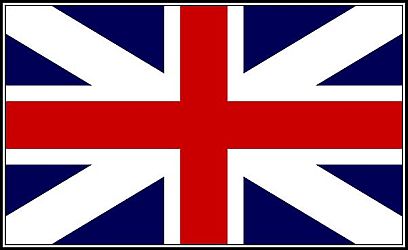 Flag of England & Scotland, 1707-1801
-oOo-
THE EARLY LIFE OF SAMUEL PEPYS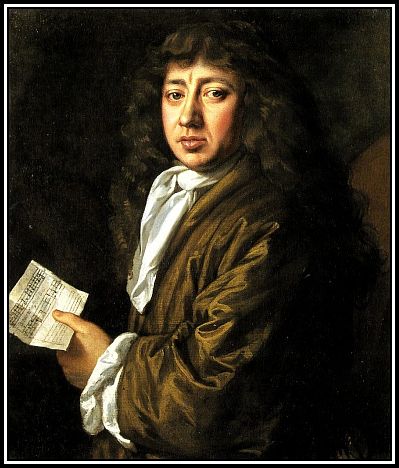 Samuel Pepys was born in Salisbury Court, off Fleet Street in the City of London on the 23rd February, 1633 and was baptised soon after at St. Bride's Church on the 3rd March.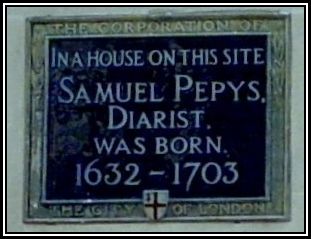 St. Bride's Church
-oOo-
BRIDEWELL SWIMMING POOL & THEATRE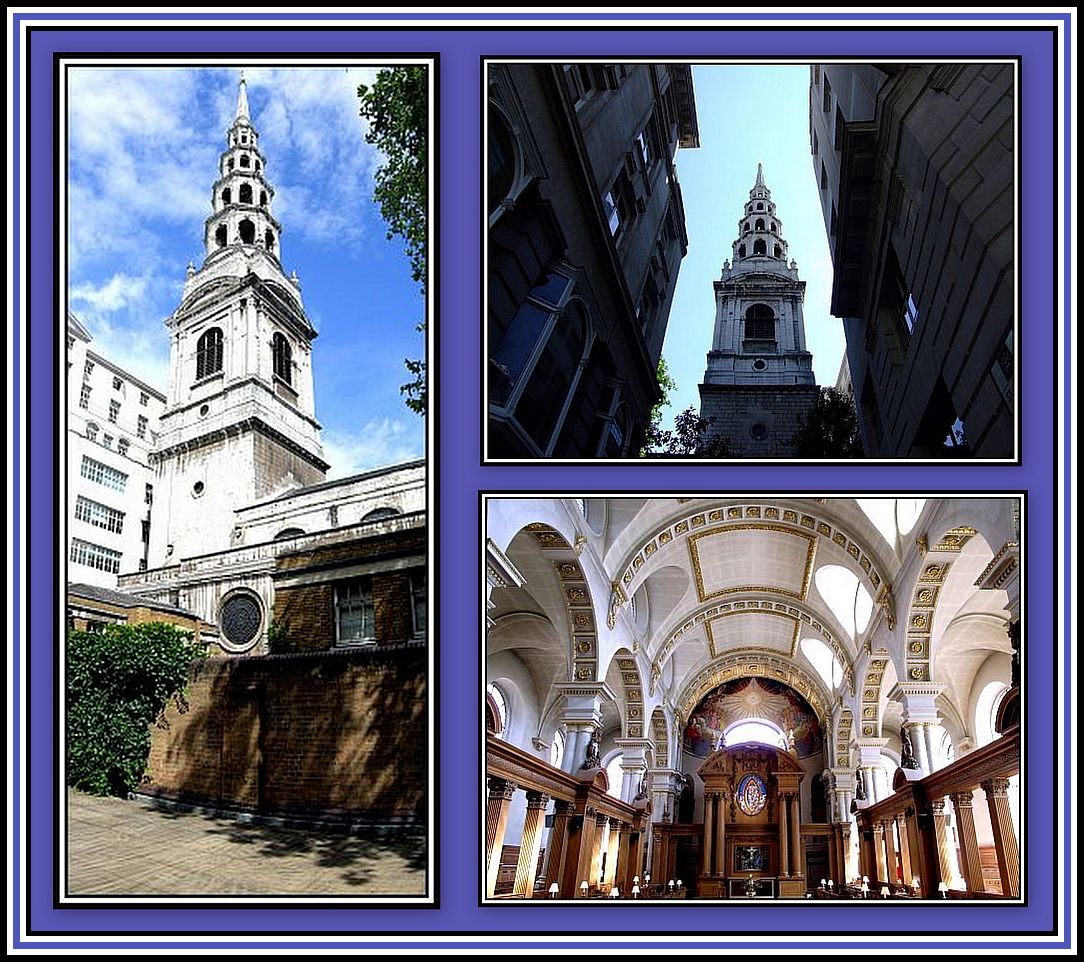 Close to St. Bride's Church in Bride Lane just to the south of Fleet Street is found London's oldest swimming pool.  The swimming pool is housed in the St. Bride Foundation Institute building, which was built in 1893 and officially opened by Edward VII while The Prince of Wales. 
In 1968, the swimming pool was converted to a theatre, which was named the Bridewell Theatre.  However, it was announced recently that the theatre was to close and the swimming pool renovated and reopened.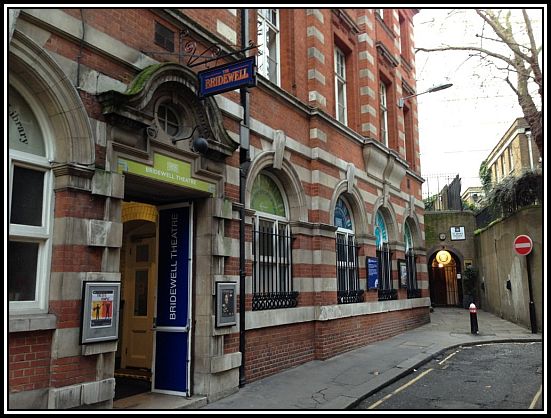 Exterior of the Bridewell Theatre/Bridewell Swimming Pool
When I went to school at Sir John Cass Foundation School in Aldgate, I used to go swimming here once a week with a group of friends.  I remember that the swimming pool had a very Victorian look to it and also looked a little the worse for ware.  I remember that the ceiling was of glass.  However, I always enjoyed swimming there.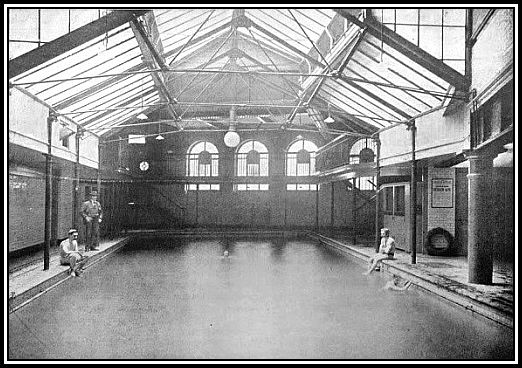 The Swimming Pool at St. Bride Foundation Building
This photograph appears at the website The Hidden Glasgow Forums in the piece, St. Bride Foundation, City of London by Toby Dammit
It was very unlike the other swimming pool, Ironmonger Row Baths, where we were taken as a class by the school.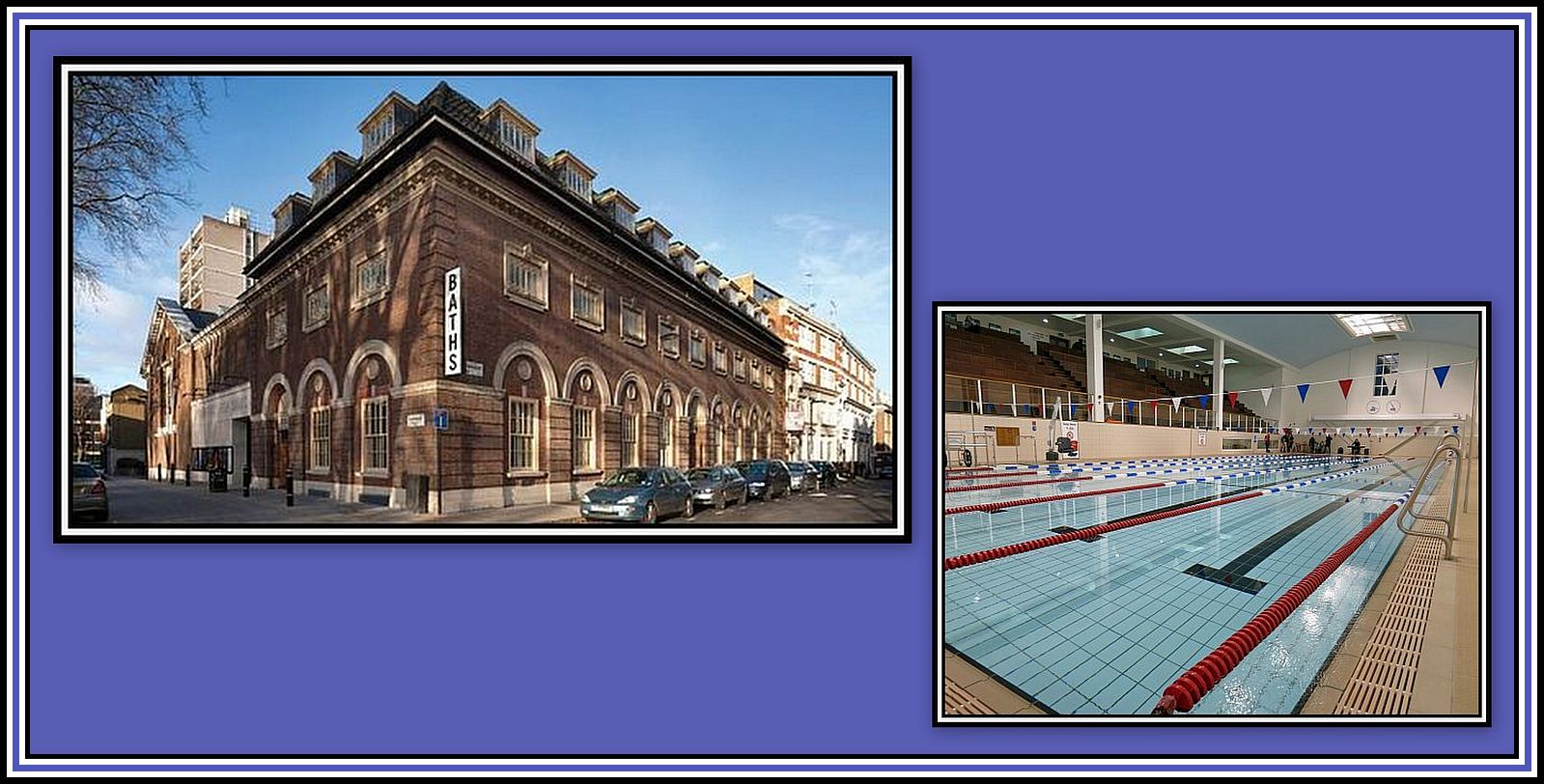 Ironmonger Row Baths
-oOo-
Master Pepys was the fifth of eleven children of John Pepys (1601–1680) who was a tailor and Margaret Pepys (née Kite; born ?-1667), daughter of a Whitechapel butcher.  His four elder siblings died leaving him as the eldest surviving child.  He did not spend all of his infancy in London, but was sent to be under the care of a nurse named Goody Lawrence at the roadside settlement of Kingsland found just north of the City of London at that time.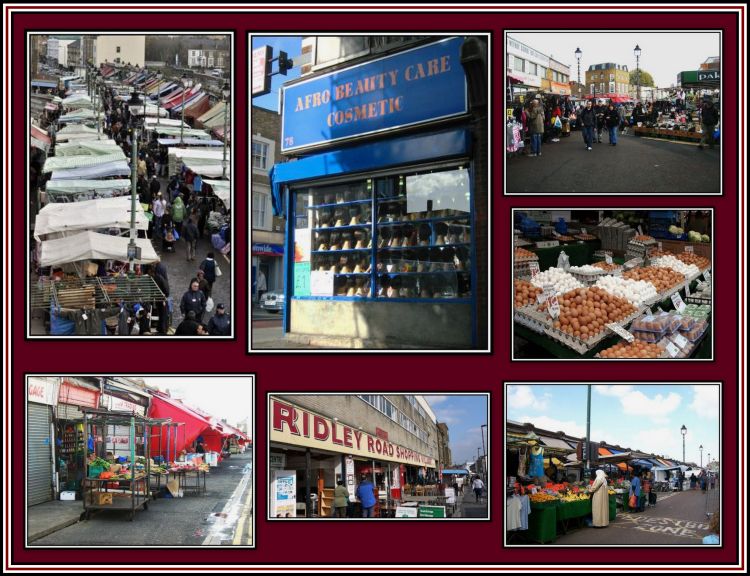 Ridley Road Market, just off Kingsland Road; the roadside settlement of Kingsland became part of the district of Dalston and is now in the Borough of Hackney
Kingsland Road (part of the A10 Road) is thought to follow the route of the Roman Ermine Street
To read more about the Kingsland area of London, click here
Although Master Pepys surrounded infancy and childhood, he was not without health issues and suffered from Nephrolithiasis (i.e. kidney stones) for most of his life and was rarely without pain.  But more of his health matters later.
-oOo-
Young Master Pepys attended Huntingdon Grammar School in 1644 and St Paul's School, London between 1646 to 1650 during which time he witnessed the execution of Charles I in 1649.
The School was founded in 1509 by John Colet (1467-1567), Dean of St. Paul's Cathedral, and built in its Churchyard.  It was destroyed during the Great Fire of London in 1666 and rebuilt in 1670. It was once more rebuilt in 1822, but in Cheapside.  Later in 1884 following an increase in the number of pupils attending the School, it was moved to Hammersmith and later in 1962 to Barnes.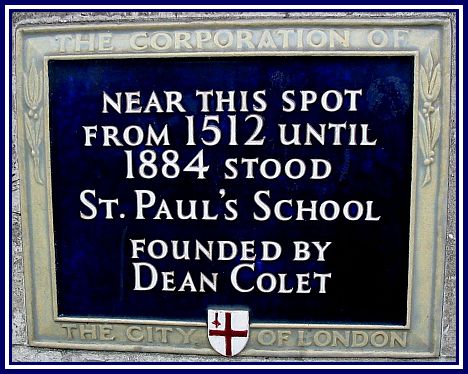 -oOo-
In 1650, he was awarded two Exhibitions from St. Paul's School and a grant from the Mercers' Company to attend Cambridge University.  In March 1651, he was admitted to Magdalene College  as a Sizar* and obtained a Batchelor of Arts Degree in 1654.
An Exhibition is a financial award granted to a student on the grounds of merit, however such an award was of a monetary sum less than a Scholarship.
Sizar is a student who received some assistance during his or her period of study while attending the University and consisted of meals, lower fees or lodging , and in some cases, in return for performing defined duties.  It is noted that Sizars were more successful in gaining degrees than the Gentlemen who entered Cambridge University at this time.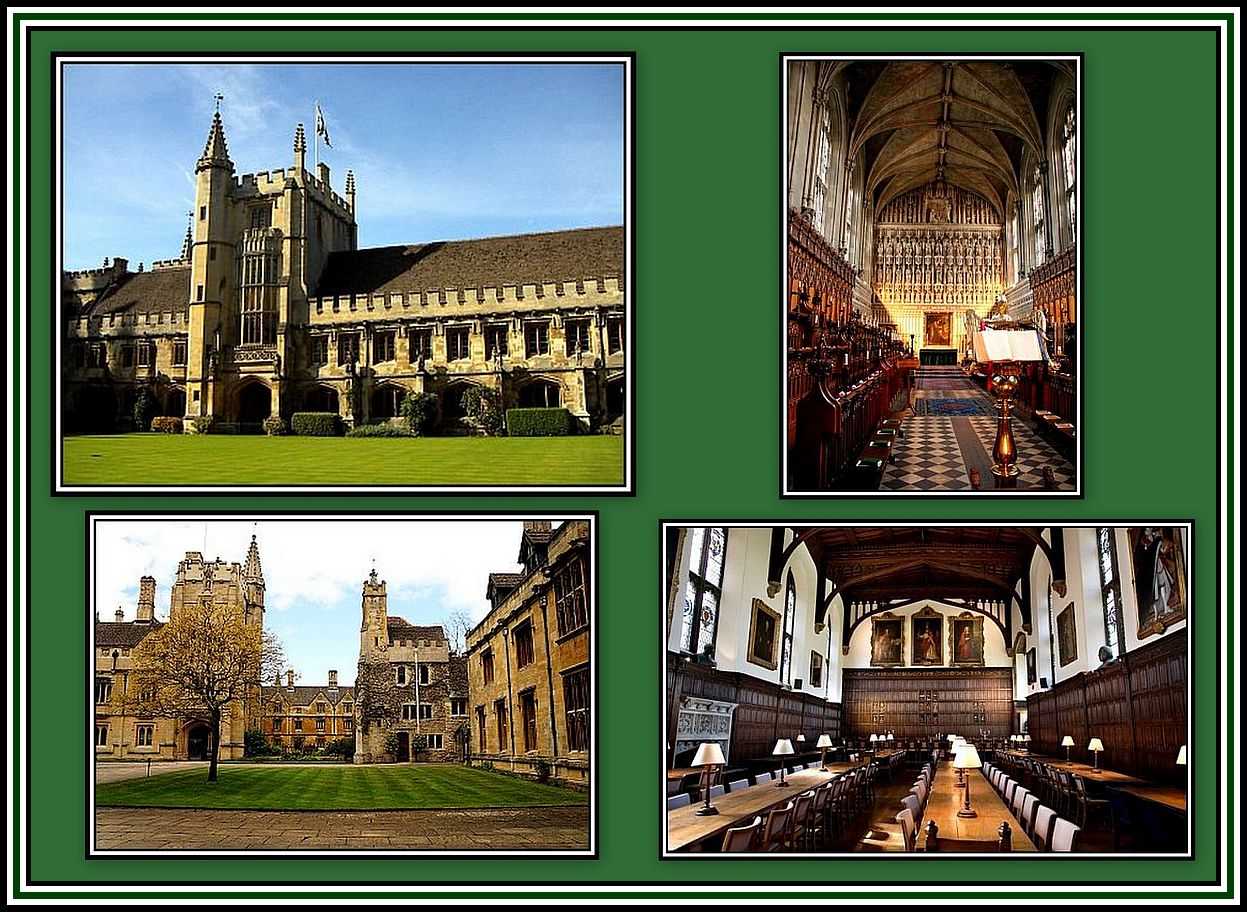 Magdalene College Cambridge
THE LIFE OF SAMUEL PEPYS continued:
SIR EDWARD MONTAGU, PATRON,
THE RESTORATION 
&
THE DIARIES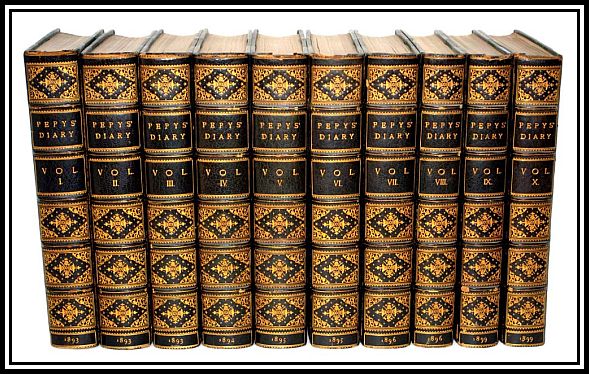 Master Pepys was 27 years of age at the time of the Restoration.   He documented life during this time in the daily entries he made to his Diaries (1660-1669).  His observations included eye-witness accounts of The Great Plague of London (1665-1666) and The Great Fire of London (1666), as well during his service at the Navy Board and on The Second Anglo-Dutch War (1665-1667).
An estimated 100,000 People are believed to have died during The Great Plague of London of 1665
Details of The Great Fire of London are given in the next section
Master Pepys also wrote about his interests and his married life and including details of his extra-marital affairs and flirtations together with discussion of his bouts of jealousy.  His daily entries over the ten year period also included comments on food, poverty, clothes and the theatre.  As a result, The Diaries of Samuel Pepys became a window onto the turbulent times when he lived.
Unfortunately, Master Pepys had to give up writing due to poor eyesight and made his final entry into his Diary on 31st May, 1669.  Following this decision, whenever he needed to have things written either at his work or privately, he gave dictation to a clerk.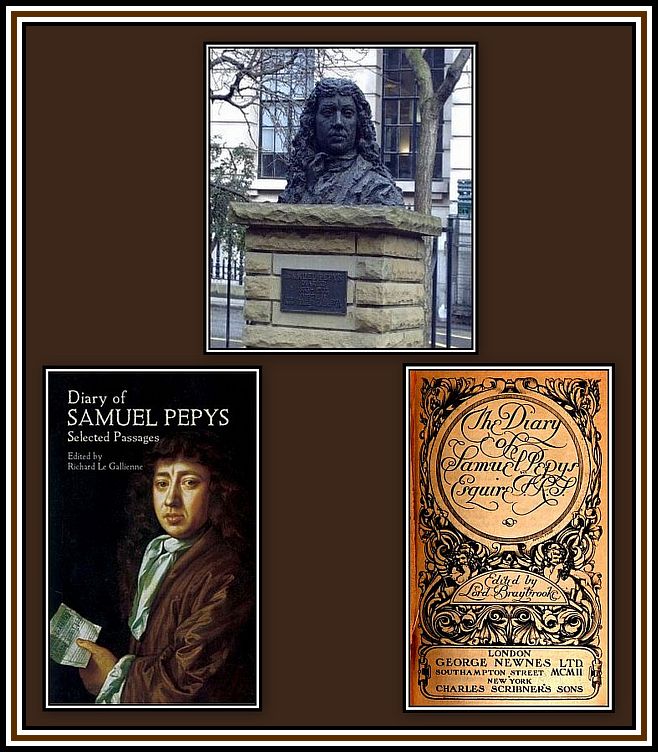 -oOo-
Once Master Pepys completed his studies at Cambridge, he entered the household of a cousin of his father, Sir Edward Montagu (1625-1672) who became his patron.  As a result, Sir Edward was able to help secure Master Pepys his early appointments, the first being To The Wardrobe and later as Clerk of the Acts to the Navy Board.
Sir Edward himself was a person of note: he was an English Infantry officer and later became an Admiral and a politician sitting in the House of Commons at various times between 1645 and 1660.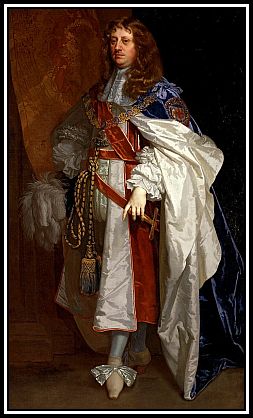 Sir Edward Montagu, patron of Samuel Pepys; painted by Sir Peter Lely (1618-1680) between 1660 and 1665
Although Sir Edward diligently served Oliver Cromwell (1599-1658) during the Commonwealth era, he was to play a considerable part in the Restoration of Charles II (1660), and for this, he was later rewarded.  He acted as the Admiral commanding the fleet that were charged to return Charles II to England after nine years of exile in May 1660.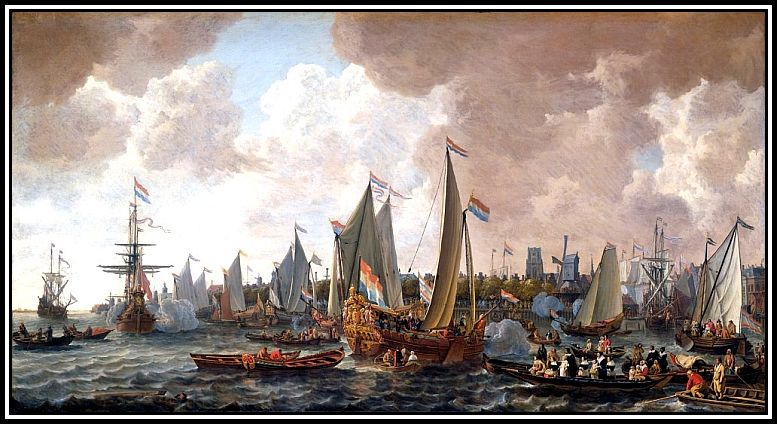 The arrival of King Charles II of England in Rotterdam, 24 May 1660 by Lieve Verschuler (1627-1686); Charles II sailed for England on his 30th birthday and arrived to great acclaim.
Sir Edward's rewards were numerous for his services: in July 1660, he was created Baron Montagu of St Neots, Viscount Hinchingbrooke and Earl of Sandwich.  He was also made a Knight of the Garter and appointed Master of the Great Wardrobe amongst over honours bestowed.  In addition, he was allowed to carry St. Edward's Staff at the Coronation of Charles II.
Sir Edward saw military service as an Admiral in the Royal Navy during the first two Anglo-Dutch Wars (First War: 1652-1654; Second War: 1665-1667).  He died at the Battle of Solebay (Dutch: De Slag bij Solebay), the first battle of the Third Anglo-Dutch War (1672-1674), which took place on 7th June, 1672.  Sir Edward's ship had been attacked by a group of Fire Ships and was lost.  Later his body washed up on shore and was unrecognisable.  Identification was made following inspection of his clothes.  Following this, his body was transported to London where after a State Funeral, his remains were buried  at Westminster Abbey.

De Slag bij Solebay, 7 juni 1672 by Willem van de Velde the Elder (circa 1611–1693); from the Rijksmuseum Collection
-oOo-
-oOo-
Although Master Pepys' enjoyed good relations with Sir Edward, their relationship was not without its disputes.  In 1663, after careful thought, Master Pepys dared to reprimand his patron for living openly with his mistress at her House.
Seemingly, and despite Master Pepys' own susceptibility to dalliance, he was concerned that his patron's affair had caused him to neglect his official duties and would perhaps risk him losing influence at Court.  In addition, since Master Pepys was attached to Sir Edward's wife, he did not wish for her to be insulted by her husband's behaviour and also did not want to see damage done to their family reputation.
Master Pepys' chastisement of his patron caused a certain strain to develop in their relationship.  Later, although interactions were resumed, their friendship had apparently suffered, which mostly likely led to Master Pepys not being mentioned in Sir Edward's will when read following his passing in 1672.
-oOo-
In 1673, Master Pepys helped establish the Royal Mathematical School at Christ's Hospital where boys were trained in navigation for future service in the Royal Navy and the English Merchant Navy.  Although he had no experience of naval service, his many valuable attributes allowed him to be offered promotion to the post of Secretary to the Admiralty Commission.  Also in 1673, Master Pepys entered Parliament for the first time when he was elected Member of Parliament (MP) for Castle Rising in Norfolk.
-oOo-
Although Master Pepys enjoyed successes, his life was not without intrigue and controversy.  In 1662. he fell under attack from political enemies causing him to  resign his position as Secretary to the Admiralty.  He and others were imprisoned in the Tower of London on suspicion of treasonable correspondence with France, specifically leaking naval intelligence.  Despite being released quickly, the charges were not dropped until 1680.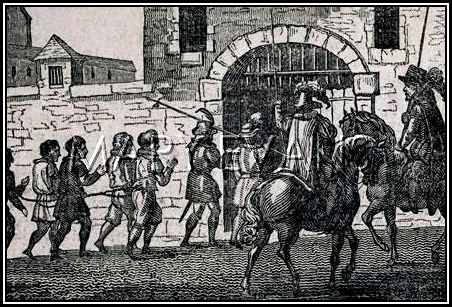 Taken to The Tower
-oOo-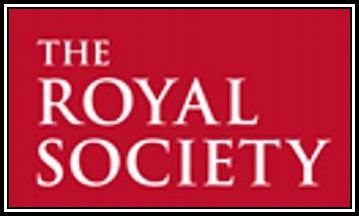 Master Pepys was elected to the Royal Society as a Fellow in 1665 and served as its President from December 1684 until November 1686. Isaac Newton's Principia Mathematica was published during his tenure and its title page bears Master Pepys' name.
The Royal Society was founded in 1660 by those present at a lecture given by Sir Christopher Wren (1632-1723) and was granted a Royal Chater by Charles II in 1662.  The Mission of The Royal Society is ……. to recognise, promote, and support excellence in science and to encourage the development and use of science for the benefit of humanity.
Early meetings were held at Gresham College, but its meetings have been held in a number of locations including Burlington and Somerset Houses.  In 1967, the Society moved to its current premises at Carlton House Terrace.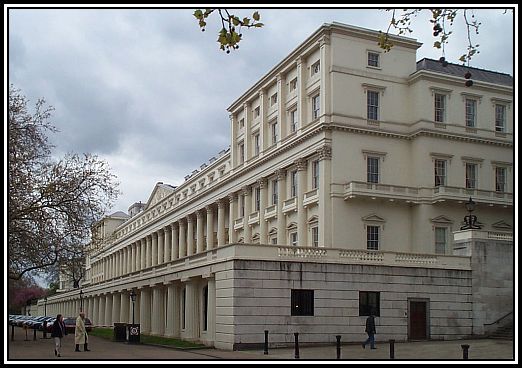 Home of The Royal Society at 6-9 Carlton House Terrace; photograph taken by Kaihsu Tai and appears at Wikipedia
-oOo-
By June 1684, Master Pepys was returned to favour with Charles II and was appointed King's Secretary for the affairs of the Admiralty, a post he retained after the death of Charles II (1685) and the accession of James II (1633-1701).  When James II was deposed in the Glorious Revolution of 1688 and fled the country, Master Pepys's career also came to an end.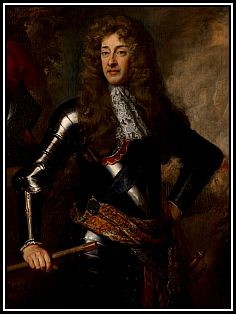 James II by Peter Lely (1618-1680) who had been appointed as Principal Painter in Ordinary by Charles  I  (this  title  is  similar  to  the  early  title  of  King's  Painter);     James  II was the  last   Roman Catholic Monarch to reign over England, Scotland and Ireland
In January 1689, Master Pepys was defeated in a parliamentary election and in February, one week after the accession of William and Mary, he resigned his secretaryship.
-oOo-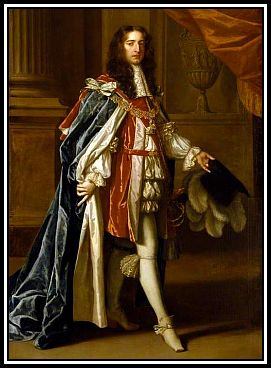 William, Prince of Orange & William III
William, Prince of Orange and King William III (1650-1702) was the only child of  Mary Henrietta (1631-1660), Princess Royal and daughter of Charles I and her husband, William II (1626-1650), Prince of Orange.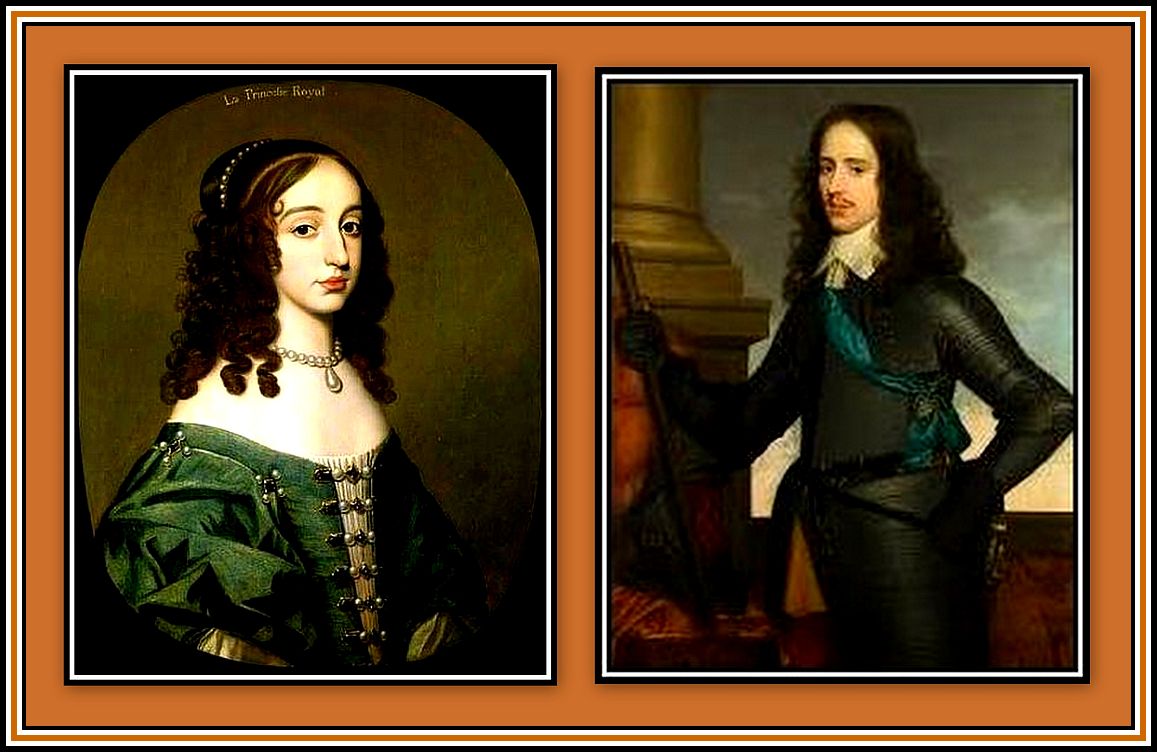 Left: Princess Mary Henrietta, Princess Royal by Gerrit van Honthorst; Right: William II, Prince of Orange
William invaded England in February 1689 and deposed James II in the so-called Glorious Revolution.
William's wife, and first cousin, Mary (1662-1694) was the daughter of James II and Anne Hyde (1637-1671), Duchess of York and of Albany.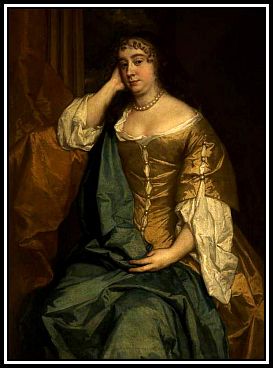 Anne Hyde, mother of Mary II
Unlike her father who was a Roman Catholic, both Mary II and her husband were  Protestant.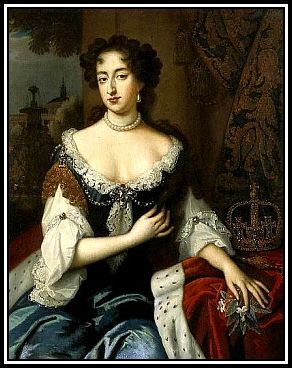 Mary II
William was offered the thrones of England, Scotland and Ireland by the Convention Parliament, which had been irregularly summoned by him after his victory over James II.  William accepted the offer, but insisted that he, together with his wife, should be  Co-Regents.   Parliament agreed to his request and their joint reign began in February 1689.
-oOo-
Following this on the 16th December, 1689, Parliament passed the English Bill of Rights, which had been presented to and agreed by the Co-Regents in February 1689.  As a result, the Constitutional Monarchy came into being.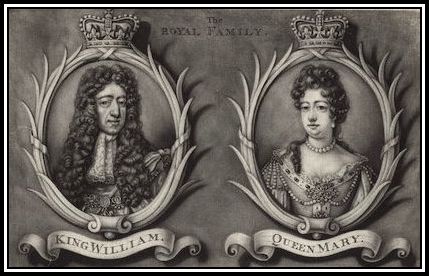 William & Mary by by Wallerant Vaillant (1623-1677)
Basically, the Bill of Rights lays down limits on the powers of the Monarch and sets out the rights of Parliament, including the requirement for regular parliaments, free elections and freedom of speech in Parliament.  In addition, it sets out certain rights of individuals including the prohibition of cruel and unusual punishment and re-established the liberty of Protestants to have arms for their defence within the Rule of Law, which is the legal principle that Law should govern a nation, as opposed to being governed by arbitrary decisions of an individual government official or officials.
After Mary died in 1694, William ruled alone until his death in 1702.  Since William and Mary were childless, they were succeeded by Mary's younger sister, Queen Anne (1665-1714) who became the first Monarch of Great Britain (1707-1800).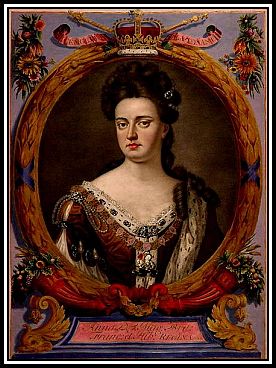 Queen Anne
-oOo-
From May to July 1689, and again in June 1690, Master Pepys was again imprisoned.  On these occasions, he was accused of Jacobitism, but no charges were ever successfully brought against him.  Following his release, Master Pepys retired from public life at age 57.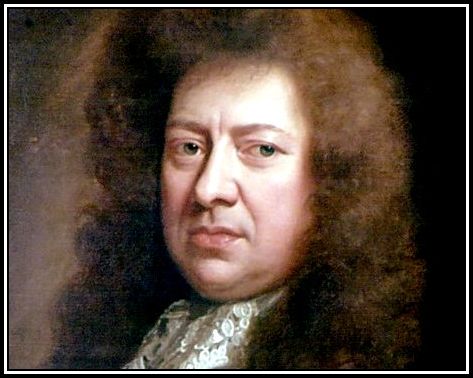 MARRIAGE – MASTER PEPYS STYLE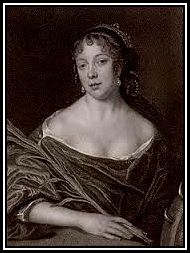 Mistress Pepys
Elisabeth de St Michel (1640-1669), a descendant of Huguenot immigrants, was fourteen years of age at the time she married Master Pepys.  They were married first in a religious ceremony on 10th October, 1655 and later in a civil ceremony on 1st December, 1655 at St Margaret's, Westminster.
It is not known how the couple met, but her charm and beauty evoked resulted in their marriage despite her young age.  Shortly after their marriage, but prior to his starting to write his Diary, they had unspecified differences and separated for several months.  It is believed that his jealousy, an issue that would plague their marriage, was at the root of their separation.
By the time Master Pepys began to keep his Diary (~1660), he and Mistress Pepys had reunited and were living in Axe Yard, which is just south of modern-day Downing Street in Westminster.   The Pepys' lived here from August 1658 until July 1660.  Following this, they moved to a ten-room house in the Navy Office Buildings on Seething Lane close to Tower Hill.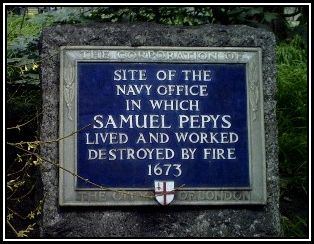 Plaque at site of the Navy Office Buildings on Seething Lane; built in 1656 and destroyed by fire in 1673; they were rebuilt between 1674 and 1675 and were demolished in 1788 when the Office moved to Somerset House
-oOo-
During the Great Fire of London in 1666 while living on Seething Lane, Master Pepys was responsible for saving both the Navy Office and St. Olave's Church by having the nearby buildings pulled down.
Other sources offer a different view of the saving of the Navy Office and St. Olave's Church: it is suggested that these buildings were saved as a result of the intervention of  Admiral Sir William Penn (1621-1670) who had given the orders to destroy the buildings close by.  Sir William Penn was the father of William Penn (1644-1718), the founder of the Province of Pennsylvania in English North America.
-oOo-
Dining at Home
It is well documented that Master Pepys was unfaithful to his wife, and often with their own maids.  Master Pepys' most well-documented liaison was with the young maid some twenty years younger than himself, Deborah Deb Willet (1650–1678) of whom he became particularly fond.  Mistress Pepys learned of the liaison sooner after it began and dismissed the maid.  Despite this, Master Pepys sought out Miss Willet in his new home and is known to have given her money.  When Mistress Pepys discovered this, she threatened to attack her and Master Pepys was forced to renounce her in writing.  Miss Willet later married Jeremiah Wells in 1670, a theology graduate whom Master Pepys help secure a position as a ship's chaplain.
However, despite his liaison with Miss Willet, as well as with other maids, it is evident that he held strong feelings for his wife throughout their married life.  Whenever they were separated from each other, Master Pepys greatly missed Elisabeth, as his entries in his Diary reveal.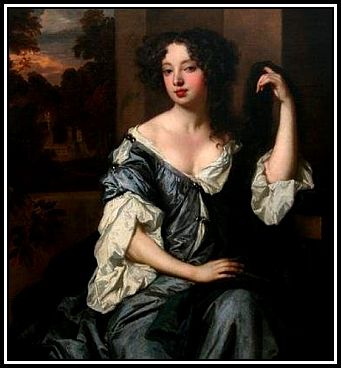 Mistress Pepys
Although  Master Pepys had strong feelings for his wife,  he could, at times, be resentful towards her, as illustrated by his entry to his Diary on 25 April, 1663.  Here he clearly displays his jealous feelings surrounding Elisabeth and her dancing teacher ……..
……. merrily practising to dance, which my wife hath begun to learn this day of Mr. Pembleton, but I fear will hardly do any great good at it, because she is conceited that she do well already, though I think no such thing.
Master Pepys' affection towards his wife may be seen in the letters he wrote during her illness with severe Typhoid Fever and after her death.   Here he apologises to fellow politicians and naval captains for not attending board meetings for four weeks following her death and not keeping up to date with letters during her illness …….
……. Captain Elliot I beg you earnestly to believe that nothing but the sorrow and distraction I have been in by the death of my wife, increased by the suddenness with which it pleased God to surprise me with therewith, after a voyage so full of health and content, could have forced me to so long a neglect of my private concernments.
Mistress Pepys died of Typhoid on the 10th November, 1669 at 29 years of age.  Although Master Pepys never remarried, it is believed that he entered into a long-term relationship with his housekeeper, Mary Skinner.
Following his wife's death, Master Pepys' continuing affection towards Elisabeth has been suggested from his actions.  Despite his relationship with Mary Skinner, he evidently decided not to marry her, since in some of his letters he used words that stated that she had acted as his wife in all but name.   Similarly, when he himself died in 1703, regardless of his feelings and relationship with Mary Skinner, he chose to be placed to rest next to his wife at St. Olave's Church.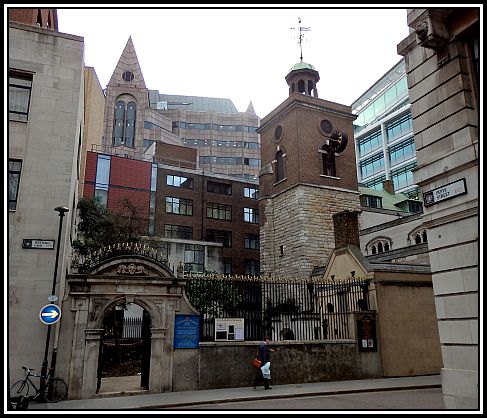 St. Olave's Church, Seething Lane in the City of London 
-oOo-
HEALTH
From a young age, Master Pepys suffered from Bladder Stones.    Both his mother and brother, John, similarly suffered from this ailment.  It caused him to be constantly in pain and also to suffer from Haematuria (i.e. blood in the urine).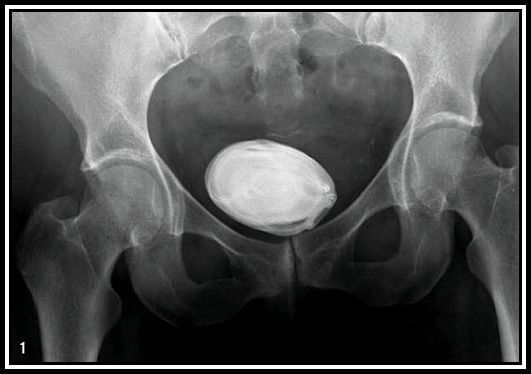 X-Ray Study of the Lower Abdomen revealing the presence of a Bladder Stone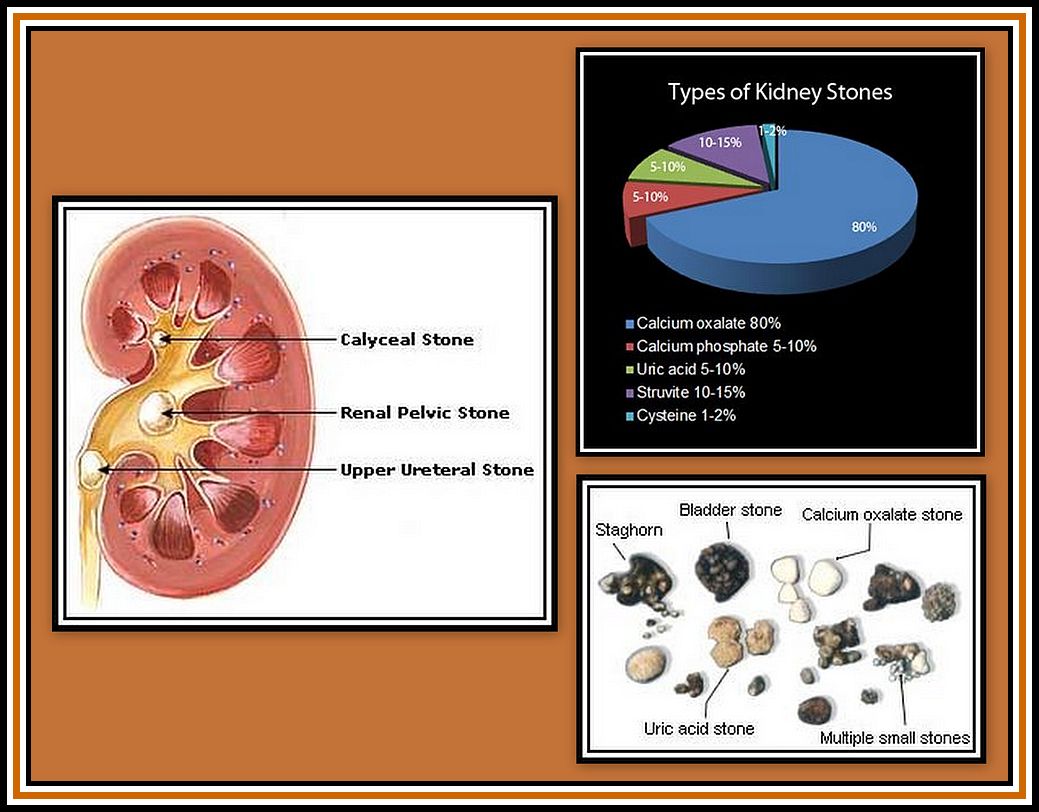 Kidney Stones may be classified according to position (Left) or composition (Right)
By the time of his marriage in 1655, his suffering had become severe, and three years later, he underwent surgery for the removal of a stone.   The procedure was both painful and hazardous and was performed in a bedroom of a family member.  Fortunately, the operation went well and the offending stone was removed.  Mr. Pepys stated that he would celebrate its removal each year on the anniversary of the procedure.  However in later years, the incision site opened causing complications.
It has been proposed that the operation caused him to become sterile, but this is uncertain since Master and Mistress Pepys had no children prior to the operation.
-oOo-
AND SO TO BED …….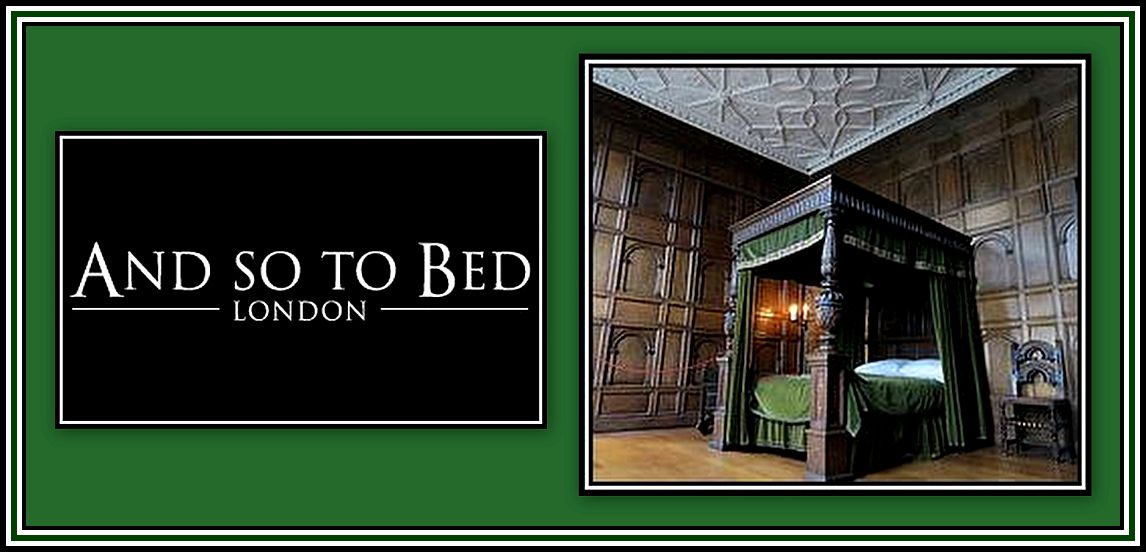 In 1701, Master Pepys moved from the City of London to a house in Clapham, which was owned by his friend, William Hewer (1642-1715), who had begun his career working at the Admiralty.  Master Pepys lived here until his death on 26th May, 1703.  He was laid to rest, at his request, beside his wife at St. Olave's Church on Seething Lane close to where he had lived and worked for many years.
-oOo-
THE DRAMATISATION OF SAMUEL PEPYS' DIARIES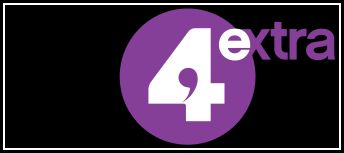 During the autumn months of 2014, I listened to the rebroadcast of a dramatisation of The Diaries of Samuel Pepys on BBC Radio 4 Extra.  Apparently it had been broadcast first on Woman's Hour on Radio 4 sometime in 2011.
I was brought up with BBC Radio and enjoyed the plays, comedy shows, magazine programming, concerts and news coverage of the BBC.  This was in the glorious days of The Light Programme, The Home Service and The Third Programme.
Like most people of my age group, or should I say demographics, those days were The Glory Days of BBC Radio, and sadly, present day programming does not come up to the old standards.  Today, I find comedy shows to be not as funny; plays not as gripping; and presenters not as well-versed as they once were.  I note that recently the Newsreaders on the World Service of the BBC have become more chatty and now introduce themselves and say hullo before actually launching into The News.  The BBC regularly dismisses and ignores any comments I dare to send.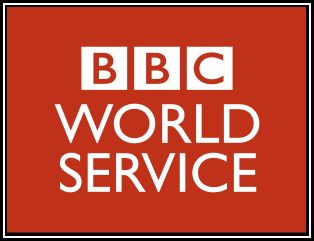 Be that as it may ……. Occasionally I hear a programme that fits well into my idea of what BBC programming should include!  Such a programme was the dramatisation of The Diaries of Samuel Pepys.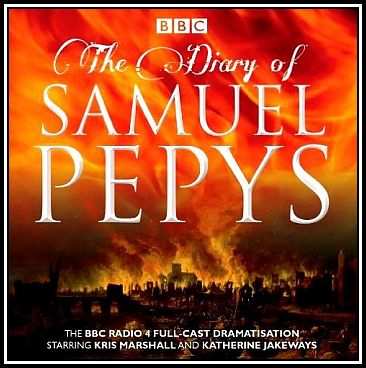 The BBC Dramatisation of The Diaries of Samuel Pepys available for sale
-oOo-
Each week, we were treated to one year in the life of Master Pepys, which included events in his personal life and in the life of London.  His detailed accounts of his relationship with his wife, his lady friends and of events such as The Great Plague, The Great Fire of London and The Second Anglo-Dutch War were presented well and proved to be of great interest to me.  His accounts were peppered with details of what people ate and how they dressed together with his views on the theatre.  He also described the freezing of the River Thames, the crime rate, the plight of the poor and his rivals.
-oOo-
THE CAST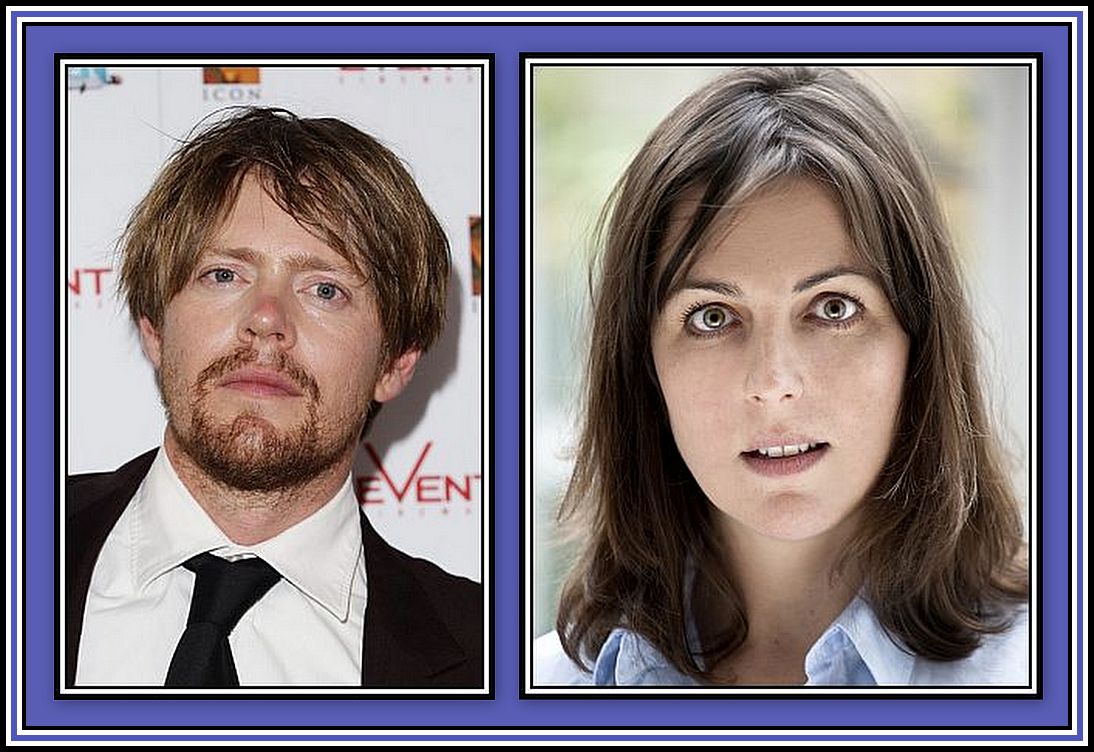 Kris Marshall & Katherine Jakeways
The actors Kris Marshall (1973-present) and Katherine Jakeways played Master and Mistress Pepys and both did a very good job.  Although I had seen Mr. Marshall a number of times on television, I did not recognise him as Master Pepys, which shows how well he performed the role.    I regret not recalling Ms Jakeways' previous work, which I hasten to add, is my loss.
As much as I enjoyed listening to Master Pepys' accounts, the character that amused me the most was his servant, Will, played by John Biddle.  Will would often make dry comments in true comedic throw-away-style.  This often led to his receiving a severe beating at the hand of Master Pepys.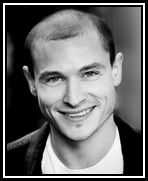 John Biddle
-oOo-
Samuel Pepys ….. Kris Marshall
Elizabeth Pepys ….. Katherine Jakeways
Jane, the maid ….. Rebecca Newman
Edward Montagu ….. Blake Ritson
Landlord ….. Dick Bradnum
John Pepys ….. Stephen Marzella
Mrs. Hunt ….. Manon Edwards
Mr. Hunt ….. Brendan Charleson
Balty ….. Matthew Gravelle
Soldier & Will ….. John Biddle
Theme music: Gather Ye Rosebuds While Ye May, words by Robert Herrick (1591-1674) and music by William Lawes (1602-1645) and sung by Bethany Hughes (1967-present);  Lute, Baroque Guitar and Theorbo played by David Miller; Violin and Viola played by Annika Gray; and Recorders played by Alice Baxter.
The Historical Consultant was Liza Picard; Sound was by Nigel Lewis; and the Director was Kate McAll.  The dramatisation was a production by BBC/Cymru Wales.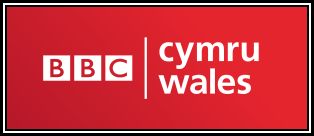 ——oooOOOooo——
CLICK HERE to read more about ST. OLAVE'S CHURCH
——oooOOOooo——
ACKNOWLEDGEMENTS
I would like to thank those that allowed their photographs to appear here.
——oooOOOooo——