SIR JOHN CASS
INTRODUCTION
Sir John Cass Foundation School, as it was called when I attended, is situated just inside the City of London on Duke's Place, Aldgate. Although the street geography and some of the surrounding buildings have changed, the outside of the school still looks remarkably similar to as it did when I attended it in 1948 when it was both a primary and secondary school. Today the school is now only a primary school, as the secondary part of the school was moved to a new building in Stepney in 1965.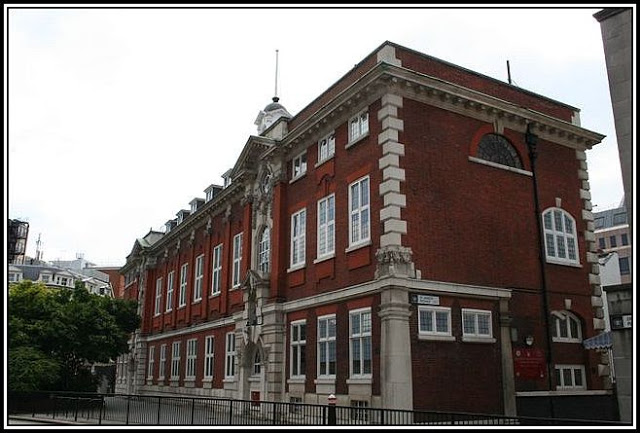 Sir John Cass Foundation School as it is today.
The school once stood on Duke's Place, however as a road open to vehicles, it seems no longer to exist. Duke's Place used to become Bevis Marks, site of the oldest Synagogue in London.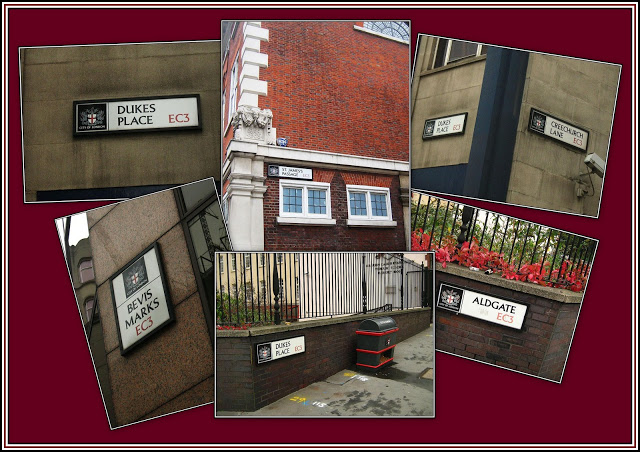 The school was founded in 1709 in the churchyard of St. Botolph's Church in Aldgate. Apparently fifty boys and forty girls attended the school at this time. When I was at the school, I remember being told a wonderfully romantic tale about how it came to be founded. I believed this story completely and still do. I learned that Sir John Cass was writing his will and was in the process of stating that he wished to use some of his money to found a school and that the children of the school should be given a gift of an orange and a bun each year. While Sir John sat writing his will with a white plume pen, we learned that one of his blood vessels burst and a great volume of blood cascaded out of his mouth and covered his white plumed pen thereby turning it red. Sir John Cass died on 5th July, 1718.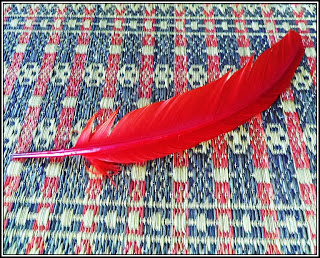 In remembrance of the generosity of Sir John Cass, each February 3rd, pupils walk from the school along Duke's Place and cross over Houndsditch to St. Botolph's Church to attend a memorial service in his honour. During time at the school, boys were required to wear their red feather in their right lapel while girls pinned their feathers to their berets that were then part of their school uniform. We were given an orange and bun according to his request and always enjoyed them. I believe that we were also given a half-day holiday after the Founder's Day Memorial Service. I recall being most upset each year at not being able to keep feather, as I wanted to take it home and show it to my parents and friends. They were collected and counted by our teacher and then returned to the Headmaster's Office for safekeeping until the next year.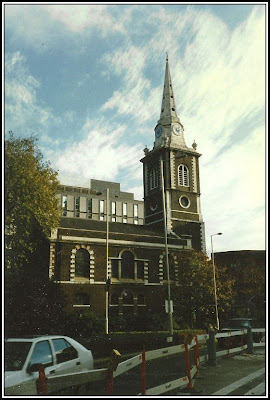 St. Botolph's Church, 1976
I don't remember much about the service. I don't think we sang any special hymns, but I am sure that the music teacher, a Mrs. Itchman, whom we called Mrs. Itchy Bum, played the piano while we listened. I do remember some prayers and the vicar talking, but I have no memory of what was said. I remember liking the décor of the church very much. I also remember that the service was attended by several men in lavish red robes and with gold chains around their neck.
——oooOOOooo——
Click here to go to PART ONE: FIRST SCHOOL, FIRST DAY & BEYOND
——oooOOOooo——
Click here to go to PART TWO: SIR JOHN CASS, 1661-1718
——oooOOOooo——
Click here to go to SIR JOHN CASS PHOTO GALLERY
——oooOOOooo——
Click here to return to the TABLE OF CONTENTS
——oooOOOooo——