THE DEPARTMENT STORE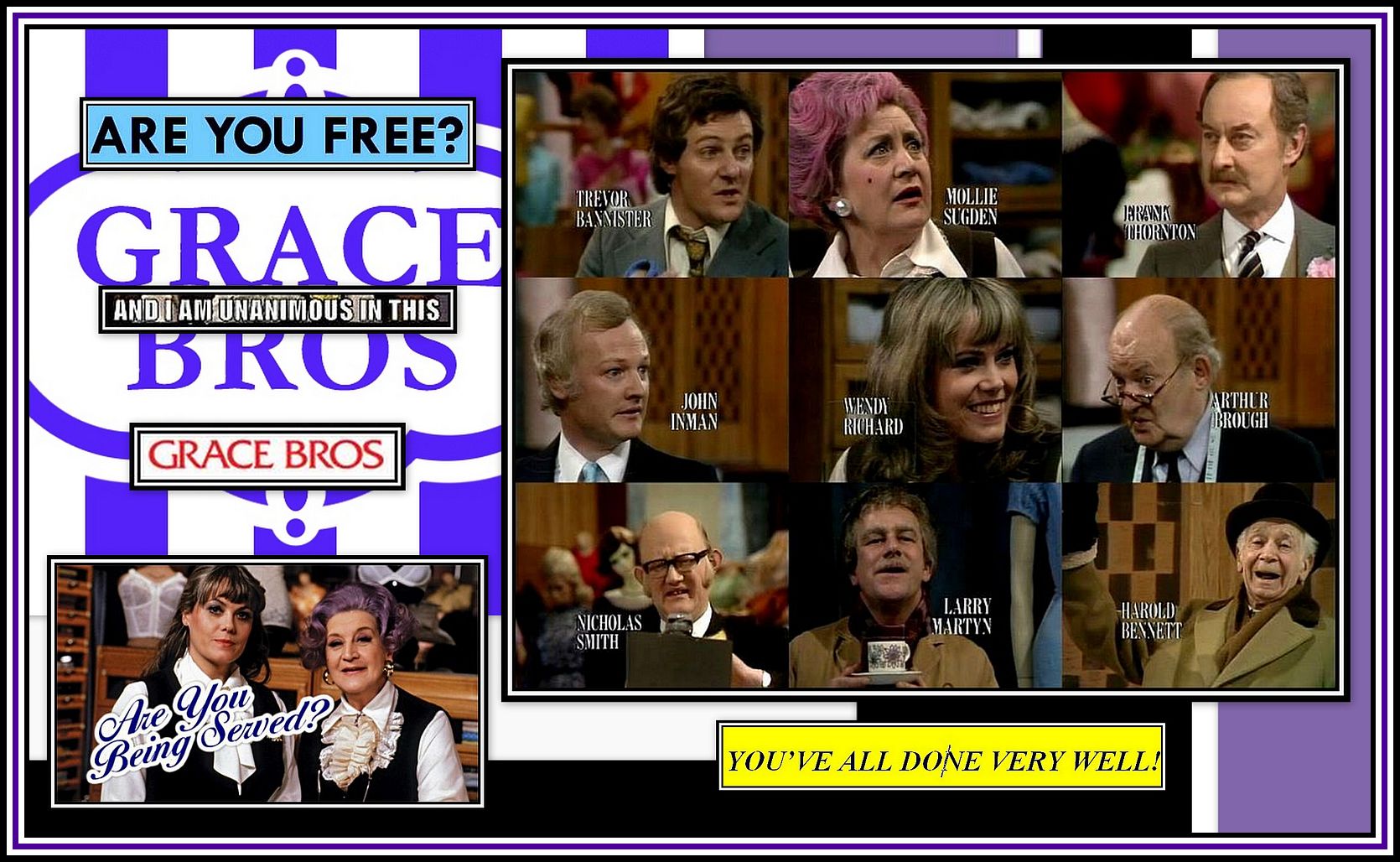 Grace Brothers Department Store
became possibly the most famous store in the world for a while thanks to
the BBC-Television Series, Are You Being Served?
Are You being Served Theme Music
-oOo-
OTHER DEPARTMENT STORES
OF MY YOUTH – 5
SPOKES DEPARTMENT STORE
Should the casual visitor stop and take a moment from enjoying a walk along Lower Clapton Road in the Borough of Hackney, he or she might note the Higgledy-Piggledy  collection or Parade of shops with the street numbers, one through seventeen, and which are sadly very much the worse for wear.
No doubt the visitor would rush on in the hope of finding an area of more interest.  However, of definite interest, is The Church of St. John at Hackney found just across the road from the Parade of shops.  The church was built between 1791 and 1979 with additions, including the porch, between 1810 and 1814.  The church was granted Grade II status by English Heritage in —-.
What the casual visitor might not realise is that this motley collection of buildings were once a number of shops linked together as Spokes' Department Store.  Although The Store was never on a par with the likes of Harrods or Selfridges or even Dawsons or Wickhams, it was well patronised in its day and also held a certain fascination for many young people taken there (or perhaps dragged!) by their mothers!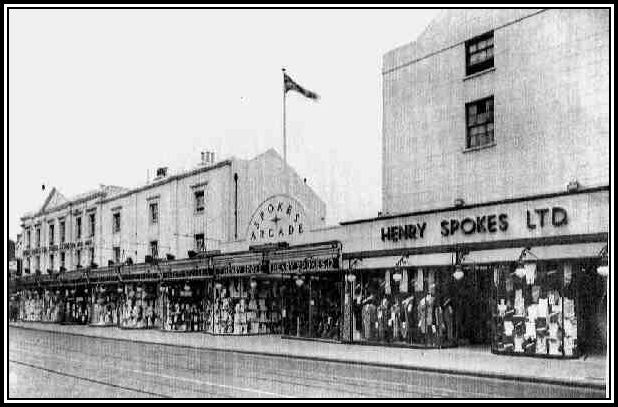 Spokes Department Store at 1-17 Lower Clapton Road in 1938
Henry Spokes was born in a farming family in a village in Northamptonshire and came to London in 1894 or thereabouts.  Apparently, he had come to London like Dick Whittington (~1354-1423) to seek his fortune with only £5 in his pocket, which he seemingly used well and eventually was able to open a Drapery Shop.
Mr. Spokes was able to expand his business laterally from Brooke's Furniture Shop into the parade of shops on Lower Clapton Road.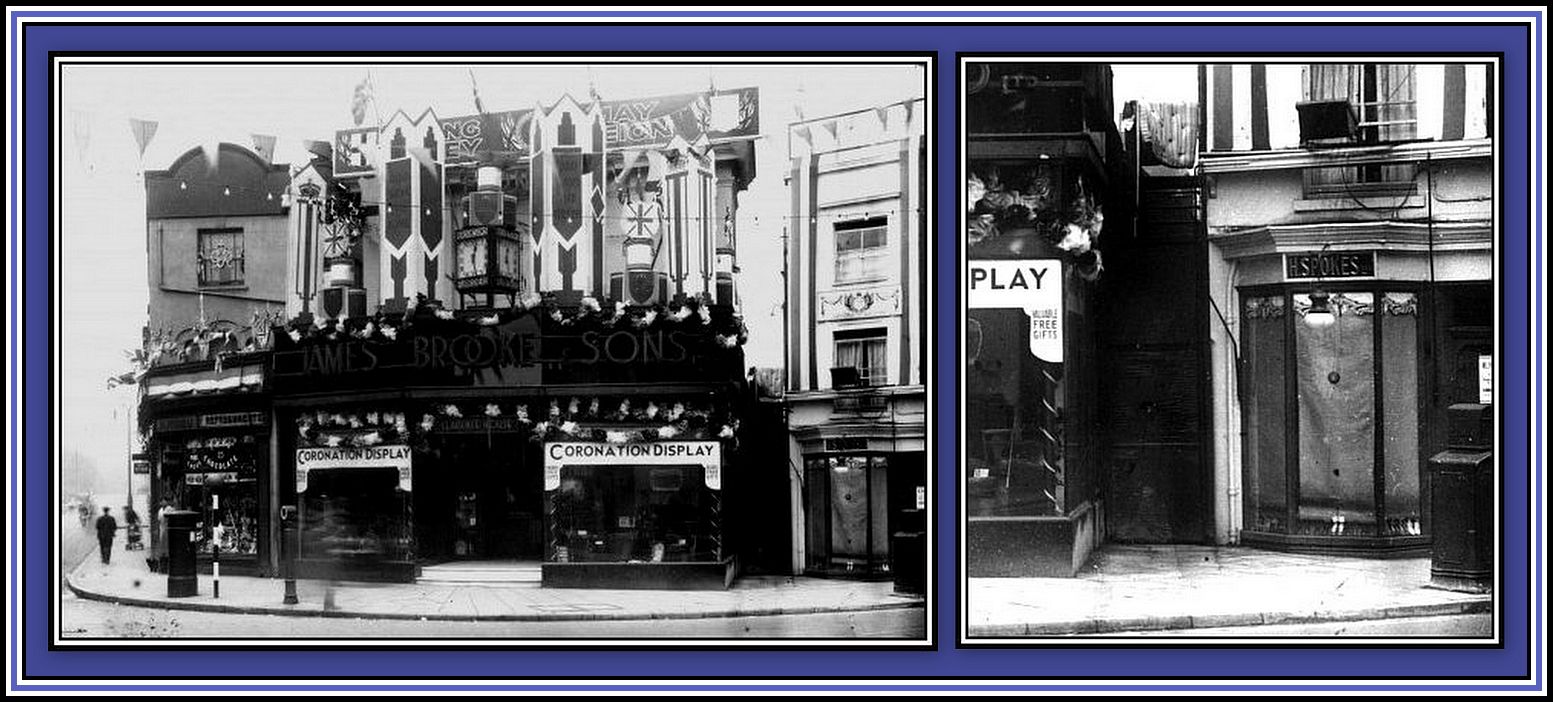 James Brooke and Sons' Furniture Shop & Part of Spokes Shoe Department, 1937
Eventually Henry Spokes Limited stretched from number one to number seventeen and turned the corner to include those shops at 1-3 Clapton Square.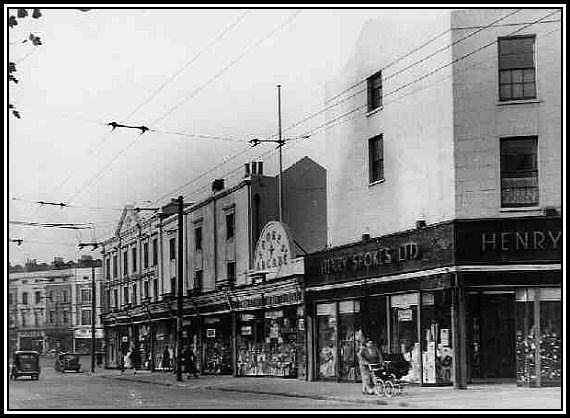 Henry Spokes Limited stretching around the corner and into Clapton Square
One of the central shops of the parade differs from the others in that it was of a single storey.  Above the shop a semi-circular concrete façade bearing the company name was once present.  However, it was removed at some unknown time.
Today, Number 3 Clapton Square ends abruptly with a cemented flat wall without windows.  Next to it is a car park and then a small block of post-war flats.  It may well be that there were once shops here that were destroyed during a bombing raid and may well have formed part of Spokes Department Store.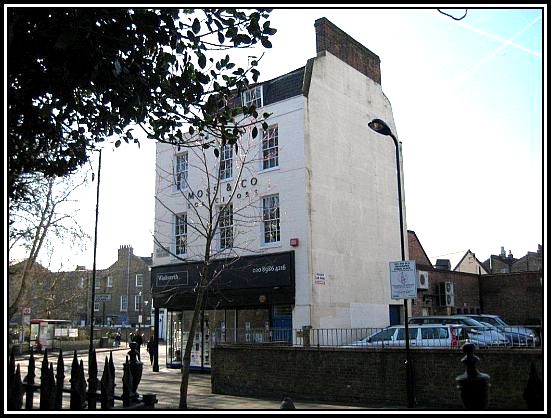 Nos. 1-3 Clapton Square, shown here as an Estate Agents & Solicitors Office
Although Spokes was originally a Drapery Shop, it eventually stocked clothing and a variety of other goods, but it was never a general Department Store.  Shoes were on sale at The Store and in order for the patrons to find the correct fitting, an X-Ray Machine was present to photograph the foot, which allowed the salesperson to know the exact size required.
-oOo-
The X-Ray Machine was actually known by a number of names including Shoe-Fitting Fluoroscopes, X-ray Shoe Fitter, Pedoscope and Foot-o-scope.  The device relied on the generation of an image of an object (i.e. the foot) by X-Rays onto a Fluorescent screen.   Unfortunately, X-Rays are a form of ionizing radiation.  These machines were built in the U.S. and U.K. and exported all over the world.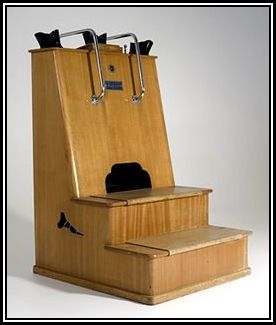 A Shoe-Fitting Fluoroscope
I am told that the Foot-o-Scope once present in Spokes was present in the old Hackney Museum when it was housed in the erstwhile Methodist Church, Hackney Central Hall, on Mare Street.  Whether the device made the move to the new Museum present in the Hackney Library on Reading Lane, I am unable to say.  If a reader knows, please contact me via the website.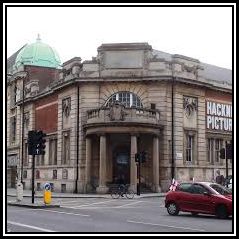 The former Methodist Church, Hackney Central Hall (built 1907) , later Hackney Library & Museum (until 2000) followed by the Ocean Music Venue  (until 2010) and now home to the Hackney Picture House
Although these machines were very popular and were once found in many Shoe Shops and Department Stores, eventually it was realised that unnecessary exposure to X-Rays represented a potential health hazard.  In the 1950s, recommendations against their use began to appear in medical journals and in 1953 the US Food and Drug Administration (FDA) banned these machines entirely from use.  As a result, they were gradually withdrawn from service.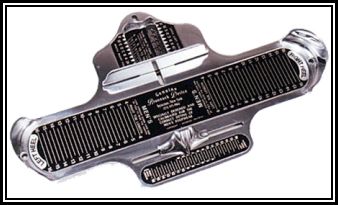 The Braddock Device is a Manual Device for Measuring Shoe-Size and was invented by Charles Braddock (1903-1992).  This device is not a health hazard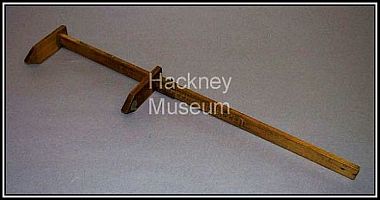 Wooden Foot Measure
This photograph appears with permission of Ms Emma Winch, Heritage Learning Manager, at Hackney Musuem
-oOo-
Although Henry Spokes died in the 1930s, the Department Store continued in business.  The Store was to remain open until January 1966 when the Spokes family accepted an offer from a developer and it was sold resulting in its closure.  The various shops that made up The Store were then re-opened as independent units and over the years have included a supermarket, an estate agents, a furniture store and a bag shop.
-oOo-
I learned recently from an advertisement for the store in a Hackney Official Guide of 1954–1955 that ……. since 1894 the name of Spokes has meant 'value of money' to the people of Hackney and the surrounding Boroughs. 
I only visited Spokes Department Store on two occasions, and so I fear that I can neither vouch nor dispute the fact that ……. the name of Spokes meant the 'value of money'.   Regardless of whether or not The Store provided Bon Marché to its customers was of no interest to me at the time of my visits.  Although my memories of The Store are  few, they have nonetheless a certain significance for me.
-oOo-
I cannot recall for certain why my mother took me to Spokes Department Store when she did, but I believe we went to look for curtain material – Drapery.  This is hardly something to interest a small child!  However, what I remember of The Store had nothing to do with what my mother was buying!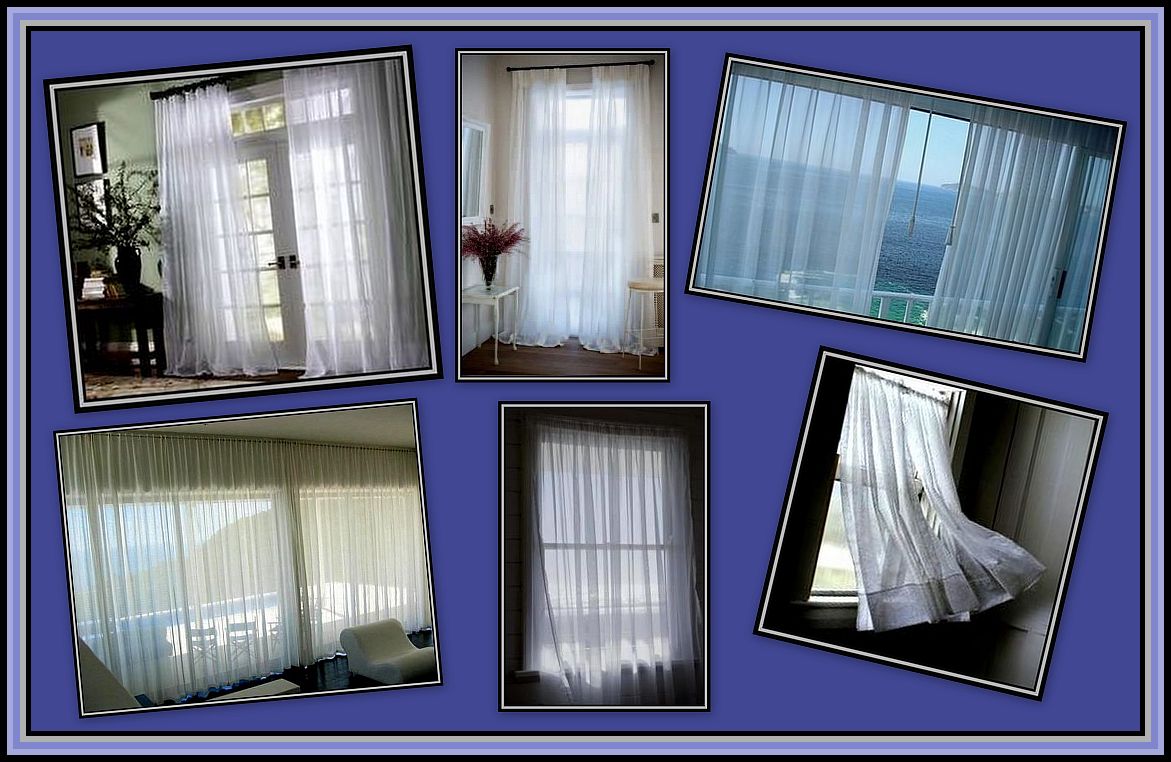 -oOo-
I have learned that Spokes Department Store had a Toy Department.  Unfortunately I do not remember visiting it.

Fire Engines by Dinky Toys from the mid-1950s
-oOo-
The thing that fascinated me about Spokes Department Store, and which has stayed in my memory since, was the Overhead Cable System used to transport Money Pots from the numerous departments to the central Cashier's Kiosk.   I could not believe my eyes, as I watched what seemed to me to be missiles hurtling across The Store.  Perhaps I thought that I was in the midst of a futuristic battle.  I do remember having discovered the BBC-Radio Programme, Journey into Space (1953-1958), around this time and being taken with it!  Anyway. I was captivated by these flying pots!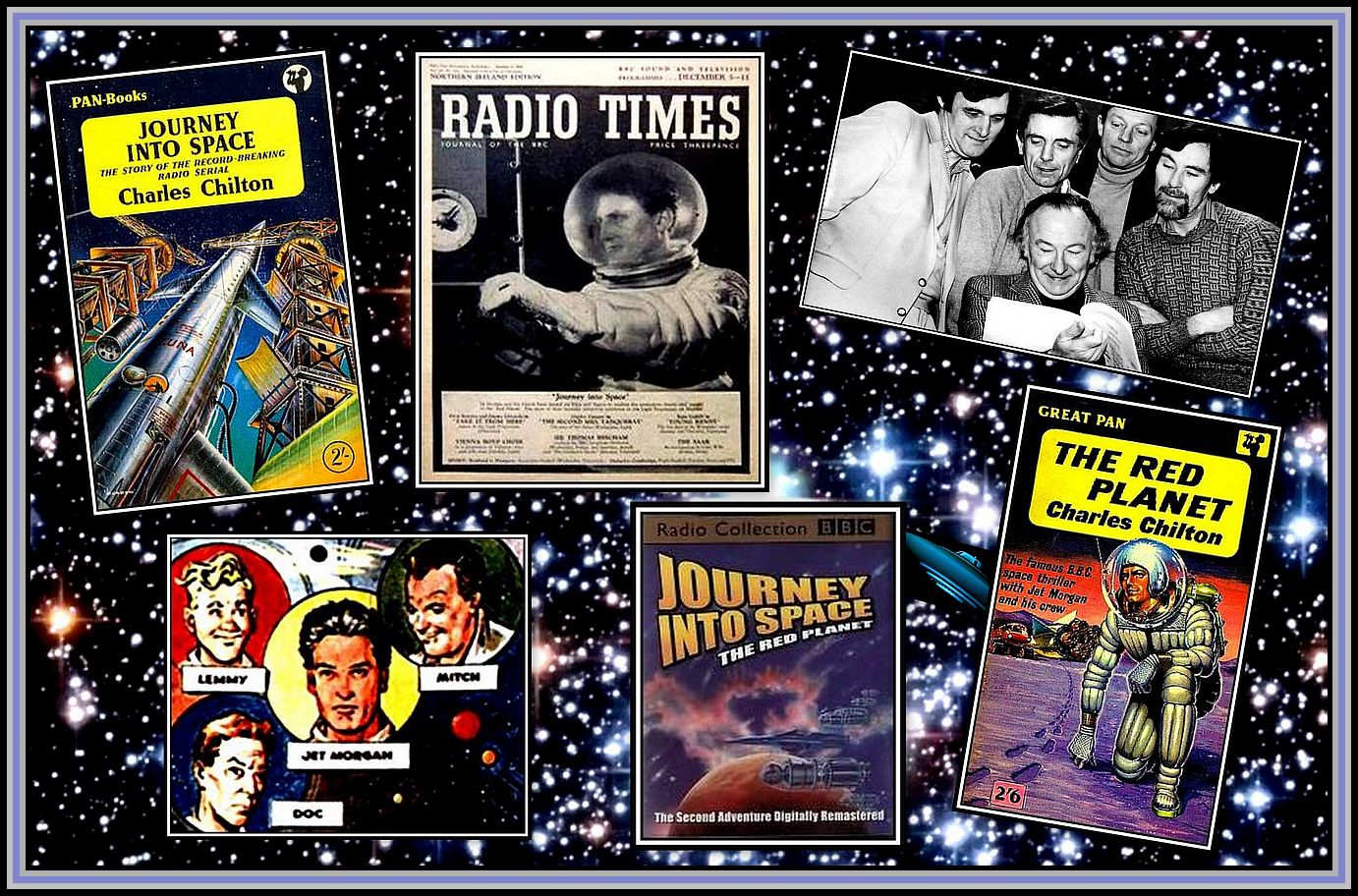 Click here to listen to the episode, The Red Planet by Charles Chilton (1917-2013), from the BBC-Radio Series, Journey into Space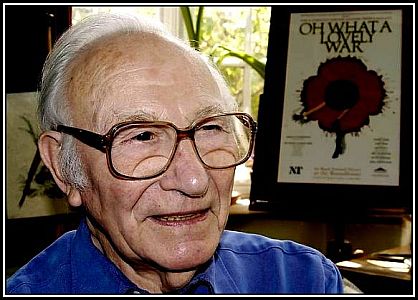 Charles Chilton
-oOo-
Following a sale, payment for a purchase and The Bill were put into a Money Pot and attached to the Cable.  The salesperson then pulled a cord and the Pot was catapulted to the Kiosk at some speed.  Here the transaction was recorded and the money was taken, counted and put into a Till.  The correct change and the receipt for the purchase were then put into the Money Pot and sent back to the department and, after unloading, given to the customer.  I remember that it gave me great pleasure to watch the Money Pots shoot along the overhead Cables from around The Store.   As the Pots traveled along the Cables, they caused a whistling sound that was followed by a clunk (!) once they arrived at their destination at the Kiosk port!
 -oOo-
There was once a large number of Cash Carrying Devices in use in shops and department stores.  Wooden balls, cylinders, pots or wire baskets were used to carry payment and any necessary paperwork derived from a purchase to a Central Cashier via an overhead cable system.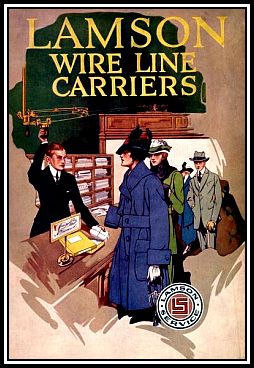 This picture is reproduced from Cash Railways by Ms Diane DuBois (Ephemera Society)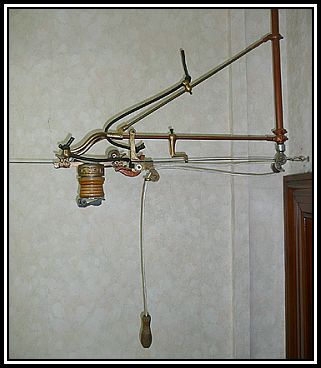 The Lamson Rapid Wire Cash Railway System used in the George Calvert's & Co Ltd Department Store until 1985; this photograph appears at the Cambridge Museum wesbite
-oOo-
A Pneumatic Capsule and Tube Transport system was also used to carry payment to a central Cashier in a store.  Here, cylindrical containers are transported through networks of tubes by compressed air or by partial vacuum.  This system was invented and developed by William Murdoch (1754-1839) and has been used in other areas in addition to commerce.  I have seen it used in Health Care Facilities both in Europe and the U.S. to transport medicines, documents and samples for analysis to the laboratories and wards.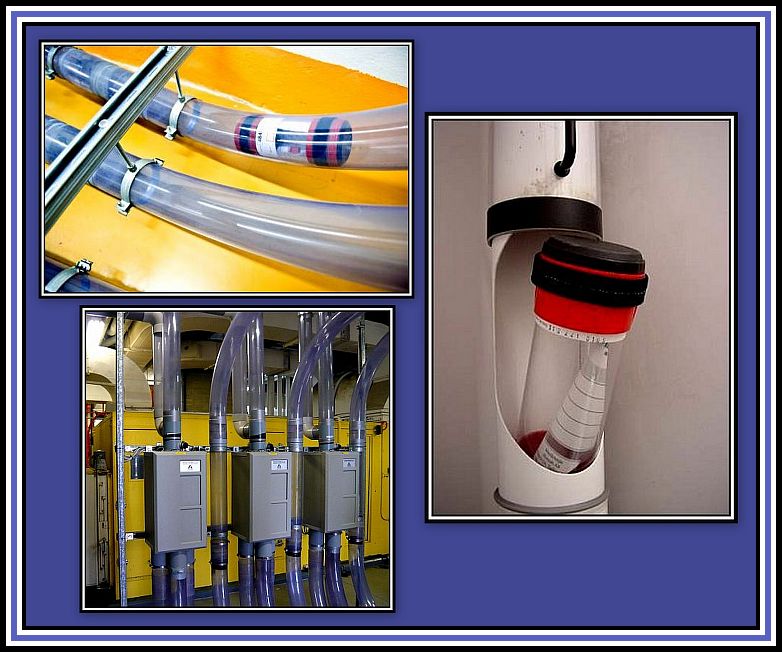 The system has also been used to carry letters.  I remember using such a system in Paris where it was in operation until 1984.  Its use in communication has declined with the development of the Fax (Faxsimile) Machine and Computer.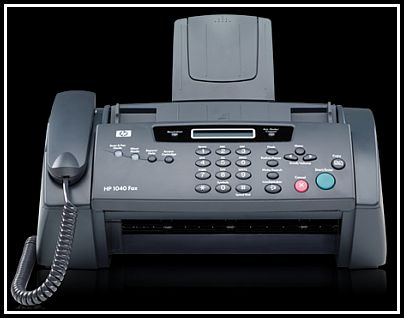 A Fax (Faxsimile) Machine
The system is currently used by many banks to transport money and receipts between customers and tellers at their Drive Through facilities and also in factories for the sending of a variety of things from one area of the shop floor to another.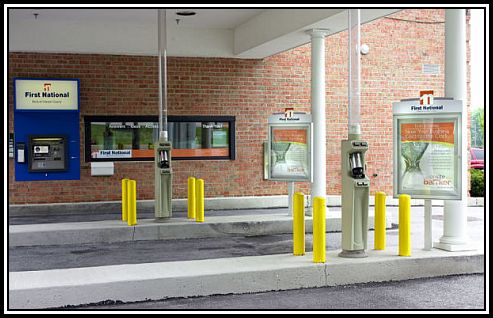 Drive Through System at First National Bank
 -oOo-
John Wanamaker (1938-1922) was a merchant born in Philadelphia.  He was also a religious leader, a politician and served as U.S. Postmaster General  from 1889 to 1893.  However, he is perhaps remembered for his Department Stores in Philadelphia and New York City where he was often the first to introduce many of the Advertising and Marketing practices in operation today.
Mr. Wanamaker employed a small army of youths as Cash Boys, and often referred to as Cadets, to transport money from purchases and various documents to Cashiers and Offices in The Stores.  He developed an educational system for these boys, and for the young girls also employed, which developed into the John Wanamaker Commercial Institute, which functioned until 1941.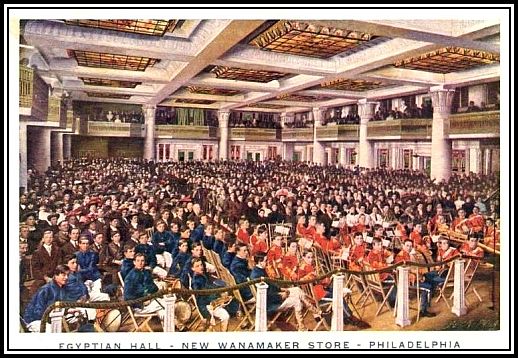 Youths were encouraged to form Bands; here is a postcard of a number of the Bands at a Concert given in Egyptian Hall at the Philadelphia Store
The function of Cash Boys in transporting payments was replaced by the introduction of a Pneumatic Tube System in 1880.  In addition, the Tube System also extended to the Post Office.  Apparently the System was used to transport a variety of things including movement of goods from storage areas to the numerous store departments to keep supplies stocked at the counters.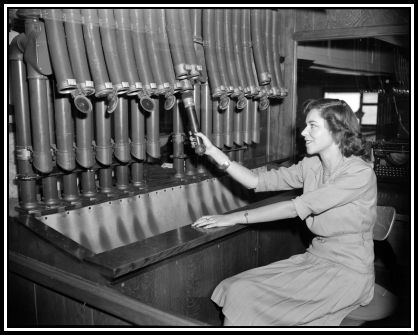 -oOo-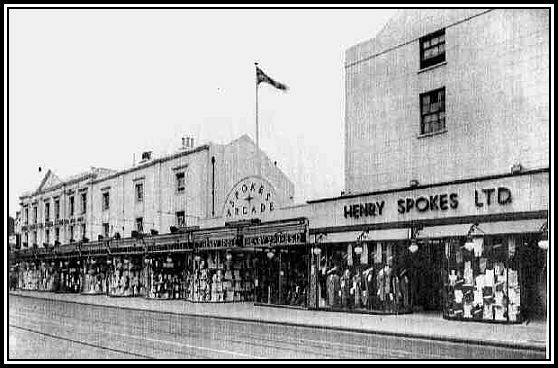 The Spokes Department Store closed in January 1966.  Today, the Parade that once was Spokes Department Store has returned to a Higgleby-Piggleby collection of individual shops; some open and some closed.  Sadly, the shops are not especially inspiring and neither is the area around them.  St. John's Church is still present and was elevated by English Heritage to Grade II level, which one would think would inspire an adventurous developer to notice the potential of the Parade, and the area, and help revive their fortunes.  Here's hoping!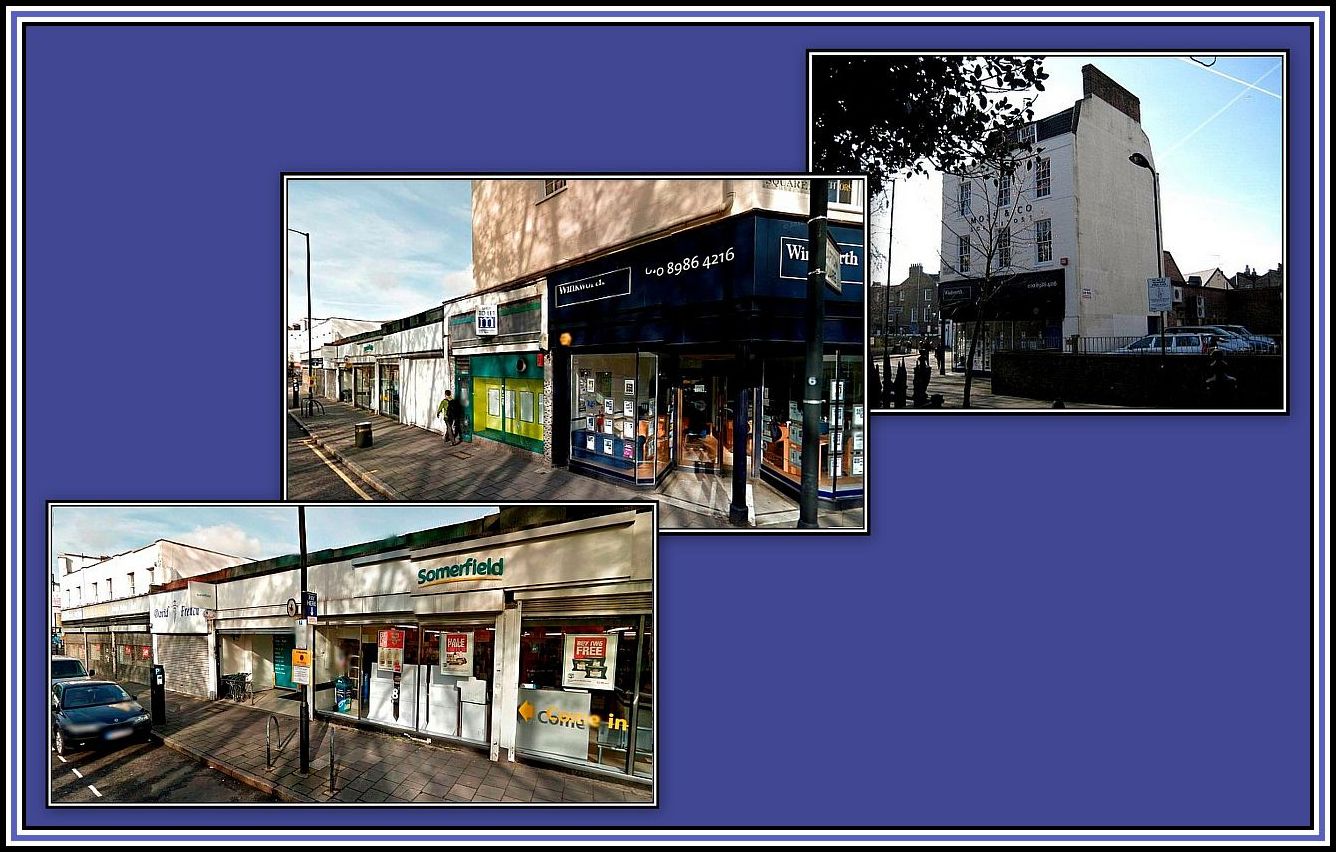 No. 1-3 Clapton Square and Turning the Corner onto Lower Clapton Road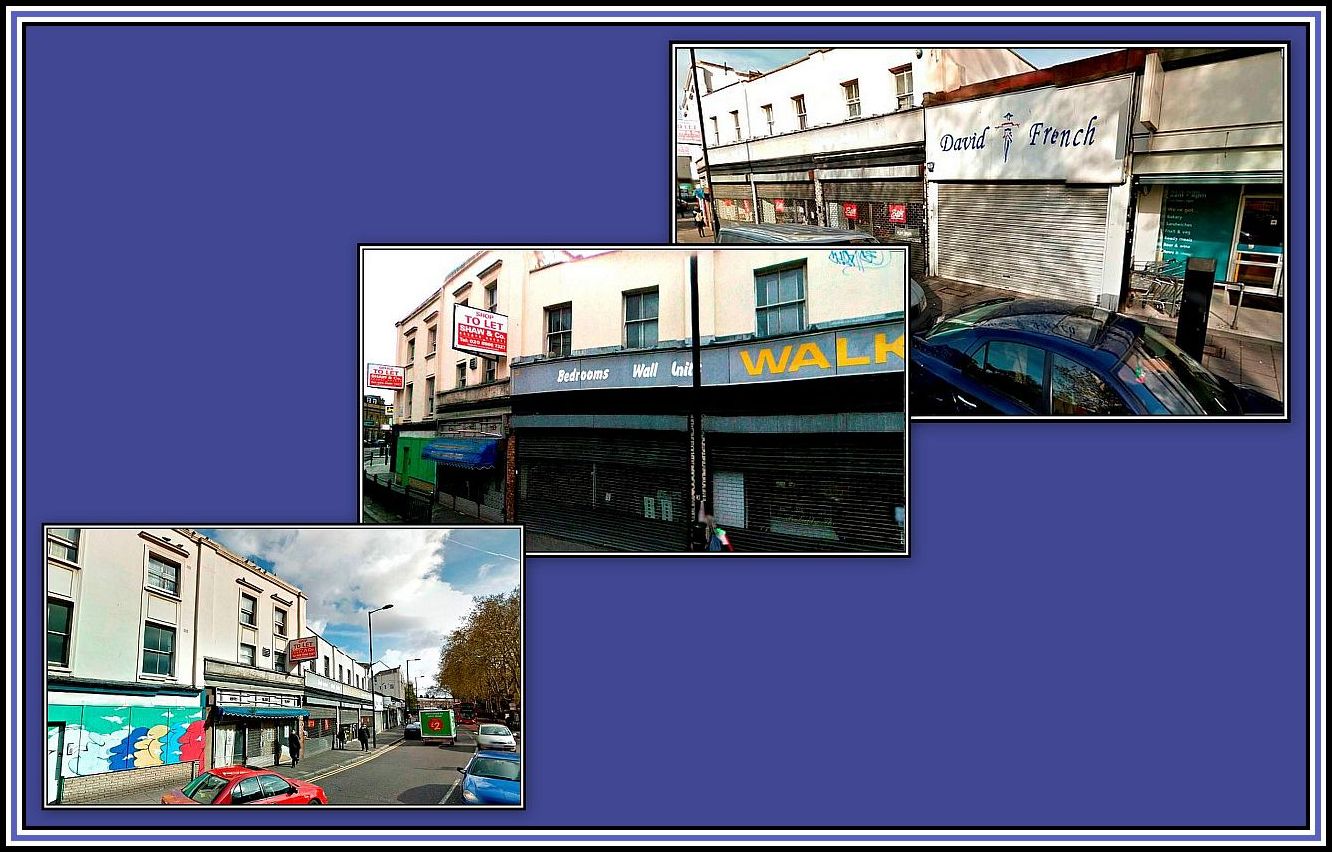 Continuing along Lower Clapton Road and past shops that once formed part of Spokes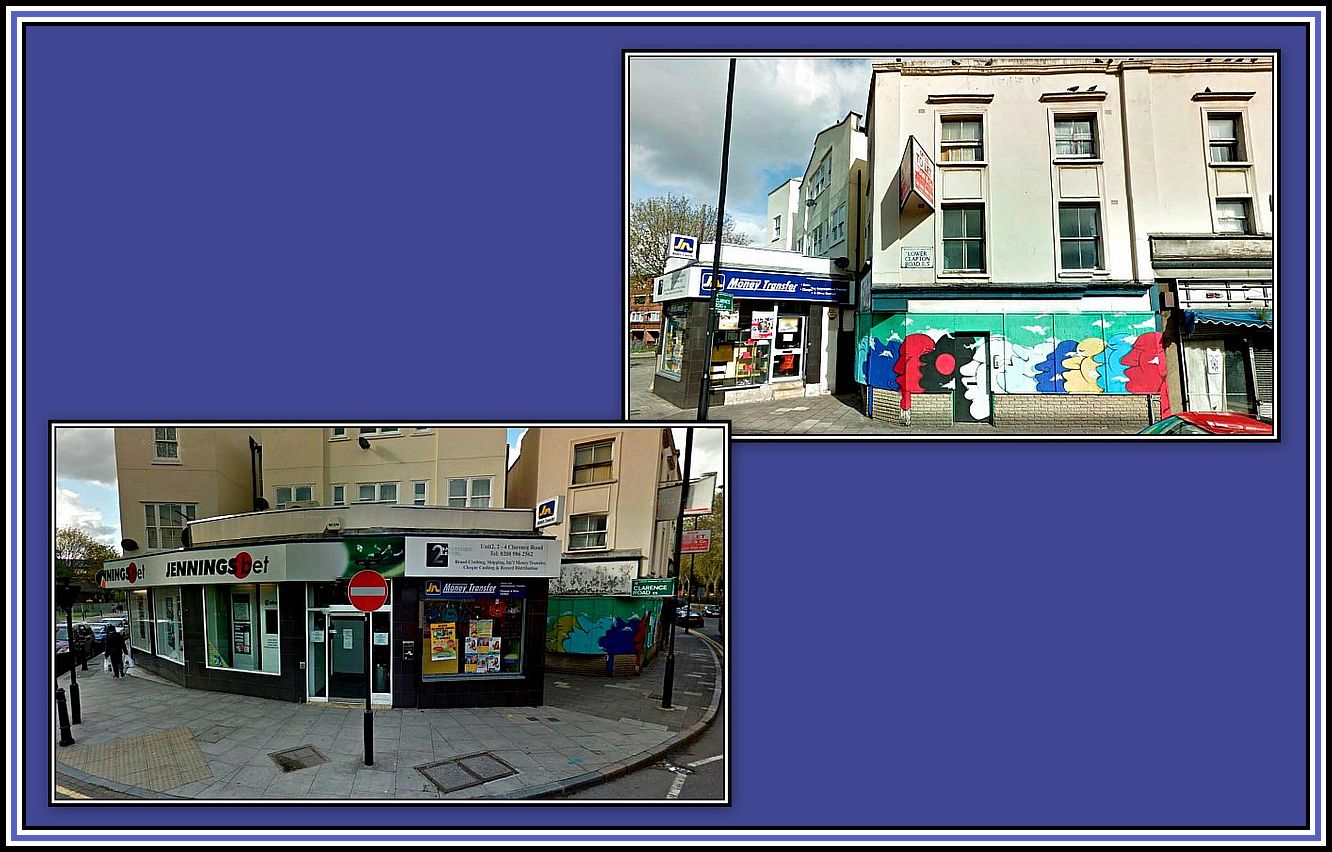 Turning the corner onto Clarence Road
-oOo-
Readers can TWEET their LIKES & DISLIKES to me at
or
make comments on the Website's FACEBOOK PAGE
or
consider leaving a Comment below.
——oooOOOooo——
To Read About
OTHER DEPARTMENT STORES – 6
ROYAL ARSENAL CO-OPERATIVE 
DEPARTMENT STORE WOOLWICH
OR
To RETURN to
THE DEPARTMENT STORE HOME PAGE
——oooOOOooo——
ACKNOWLEDGEMENTS
I would like to thank Mr. Paul Bland for his help in the preparation of this tale and for providing the photograph of the Fire Engines.
I would also like to Messrs Ray Biswanger and Richard Seifert for providing the information regarding The Wanamaker Department Store.
I am very grateful to the staff of Hackney Archives for their help with ….. and to Ms Emma Winch, Heritage Learning Manager at  Hackney Museum for allowing the photograph of the Wooden Foot Measure to appear here.
——oooOOOooo——