THE GRANADA THEATRE CIRCUIT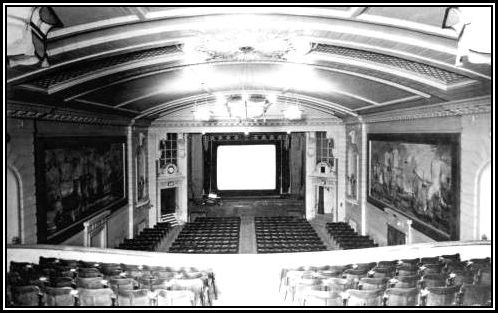 The Palace Cinema Slough destroyed by fire on V.J. night
and rebuilt as The Century Theatre
PART TWELVE:
THE SLOUGH GRANADAS & MISS CANDY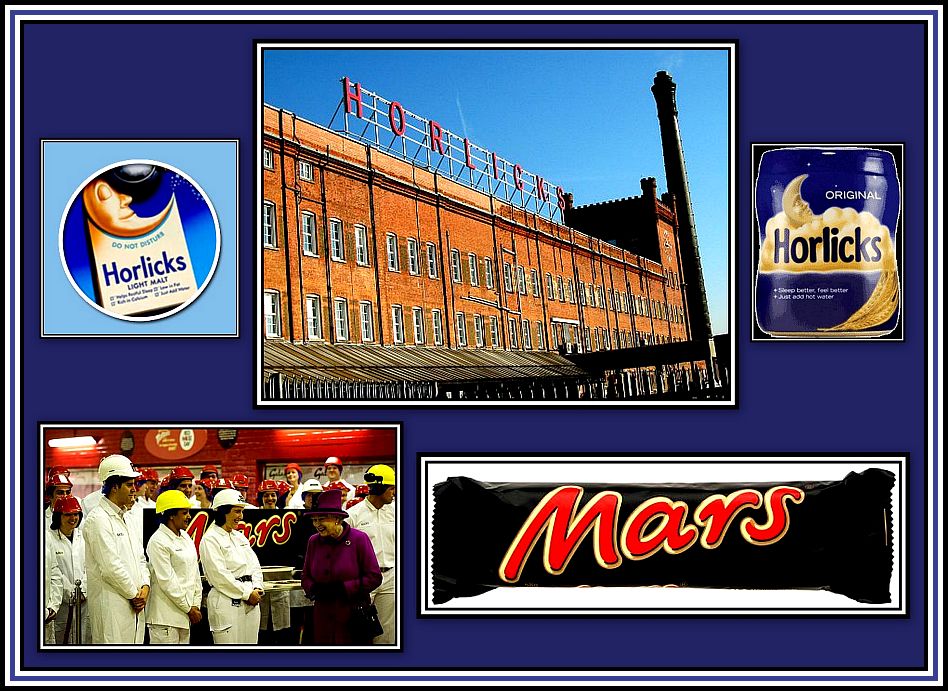 PAGE ONE: SLOUGH. SLOUGH STATION & STATION JIM
—ooOoo—
For those not wishing to read about these interesting subjects and go directly to
PAGE TWO: THE CENTURY THEATRE OF SLOUGH
—ooOoo—
SLOUGH
Come, friendly bombs, and fall on Slough!
It isn't fit for humans now,
There isn't grass to graze a cow.
Swarm over, Death!
John Betjeman, 1937
(Sir) John Betjeman (1906-1984) wrote his famous/infamous ten-stanza poem, Slough, and published it in 1937 in a collection called Continual Dew.  Several years later, bombs did drop on Slough and environs.  Sir John later regretted his humourless and somewhat cruel dismissal of Slough and stated that it was not the town itself that he was critical of in his oeuvre, but rather claimed he was drawing attention to the desecration caused by industrialisation and modernity.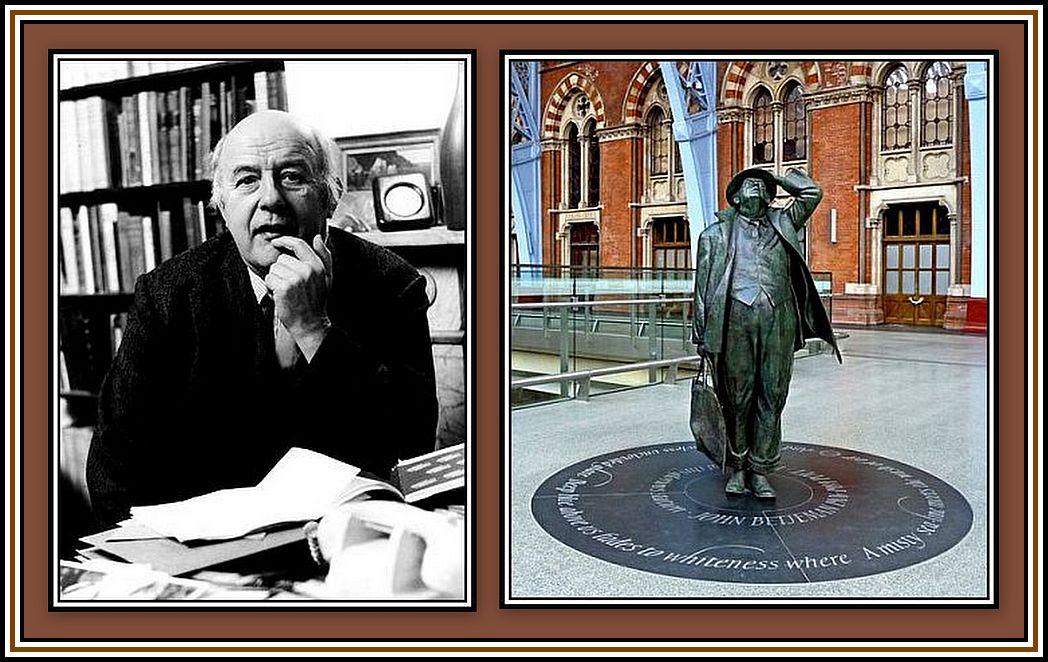 John Betjeman
Right: Martin Jennings' bronze statue on the Upper Level of St. Pancras Station
The wrath of Mr. Betjeman fell on Slough during the years between the World Wars when it was used as a dumping ground for war surplus and following the foundation of Slough Trading Estate where 850 factories seemed to suddenly appear.  These changes led him to think about the shape of things to come and give voice to his horror in the form of the poem.
The image of Slough suffered much as a result of the poem.  However, I wonder how much Slough actually did to help change the savage opinion the populace had of it for this opinion was not purely the fault of Sir John Betjeman.
Over the years Sir John came to regret having written the poem  and admitted to it being harsh, as his daughter, Candida Lycett Green said on the centenary of his birth in 2006.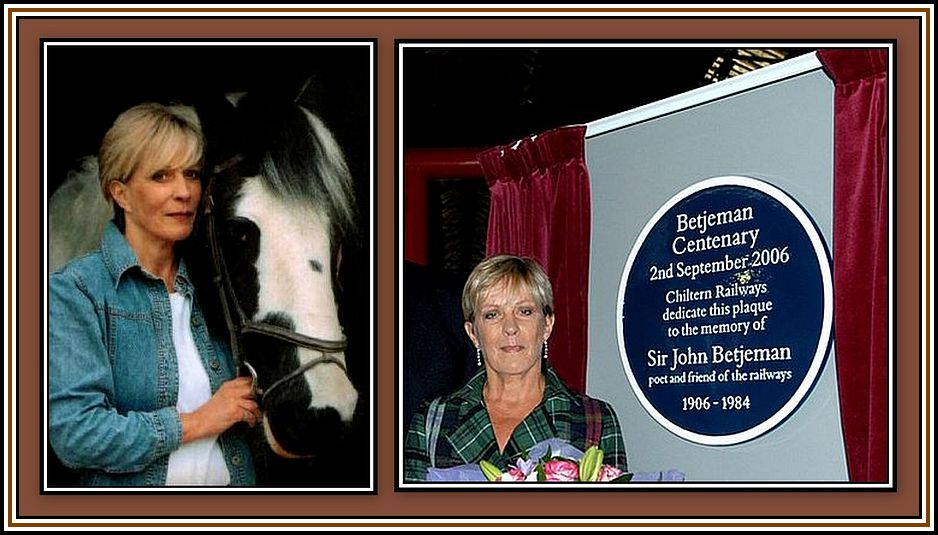 Candida Lycett Green
But, as the French say: quand on a une certaine réputation, il a tellement difficle de se libérer ….. once one has a certain reputation, it is very difficult to rid oneself of it.  This goes for both Slough and for Sir John's opinion of the place!
Slough has continued to be mocked.  More recently it was mocked by Spike Milligan, who satirised it as a holiday camp  and by Ali G (Sacha Baron Cohen) who was unhappy with it.  Ricky Gervais used it as the fictitious setting for The Office, which allowed television viewers in over eighty countries to see the dull side of Slough.  Again, as the French say: Plus ça change, plus c'est la même chose, which means The more things change, the more they stay the same.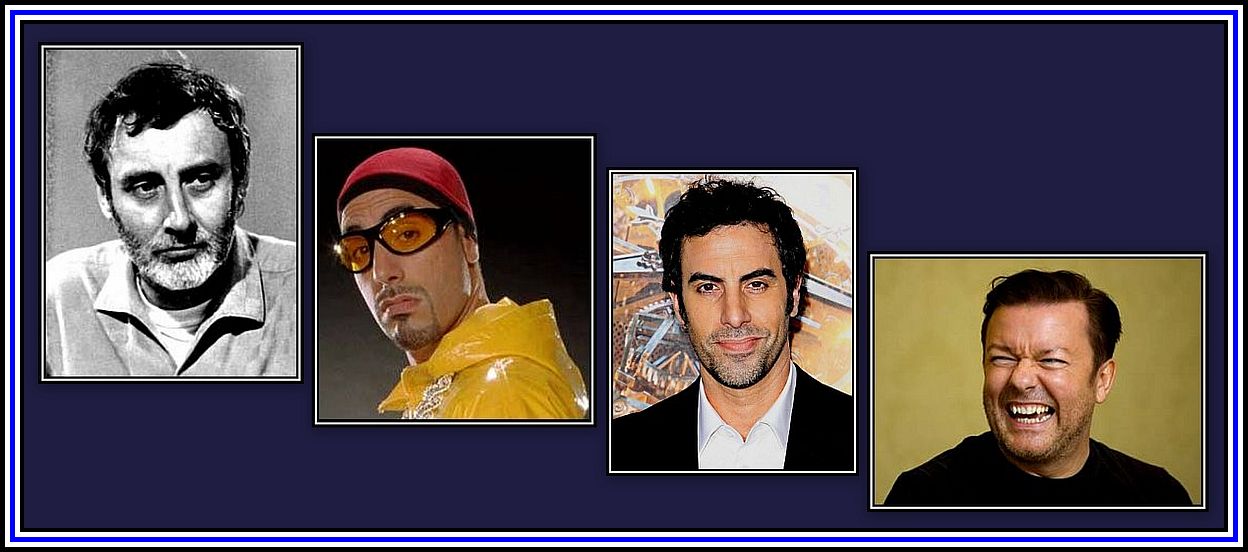 Left to Right: Spike Milligan; Sacha Baron Cohen as Ali G and himself & Ricky Gervais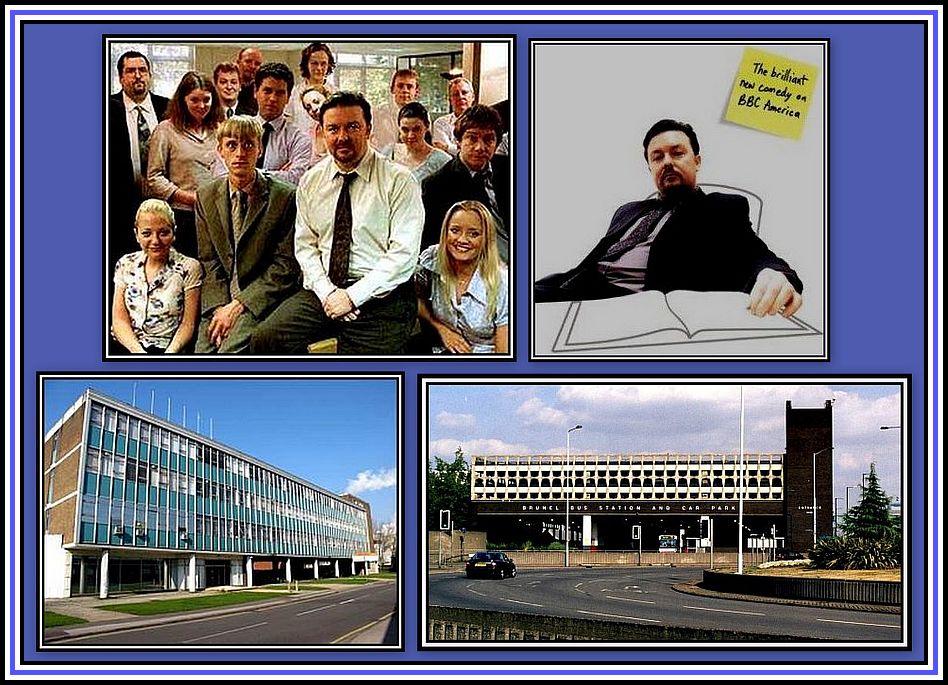 The Office
Top Left: The Cast; Top Right: Programme Poster
Bottom Left: Crossbow House used as The Office building;
Bottom Right: Brunel Bus Station seen in the opening sequence (now demolished)
Click here to hear the theme music in full
In the hope of ending the mocking, the campaign Proud to be Slough was launched a few years ago.  The campaign is supported by local businesses, voluntary organisations and the council in the hope of changing the image of the town.  This has resulted in the building of a futuristic new bus station and a proposed Cultural Centre to open in 2015.  In addition, there is to be improved a Crossrail link to enter service in 2018 and which will take a traveler to Bond Street in under thirty minutes.  In addition to changing Slough's image, the cost of housing has increased.
—ooOoo—
Here are some links well-worth following:
—ooOoo—
DEVASTATING NEWS
It was not until we moved from Bethnal Green that I visited my first Granada Theatre, and as the song says, I remember it well.  But more of that later.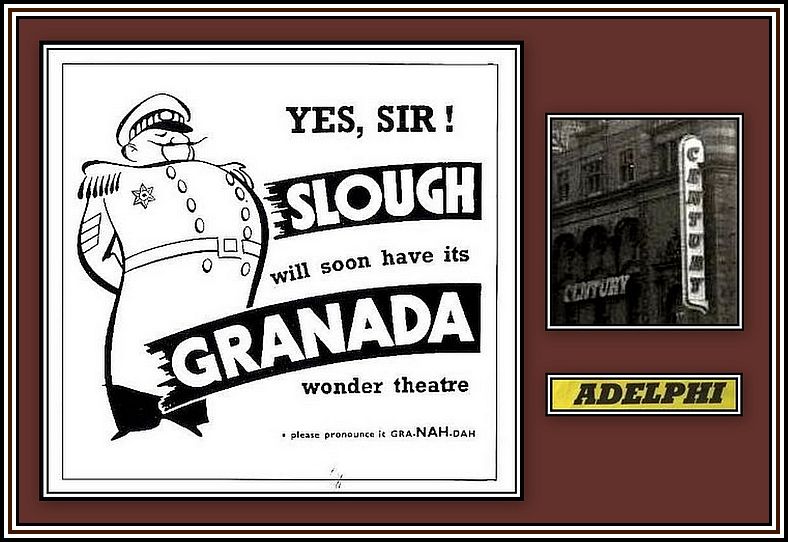 Slough once had three Granada Theatres: The Granada, The Century & The Adelphi
It was in August 1956 that my mother first mentioned the possibility of leaving London.  I could not believe my ears.  Leave London?  What for?  My mother said that if we were to move, we would live in a house; we would have a garden; and there would be fresh air and no more smog!  I remember that my mother was smiling.  She was obviously taken by the idea; my father, as was his way, sat there and said nothing; and  me?  I remember being frozen to the spot and being unable to speak for one of the few occasions in my life.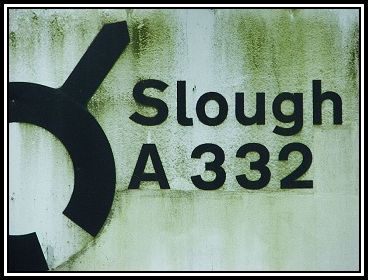 My mother said that our present home, the top flat in a Victorian house,  was going to be demolished and that we had to be rehoused.  Apparently the local council were giving us several choices as to where this might be.  Seemingly the choice was between:
1) a flat in what was being called a Tower Block in West London; 2) a flat in North London; and 3) a house on a new housing estate in Langley, which is close to Slough, and was in the County of Buckinghamshire at the time.  Today, both Langley and Slough are in the County of Berkshire.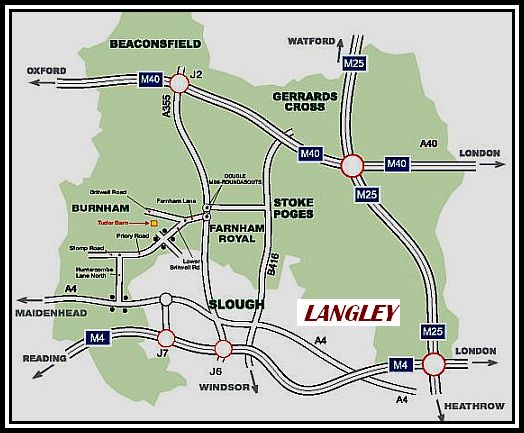 Langley Bucks, a suburb of Slough
My mother was against living in a flat.  She made this clear to both my father and me.  She did not like the idea of having a gang of kids running around over our heads or having to listen to someone else's loud music coming through the walls.  I have to admit that I agreed with her.  For her there was no choice: the mere mention of a house was enough to make up her mind in its favour.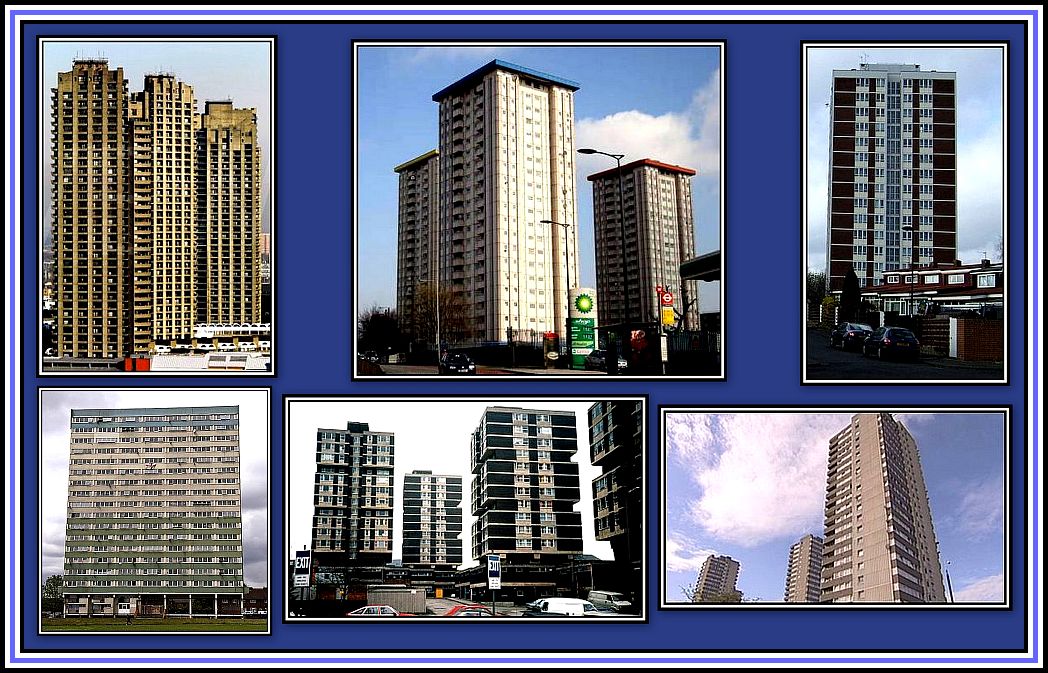 London Tower Blocks
The Fate of some Tower Blocks
Left: Trellick Tower, an example of Brutilism, now a Grade II* listed building
Right, top: implosion of a Tower Block
Right, bottom: fire at a Tower Block, Camberwell in 2009
I remember my father sitting there and staring into space.  When asked for his opinion by my mother, he said that he would leave the decision up to her.  Even at my young age, I felt that this was unfair of him, but that was how he was.  He did not complain, but this was not out of any sense to please either my mother or me.  Rather, it was because he did not really mind where we went.  This was his way.  My father was very much a loner.  Regardless of having a wife and a son, he led his life as he chose to lead his life as he wanted.  My mother never got used his behaviour and it remained a constant subject for argument until he was too old to do exactly as he pleased.  I was none too pleased by his behaviour either, however, as I have got older, I realised that his one true mistake in life was in getting married.  Some people are just not born for it!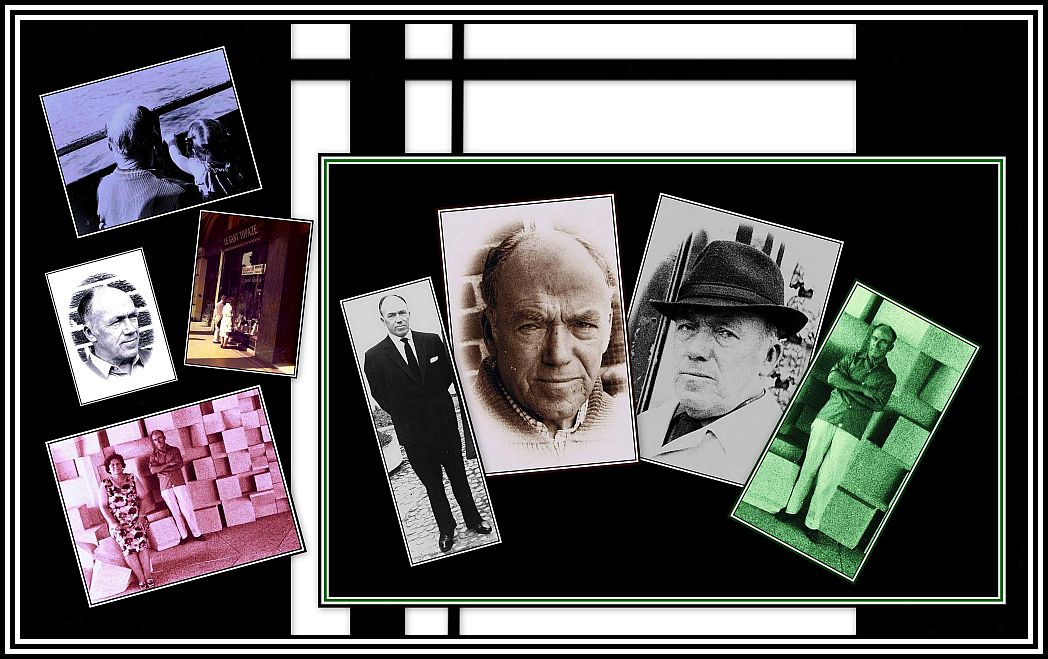 Views of My Father with and without My Mother
Once the thought of moving sunk in fully, I was even more horrified by the news.  The idea of living in a flat, be it in West or North London, did not sit well with me.  We had been living on the top floor of an old house for two years now and had to climb up to the third floor to get to it.  Having to climb so many stairs was a great incentive not to forget anything when you went shopping!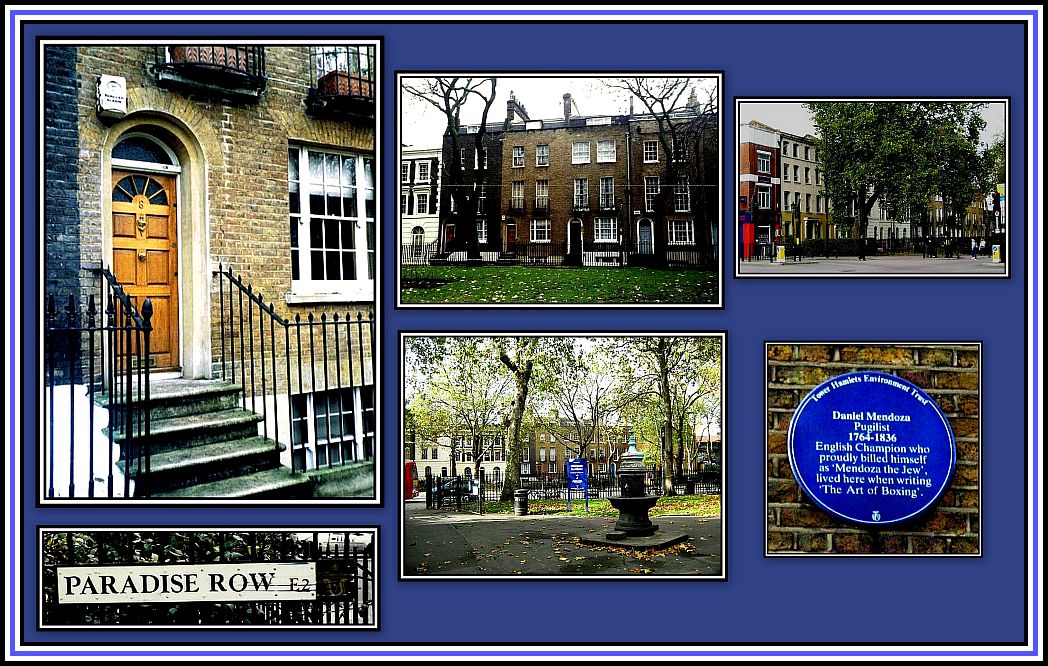 Paradise Row, Bethnal Green, London E.2.
Left: 8 Paradise Row, where I lived from 1953 to 1956
Centre: views of Paradise Row from Paradise Gardens (Top) & Museum Gardens
(Bottom) Top, Right:  view from Bethnal Green Road
Bottom Right: Blue Plaque to mark where Daniel Mendoza lived
and wrote his book, The Art of Boxing
I was going to explain how it arrived that we no longer had our pie 'n' mash shop, however I think that my parents, although certainly not exactly like those of Holden Caulfield, might well share a similar shocked response to his if I did.  My mother would be hurt and embarrassed to know that others knew her private business while my father would sit there and fume inwardly until he could think of a way to escape.
Suffice it to say that my mother would like a house again and want me to be brought up in an area that was healthier than the poor post-war East End.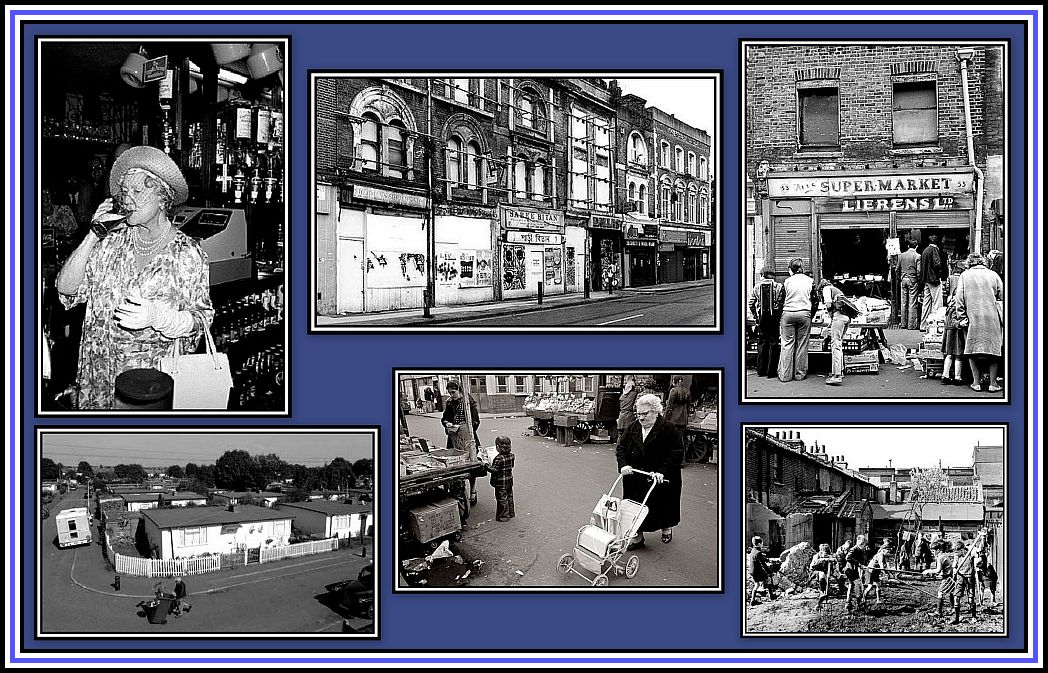 Post-War East End of London
Top Left: The Queen Mother pulls a pint and drinks it
Bottom Left: A Pre-Fab; Top Centre: Vallance Road, Mile End Road end
For me, the idea of West London was too awful to consider.  It needs to be remembered that to me, West London meant Olympia, the exhibition site and a brief glimpse of Hammersmith.  I had been to the Food Fair and The Ideal Home Exhibition on several occasions, which used to be held at Olympia in those days.   In addition, I had also seen a number of Horse Shows on television that came from Olympia , but knew nothing else of West London.  But that did not stop me from not liking the place and certainly not wanting to live there!  I smile at my youthful prejudice, as it has been only recently during my trips to London from my home that I have begun to investigate West London and have to admit that living there might not have been so terrible after all.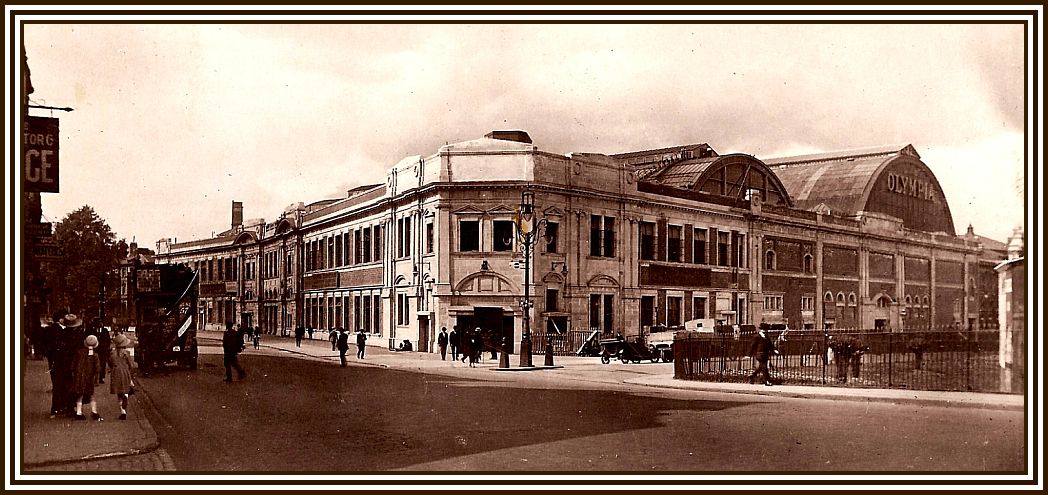 Olympia Exhibition Centre opened in 1886
and consists of a number of Exhibition Hall & a Conference Centre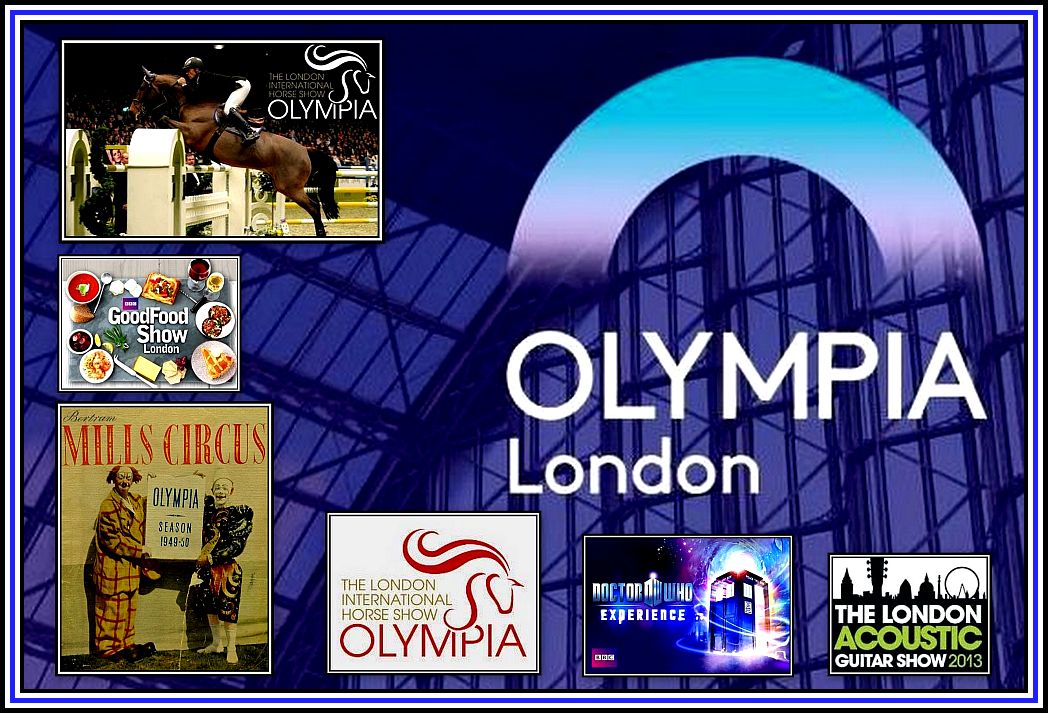 and was and is still the site of many events.
My parents rejected moving to West London since my mother did not want us to live in a flat.  And nothing, absolutely nothing, was going to change her mind about this.  Once she heard that a house was among the choices, she had decided what was going to be best for us, and by us, she meant me!
Similarly, the concept of moving to North London was also too awful for further thought.  As an East End Boy, I supported West Ham United.  North London meant Arsenal and Tottenham Hotspur, both rivals of THE team.  How could one even dare to entertain such a move?  There was nothing more to be said about this choice! Fortunately again, this option was rejected since it meant moving to a flat.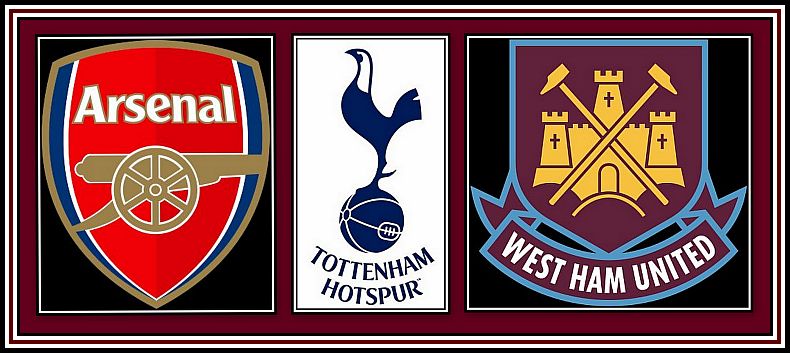 Although choices one and two were dreadful, the third choice was without doubt the ultimate horror, the worst possible scenario and did not even need to be considered by me at any rate!  How could anyone think of leaving London?  It was where I was born.  It was where I lived.  I liked London and I loved Bethnal Green.  I even liked my school and I enjoyed the company of my friends.  London and Bethnal Green in particular had everything, absolutely everything, I could want.   The thought of leaving London chilled me to the bone!
What did Dr. Johnson say?  …….
Why, Sir, you find no man, at all intellectual, who is willing to leave London.  No, Sir, when a man is tired of London, he is tired of life; for there is in London all that life can afford.
– Samuel Johnson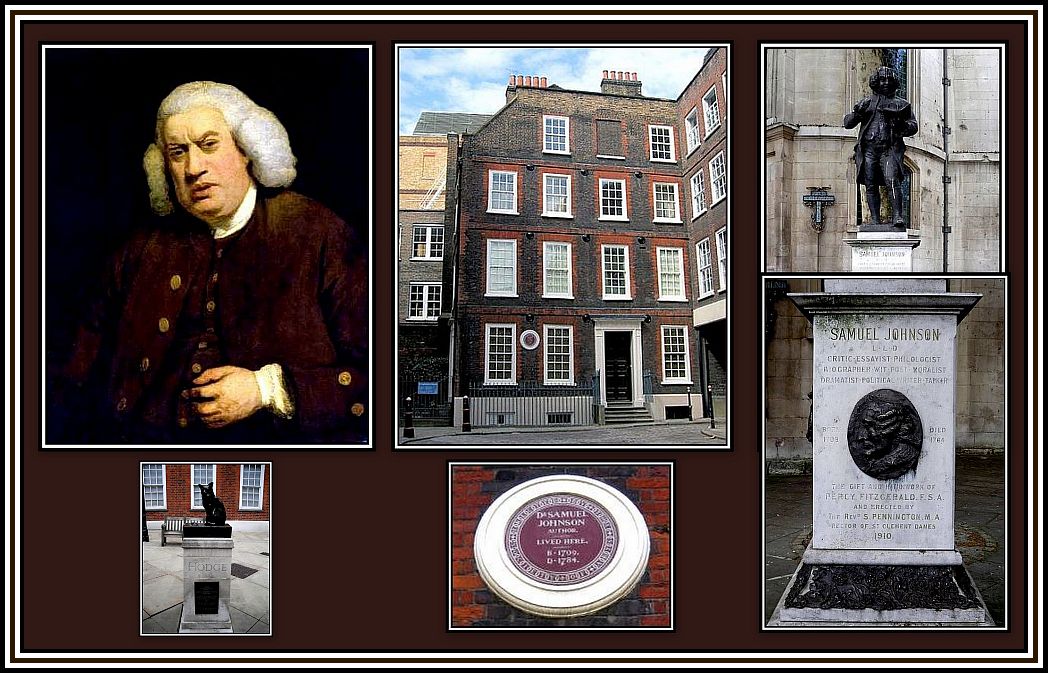 Dr. Johnson (1709-1784)
Top Left: Portrait by Sir Joshua Reynolds (1723-1792)
Top Centre: Dr. Johnson's House (1748-1759) at 17 Gough Square, London
Top & Bottom Right: Statue by Percy Hetherington Fitzgerald (1834-1925) found at
the East End of the Church of St. Clement Danes on The Strand
These photographs was taken by Jacqueline Banerjee
Bottom Left: Hodge the Cat by Jon Bickley;  Bottom Centre: Wall Plaque
—ooOoo—
Chilled to the bone or not, where we were to move to was not, alas, my decision to make.  In retrospect, my parents made the best decision they could since we did move to a house with a garden and to where the air was, at least for a while, fresher than that of the East End of London.
However, no matter how many years have passed …… no matter where I have been to since ……. and whatever I did …….. I did not change and have remained not only a Londoner, but an East End Boy from the Borough of Bethnal Green ……… none of this Tower Hamlets rubbish for me!
—ooOoo—
Despite my misgivings, once my parents decided to move from London, I had little choice and had to follow.  I had been miserable from the minute that the letter containing the news of the proposed move arrived and became more and more melancholy as the inevitable drew closer.  I woke up on moving day feeling even worse.   Over the weeks I had racked my brain to try to think of a way that would allow me to remain in Bethnal Green, but had failed to come up with anything viable.  I felt very sorry for myself.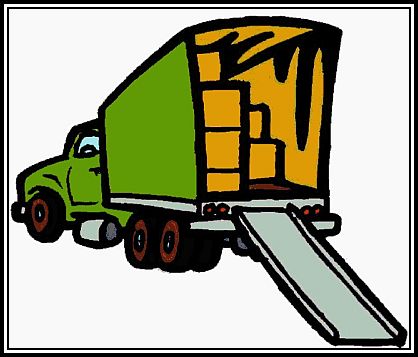 I wish that I could say that the weather was miserable on moving day to be in keeping with my mood, but it wasn't.  It was a bright day and quite warm for the time of year.  I had left my school on the Friday before where I said goodbye to my friends, teachers and places.  As our furniture began to be carried down the narrow spiral staircase, that distinct sense of doom that had lodged itself in the pit of my abdomen got heavier and heavier.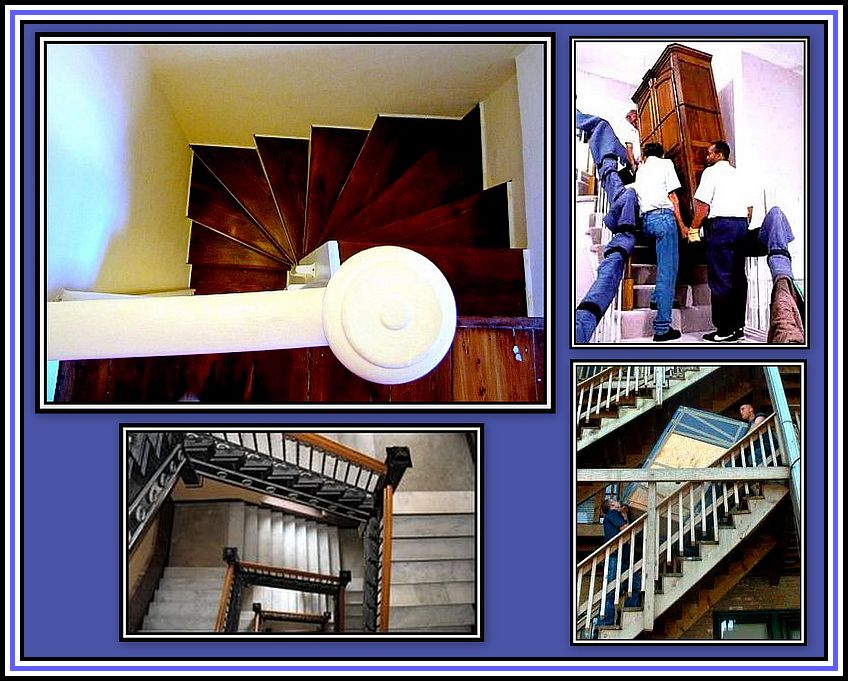 Moving
All too soon it was time for my mother and me to leave.  We were going to take the train to our new home while my father was going to travel with the furniture and organise it being brought into the house.  I looked out of the window across the tree tops and over at the park and church.  What did I need of a garden when I had this view and three parks outside my door and the wonderful Victoria Park not a mile away?  I was too upset to leave, but there was no choice.  I turned and left the room and walked down those stairs that were somewhat rickety and dangerous.  At the bottom, I continued along the passage and walked out of the door and down the stone steps and into the street.  I looked back and saw my mother shut the door and saw her give it a push to see that it was properly shut.
We no longer had a key to that house,  Why would we?   We now no longer lived there.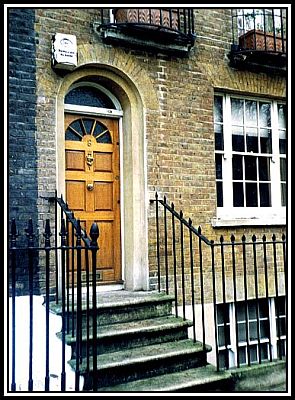 The Last of 8 Paradise Row
Once we left that old Victorian house for the last time, we walked along Paradise Row towards Bethnal Green Underground Station and I remember thinking to myself …… I don't live in Bethnal Green anymore ……. I don't even live in London!  I felt like a Nomad!   Lost and alone, with no home!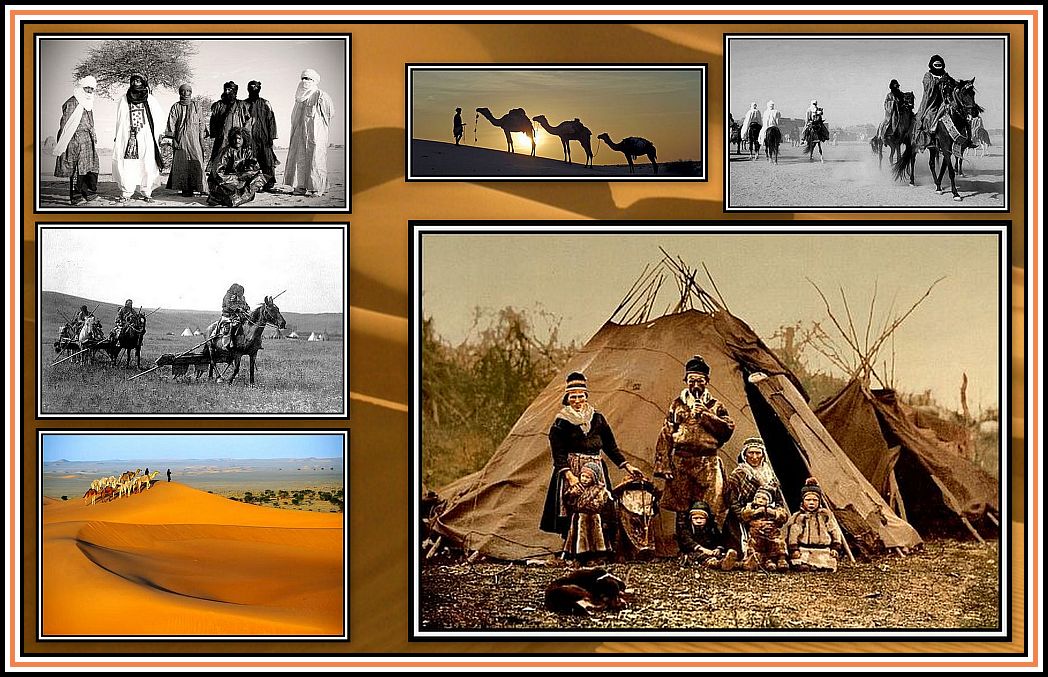 Fellow Nomads
This may seem somewhat dramatic, but I was very miserable and believed that nothing was ever going to be the same again, and of course, it wasn't.   I knew that although I could do nothing about moving, as it was inevitable, I also knew that I did not have to like it.  And believe me I didn't!
In actuality, my nomadic existence was of a short duration, perhaps three hours maximum!  Once we arrived at Slough Station and took the 81 bus to Langley, we were soon at our new home where we found my father making a cup of tea while others were unloading our things.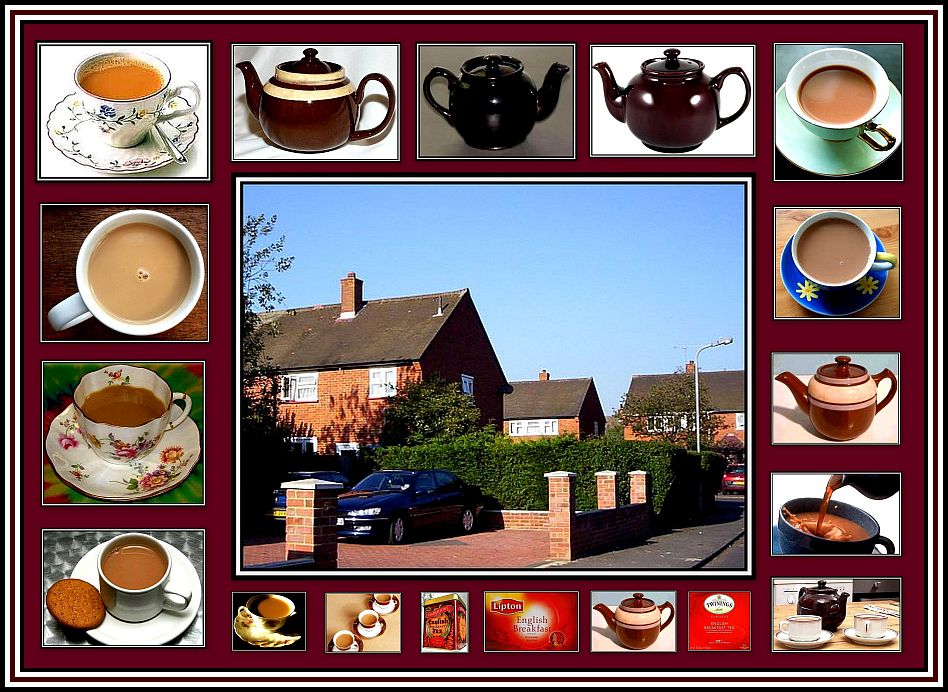 The House that was acceptable to my Mother, No. 7 Stanley Green East, Langley
Photographed here on 6th November, 2006
It is amusing to think that each year on the anniversary of our move from London and our leaving Bethnal Green, I recall the day, the 6th November, 1956.   Amazingly, I remember it still after all these years.  And I find myself sighing at the memory and feel a profound sense of loss!  Years later, I discovered that my mother had also felt the same!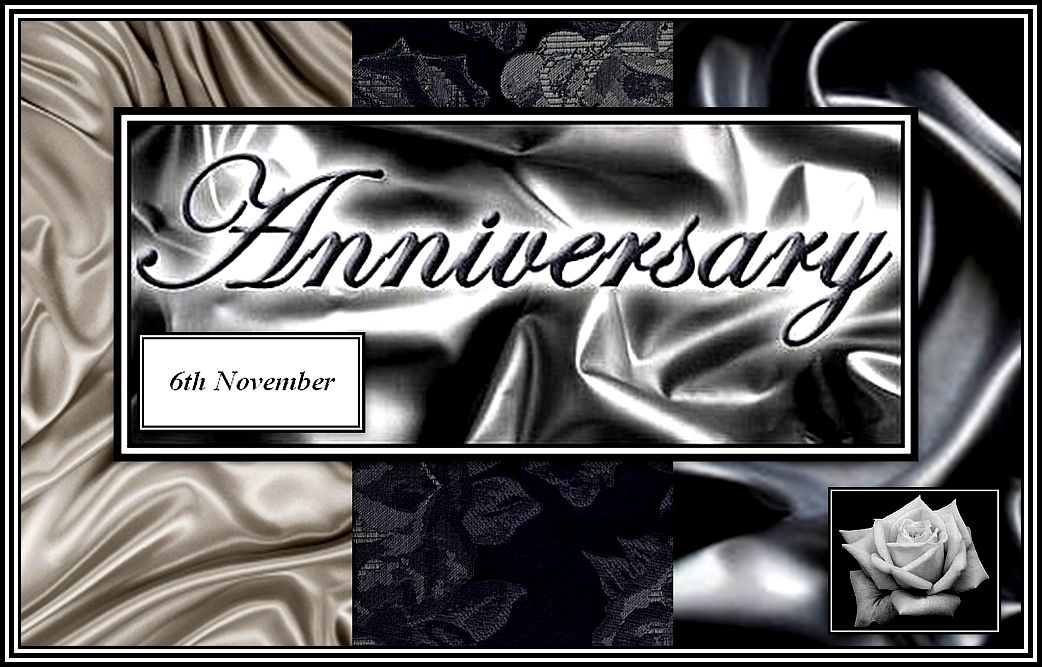 —ooOoo—
SLOUGH STATION, STATION JIM & STRANGE LOOKING BUSES
Before deciding definitely to move, we made several excursions to Slough to give the place the once over!  We would go to Paddington Station and take the train to Slough.  The train took us through West London, which was made tolerable as occasionally it was possible to catch a glimpse of a trolleybus while rushing through Acton Station and then again when the train crossed over the Uxbridge Road between Hanwell and Southall.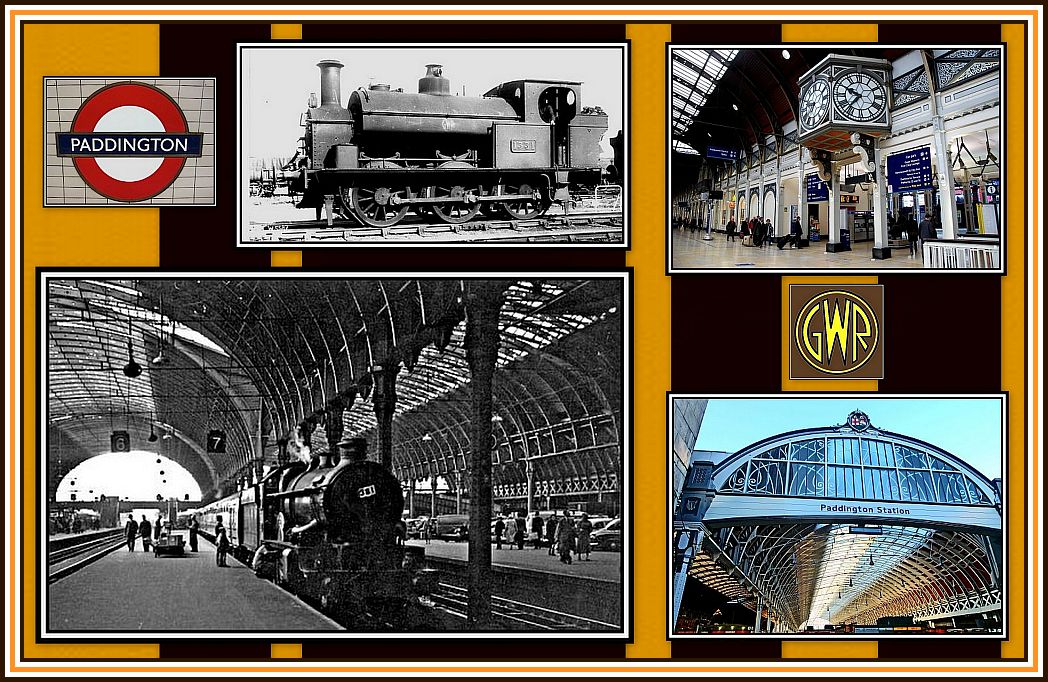 Paddington Station over the years
Bottom Left: photograph taken by Ben Brookbank
I had never visited a Great Western Railway Station other than Paddington until visiting Slough.  Slough Station opened on 1st June, 1840 and is now a Grade II listed building.  Although determined not to like anything that I saw, I found that the station had a number of features that interested.  These including its facade, an erstwhile fund raiser and some unusual train coaches and buses.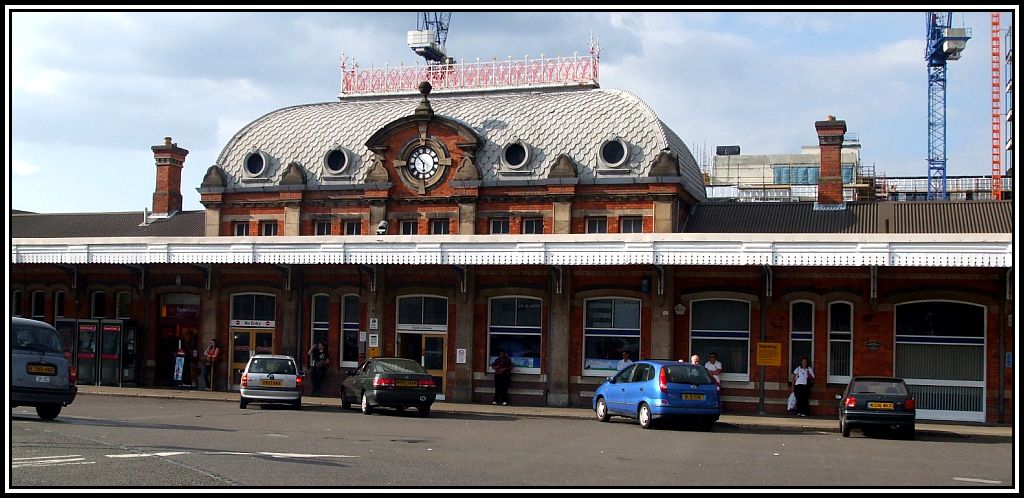 Slough Station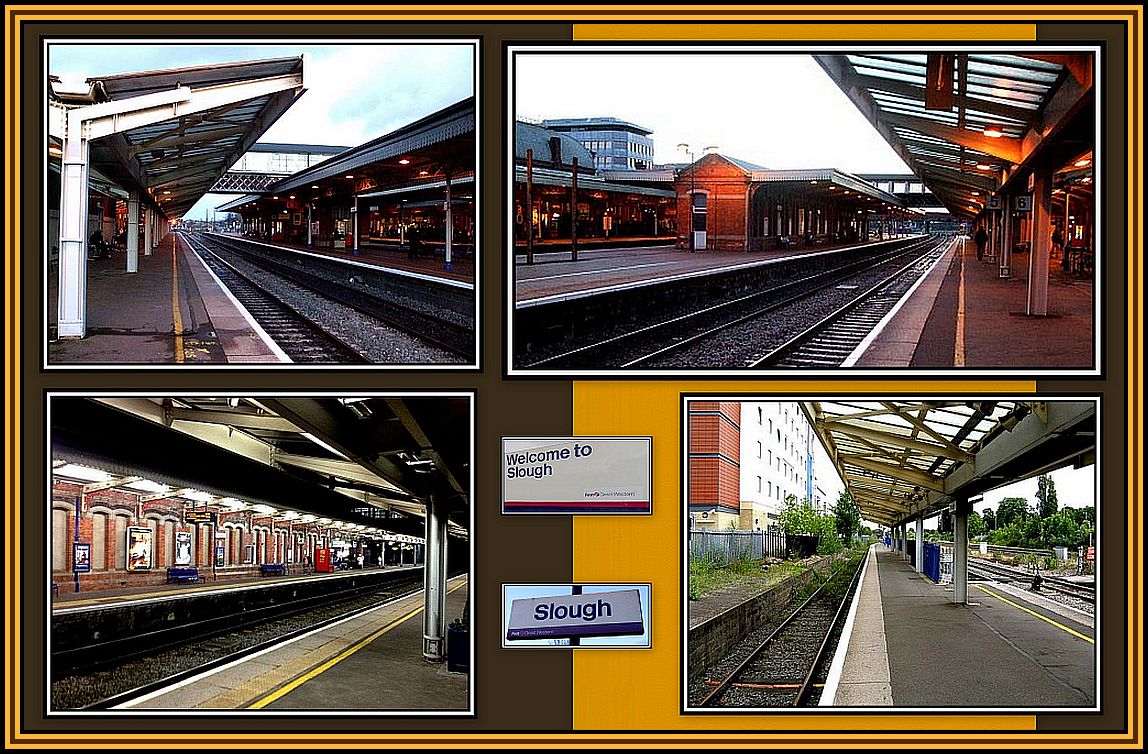 Slough Station Platforms
Bottom Right: the rarely-used Platform Six
This photograph was taken by Peter Whatley
The station has a Windsor Bay, which is its Platform One, and is the terminus for trains that run to Windsor & Eton Central Railway Station, just a few miles to the south.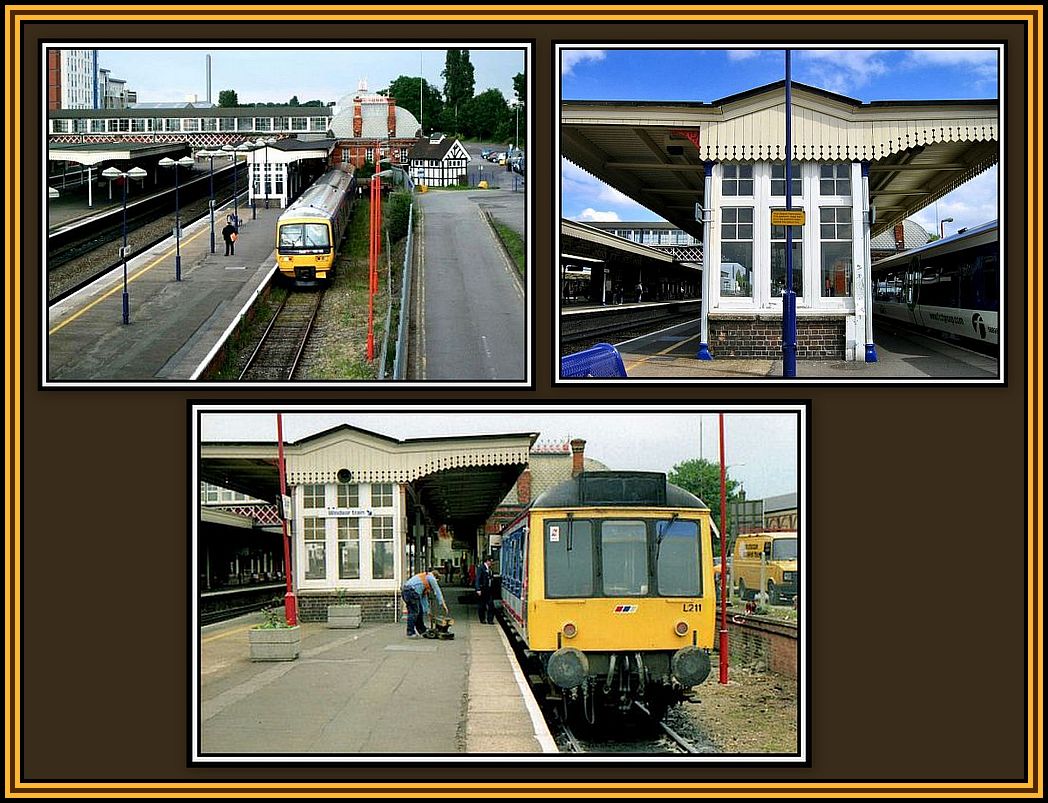 The Windsor Bay – Platform One
Bottom: The photograph was taken by Albert Bridge
When I first visited Slough, there were some interesting older Diesel Railcars that were used on the Windsor Line, which, sadly, disappeared quickly soon after and were replaced along with the steam engines by diesel powered trains.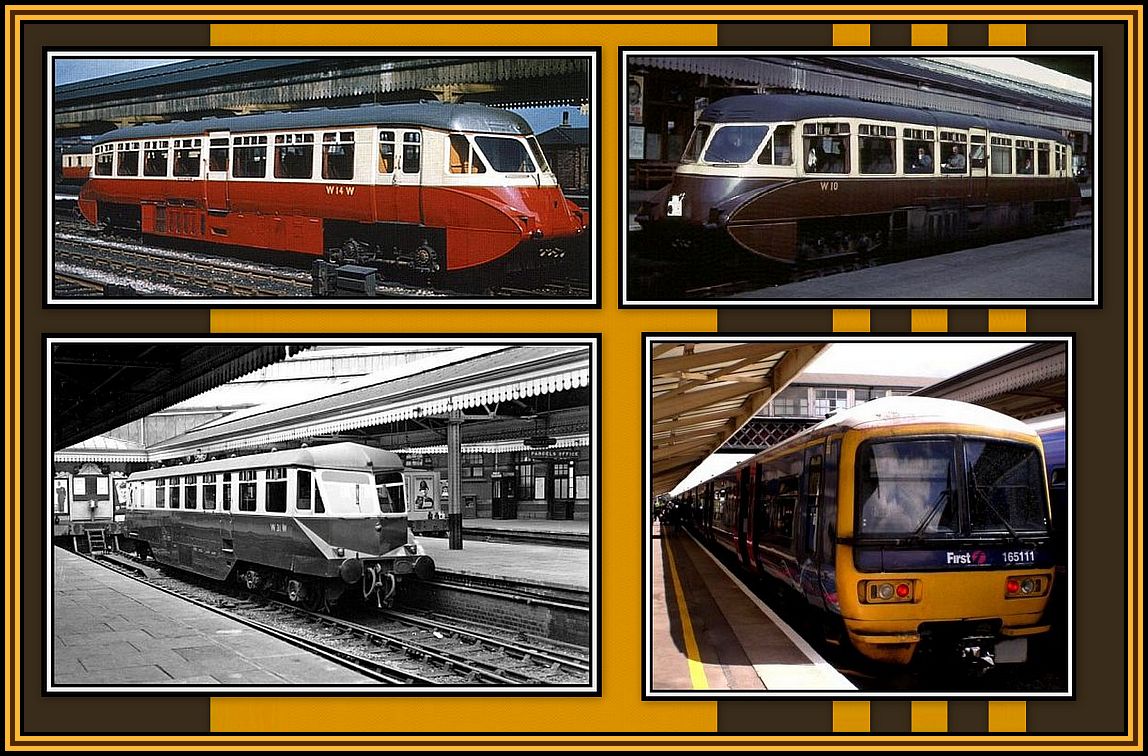 Diesel Railcars & Diesel Trains
Top & Bottom Left: Diesel Railcars
The photograph of the Diesel Railcar shown at the Bottom Left
was taken at Windsor & Eton Central Railway Station
Bottom Right: a modern Diesel Train at Slough Station 
—ooOoo—
Station Jim
I remember well the first time we went to Slough.  We arrived at Platform Four and had to climb the stair to the walkway that connected all platforms in order to find the exit, as the man entrance/exit to the station was on Platform Two.  As we walked along the walkway, I noticed a large glass cabinet before us that contained a dog!   We stopped and read the placard before the dog that gave his life story.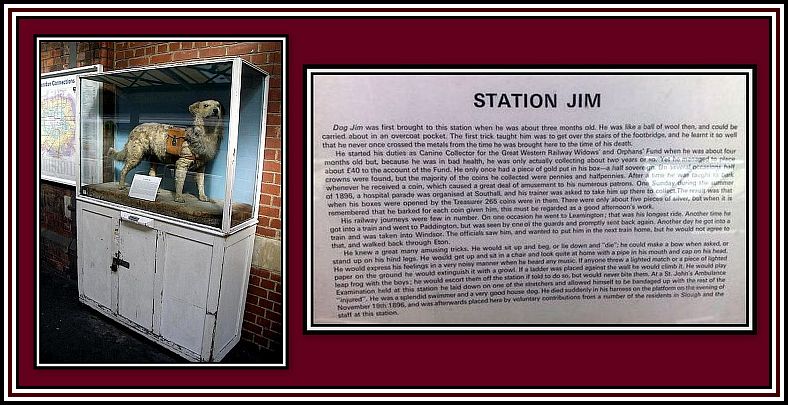 The full text of Station Jim's story may be read at Station Jim
After reading the story of the dog, I have to confess to being a little upset.  However, it was my Father that was the most upset of us all.  He was very sensitive, as we all are, to tales where animals are either ill-treated or else die.  Despite his occasional somewhat off-handedness to the feelings of my Mother and me, he was always disturbed by the adventures of Black Beauty and Old Yeller  ……. and let us not discuss the story of Greyfriars Bobby!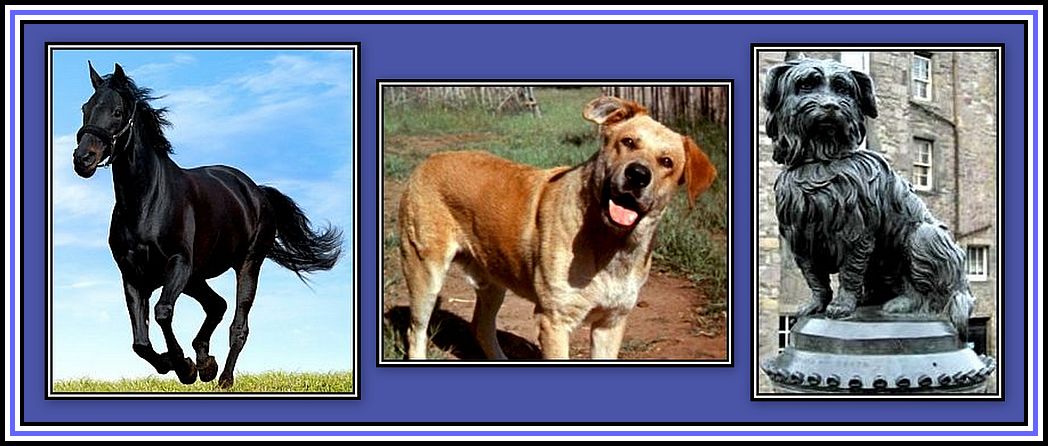 Left: Black Beauty; Centre: Old Yeller; Right: Greyfriars Bobby
I learned that this was the dog was called Station Jim or Dog Jim.  Station Jim was a collector for the Great Western Widows & Orphans Fund from 1894 to 1896 and collected over £40, which in today's terms, is no small amount.  Jim was associated with Slough Station for all of his life.   He was able to perform many tricks and always barked a thank you when a coin was placed in the collection box that he carried around him.  Jim made several trips in his working capacity, but occasionally would take a train and have to be sent back to Slough.  He was immensely popular with the public thanks to his good nature and to his ability to perform a host of tricks.
Unfortunately Jim did not enjoy good health and died while working on the evening of 19th November, 1896.  It was decided that his remains should be stuffed and placed in a glass case and kept in the station.  At some time, Station Jim was moved from the walkway to Platform 5, where he remains today.
A few years ago, a film was made supposedly based on the life of Station Jim.  However, the story had little relationship to that of Jim's.  Even the breed of dog chosen to portray him was changed.
Some time ago, I wrote to the railway authorities about Jim's place on Platform 5.  I had discovered him and his glass cabinet there in 2005.  I had wondered what had happened to him whenever I came to Slough on the train and found him no longer on the walkway.  Now here in his new place, I felt that he had been forgotten and was only being seen by a select few busy commuters while they waited for the London-bound train.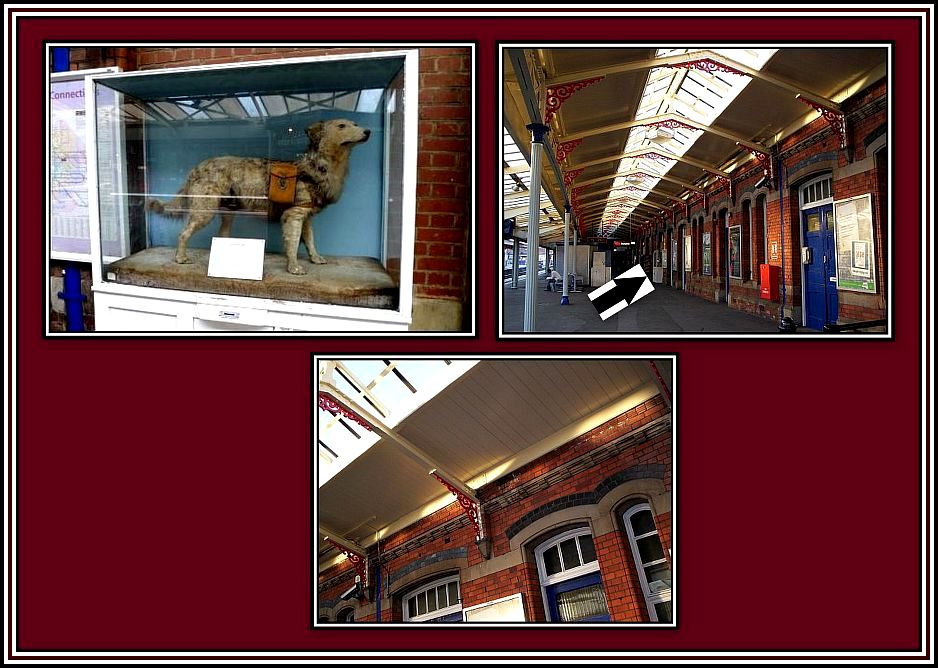 Platform Five – The Present Home of Station Jim
The black arrow shows where his cabinet is now
Top Left: Station Jim photographed by Nick Casson and appears with permission
I suggested that since he was now hidden from general view that he should be transferred either to Slough Museum or else sent to the Railway Museum at York where he might be seen by a more appreciative group who would still drop coins into the slot in the cabinet for the Widows & Orphans.  I was told, in no uncertain terms, that Station Jim was still thought of with affection by staff and passengers and that he belonged here at the Slough Station!  
Unfortunately I am not convinced and would, at least, like to see him together with a renovated glass cabinet returned to a more prominent place at the station!
I have learned that others have also appreciated Station Jim and have photographed him and written about him.  I have also learned that it is possible to even send him a Tweet!
—ooOoo—
I remember coming out of Slough Station and finding the station forecourt also served as a Bus Terminus for not only those operated by London Transport Executive (1948-1962) , but also those belonging to Thames Valley Traction (1915-1972).  Naturally I had seen buses belonging to other bus companies at seaside towns during visits, but the bus fleet of Thames Valley Traction was different.  It included a somewhat old-fashioned looking single decker bus that seemed to be more suited to a previous era and immediately became a firm favourite of mine.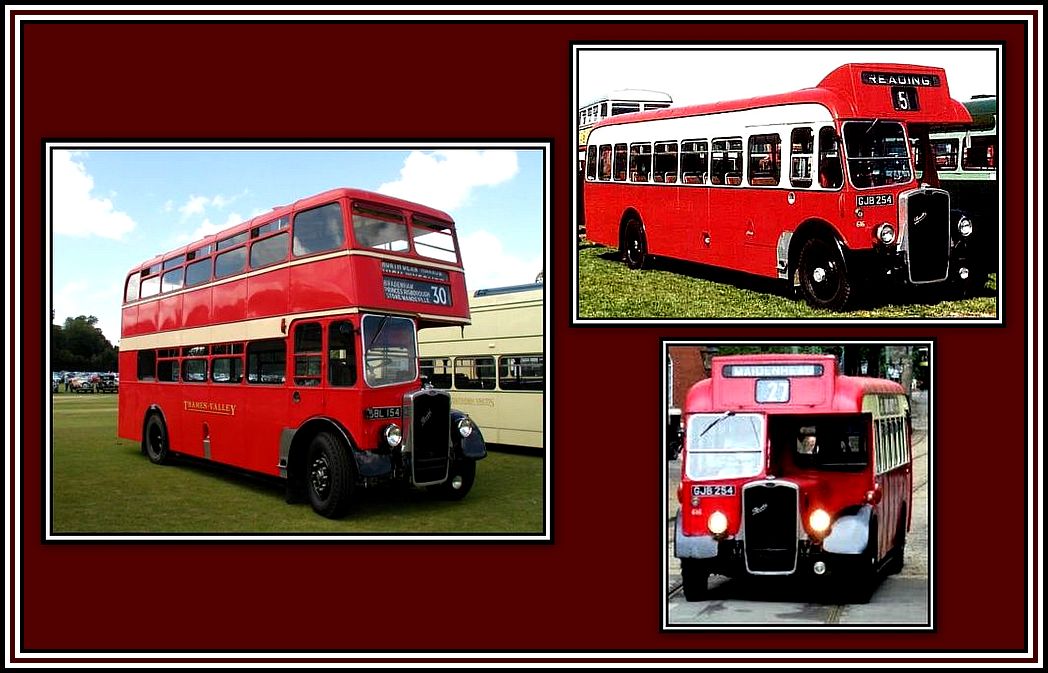 Thames Valley Traction Buses provided by Bristol Commercial Vehicles 
Left:  Bristol KSW6G double decker
Right: Bristol LWL6B single decker
Also in the station forecourt was a number of London Transport Country Buses.  This buses  were painted green and looked very smart in this livery.   I was not used to seeing green buses.  The only ones I had seen prior to this were those operated on the Green Line Routes at Aldgate Terminus.  The buses here at Slough Station were of the RT (double decker) and RF (single decker) types.  Since I was interested in buses at this time, I was looking forward to seeing and journeying on them.  In addition, the route that we were to take to Langley, 81, was serviced by a red RT, although we were to learn later that there were numerous routes that traveled there.  Sadly, most of the routes were serviced by only one or two buses each hour and we had to get used to waiting for them to arrive.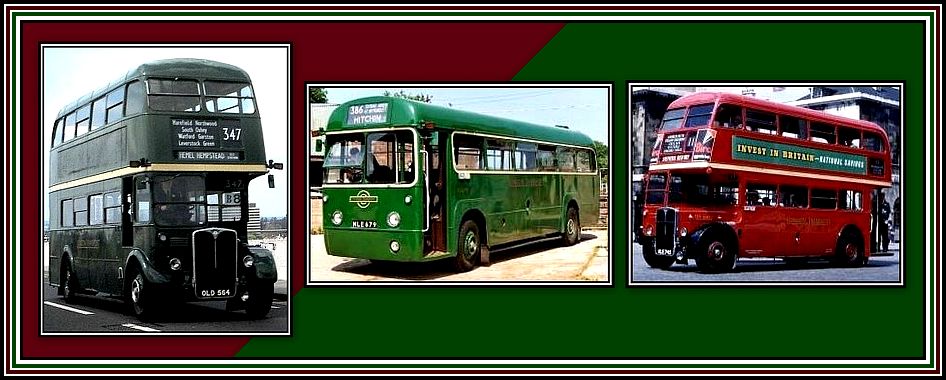 London County  (Left & Centre) & Central (Right) Buses
However, what we had to get used to, and to get used to it in a hurry, was that Slough was not London and that the people were certainly not East Enders!
—ooOoo—
SLOUGH SAFETY TOWN – THE SLOUGH EXPERIMENT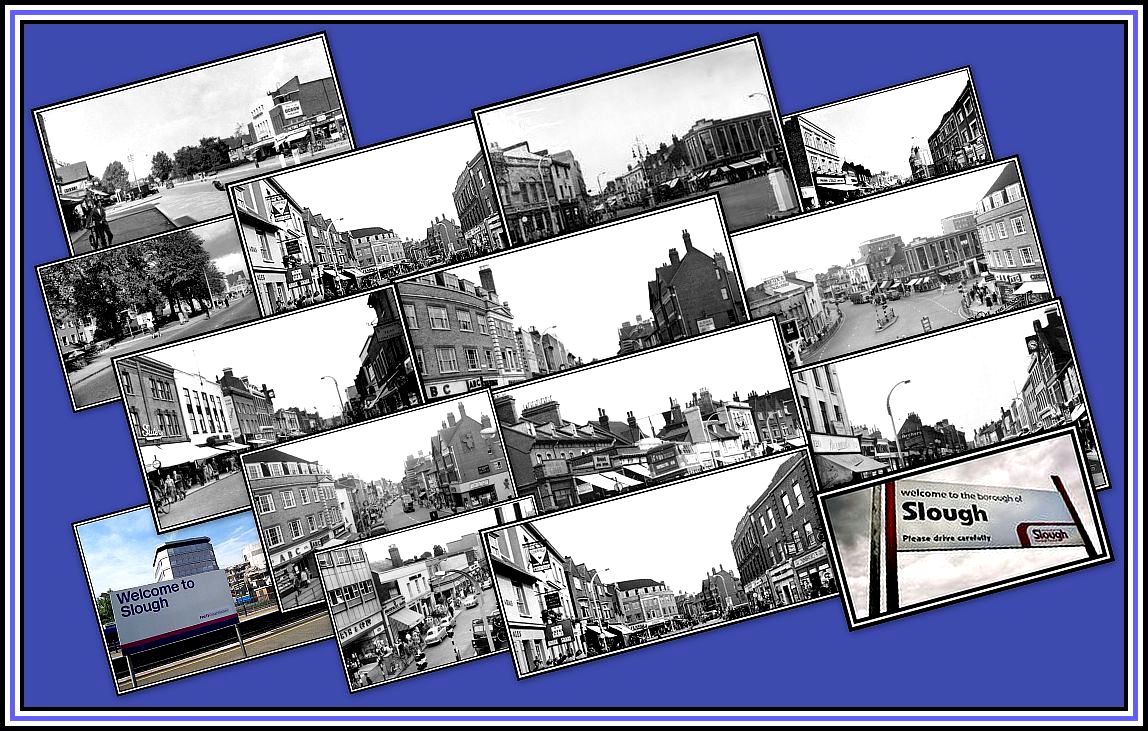 Views of Slough during the early 1950s
During our visits, we went to Langley and other areas around Slough to look at the available housing and schools and ended our visits by wandering around the town to check out the shopping.  Between 1955 and 1957, the town was known as Slough Safety Town, as it had been chosen to for a experiment in methods to lower road fatalities.   Seemingly the town had been interested in safety long before this, as the first Zebra Crossing was installed here in 1951 when they were required by law.

Perhaps the most famous Zebra Crossing in the world
Naturally in our wanderings about the town, I found nothing of interest, while my mother was very positive about the place and impressed with most of what she saw.  Actually, although I say that I found nothing of interest, this was not entirely true, but more of that in a later section.
In 1956, High Street Slough was part of the Great West Road, A4, which was the major London-to-Bath Highway, and built in 1925 and opened by King George V and Queen Mary.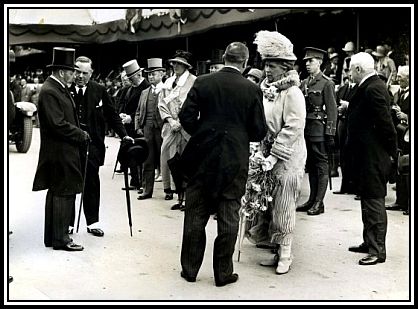 The A4 was an extremely busy road and was dangerous to cross.  It would be a number of years before the M4 would be built to take through traffic around the town and area and so help relieve some of the traffic congestion in the town centre.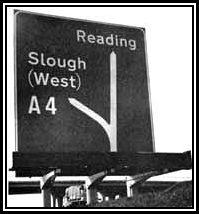 Apparently the Slough area was plagued with many road accidents and deaths at the time now that the traffic had increased.  The town fathers were aware of the dangers to both pedestrians and drivers and had introduced various bi-laws and campaigns to help reduce the numbers of accidents.
Logo of Safer Place – Slough – launched in February 2012 by Thames Valley Police
One thing that they did to remind the townspeople of the dangers was to install a beacon in the centre of the town.  This beacon took the form of a huge street lamp with a red and a green lamp at its top and was installed at the town centre's major crossroads, Crown Corner.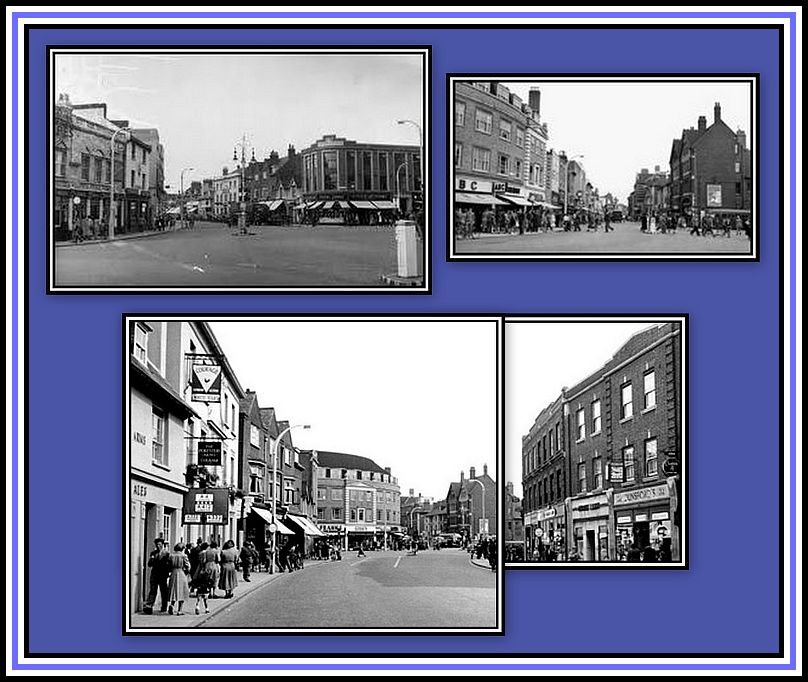 Views from the crossroads at Crown Corner during the 1950s
Top Left: looking west from the Crown Corner towards the Bath Road;
Top Right: looking towards Crown Corner from the Crown Corner at the start of the Bath Road
Bottom: looking towards Crown Corner from further along the Bath Road
Unfortunately, these are the best quality photographs that I have been able to find
of Crown Corner.
If any reader has any photographs of the Crown Public House and/or Crown Corner,
I would be happy to hear from you.
When someone was killed on a Slough road, the red light shone to announce the tragedy.  Presumably we, the townsfolk, were meant to hang our heads low and feel shame.  And when no one had been killed for a while, the green lamp was to shine.  I presume now that folks walked with an added spring in their step!  Sadly, I do not recall the green light ever glowing atop that huge pole while I lived in the area.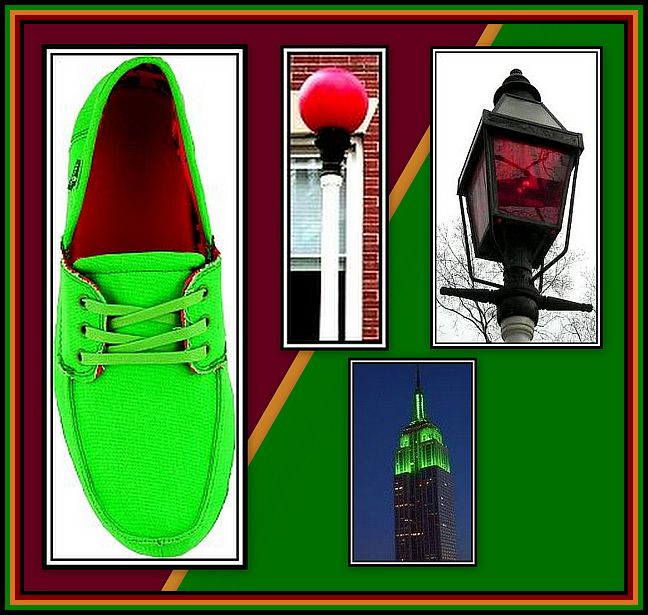 Another of the safety features of Slough was to install traffic lights every 50 yards or so throughout the length of the High Street.  Naturally this caused much annoyance to drivers. They complained that it took an age to drive from one end to the other.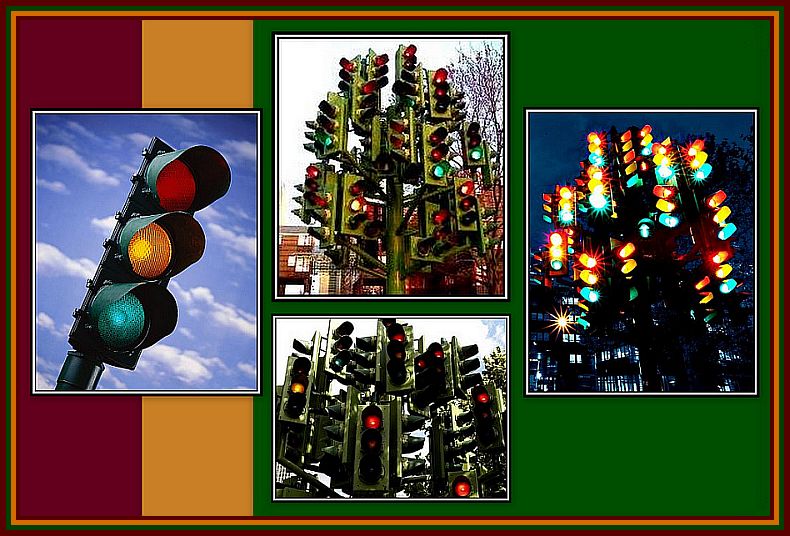 The traffic lights were fitted with indicators that told pedestrians when it was safe to cross. This was the first time I ever saw …… DONT WALK ….. flashing at me to inform me that I may not cross the narrow road.  What struck me about the sign was the lack of apostrophe. I found its absence irritating and complained at the poor grammar, which was very amusing since, at that time, my written English drove teachers crazy and caused them to hurl my exercise books across the room in frustration, disgust and despair.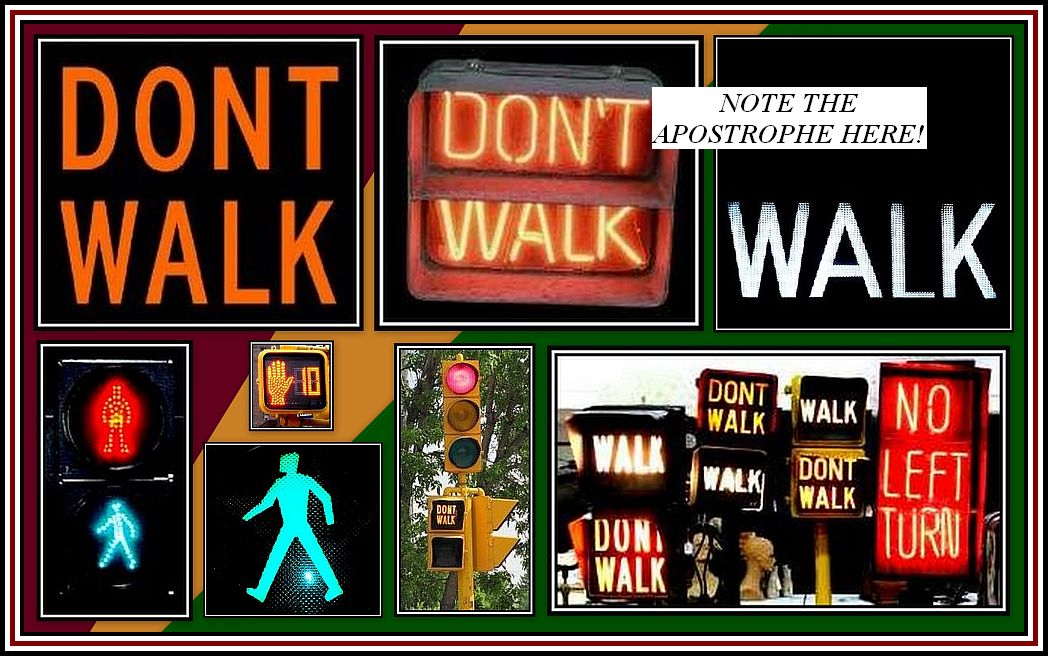 The High Street was indeed a nightmare for drivers and pedestrians alike.  As it was the town's main shopping area, people were constantly overflowing the narrow pavements and spilling into the road much to the irritation of bus drivers and car owners alike. Despite the traffic lights and crossings, pedestrians still zigzagged their way across the road whenever and wherever they chose causing drivers to jam on their brakes and screech to a halt.  As a result, the High Street was busy, noisy and dangerous.
Perhaps not QUITE this busy, but near enough on a Saturday afternoon
As a point of note: despite living at one time at one of the most dangerous crossroads in London (Mile End Gate) and going to school close to another (Gardner's Corner), I never saw a road accident at either site …… ever!

Mile End Gate (Left) & Gardner's Corner (Right)
Neither crossroads is as dangerous as they were in the past.
Each has crossings where the pedestrian is told when to cross.
The first road accident that I saw was on the outskirts of Slough in Langley.  I remember that it was a Friday evening and when I came to the London Road (A4), I remember seeing a car smashed to smithereens and a second that had been flipped over.  I did not stay to watch.  I had been brought up to get out of the way and allow the police to work.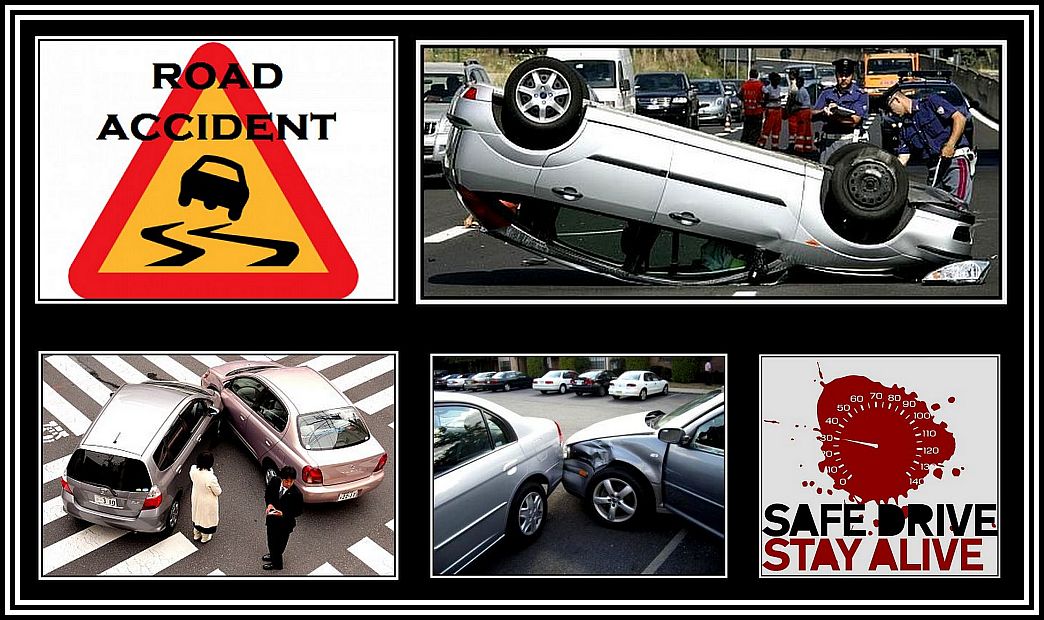 The Crown was a large pubic house at the town centre that must have been an inn of some standing on the Great West Road during the days of the coach.  Now it was just another town pub.  However it stood on the corner of the town's main crossroads and was had become the meeting place of the local Teddy Boys.  The town fathers had metal barriers placed around the perimeter of the crossroads to force pedestrians to use the proper the crossings provided.  These barriers offered an ideal support to lounge against, which the vast numbers of Teddy Boys who hung out here took full advantage of during the 1950s and 1960s.  The townsfolk were not pleased by this vast herd of oddly clad youths and complained bitterly about them.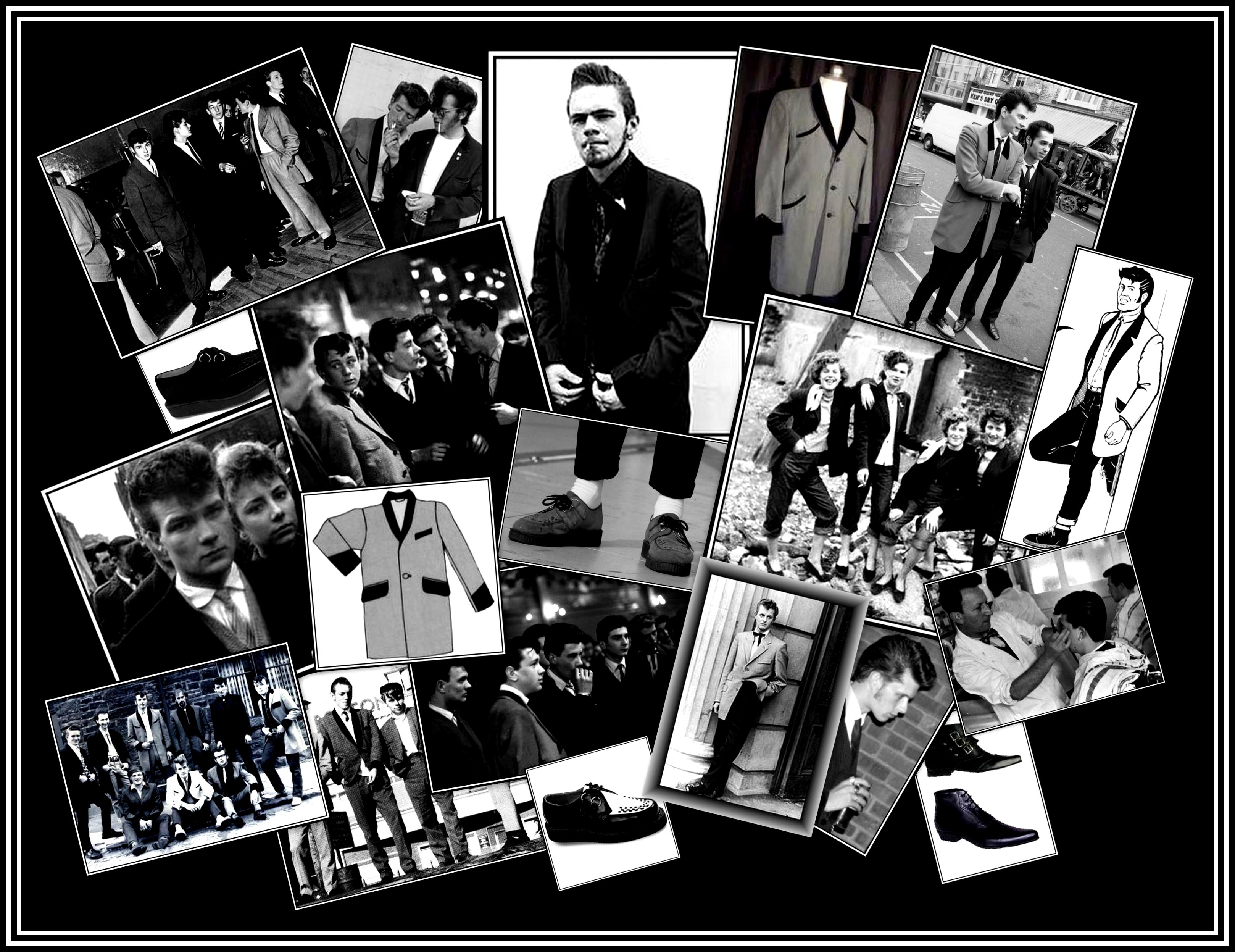 Teddy Boys (and Girls)
I remember that my parents were surprised to see so many Teddy Boys in one spot.  I don't believe their number in Bethnal Green was anywhere near as large.  The Teds were a source of interest and wonder to me during at the time.  Since I was young, I was impressed by their apparent sense of rebellion, and besides, they also like Rock 'n' Roll.  Eventually, I got to hang out with them, but not for too long since what impressed and interested me changed.  Once I went away to college, I noticed that their numbers dwindling each time I returned for a visit until eventually they disappeared all together!  Evidently, Old Teds, like Old Soldiers, never die ….. they just fade away!
During these visits, we discovered that Slough had the usual shops and department chains: F.W. Woolworths, British Home Stores, Littlewoods and Marks & Spencer.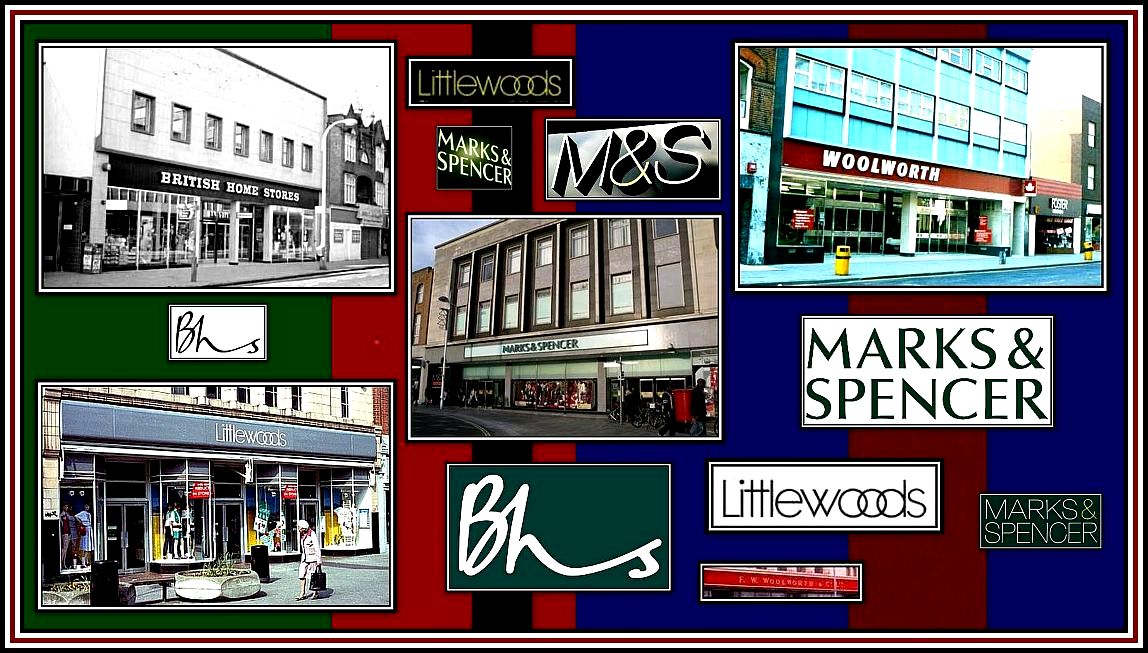 The Large Department Chains
In addition there were smaller shops specialising in the sale of particular products such as cigarettes, confectionery and clothing together with an endless number of banks and building societies.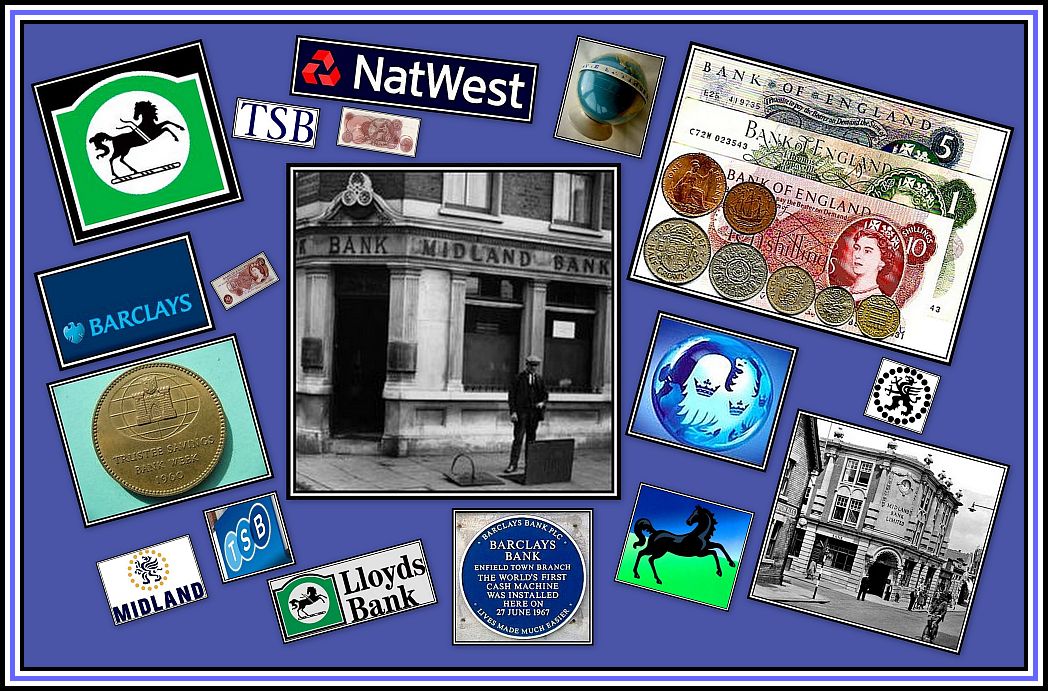 High Street Banks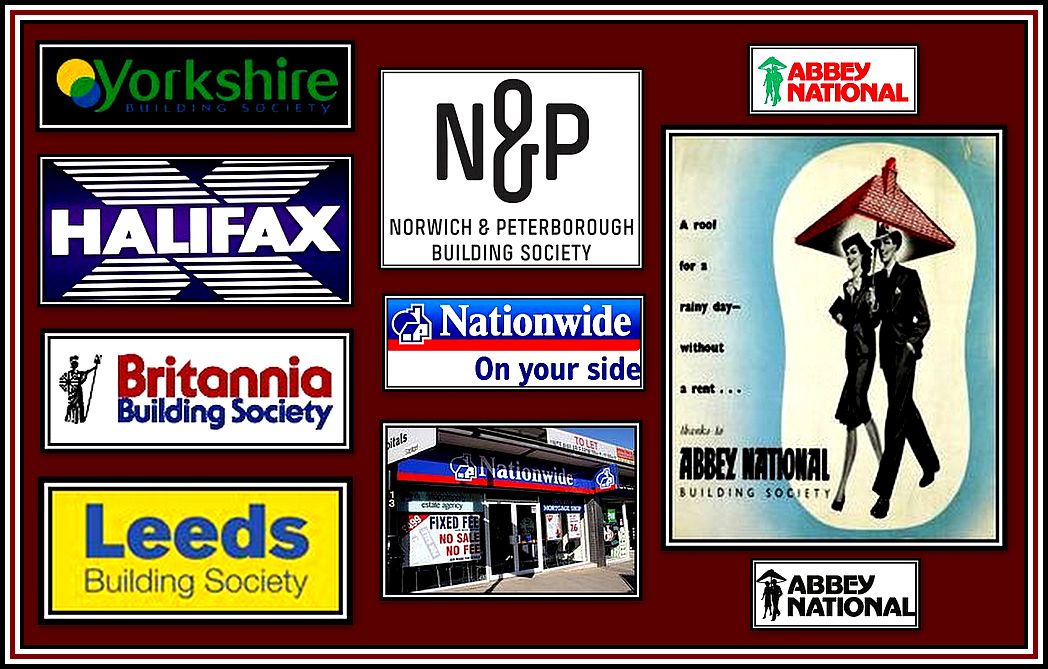 Building Societies
At this time, I was not used to such a well-planned shopping precinct.  I had been brought up with street markets and was used to the stalls of The Waste on Whitechapel Road, Bethnal Green Road, Roman Road and the fabulous Ridley Road!  Later I discovered Slough's Covered Market, which although refreshing to find, did not quite equal those of my childhood.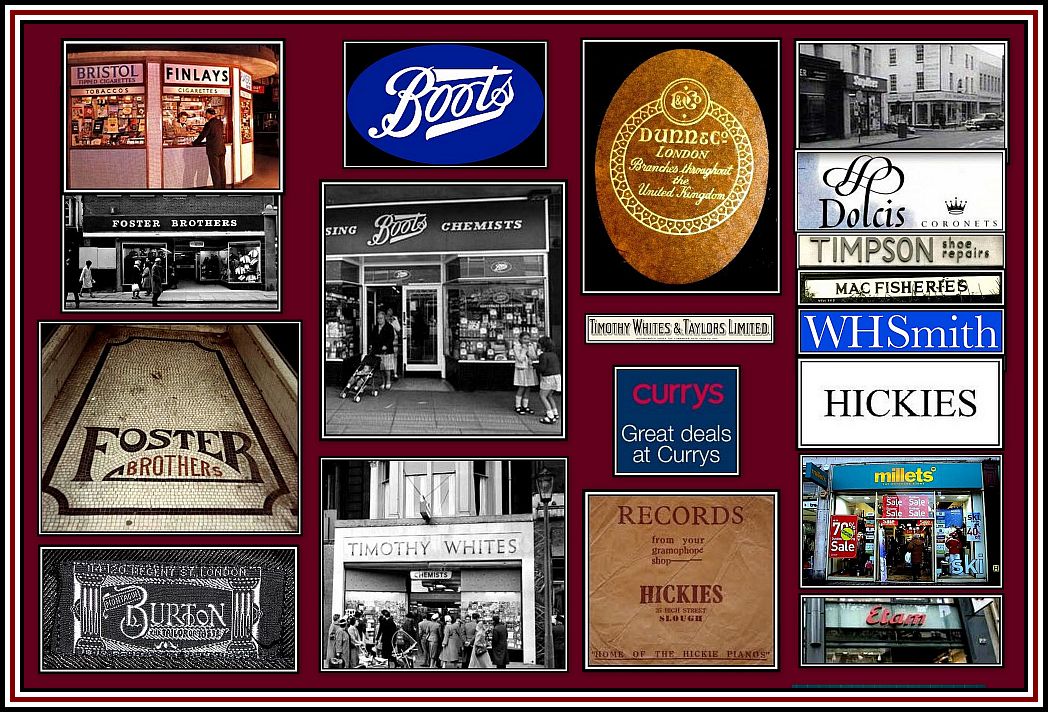 A Few of the High Street Shops
Slough, like most towns of the time, had its own unique department store, Suters, where supposedly quality goods were sold for the discerning customer.   The East End had unique department stores too.  There was Wickham's in Mile End, Dawson's on the City Road and a store in Clapton whose name sadly I can never recall.  However the clientele of these East End stores were nowhere near as snooty as those of Suters.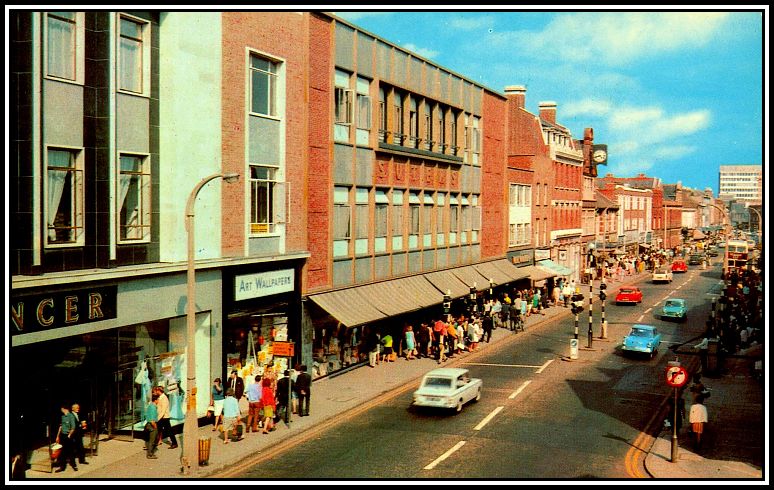 High Street Slough with Suters on the Left
Suters had apparently occupied its premises on the High Street for many years.  It was a tradition for the more affluent inhabitants of Old Slough to shop there rather than travel to London whenever they required something a little more special.  These people rarely shopped in Woolworths!  I found the shop and the goods for sale to be both old fashioned and expensive and never bought a thing there.  However, once I was older and whenever I was trying to impress a young lady, we would take luncheon or perhaps morning coffee in its restaurant.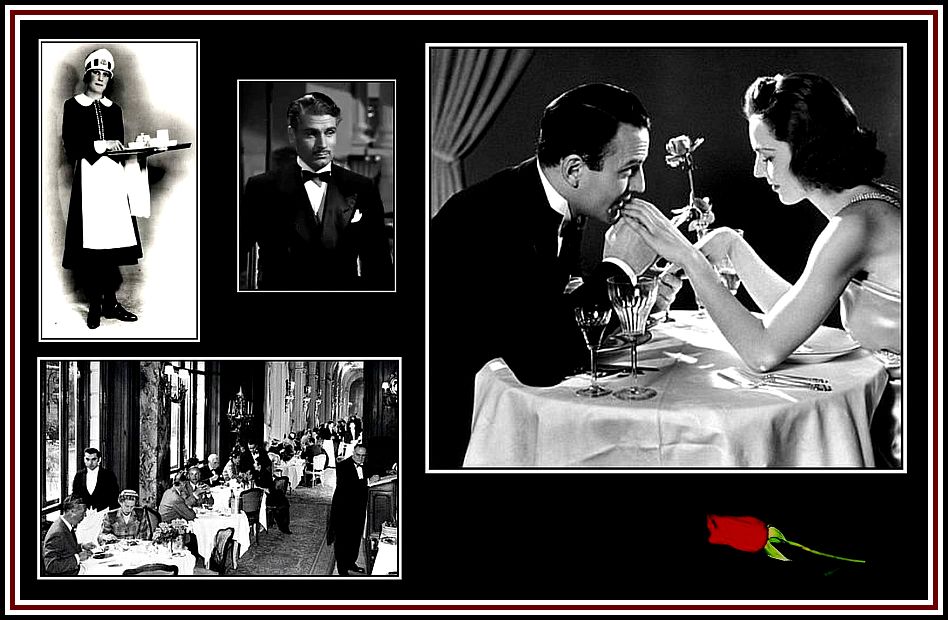 One of the things that really helped put me off Slough when I first visited it was the women of Old Slough.  What I did not know before moving here was that the townsfolk were very much miffed that their town had been chosen for the construction of housing estates to be filled with vast numbers of Londoners who either had lost their homes during the war or else were being re-housed since their homes were considered no longer unsuitable for living.  Bringing together two peoples of such different backgrounds is rather like a cold and hot mass of air coming together: sparks will fly.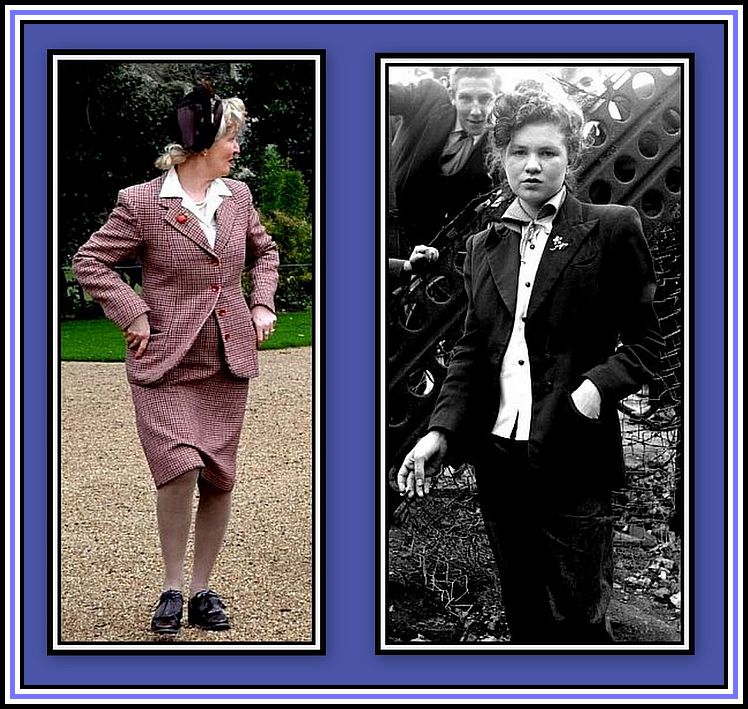 Tweeds & Teds
The dislike of Newcomers was expressed most loudly by the middle-aged and old women of Old Slough.  These women were born here or nearby and had lived here or in its vicinity all of their lives. These ladies had grown angry and more than a tad bitter at what they saw as an invasion of dirty, ignorant lay-abouts and gutter-snipes from London who were now overrunning their town.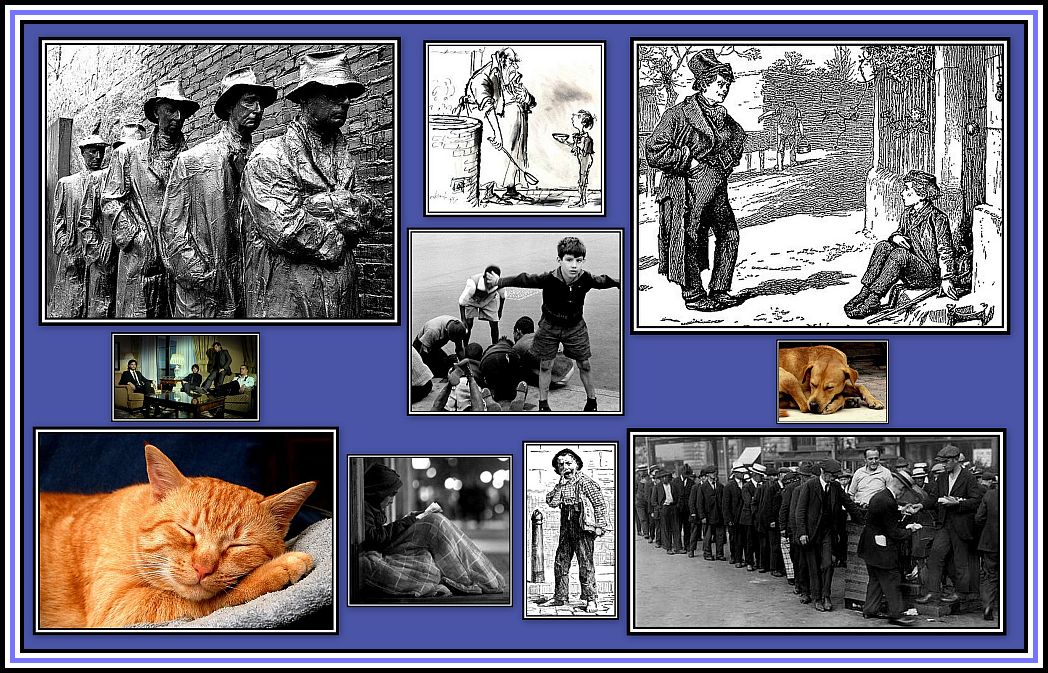 During our early years in Slough, we were often insulted by such ladies. They were annoyed that buses were constantly full and that no one stood up and gave them their seat. They complained about the children and said that they were noisy and lacking manners. They complained about a host of other things too.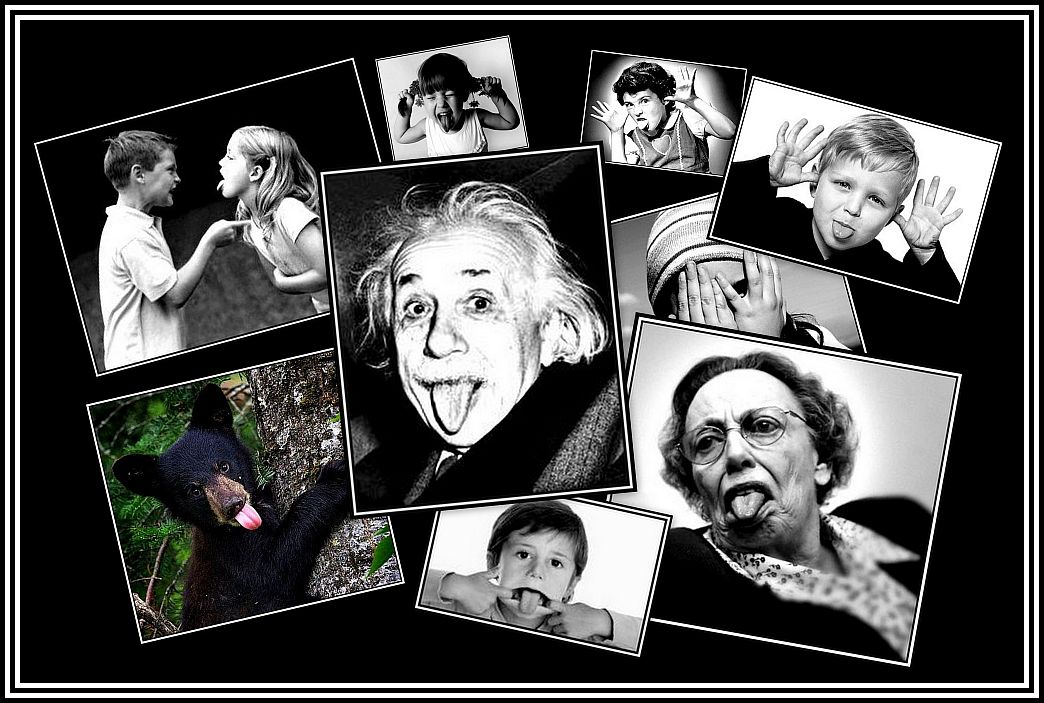 These women were easy to recognise since they had a uniform and wore snarls on their faces.  They all seemed to carry silly little baskets, as my father called them, on their arm into which they placed their purchases.  On their heads, they wore wooly hats or berets in dull boring colours.  Most were clad in long shapeless swagger coats that hid the fact that they were women or else beige or blue raincoats both of which were too long.  They also wore thick dark brown stockings and sensible shoes with a slight heel and more often than not carried umbrellas, which I think were held more as a weapon than for future protection against rain.  They all seemed to have angular features with prominent pointed noses and had either no lips or else thin ones.  As a result, they never smiled.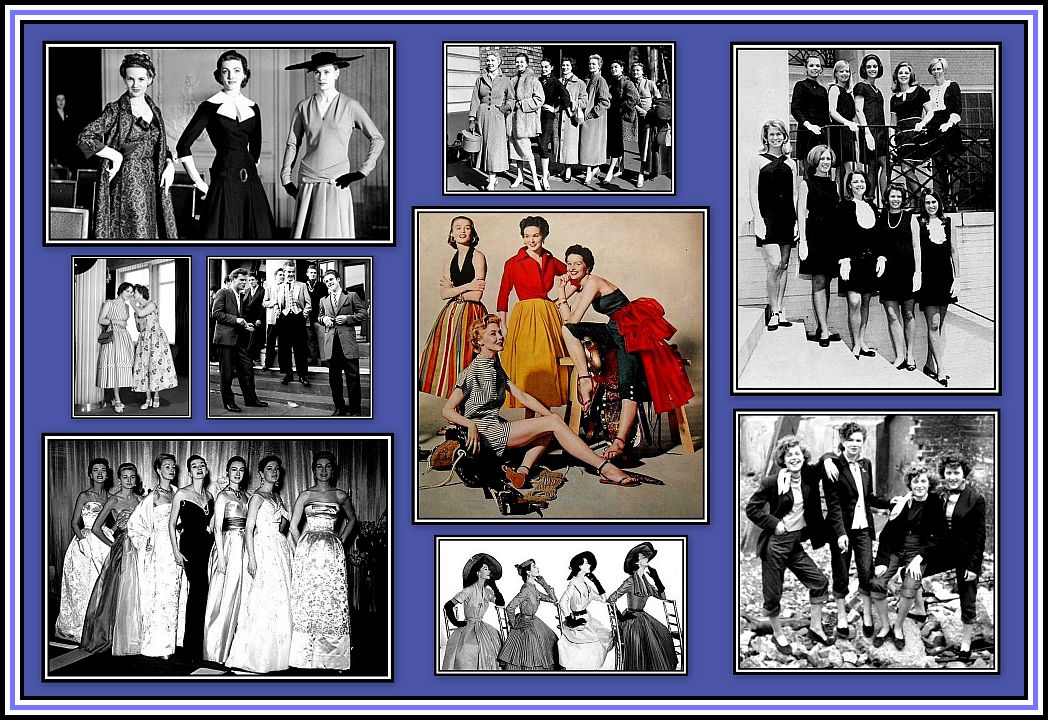 Fashions of the 1950s
To be fair, and I hate to be fair to these women, many of their complaints had merit: buses were constantly full and town services were stretched to the maximum and insufficient for the needs for the growing population.  Despite the influx of a great many new residents over a short period of time, few increases in any amenities were made. Had the authorities made some provision to accommodate the increase in population, Old Slough and Newcomers might have learned to get along faster than they did.
I remember these women with no affection and neither did my father.  He disliked them perhaps more than me.  Although a working man, my father had middle class pretensions about him.  My mother believed that this came from his being born in Dulwich!  I agreed with her, but I fear that his dislike stemmed and was fueled each time these pointed-nosed women rejected his attempts to engage them in simple polite conversation.  My father was not used to being rebuffed and took such an affront personally and deeply.  He would cause my mother and myself to almost choke with laughter when he went into a rant about them.  He channeled much of his anger against their baskets, which for some unknown reason, seemed to annoy him most of all.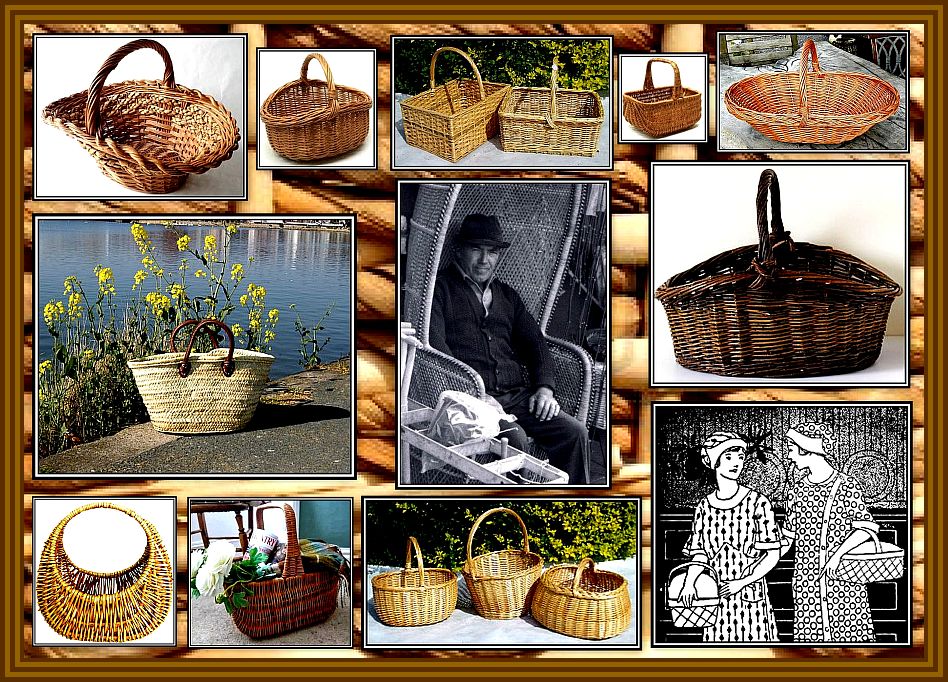 My Father sat in a Wicker Chair
The woodcut comes from The Project Gutenberg E Book of A Thousand Ways to please a Husband
Slough High Street was an extremely long street.  However, those shops furthest from the Crown were at a distinct disadvantage since by the time most people got halfway along the street to where F.W, Woolwich once was, they had generally made their purchases and were ready to go home.  Shops here sold things like wallpaper and curtain material.  One of the last shops in the High Street was a very dull music shop, Bucks Music Stores.  Several years later, I was to work here on Saturdays, but the shop had changed somewhat by then.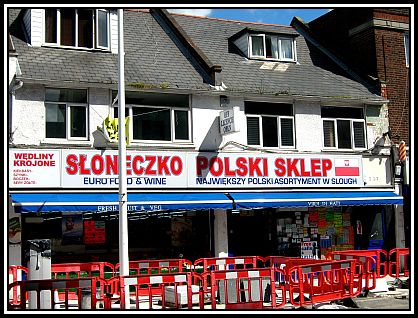 The Erstwhile Bucks Music Stores now a Polish Emporium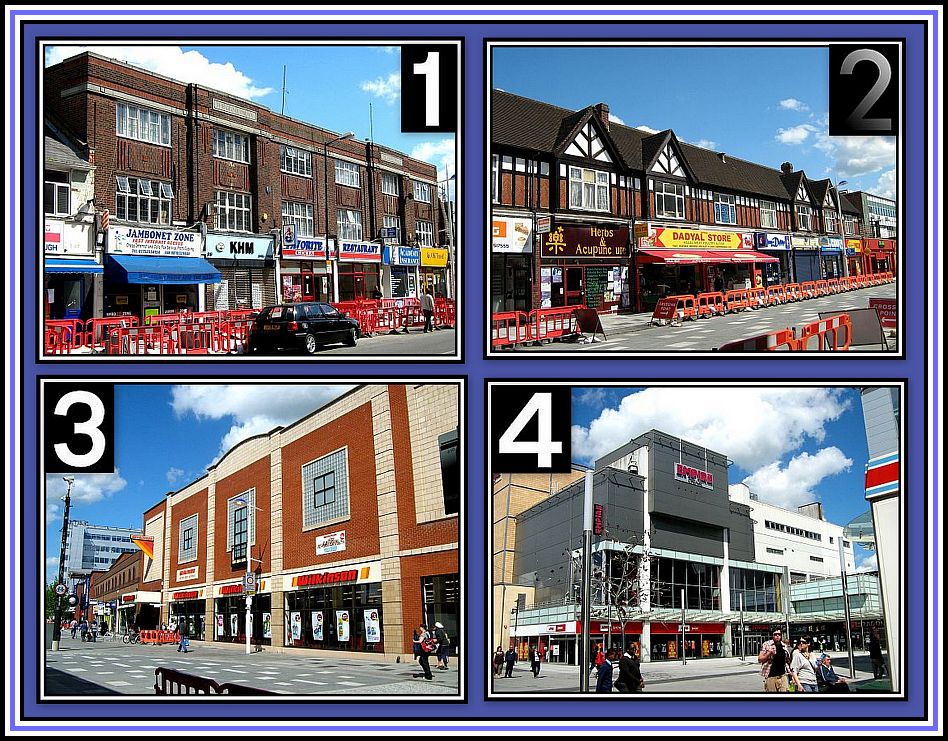 The North Side of the Far End of the High Street
looking from West (1) to East (4)
1: The Grove Parade
3: Site of the erstwhile Century Theatre
4: The Empire Multiplex (once the site of the Carlton Ballroom)
in the Queensmere Shopping Centre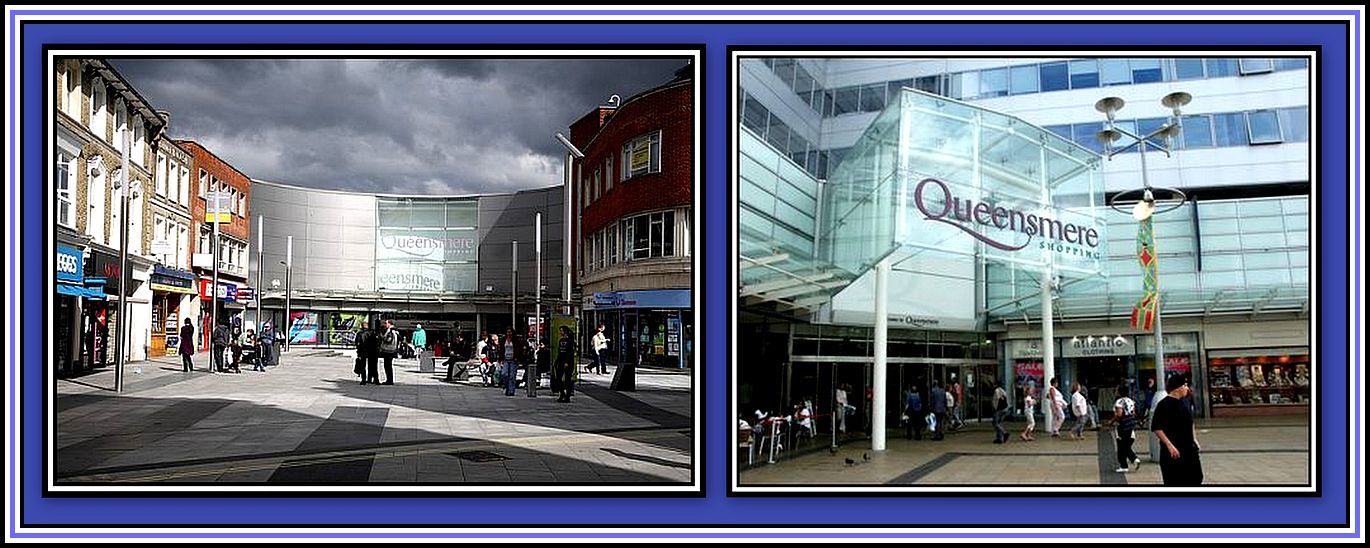 Queensmere Shopping Centre in 2011
(Left): one entrance to the Mall is via MacKenzie Street, which once lead to Slough Station
There is now a second Shopping Mall in Slough, The Observatory,
where once stood the Century Theatre
One shop also at the far end of the High Street that dares to be mentioned was the Slough & District Cooperative Society Store.  We did not have a Co-Op in Bethnal Green and the only one I had seen up to that time was the Royal Arsenal Cooperative Society in Woolwich.  I cannot say that the East End of London – by which I mean Bethnal Green, Stepney, Shorditch and Hackney – was overloaded with Co-Ops.  However, my mother soon learned from neighbours and others that she had to join the Co-Op since they gave a Divi!
This is the only photograph I have been able to find of the Co-Op Store in Slough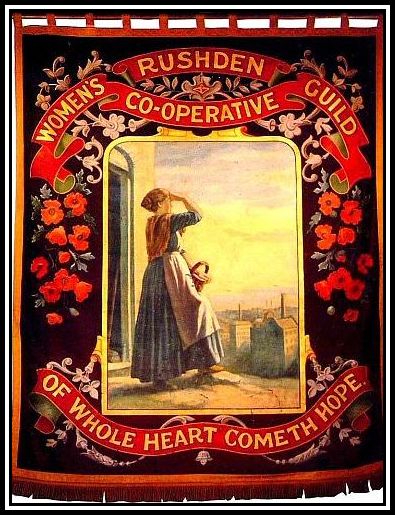 (I have included this banner here since I like it!) 
I remember soon after moving to Slough accompanying my mother to the Slough & District Cooperative Society Offices  and, after filling out a number of papers, being given our Divi Number.  For years my mother was part of the Profit Sharing-cum-Rewards Programme that allowed her, as a member-cum-shareholder, to reap a few pennies at the end of the year and so partake of the profits made by the company.  Later she used to sit at her kitchen table after putting her groceries away and stick the trading stamps that she was given into a book, which were redeemable for money at the Offices.
The Co-Op Slough  was not a particularly appealing department stores.  Like Suters, it was stocked with old-fashioned furniture and clothes.  Certainly nothing that appealed to me.  Again, like Suters, it was also filled with Old Slough  customers and populated by snooty sales personnel.
About halfway along the High Street, was the Carlton Ballroom.  I was a bit too young to be especially interested in it when I first moved to Slough.  However not long after our move, I started to go there on Sunday afternoons and occasionally during the week.  Some years later, I saw The Rolling Stones there who were on the verge of gaining nationwide prominence.  The ballroom was unfortunately demolished after I left Slough to make way for the Queensmere Shopping Mall  and a Community Centre with a theatre, which was converted into the Maybox Cinemas in 1987, which would be the first of many names for this multiplex.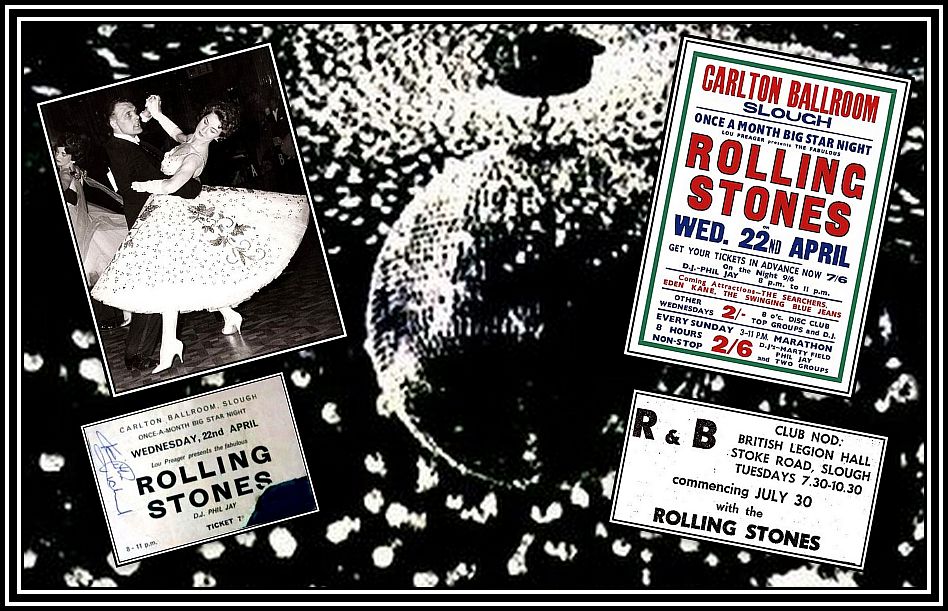 I remember walking past the Carlton Ballroom with my parents during my first visit to Slough and noticing the Century Cinema.  I was not overly impressed, but I suspect that this was due to my mood that was black from the thought of moving out of London.
Little did I realise what a gem this cinema was until I finally went inside.  And little did I realise that this cinema was supposed to be referred to as a theatre!
—ooOoo—
As a point of interest, at sometime in the 1970's, Suters became part of the Debenham group of stores and the Co-Op moved out of Slough Centre and opened a huge stores where the old Dolphin Stadium once stood.
—ooOoo—
We moved to Langley on 6th November, 1956 and I attended the Orchard Secondary Modern School for one term and then went to Slough Technical School, which at the time was on William Street in the centre of Slough, just a few yards from Crown Corner.  Sadly, in July 1957, the school closed down and was demolished to make way for the new College of Further Education.   In September 1957, we went to a new school close to Farnham Road, just behind Slough Community Centre, which was then called Slough Technical High School (the school is now known as Herschel Grammar School).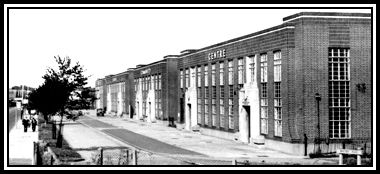 Slough Community Centre, Farnham Road
(demolished in 1997)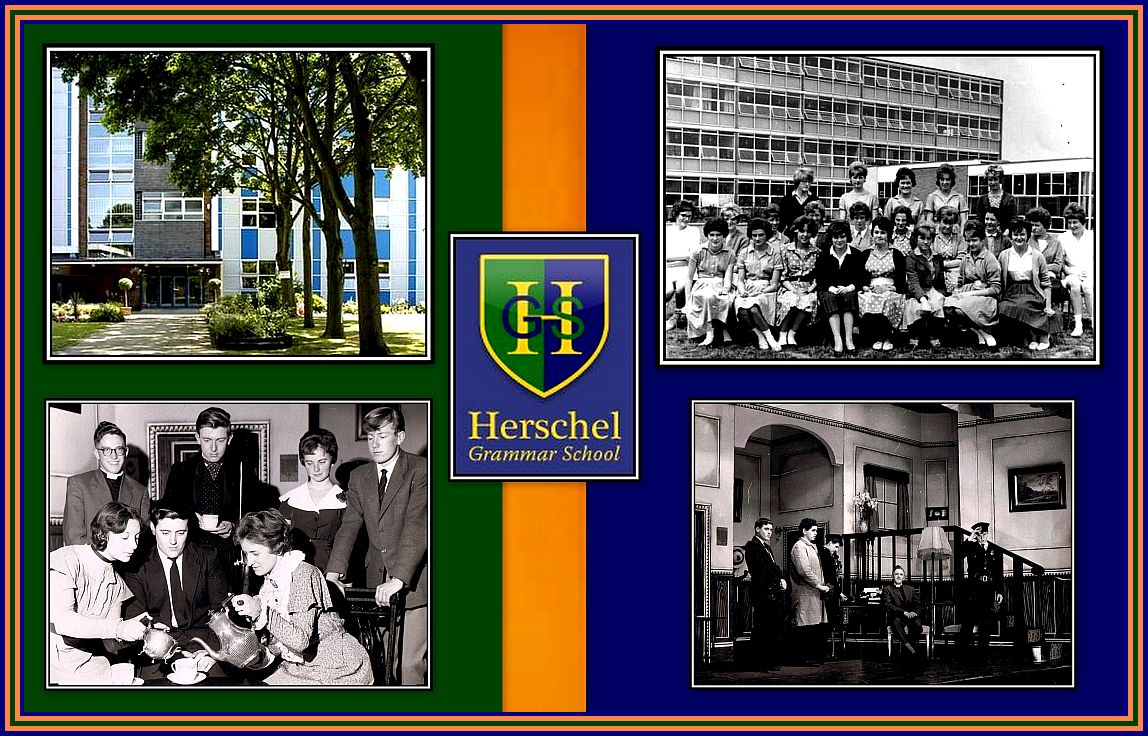 The Erstwhile Slough Technical High School and now Herschel Grammar School
Top Left: main entrance to the school; Top Right: a girl's class in the 1960s
Bottom: scenes from the 1961 school production of Arsenic & Old Lace
I remained in Langley until October 1962 when I went away to college.  Naturally I returned to Langley periodically during my later education years, but finally left on the 6th November, 1968.  After that, I only returned periodically until September 1992, when my mother moved to the U.S.
Click here to go to PART TWELVE:
THE SLOUGH GRANADA THEATRES & MISS CANDY
PAGE TWO: THE CENTURY THEATRE OF SLOUGH
——oooOOOooo——
Click here to go to PART THIRTEEN: THE END OF AN ERA
——oooOOOooo——
Click here to return to PART ELEVEN:
THE GRANADA THEATRE WOOLWICH
——oooOOOooo——
Click here to return to THE GRANADA THEATRE CIRCUIT
Home Page
——oooOOOooo——
Click here to return to the TABLE OF CONTENTS
——oooOOOooo——