THE WANAMAKER ORGAN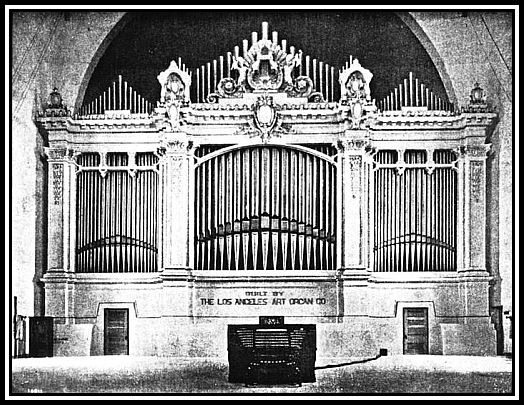 The Grand Concert Organ in Festival Hall of the St. Louis World's Fair, 1904
—ooOoo—
PART EIGHT:
THE GRAND EVENING CONCERT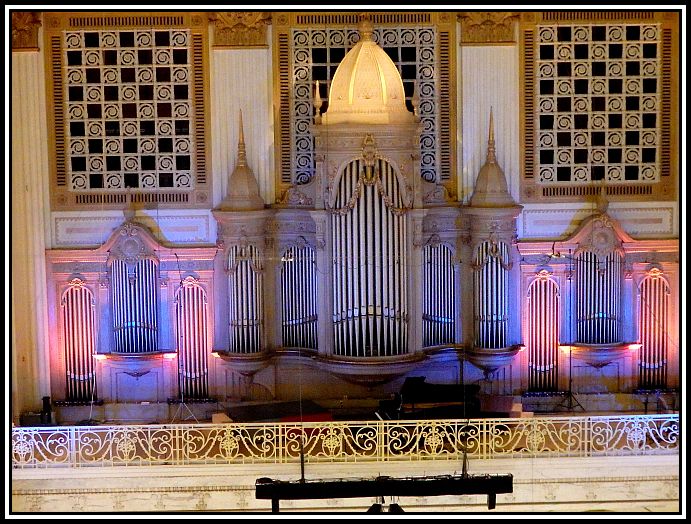 The Stage before the Organ Casing
-oOo-
FINDING A SEAT ….. AGAIN
At last!  It would soon be time for the pièce de résistance ……. The Grand Evening Concert!  This was very exciting.
I came back to the Grand Court in what I thought was going to be in good time to find a seat.  However, I was wrong!  The places around The Eagle, which I had been told were the best places to sit in order to hear the Organ at its best, were all taken, as had almost all of the remaining places.  The seats in the Shoe Department were also taken.  Sadly, I learned that once the store closed, no one would be allowed to go and find suitable spots on the first or second floor.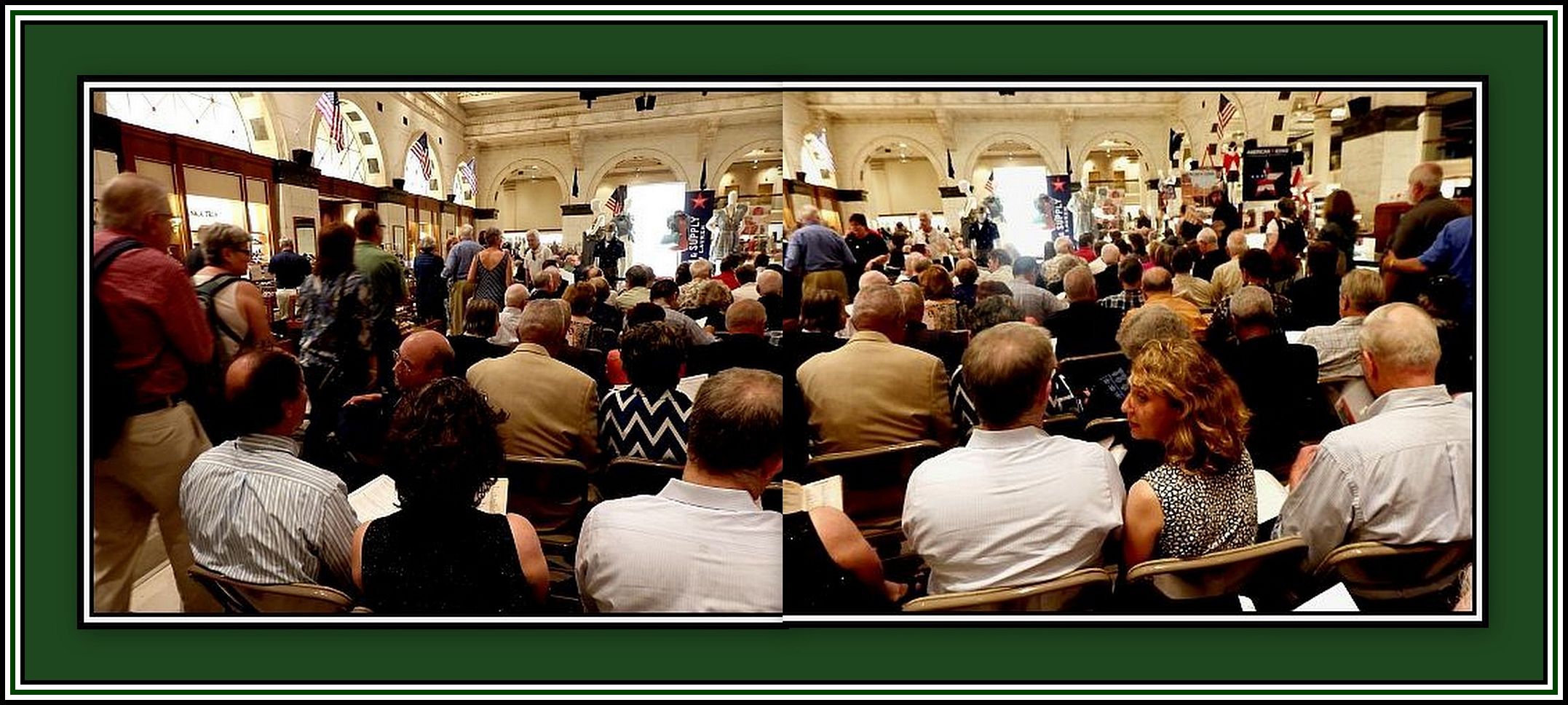 I began to look more closely for a free seat since I did not relish the thought of standing throughout the concert.  I wanted to sit peacefully on a chair and allow the music to sweep over me and become lost in it!  How about that for a dramatic wish?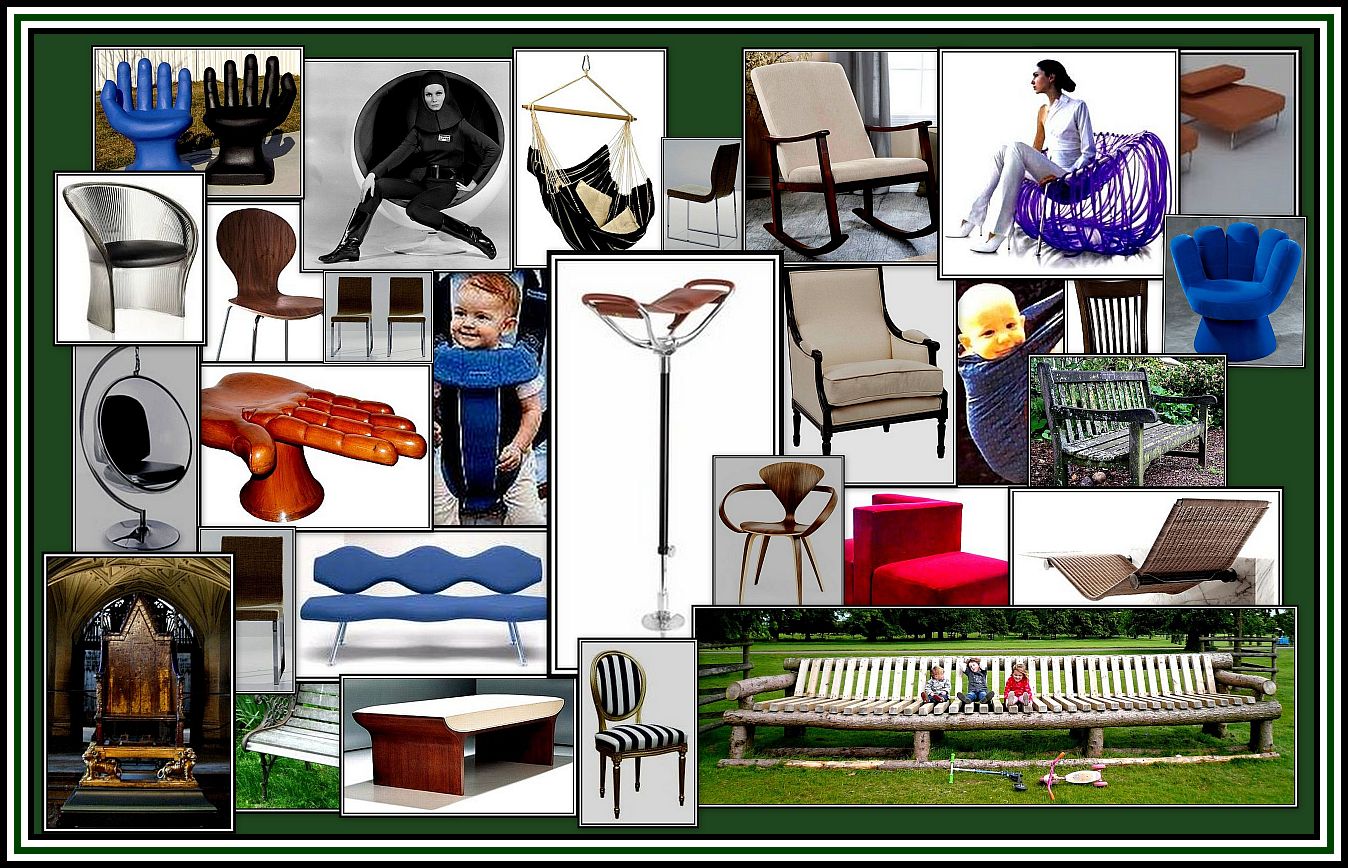 Finding a Seat
I started at the back of the seating area and slowly made my way forward.  I found an occasional empty seat, but when I asked if it was free, I was told that it was being saved for an absent friend.   I started to get a trifle desperate, as if I found no seat, it would be Standing Room Only.
Eventually, about halfway down the rows of seats, I came across a single seat next to the seat adjacent to the left aisle.  Perfect!  I asked the man seated at the end of the row and the lady seated to the right if the seat was free and learned that it was.  What luck!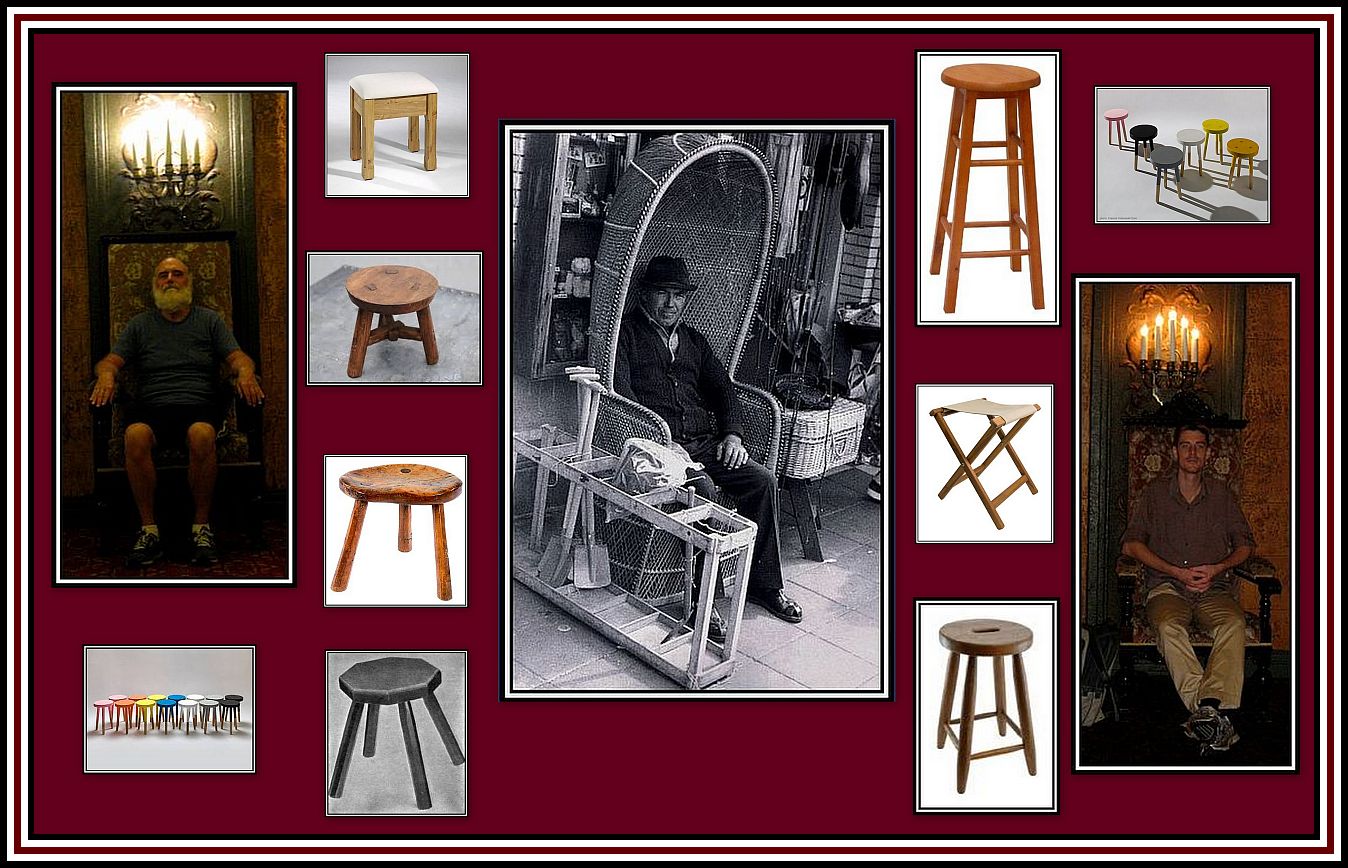 I took my seat, and after settling into it, tried to strike up a conversation with the gentleman to my left.  He was a remarkably small man, well dressed, polite, but obviously not in the mood to talk, as he offered monosyllabic replies to what I said and continued to read his programme.  I had more luck with the lady to my left.  But more of my companions in the the Appendix of Part Eight.
-oOo-
THE PRE-CONCERT SHOW
The Grand Evening Concert was slated to begin at 8.30 p.m., which is when the Store was to close.  Just before this time, an announcement was made to inform us that the Store would be closing at 9 p.m. that evening, thus putting the start of the Concert back by thirty minutes.  Fortunately while others shopped for that vital piece of clothing, we were to be entertained.
-oOo-
I had to smile when I heard that the concert was postponed for a while and that in the interim we would be entertained.  I wondered what this actually meant.
I remember as a child, while waiting at Saturday Morning Pictures to begin, we were often entertained, and the entertainment was us!  Here we were required to take part in a SING-SONG!  We were led in song by a member of the cinema staff and expected to sing a number of songs that were supposedly well-known to us.  Even as a child, I found such an expression of group jolliness to be embarrassing and still dislike being asked to take part in a Group-Sing or Group-Anything for that matter!
Click here to hear one of the few songs that I was not totally adverse to!
Click here to hear Colonel Bogey – I remember the Sing-A-Long leader at Saturday Morning Pictures asking us to whistle this tune, but young boys being young boys, immediately began shouting out the rude lyrics that every kid in the UK learn, much to his horror!
-oOo-
Gezelligheid!  This is a Dutch abstract noun that can mean convivial, cosy, fun, quaint or a nice atmosphere.  It can also describe the feeling of belonging or a sense of togetherness that gives a warm feeling.  This sounds very nice, and I suppose that it is in principle.  However, when I lived in The Netherlands, it was a word that was used to describe a feeling one developed when one sat with one's colleagues at the end of the week or with people that you hardly knew and drank too much!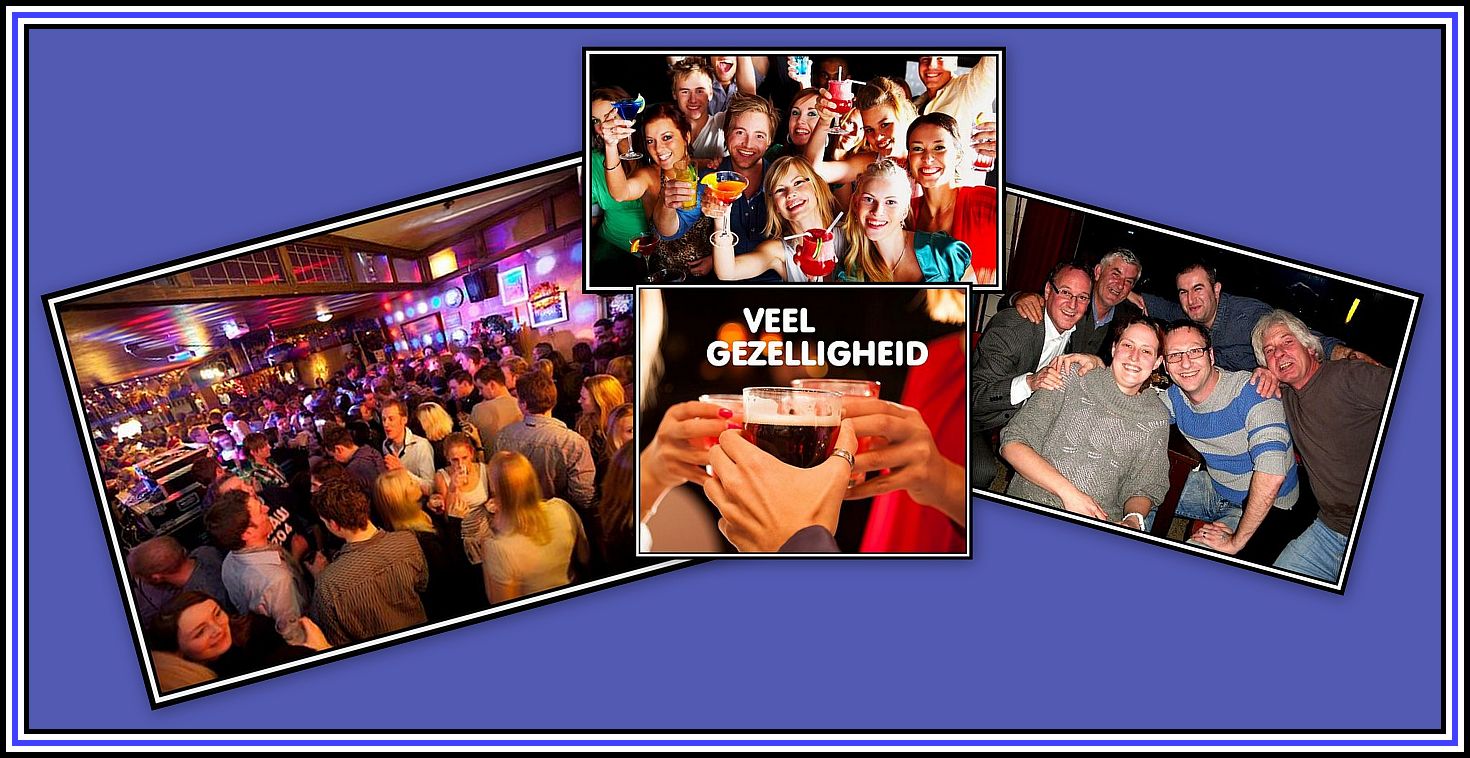 A Dutch Sing-A-Long
One generally ends up getting drunk with members of the group and pretending great friendship for people that they most likely dislike or would never see again.  Not wishing to take part in these Friday Evening Drinking Sessions could be taken badly by colleagues and lead to one being ostracised.  However, when one was a part of such gatherings, one generally felt like death the next day!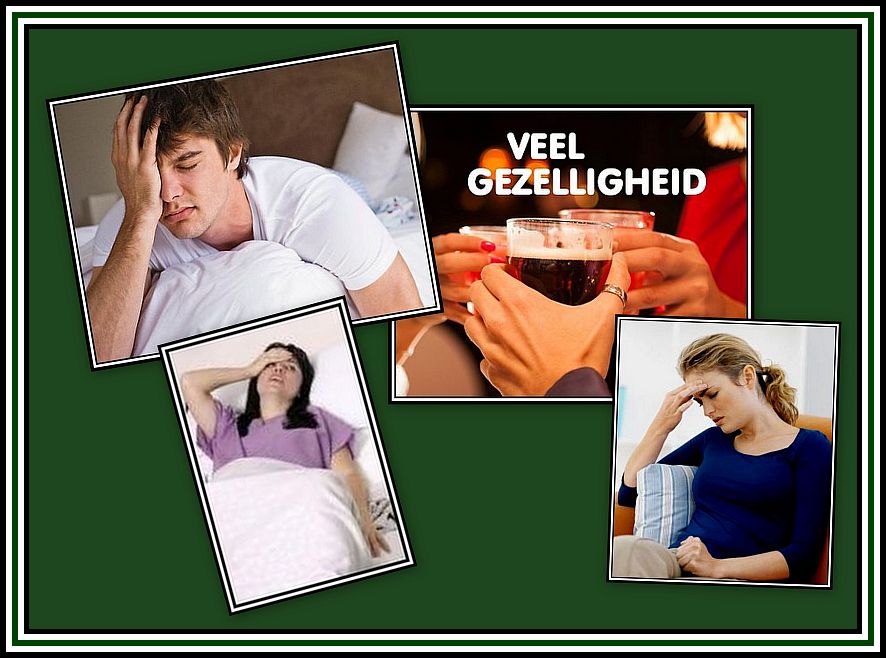 Sing-A-Longs and Group Gatherings send shivers through me and remind me of those times of forced-Gezelligheid and how one often felt the day after!
-oOo-
To be honest, I am not totally adverse to all forms of Sing-A-Longs or Community Singing.  I quite like it at Football matches.  I used to go to Green Street as a kid to watch West Ham United play at Upton Park.  I always enjoyed hearing the crowd sing the team song (or anthem, as they are now called), I'm Forever Blowing Bubbles.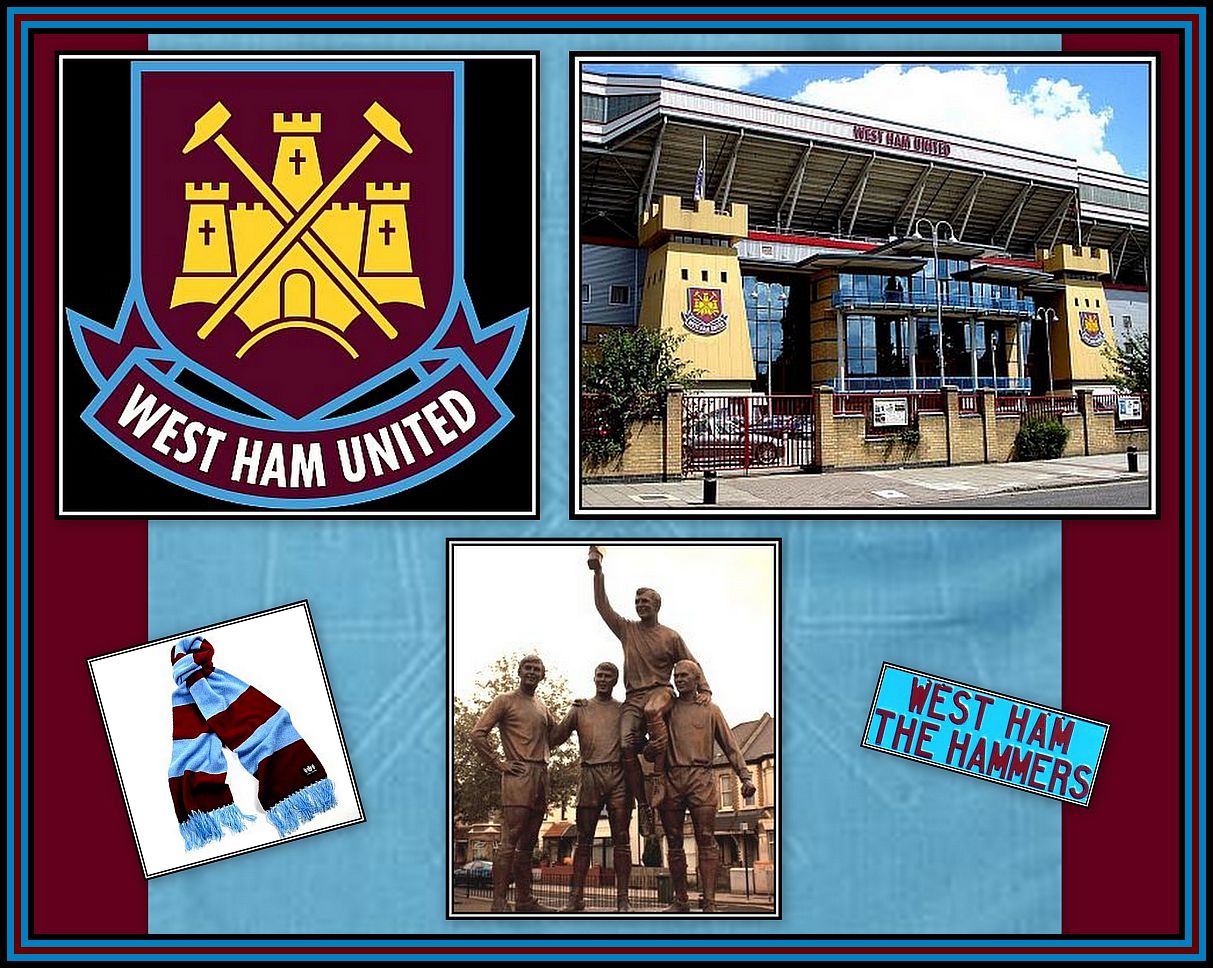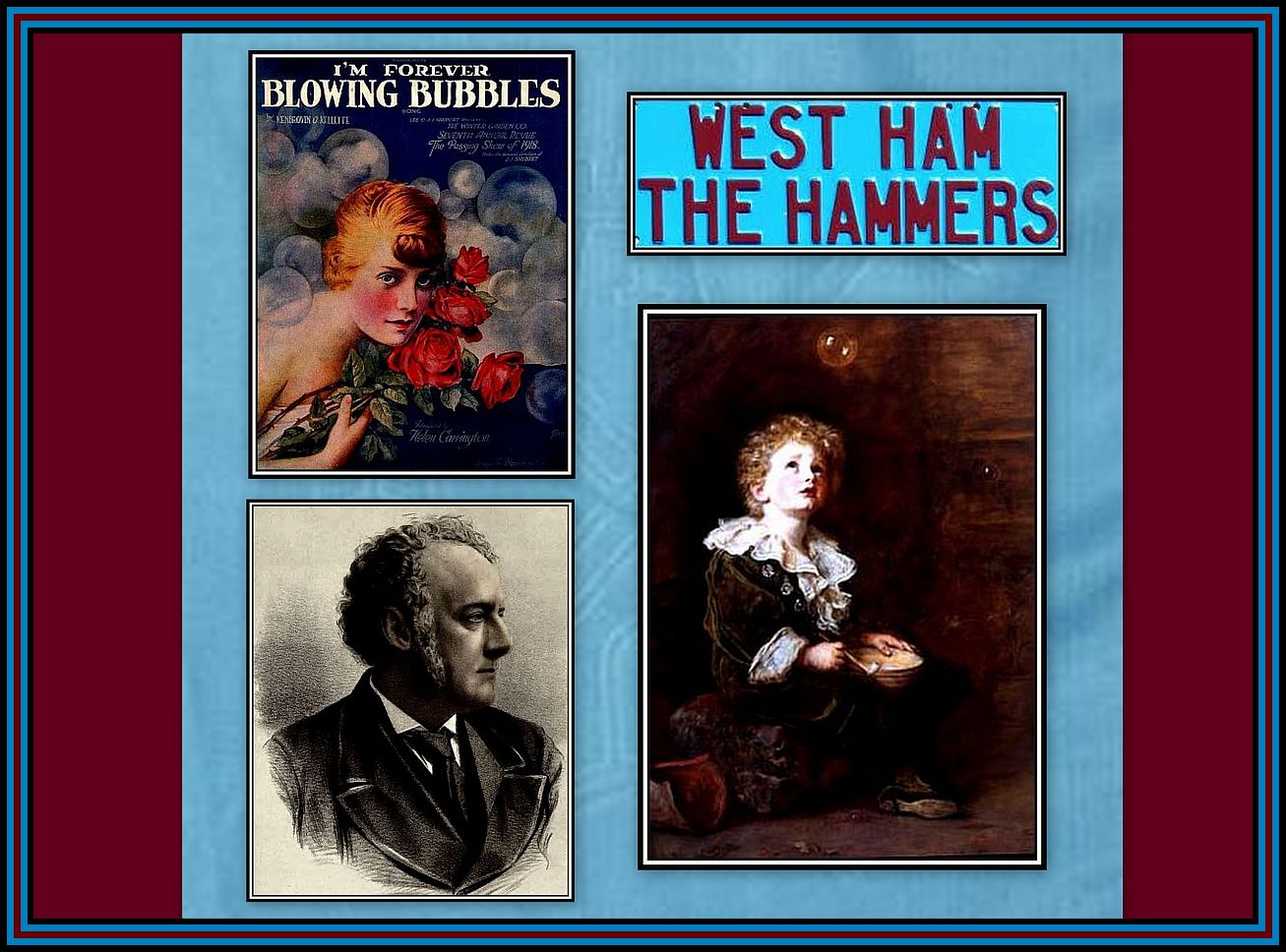 The anthem is believed to have been inspired by  Billy J. Bubbles Murray, who played  for West Ham FC in the 1920s and seemingly bore a resemblance to the subject of the painting by John Everett Millais (1829-1896), Bubbles.   The painting was used at the time and for a number of generations to advertise Pears Soap.
I also liked hearing the Liverpool fans sing, You'll Never Walk Alone.  The anthem was introduced following the recording by Gerry & The Pacemakers in 1963 and was originally heard in the stage musical, Carousel.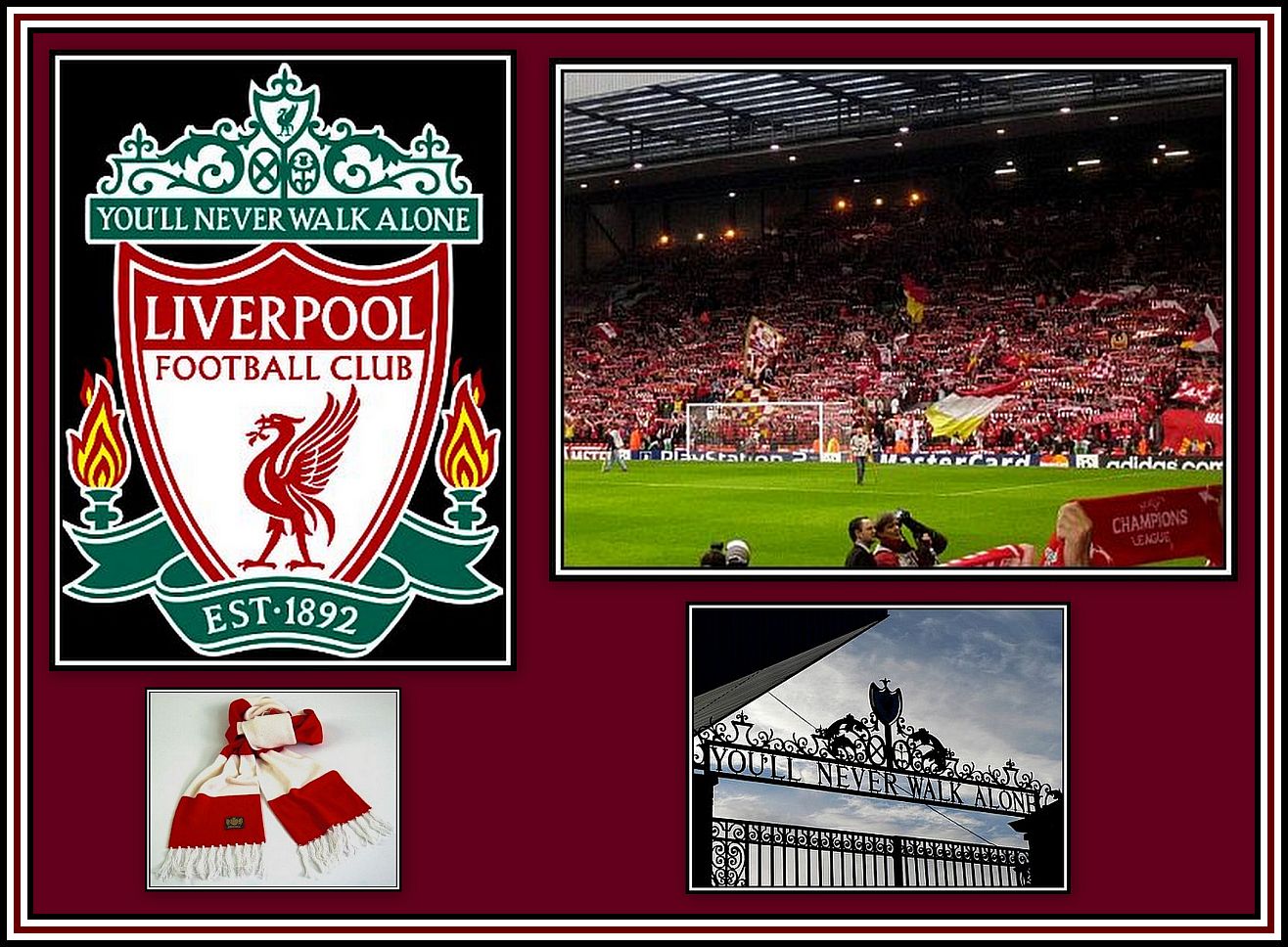 Top Right:  The Kop Stand  of  Anfield Stadium;  Bottom Right:  The  Shankly  Gates  named for  Mr. Bill Shankly, manager of Liverpool FC between 1959 & 1974
-oOo-
Click here to hear West Ham United FC Fans sing their anthem
and click here to hear Liverpool FC Fans sing theirs
-oOo-
However, the best singing that I recall, was the Community Singing that took place before the playing of the F.A. (Football Association) Cup Final when it was played at the old Wembley Stadium (built in 1923, closed in 2000 and demolished in 2003).  The great Pele once called the Stadium The Cathedral of Football …………. and to think, they still demolished those towers!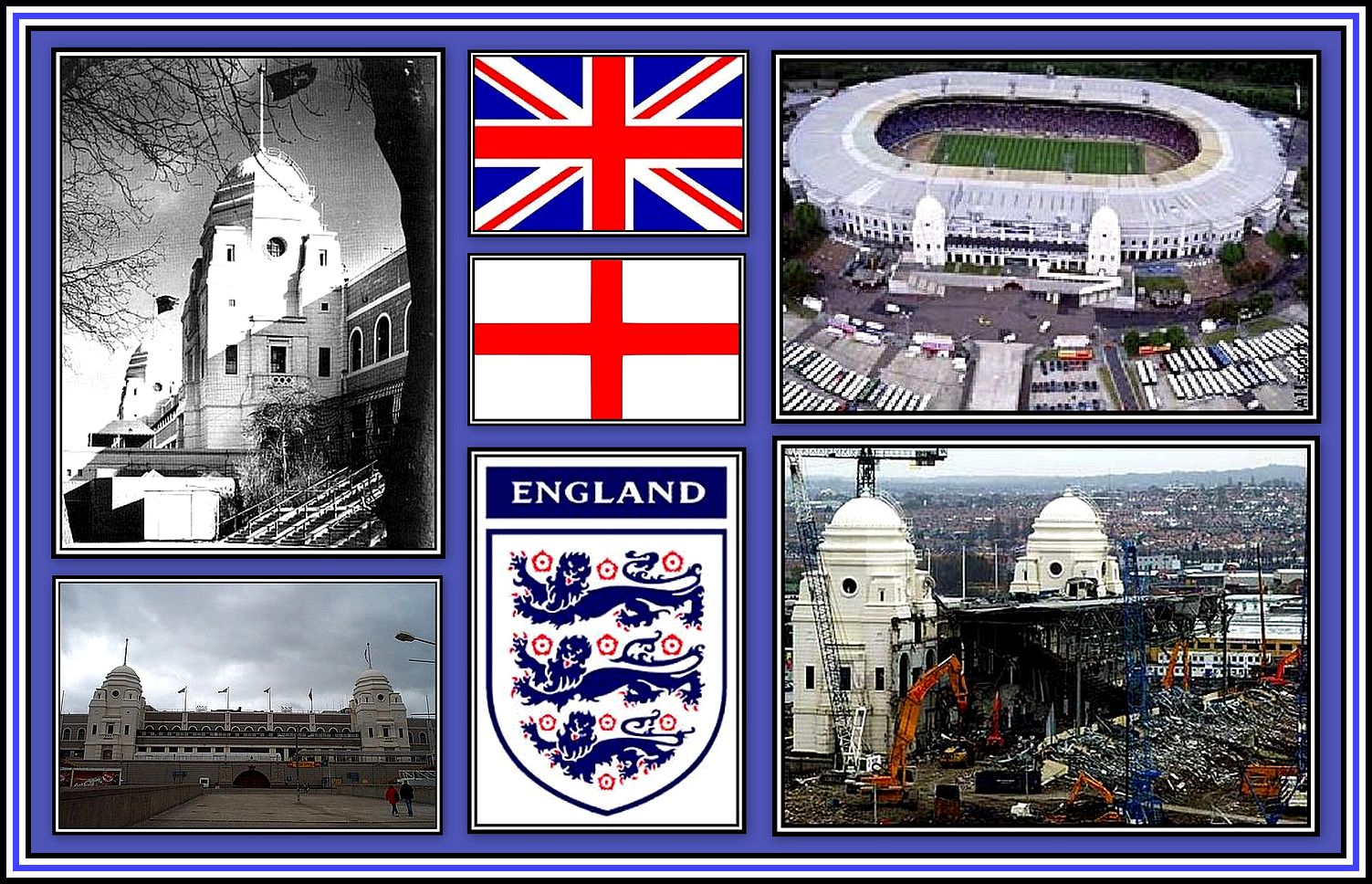 Old Wembley Stadium (1923-2000)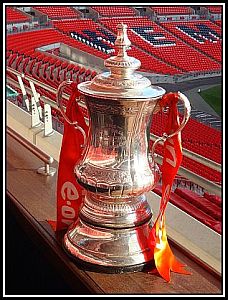 The F.A. Cup Trophy awarded between 1911 to 2013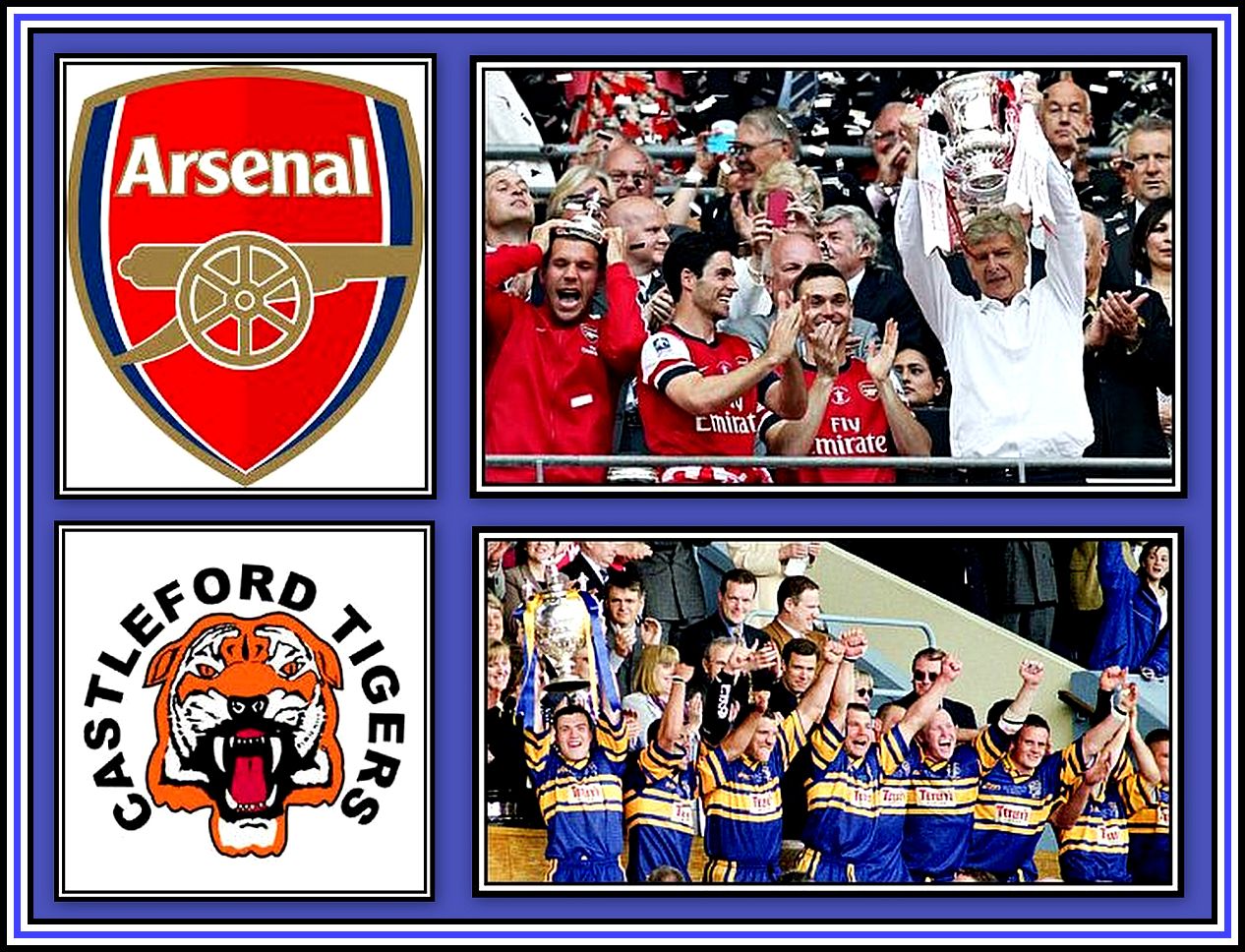 Top:  Arsenal  FC, 2014  F.A. Cup Winners;   Bottom:  Castleford  Tigers,  2014   Rugby League Challenge Cup Winners
-oOo-
When I was a child, the Community Singing was led by a man called, Mr. Arthur Caiger (1890-1964).  He was known to everyone as the man in the white suit.  He had trained as a teacher at the Church of England's Culham College for Schoolmasters between 1911 and 1913.  With the outbreak of the First World War, he joined the army and was awarded the Distinguished Conduct Medal (DCM) and Bar for bravery.  Following the war, he returned to teaching and eventually became a headmaster.  He had gained a reputation for his abilities to lead large groups of people in Community Singing and in 1947, he was asked to do this at the F.A. Cup Final, which led to his leading the Singing at football internationals. rugby matches and school hockey and football international games. He did this until 1962 when illness with Parkinson's Disease forced him to retire.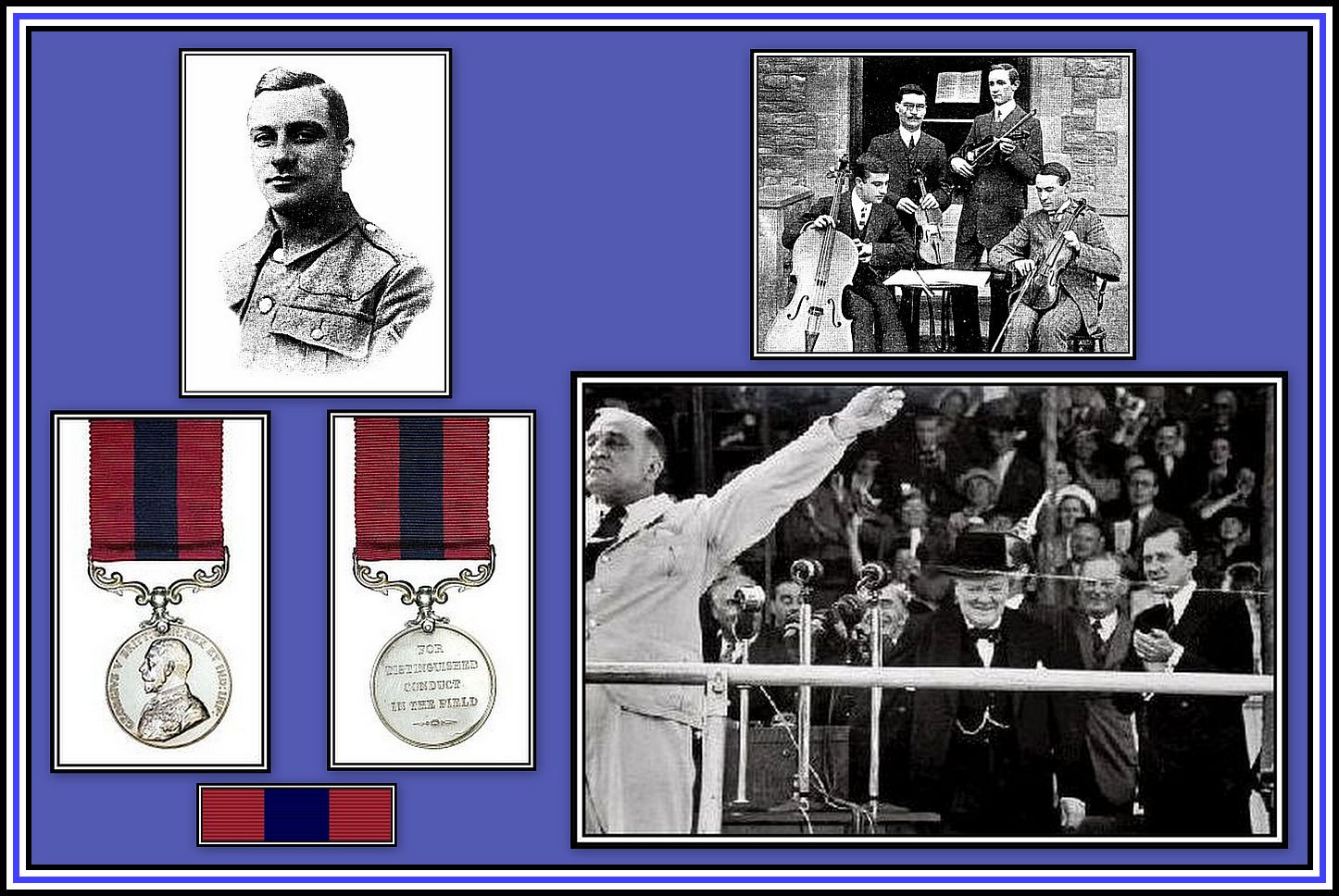 Top Left: Arthur Caiger, soldier; Bottom Left: DCM & Bar; Top Right: At college with ensemble; Bottom Right: At the F.A. Cup Final with Sir Winston Churchill (1874-1965)
Although Mr. Caiger was not the first nor the last to led the crowd in Community Singing at the FA Cup Final, he was certainly the best remembered with affection.
I remember that the hymn, Abide with me by the Reverend Henry Francis Lyte, was always included in the Singing.  In fact the hymn has been sung at the F.A. Cup Final since 1927 and was apparently originally included by the F.A. Secretary, Sir Frederick Wall, after he learned that it was a favourite of King George V who was to be in attendance.  It has also been sung prior to the kick-off of the Rugby League Challenge Cup Final at Wembley Stadium since 1929.  The hymn was also said to have been a special favourite of the Mehatma.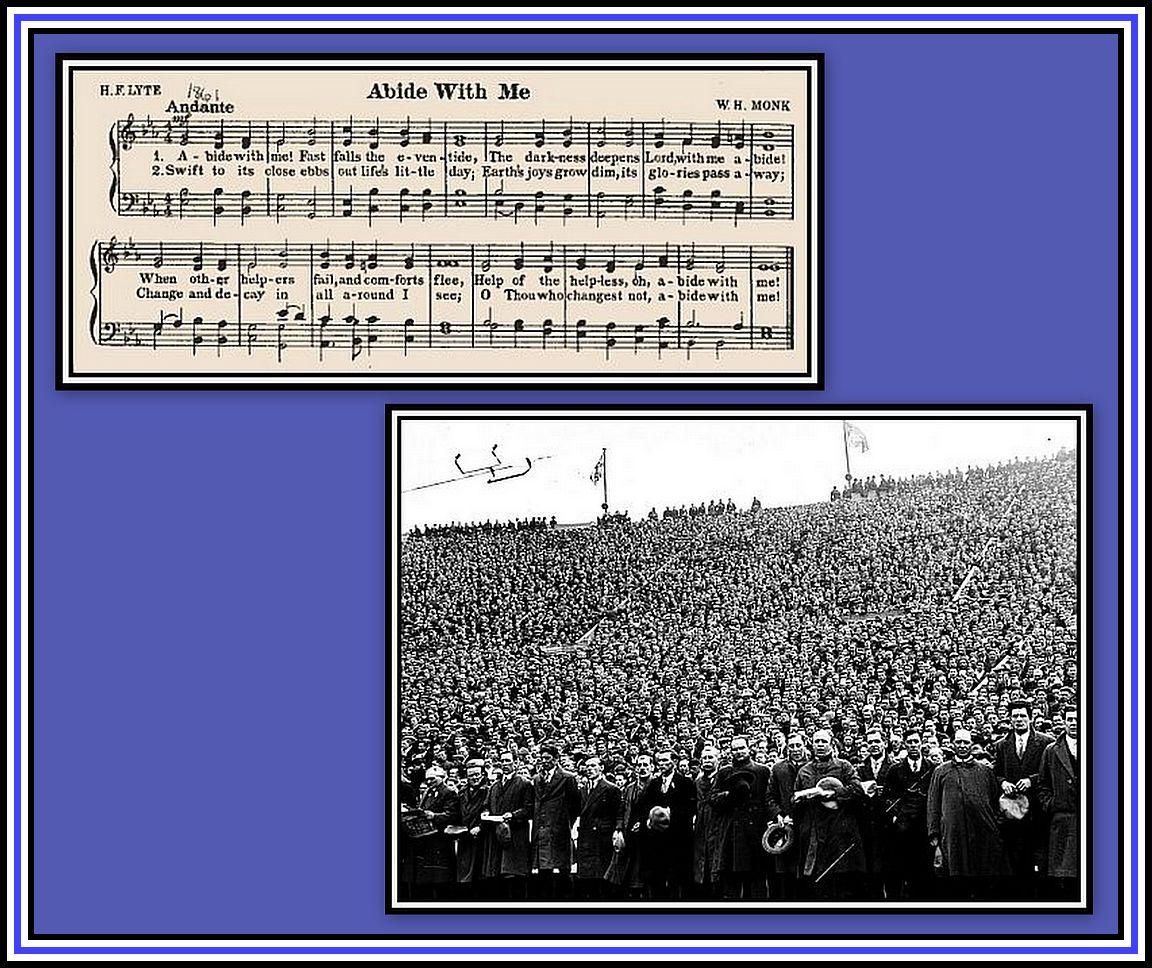 The singing of Abide with Me* by West Ham Supporters (1928) – note almost everyone has removed their hats
* Sung by Kathleen Jenkins, a singer I am sorry to say I have only just discovered
-oOo-
The crowd sings Abide with Me at the F.A.Cup Final of 1927 (the singing begins at ~1.00 m)
Rhydian Roberts sings Abide with Me at the 2011 Rugby League Challenge Cup Final
Click here for a traditional Brass Band version by The Band of HM Royal Marines
-oOo-
It sad to say that Community Hymn Singing declined in popularity in Britain during the 1960s.  Crowds preferred to Sing-A-Long to current popular songs played over the public address system or to their anthems.
The F.A. tried hard to retain the tradition of Community Hymn Singing at Cup Finals by hiring celebrities such as Tommy Steele, Frankie Vaughan and Bruce Forsyth, to lead the crowd, but this did not help revive its popularity.
From Left to Right, Tommy Steele, Frankie Vaughan & Bruce Forsyth in their younger days
Eventually, Comminunity Hymn Singing at Cup Finals came to an end a few years ago, except for the singing of Abide with me.  Apparently, I have been told that the crowds had the habit of singing alternative vulgar lyrics to the hymns, which embarrassed both the F.A. and the Television Companies.  (I keep forgetting that we now live in a world where good manners and decent behaviour are no longer prized.)
At recent finals at Wembley Stadium, a current popular singer or singing group are invited to attend and sing Abide with me.  Some members of the crowd are seen to join in, but most do not.
-oOo-
At half-time, when I was a kid, the crowd was further entertained by a Marching Display by the Band of the Grenadier Guards who performed when I used to see it to thunderous applause.  I am told that Guards still play and march at Cup Finals, which I am very glad to hear.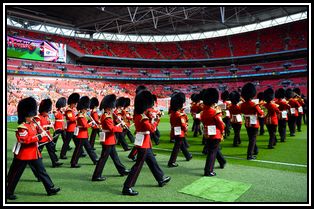 The Band of the Welsh Guards at Wembley Stadium
British Pathé  presents the F.A. Cup Final of 1961 (showing Community Singing & Marching)
-oOo-
One thing is certain I fear: the entertainment offered at the F.A. Cup Final is becoming more and more like that seen at the NFL Super Bowl in the U.S., which I find most unfortunate.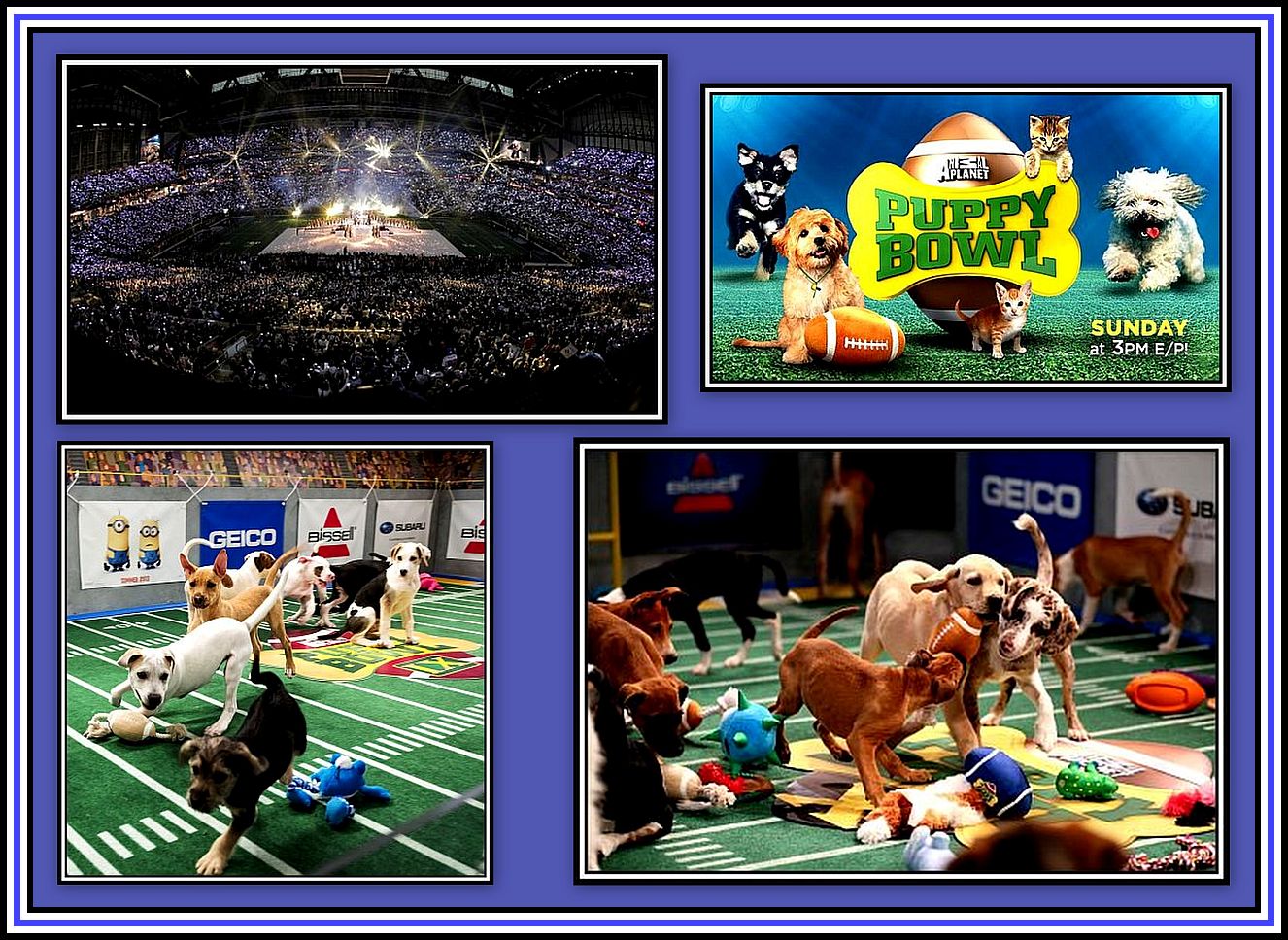 Top Left: The Super Bowl Half-Time Show; Remaining Photographs of The Puppy Bowl, which is televised at the same time and which is much, much more entertaining
-oOo-
MUSICAL OPENING PRESENTATION by MR. RUDOLPH (RUDY) A. LUCENTE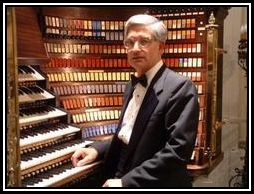 Mr. Rudy A. Lucente at The Wanamaker Organ
Fortunately, the entertainment was not to be a Sing-A-Long!  In no way were we to be the entertainment!  Rather it was to consist of a few pieces played on The Wanamaker Organ by the organist, Mr. Rudolph (Rudy) A. Lucente.  He had played several introductory pieces on the Organ, as a lead-in to the Grand Opening Concert earlier that morning.
Mr. Lucente has an engaging personality and it was a true delight to listen to his introduction to the pieces that he went on to play.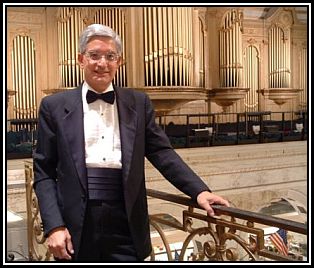 Without doubt, Mr. Lucente is an organist of merit who had studied under Dr. Keith Chapman.  He is an Assistant Organist at the Store, a church musician of long standing at Zwingli United Church of Christ, Souderton and a holiday staff organist at Longwood Gardens in Kennett Square.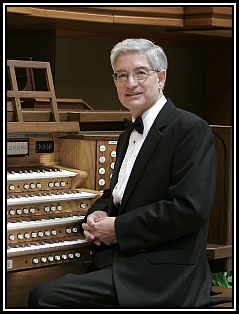 Click here to hear Mr. Lucente play Gaelic Air by Keith Chapman
 Click here to hear him play Fountain Reverie by Percy Fletcher
Click here to hear him play Overture, The Rejoicing from Music for the Royal Fireworks by Handel at the Wanamaker Organ Festival, 2012
-oOo-
Mr. Lucente played a number of pieces for our enjoyment between which was the occasional message announced over Macy's Public Address System, which informed remaining shoppers that the Store was to close in xxx minutes and then again when it was about to close for the evening just before 9 o'clock.
To be honest, I was quite sorry when Mr. Lucente's pre-concert concert came to an end, as I was enjoying his playing very much.  However, the audience and myself were obviously excited at the thought of The Grand Concert and we show this by clapping loudly in anticipation!
The best photograph I was able to take of Mr. Lucente introducing one of his pieces played
-oOo-
WANAMAKER ORGAN DAY GRAND EVENING CONCERT SATURDAY JUNE 28, 2014
PRINCIPAL RECITAL
by
PETER RICHARD CONTE, Organ & JEREMY FILSELL, Piano 
   Excerpt   from   Rosenkavalier   Suite   by   Richard  Strauss,      Love   Trio  from   Act III  and  Final  Waltz   and   transcribed  by Peter Richard Conte
-oOo-
Click here to hear Rhapsody in Blue
-oOo-
 Click here  to  hear  Love Trio  from  the  1962  film and sang by a wonderful cast including the magnificent Elisabeth Schwarzkorf
Click here to hear The Final Waltz
Click here to hear The Rosenkavalier Suite
-oOo-
Click here to hear Piano Concerto No. 1 in F-Sharp Minor Opus 1
-oOo-
What can I say about this wonderful concert?  I fear that my writing ability is too feeble to do the concert and the talents of Messrs Conte and Fishell (and Mr. Lucente) justice.
What l I am able to say is that:
I enjoyed their playing,
the pieces played and
the experience of the privilege of being present to hear the glorious Wanamaker Organ played in that remarkable Concert Hall amidst the shoes and other objets à ventre.  
I extent my grateful thanks also to Messrs. Tom Sheehan and Teddie Gibson for sharing their talents with us.
-oOo-
The remainder of what I have to say about Grand Evening Concert, and for that matter, the whole proceedings of the weekend, becomes an Acknowledgement of everyone involved in the bringing the events to such a grand and glorious fruition.
Allow me to say that as wonderful as the events of the Organ Day proved to be, both the joy of hearing The Wanamaker Organ and The Friends Wurlitzer Organ played and our ability to enjoy the other festivities would not have been possible were it not for the hard work and dedication of those people who strove tirelessly to make it all possible.  These include:
members of The Friends of The Wanamaker Organ who gave of their time and efforts,
the staff who work to maintain the organs in great working order and strive to improve upon them,
Mr. Brantley Duddy and
Mr. Curt Mangel who seems to be able to work magic.
Thank you all very much.
-oOo-
I would also like to thank those members of The Friends of The Wanamaker Organ (Messrs. Richard Siefert, Evan Jones & Rick Young and he who wishes to remain nameless for your help with the writing of the series).
-oOo-
Lastly, least I forget, I would also like to remember Macy's (originally R. H. Macy & Company), but for the company's vision and appreciation of what it has in its Store and for their patronage and graceously continuing the tradition started by Mr. John Wanamaker and continued by his son Rodman, we would not have these wonderful Concerts and Daily Musical Interludes to brighten our lives.  Thank you very much.
——oooOOOooo——
Click here to go to THE WANAMAKER ORGAN – PART EIGHT:
APPENDIX – THE BUSINESS OF LIFE
——oooOOOooo——
Click here to return to THE WANAMAKER ORGAN – PART SEVEN:
THE GRAND CHORAL CONCERT
——oooOOOooo——
Click here to return to THE WANAMAKER ORGAN – PART SEVEN: APPENDIX
——oooOOOooo——
Click here to return to THE WANAMAKER ORGAN – PART SIX:
THE FRIENDS WURLITZER ORGAN & ZORRO
——oooOOOooo——
Click here to go to THE WANAMAKER ORGAN – PART FIVE:
THE GRAND OPENING CONCERT – 2014
——oooOOOooo——
Click here to return to THE WANAMAKER ORGAN – PART FOUR:
A VISIT BEHIND THE SCENES
——oooOOOooo——
Click here to return to THE WANAMAKER ORGAN – PART THREE:
CONCERT DAYS
——oooOOOooo——
Click here to return to THE WANAMAKER ORGAN – PART TWO:
I'M OFF TO PHILADELPHIA IN THE MORNING
——oooOOOooo——
Click here to return to THE WANAMAKER ORGAN – PART ONE:
HISTORICAL BACKGROUND
——oooOOOooo——
Click here to go to THE WANAMAKER ORGAN – HOME PAGE
——oooOOOooo——
Click here to return to the TABLE OF CONTENTS
——oooOOOooo——