THE THEATRE ORGAN
PART ONE – INTRODUCTION CONTINUED
-oOo-
ROBERT HOPE-JONES
-oOo-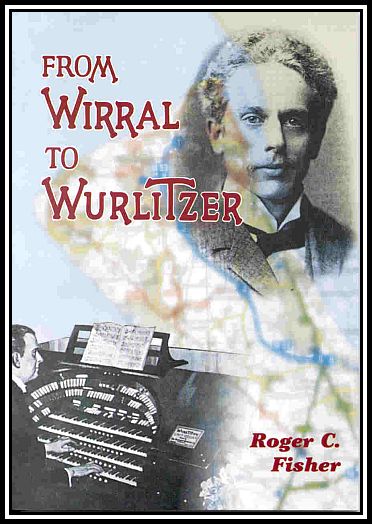 Robert Hope-Jones was born on the 9th February, 1859 in The Wirral, Cheshire.  After leaving school, he was apprenticed at Laird's the shipbuilders and then joined the Lancashire and Cheshire Telephone Company in 1881 and eventually became its Chief Engineer.  With his knowledge of the properties of electricity and his obvious interest in the pipe organ, he apparently spent much time experimenting in ways to improve the instrument.  The basic premises of his studies lay in the beliefs that the pipe organ could imitate the instruments of an orchestra and that the console should be detachable from the organ.  His work led to his design of an electro-pneumatic action for pipe organs, which for many is considered to be the single most important advancement in the development of the Theatre Organ.
Between 1890 and 1914, the patent offices of the U.K. and U.S.A. granted Mr. Hope-Jones 45 patents and in 1892 he formed his own company, The Hope-Jones Electric Organ Company of Birkenhead to produce electrical organ components and also to act as a licensing company for patent usage.  He built with his staff a total of 246 organs between 1887 and 1911.   About 150 of these organs were built for churches.  Seemingly most of these organs are now lost, but apparently many contained innovations that were used in the Theatre Organs that he built.
Mr. Hope-Jones also developed Stop tabs as a replacement of the usual organ Drawknobs and thereby was able to increase the number of Stops available to an organist.  An organ Stop is a component of a pipe organ that admits pressurised air (known as wind) to a set of organ pipes.  Many Stops are able to imitate orchestra instruments while others produce unique sounds.  Examples of the Stops developed by Mr. Hope-Jones include the Diaphone and the modern Tibia Clausa, which has become part of all such organs and synonymous with the sound of the theatre organ.  He also developed the 32 foot Diaphone, which although less successful with the public, has been used, as a result of its penetrating tone, in the development of the Foghorn,which was used in Lighthouses around the world.

Four 32 Foot Diaphones awaiting installation at the California Theatre, San Jose in 2011
This photograph appears with permission of the photographer, Bob Shomler

Comparison of different Wurlitzer Tibia Pipes 
all from the same Rank – wooden, capped and open
(Reproduced with permission of The Cinema Organ Society)
Mr. Hope-Jones applied very high wind pressures (10-50 inches of water pressure; see Wind in the Glossary) to achieve his wish to imitate orchestral sounds and often enclosed his organs behind thick swell shades to increase their expressive power.   He developed a system of unification, which allowed the increase in the number of Stops associated with an organ's series of keyboards (manuals) relative to the number of Ranks.
Unfortunately, it would seem that Mr. Hope-Jones' company fell on difficult times, which led him to leave Britain and seek a new life in the U.S.A. where he arrived in 1903 together with his wife.  After working for several American Organ Companies, he formed his own company at Elmira, New York, which also proved to be unsuccessful.  With this failure, he merged his organ business with the Rudolph Wurlitzer Company and sold them his patents.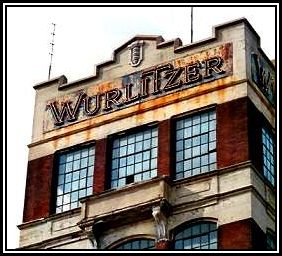 However, shortly after doing this, he committed suicide in 1914 in Rochester, New York, apparently, it is said, as a result of frustrations with the Wurlitzer Company.  Mr. Hope-Jones had been banned from the factory floor since he had difficulty deciding when the manufacture of an organ was complete.  In its turn, the Wurlitzer Company was frustrated with his tinkering with what they considered to be the finished product and holding up delivery.  It is tragic that Mr. Hope-Jones chose such a solution to his difficulties and a sad loss for lovers of the Theatre Organ.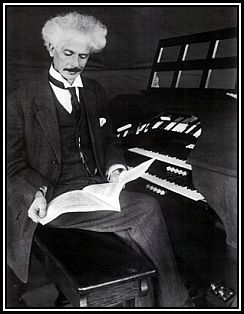 Mr. Robert Hope-Jones – an amazing talent
—ooOoo—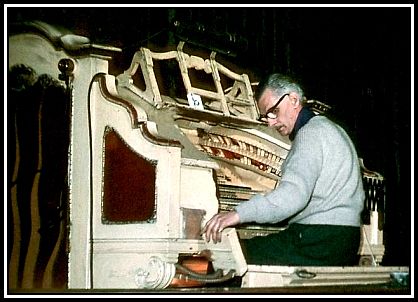 Robin Richmond at the Wurlitzer Organ of the Trocadera at The Elephant
Listen to Mr. Richmond playing the Hammond Organ during a Music While You Work programme for the BBC in 1963
-oOo-