POSTCARDS FROM OLD LONDON
TRAFALGAR SQUARE
by
DAVE HILL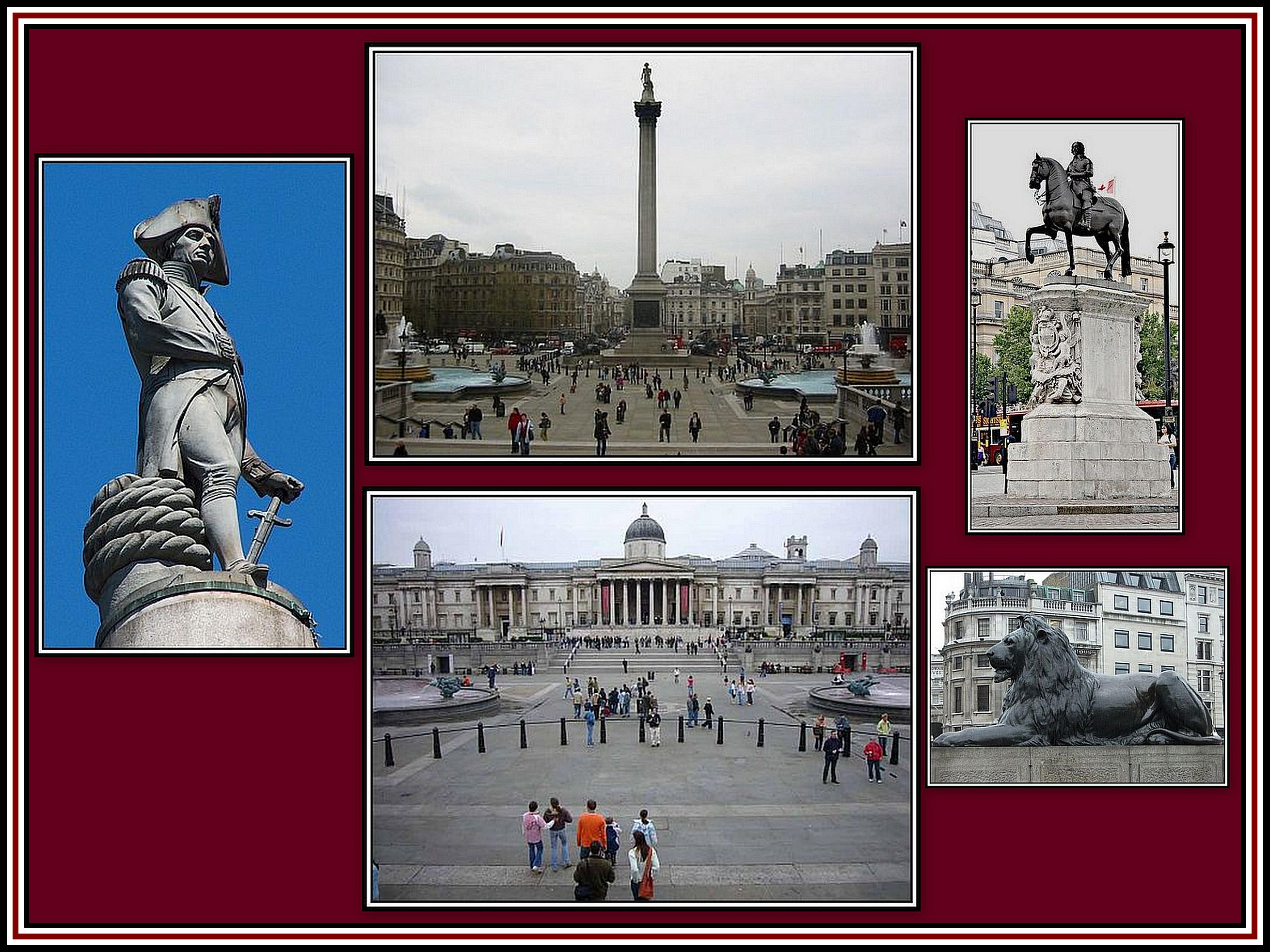 Trafalgar Square has been the of many celebrations and demonstrations since it was completed in 1845. The replaced Kings Mews in Charing Cross, which had been present since the time of Edward I. The square was eventually named for the Battle of Trafalgar (1805) where England's greatest seaman, Admiral Horatio Nelson, R.N., died. It was redeveloped in the 1820s by John Nash, the architect, and later modified by Sir Charles Barry and completed in 1845. Nelson's Column and the four lion statues at the base dominate the centre of the square today together with the two great foundations. The column was raised in 1843 while the lion statues were not added until 1867. In addition, around the square there are statues of numerous military men.
The square has been the site of V.E. Day, political demonstrations, religious revival (Billy Graham Crusade, 1954) and New Year events and celebrations. Since 1947, the people of Oslo have sent a Norwegian Spruce or Fir in December, as a token of gratitude for British support and for offering shelter to members of their Royal Family and Government during the Second World War. The tree is installed in the square and remains in place until Twelfth Night, January 6th. In addition to these events, the square has also been the site of a number of unexpected and oftentimes unusual spectacles.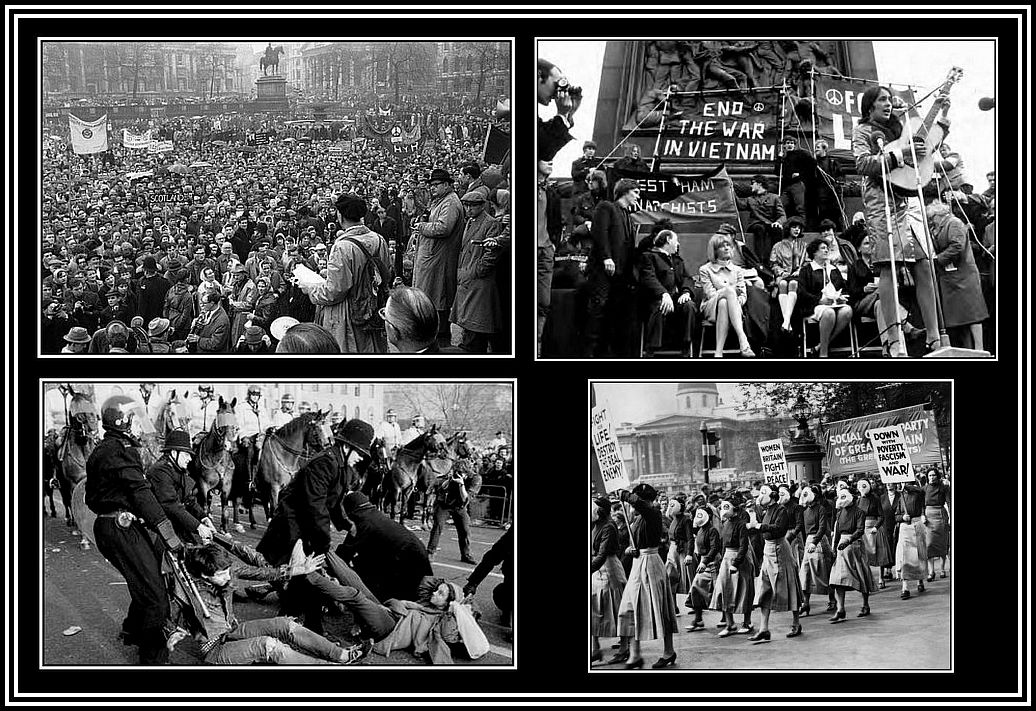 The square has been used to celebrate and to watch thanks to the installation of huge video screens numerous sporting events and parades. It has also seen the start of the Tour de France in 2007 and was chosen as the site to official announcement that Britain was to host the 2012 Olympic Games. An official Countdown Clock was unveiled on the northern side in March 2011.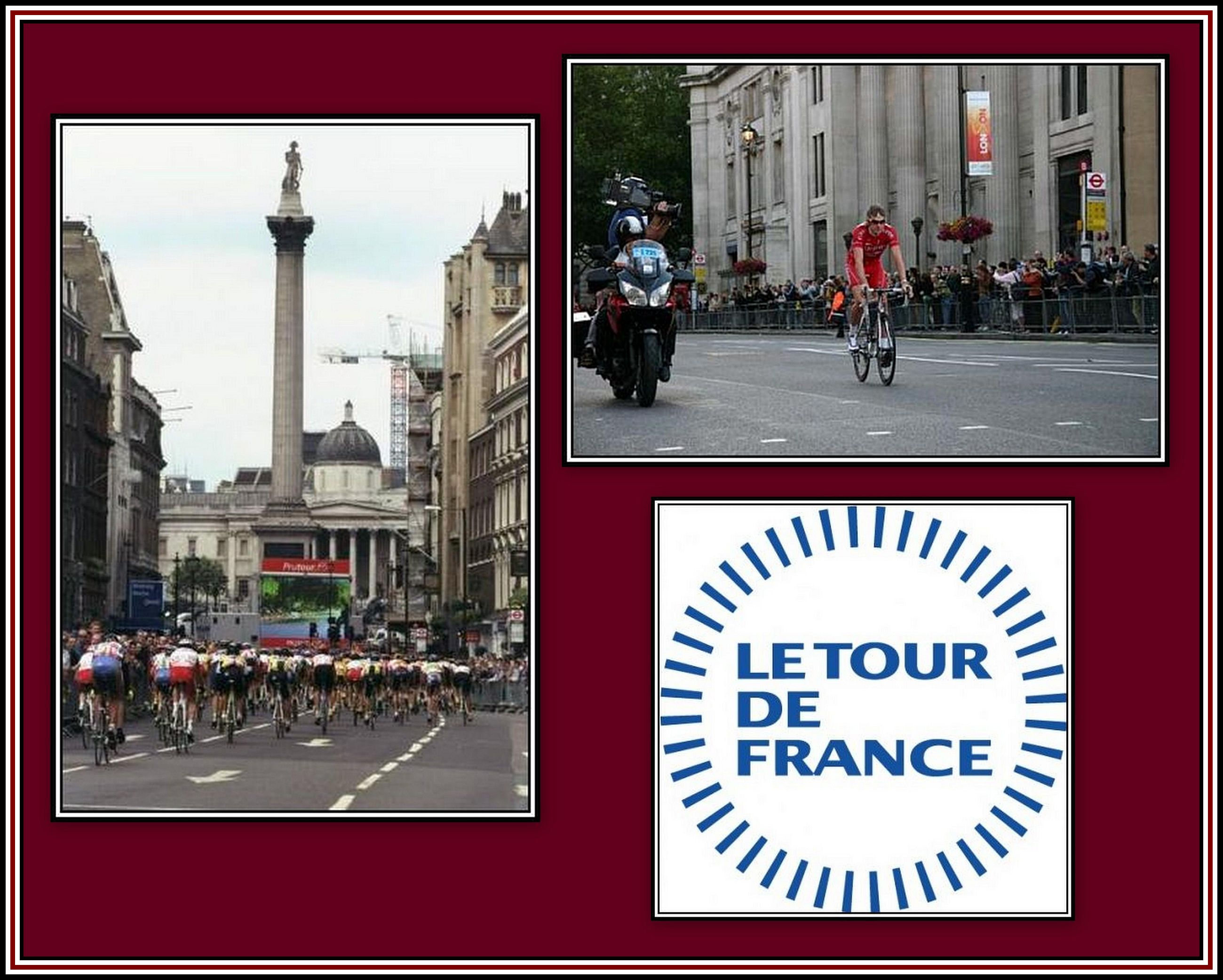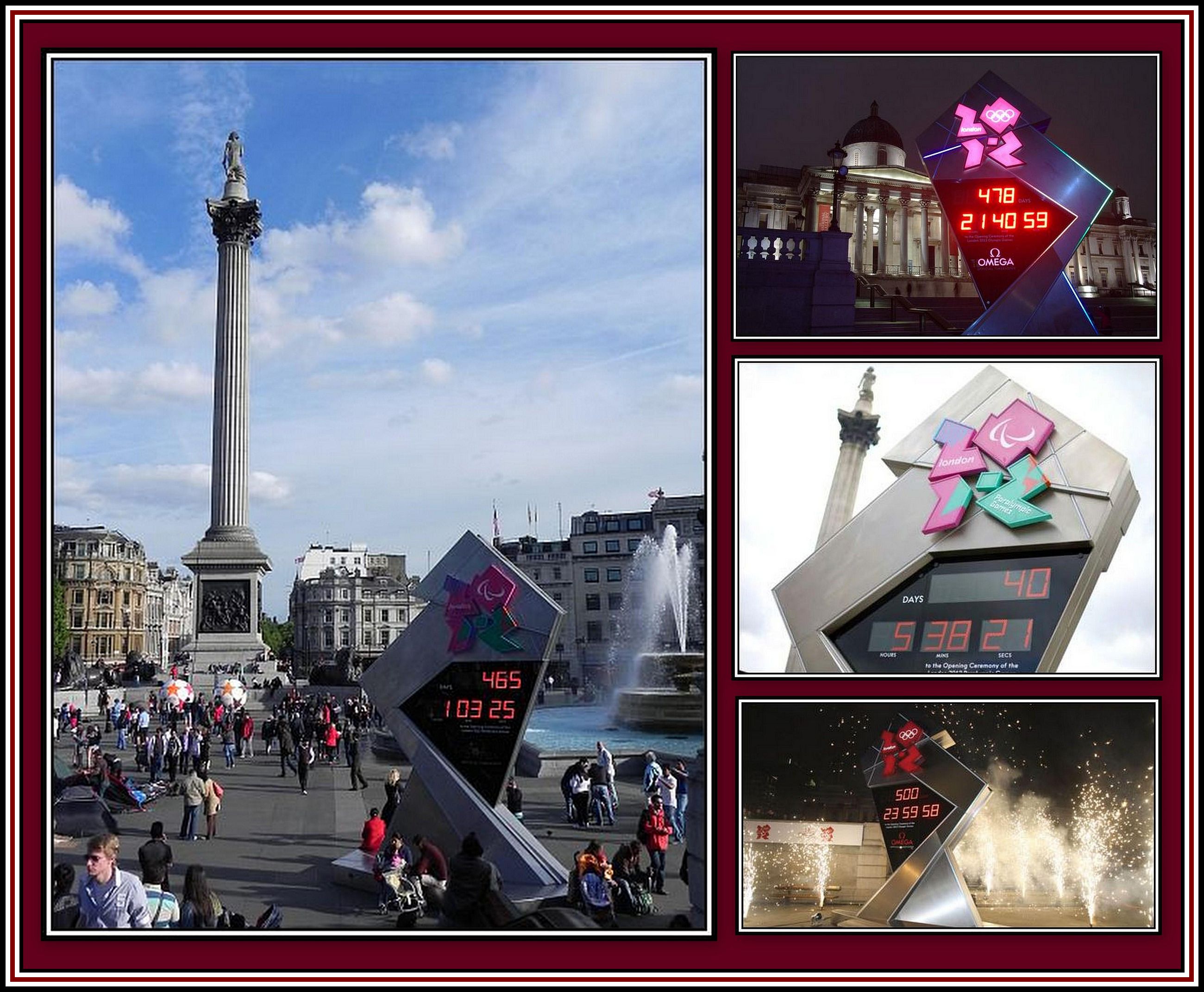 On 5th July 2012, one hundred costumed pandas invaded the square to help publicize Panda Awareness Week, but you may think that the oddest scene that Nelson on his column must have stared down occurred in 2007 was when the complete square was temporarily grassed over to promote green areas in London. As odd as this is, I think otherwise.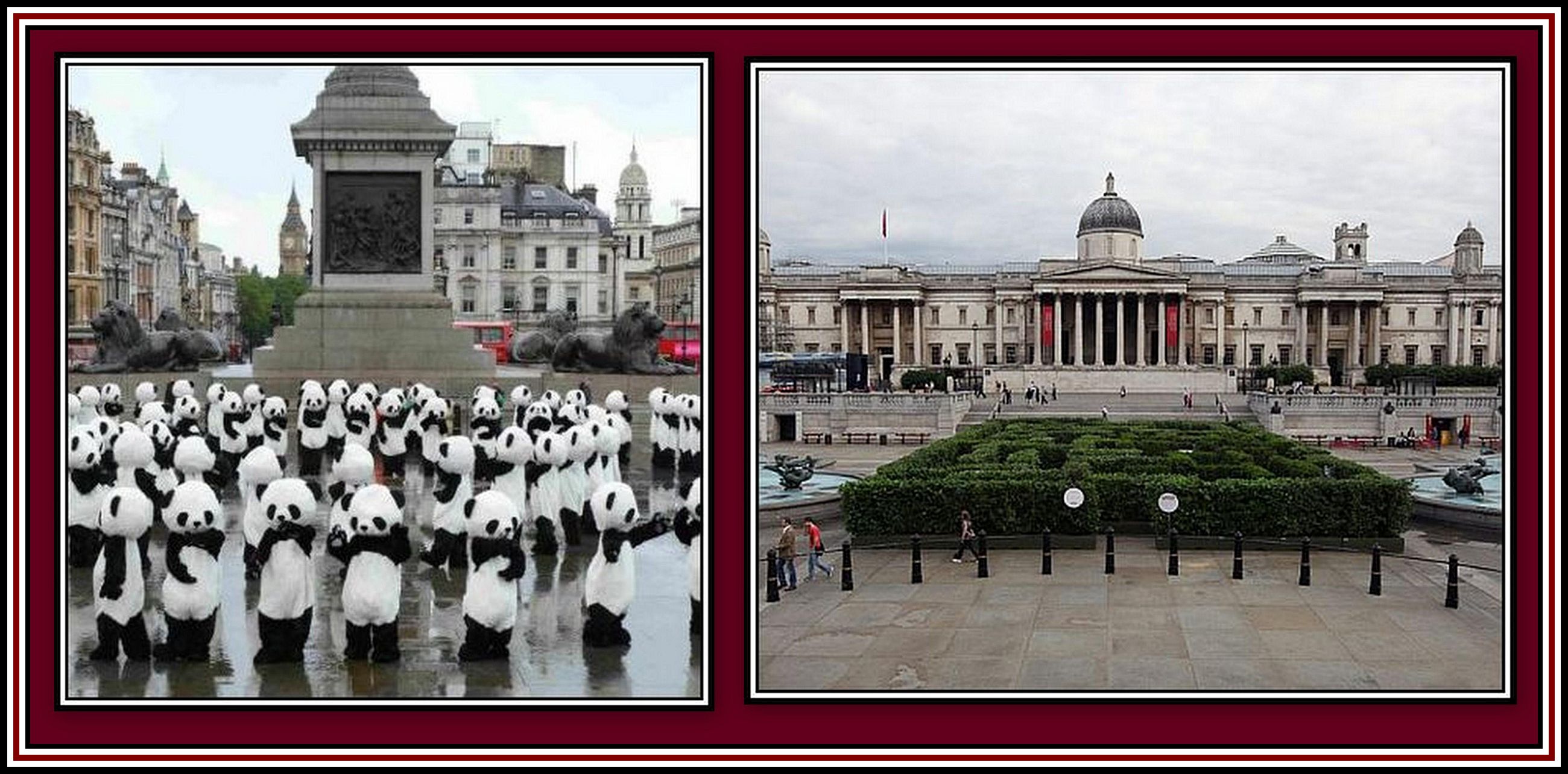 During the First World War, the square was temporarily transformed to resemble a French village ruined by the German military in order to help raise money to Feed the Guns.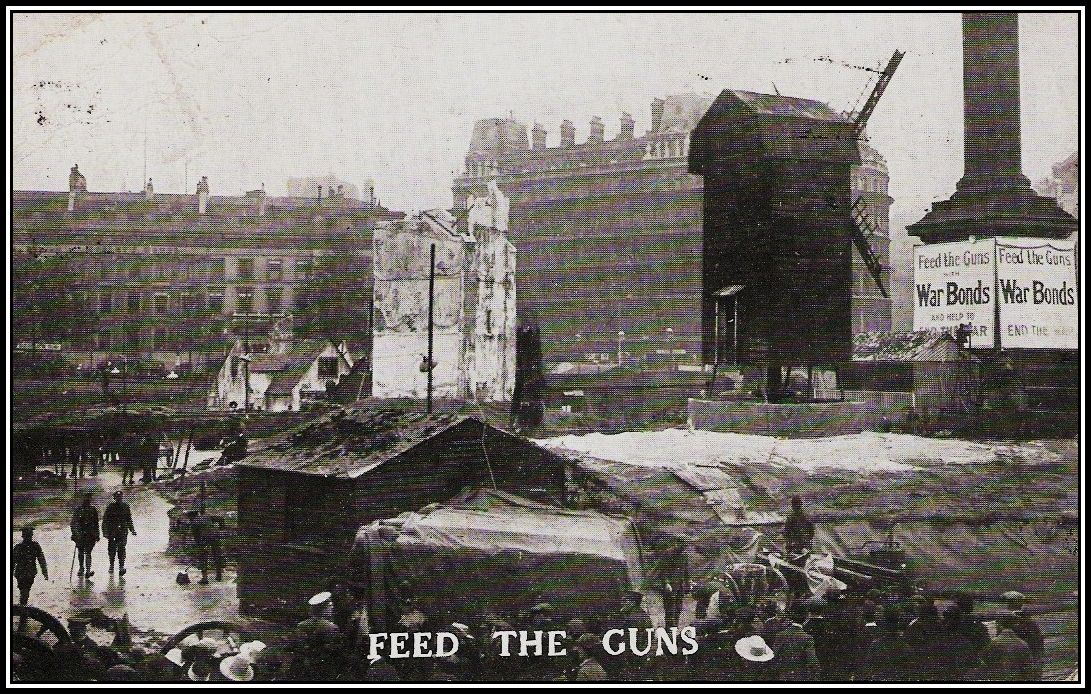 The transformation included a damaged farm, church and windmill along with other shell-damaged buildings. There was a diorama around the square to complete the effect. This event took place in October 1918 shortly before the Armistice. Evidently, it was by no means clear even at this time, that the Allies would win the war.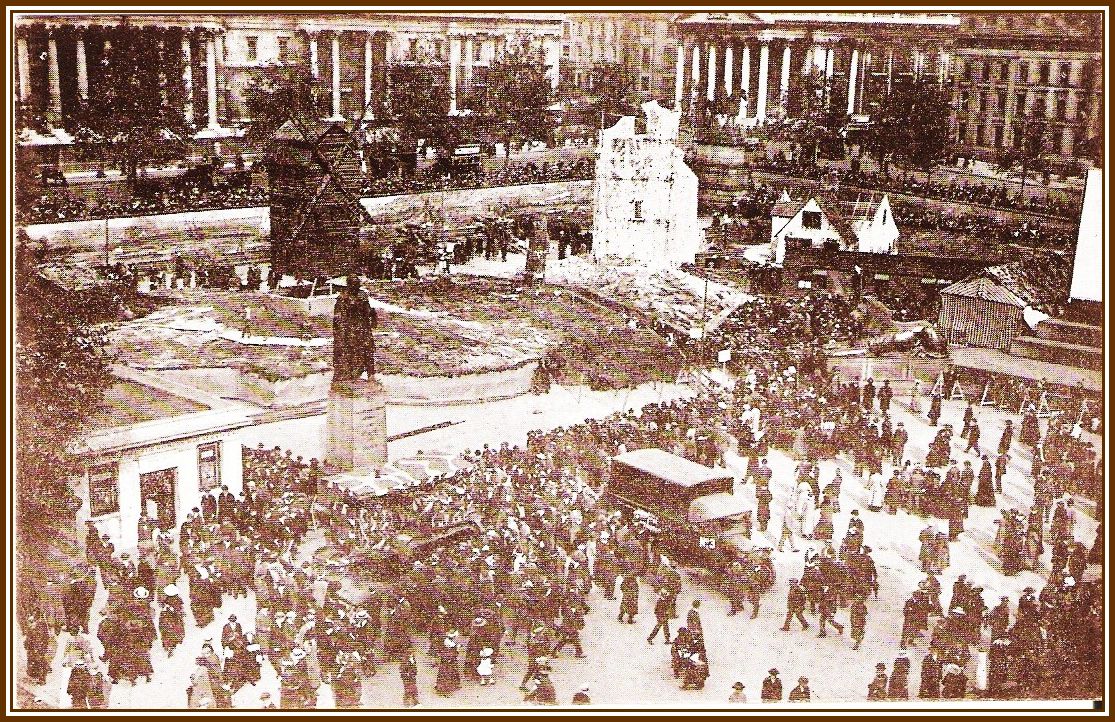 -oOo-
I also wonder what Nelson would have thought of the statues ……