THE THEATRE ORGAN
PAGE EIGHTEEN:


THE CHRISTIE THEATRE ORGAN
DIGNITY & SIMPLICITY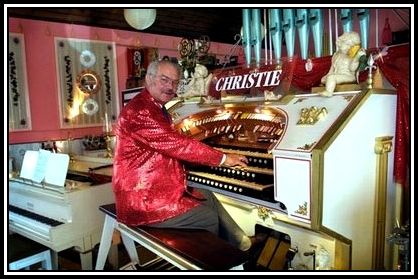 Mr. Anton Stormlund seated at his Christie Organ,
once installed at the Kinema/Century Cinema Stratford (West Ham)
-oOo-
William Hill & Son & Norman & Beard Ltd. (more commonly known as Hill, Norman & Beard) was formed by the amalgamation of two organ manufacturing companies in 1916.  Each company had been a renown classical organ builder and each was the result of earlier mergers.
In 1870, Ernest William Norman (1851 – 1927) founded a pipe organ manufacturing company in Diss.  By 1876, he had moved his business to Norwich where he went into partnership with his brother, Herbert John Norman (1861 – 1936).   In 1887, the brothers went into partnership with George A. Wales Beard, with the subsequent formation of the company, Norman & Beard.
Norman & Beard worked with Robert Hope-Jones whose endeavours led to improvements to the Electro-Pneumatic Control System for Pipe Organs and also the development of a number of stops.  Mr. Hope-Jones had built a factory in Birkenhead where his company produced a number of Theatre Organs before he left the U.K.  His factory was eventually taken over by Norman & Beard along with its staff and his patents. 
In 1916, the company of Norman & Beard amalgamated with another pipe organ manufacturing company, William Hill & Sons to became William Hill & Son & Norman & Beard Ltd., generally known as Hill, Norman & Beard.
Following the First World War, Hill, Norman & Beard concentrated its efforts on the development and perfection of Mr. Hope-Jones system of Electro-Pneumatic Action.
-oOo-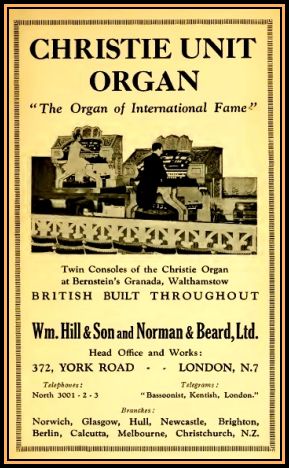 From the Kinematograph Year Book and provided by Paul Bland
In 1923, Mr. John Christie (1882-1962) acquired Hill, Norman & Beard and became its chairman and lent his name to the Theatre Organs it produced between 1926 and 1938.
This branch of the company's business gained in importance during this time.  Meanwhile the company continued to develop and improve on its product, which led to the subsequent development of the Christie Unit Organ that soon gained a world-wide reputation for quality.
Hill, Norman & Beard had factories in various parts of the U.K. where the components of its organs were made.   These were then sent to the factory in Kings Cross, London for assembly.  The company remained in the hands of the Christie family until it demise in 1990.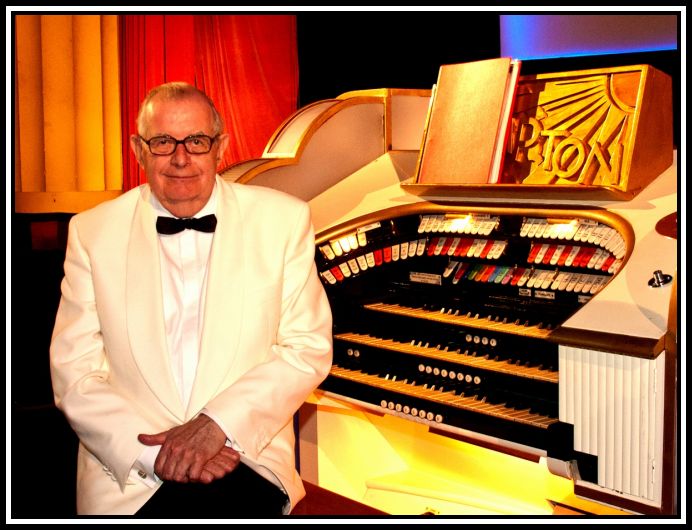 Frank Fowler, the last Managing Director of Hill, Norman & Beard
Seen here seated at the Console of The Compton Organ of the Odeon Weston Super Mare
This photograph was kindly provided by Fred Smedley, Chairman of the West of England Theatre Organ Society, WETOS
-oOo-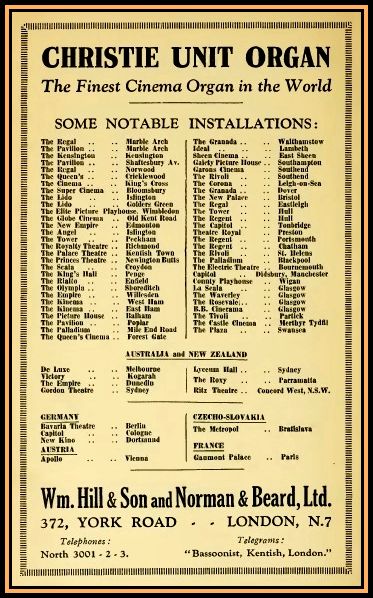 Provided by Paul Bland
-oOo-
As a point of interest, John Christie (1882-1962) was the founder of Glyndebourne Festival Opera at his family home near Lewes in 1934.  Mr. Christie inherited the home in 1913 upon the death of his grandfather.  He undertook a number of renovations of Glyndebourne including the building of an organ room where the largest pipe organ outside a cathedral was installed and which had been built by Hill, Norman & Beard.  Mr. Christie also held amateur opera evenings here.  Together with his wife, they built an annex to the organ room that served as a fully equipped theatre seating 300 and with an orchestra pit that could hold a full symphony orchestra.
Over the years, the theatre was added to a number of times, but in 1992, construction of a new theatre was begun.  This theatre opened on 28th May, 1994, which was the 60th anniversary of the first operatic presentation in the organ room. Those attending the opera at Glyndebourne are requested to wear formal attire.  During the season, it is not uncommon to see many spectators suitably dressed and taking the train from Victoria Station to Lewes.  In addition, spectators may be seen enjoying their picnics on the lawns during the interval.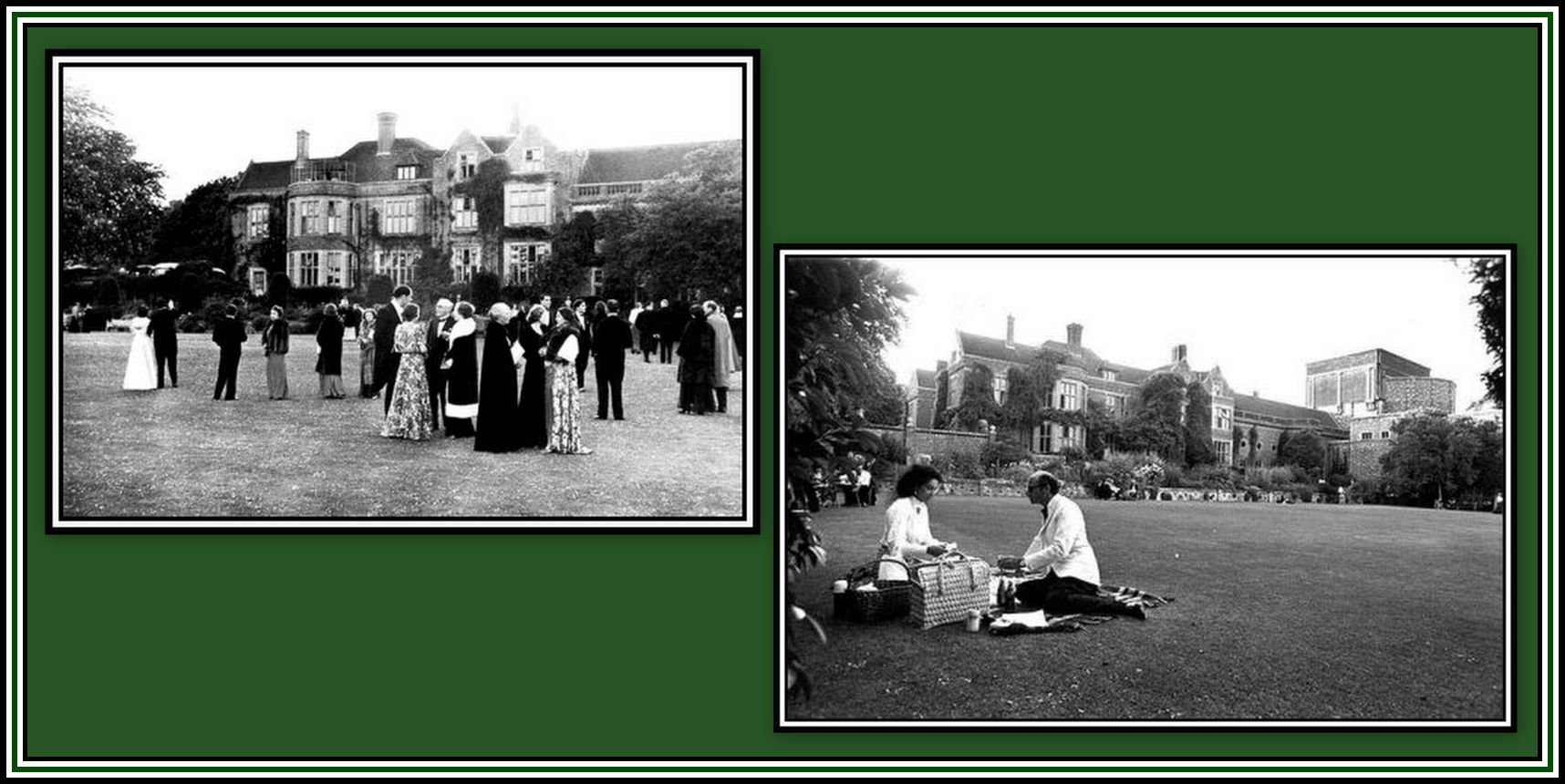 The Interval at Glyndebourne during Opera Season
——oooOOOooo——
ACKNOWLEDGEMENTS
I would like to thank Mr. Ian McIver for his help and kindness in the preparation of this piece.
Many thanks are given to Mr. Fred Smedley, Chairman of the West of England Theatre Organ Society, WETOS for allowing his photograph of Mr. Frank Fowler to appear here.
I would also like to thank Mr. Paul Bland for his contributions to this piece.
——oooOOOooo——