THE GRANADA THEATRE CIRCUIT

The Granada Dover
This was the first new Granada Theatre built especially for Sidney Bernstein and his Circuit.
-oOo-
PART FOUR: THE GIANTS THAT MADE GRANADA GREAT
-oOo-
SIDNEY and CECIL BERNSTEIN
Sidney Bernstein was a mogul who today is remembered as the founder of Granada Television (1954).  However, he also had a number of other business interests including a chain of cinemas or theatres, The Granada Theatre Circuit.   During his lifetime, he created a diverse group of leisure-based enterprises including the formation of a Bingo Social Clubs (theatre conversions into Bingo Clubs began in 1960) and bowling alleys (1960).  He also was involved in television rentals in Britain and abroad (1961) and publishing (1961-1965), motorway services (1965), real estate (1930) and shops.  However his greatest came with the foundation of Granada Television.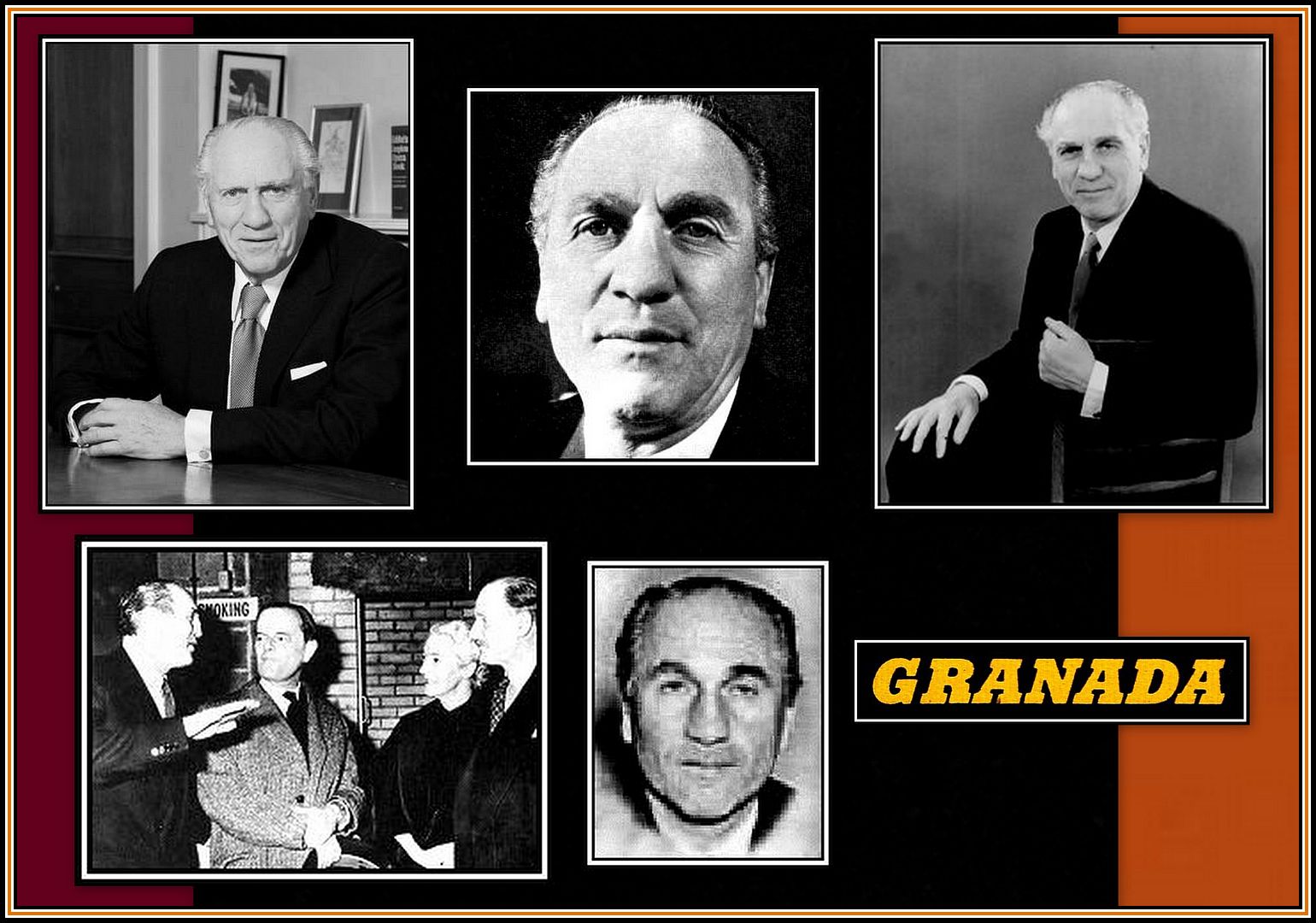 As a result of the passage of the Television Act, the Independent Television Authority was created in Britain in 1954.  Mr. Bernstein applied for and won a franchise license to broadcast television to the North of England. He chose this area of Britain, rather than London, since he believed that this area would accept what he considered to be good television programming. It is interesting to note that being a socialist, Mr. Bernstein was not at first in favour of commercial television since he was afraid of its propaganda power and believed that television should only be entrusted to a public corporation, such as the BBC.
Granada Television became one of the original franchises of Britain's Independent Television and, under Mr. Bernstein's direction, quickly established itself with a number of successful series on current affairs and documentary programming (What the Papers Say; Granada Reports; The World in Action; etc).
Mr. Bernstein also believed that television drama should reflect the culture and talent of the North of England.  His most successful programme, set in the North with a working class setting and with North Country actors and production staff, was introduced in 1960. The programme, Coronation Street, was never a favourite with Mr. Bernstein. However, despite his dislike, the programme became the number one rated programme in Britain and is now the longest running soap opera still in production.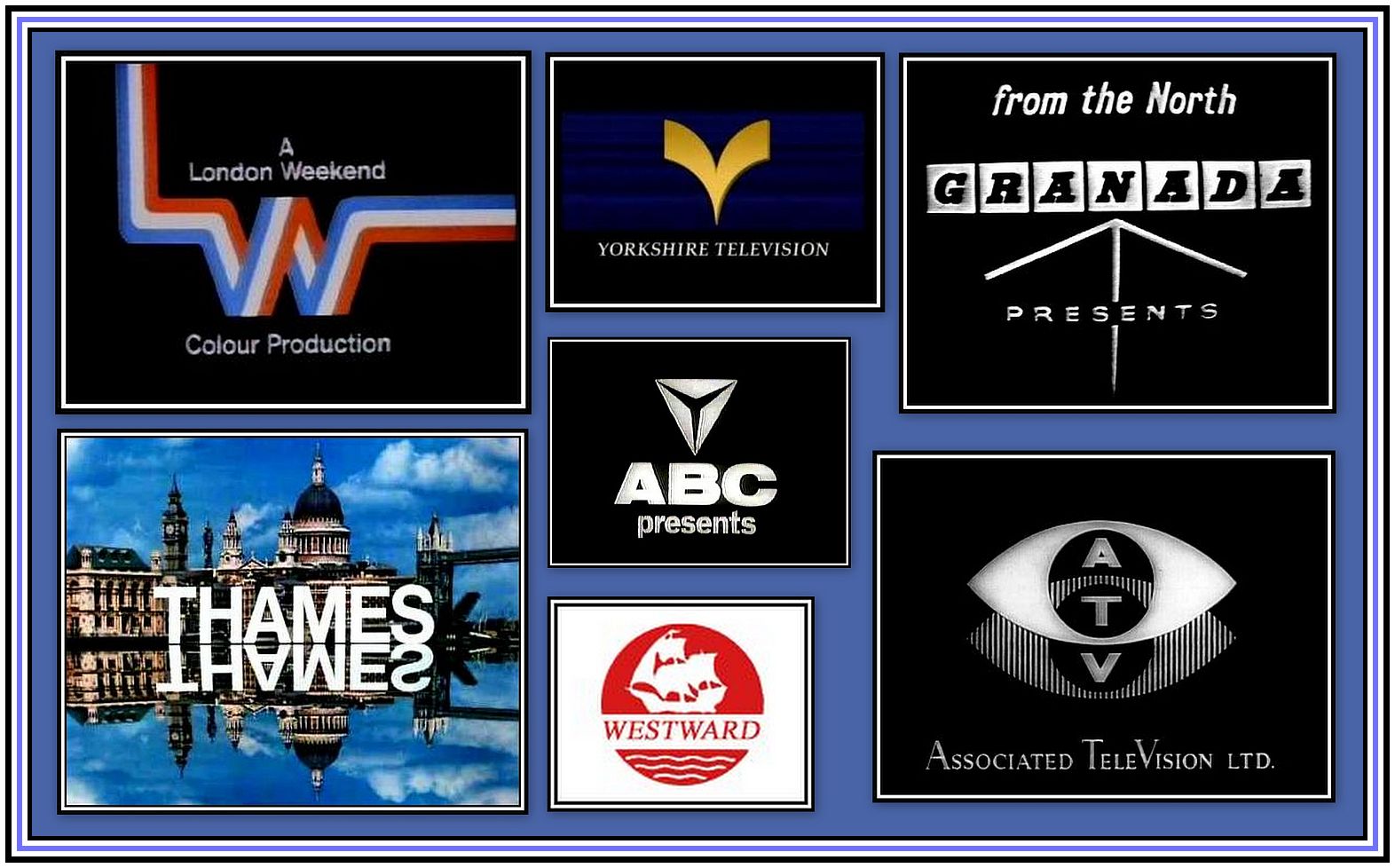 Independent Television Franchises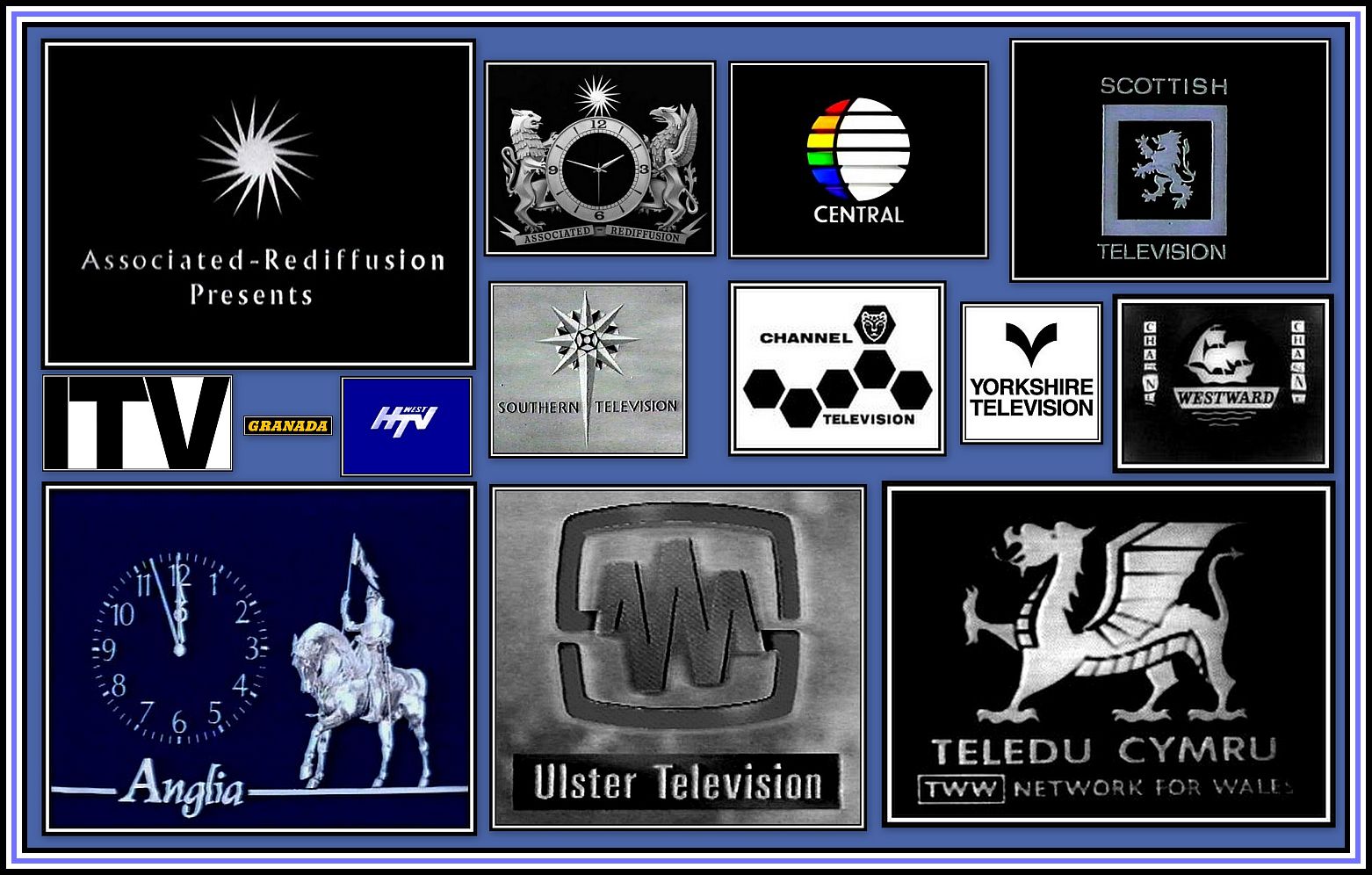 However, Granada Television is perhaps most renowned for producing the world's longest running soap opera in 1960, Coronation Street, and which is still in production.  Mr. Bernstein disliked this programme from its beginning and said of the scriptwriter, Tony Warren, that all he did was to pick up all the boring bits and strung them together one after another.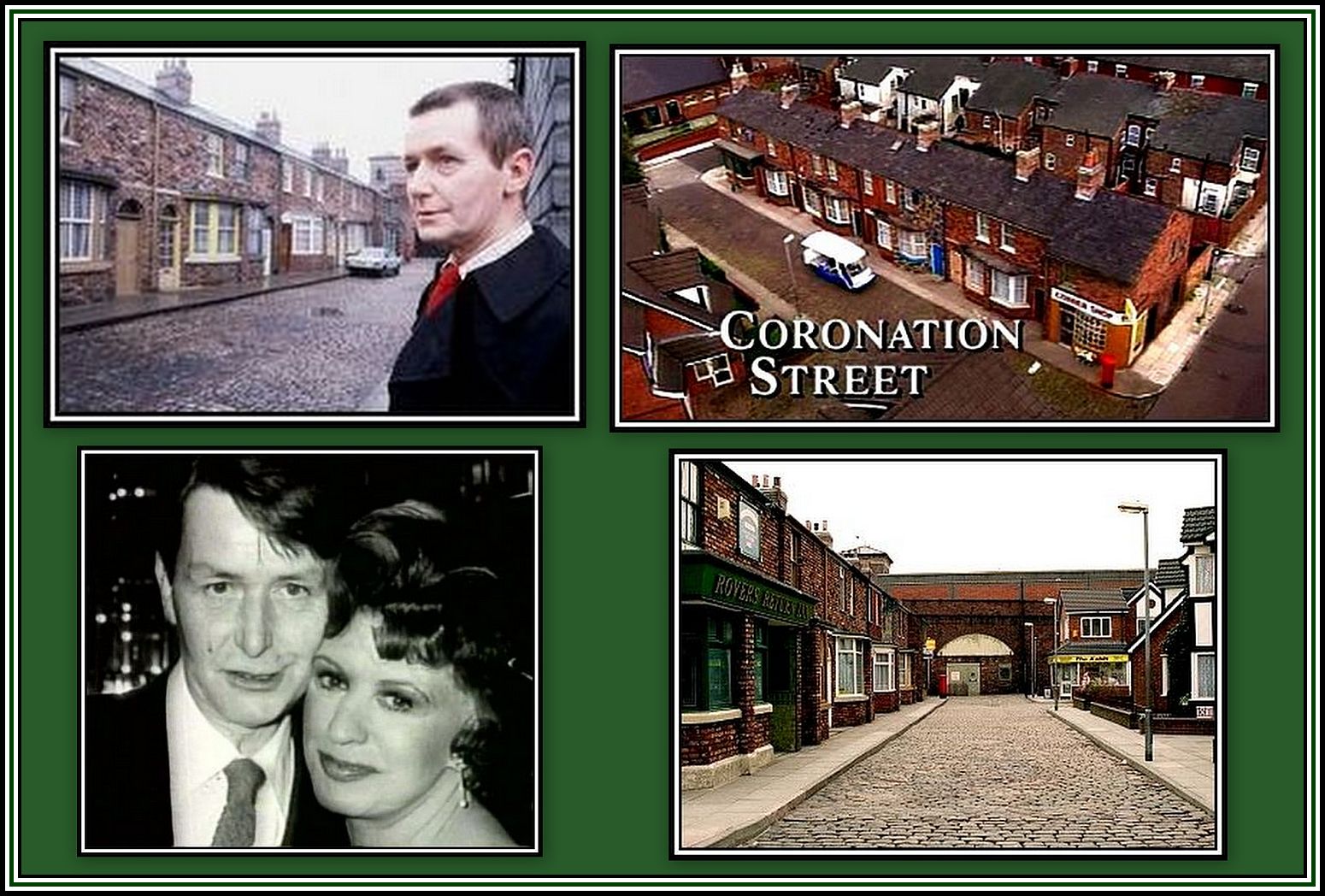 Tony Warren, creator of Coronation Street; the first episode aired on 8th December, 1960
Bottom Left, with Patricia Phoenix
Top Left: Original Cast Elsie Tanner played by Patricia Phoenix (Bottom Left) & Ena Sharples played by Violet Carson
They often disagreed (Bottom Right), but not always (Upper Right)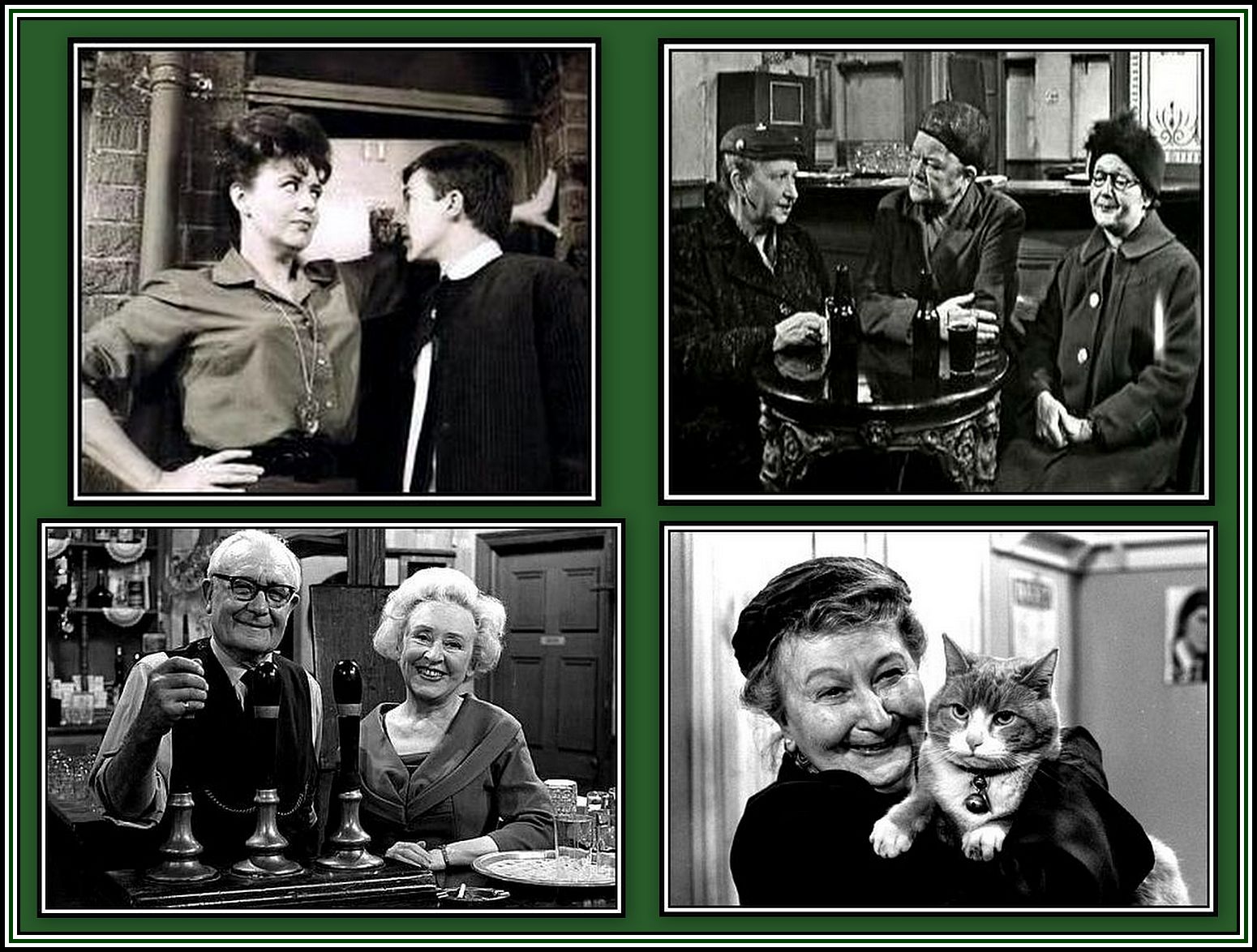 Top Left: Elsie and son Dennis;Top Right: Ena, Minnie and Martha supping milk stout in the snug; Bottom Left: Jack & Annie Walker behind the bar at The Rover's Return; and Bottom Right: Minnie and Bobby, the cat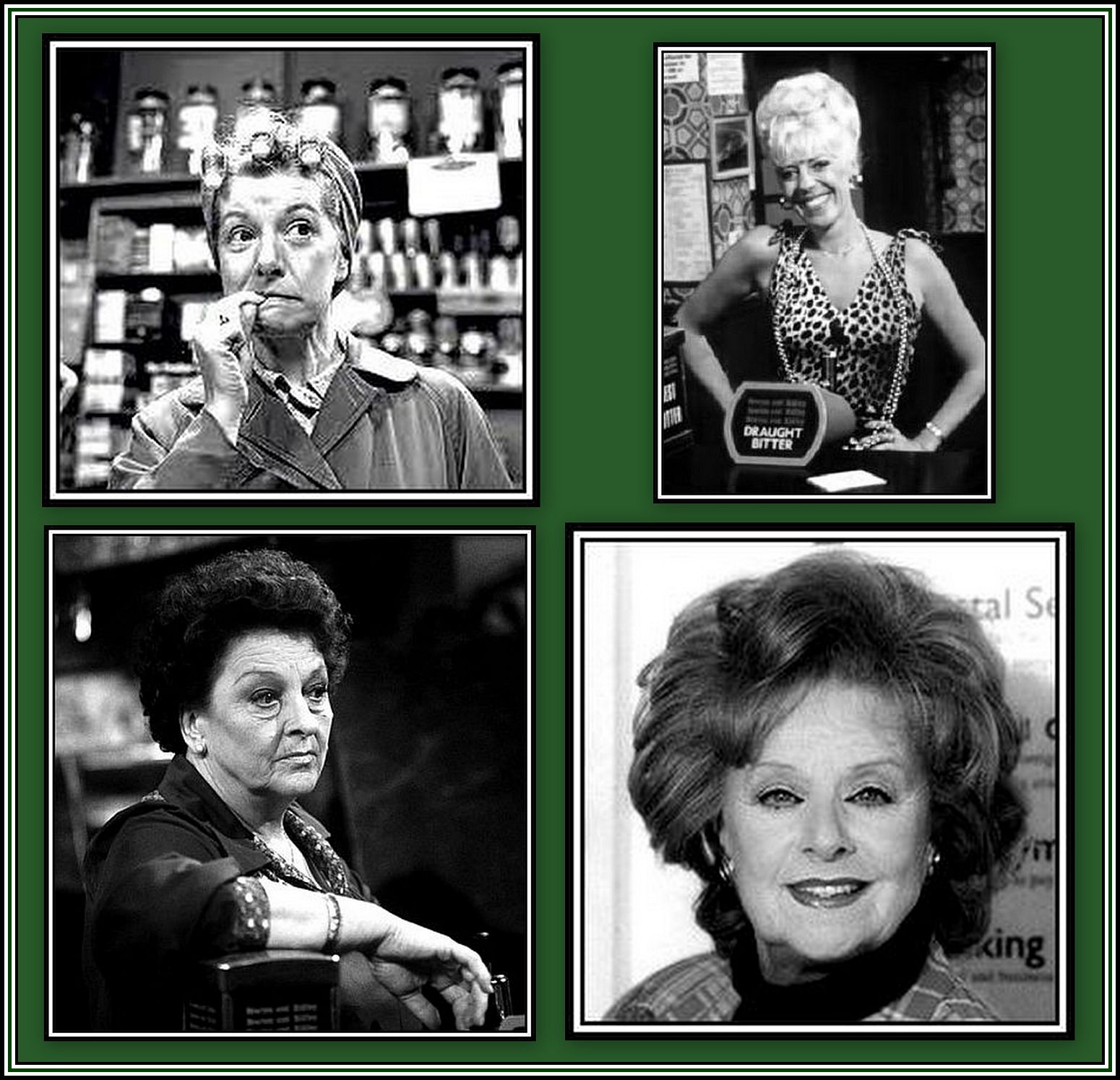 Later regulars added to the cast
Top Left: Hilda Ogden Top Right: Bet Bottom Left: Betty luv; & Bottom Right: Rita
-oOo-
Like other moguls, Mr. Bernstein had definite ideas: for example, while associated with Granada Television, he refused to employ anyone not prepared to live in or travel to Manchester.   As a result Jeremy Isaacs, the television producer and executive and General Director of the Royal Opera House, Covent Garden (1987-1996) would refer to him as a genial tyrant.
-oOo-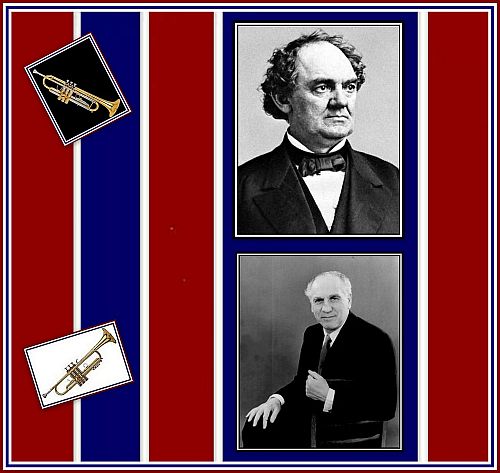 P.T. Barnum (Top) & Sidney Bernstein (Bottom) – showmen extraordinaire
But to begin at the beginning …… but before I do, allow me to say that today although Sidney Bernstein may be remembered for founding Granada Television, he was a true showman very much in the manner of P.T. Barnum and before television came along, he built a spectacular chain of cinemas that included some of the finest ever built in Britain …… but as I said, let us begin at the beginning.
Mr. Bernstein was born into an Orthodox Jewish family in Ilford in Essex in 1899.  His story actually begins with his father, Alexander Bernstien, who had developed a number of businesses prior to going into the entertainment business.  His first sortie into this area was when he, together with his wife, leased some land to two variety managers in 1907 who then built a Music Hall on the , the Empire Edmonton in 1907.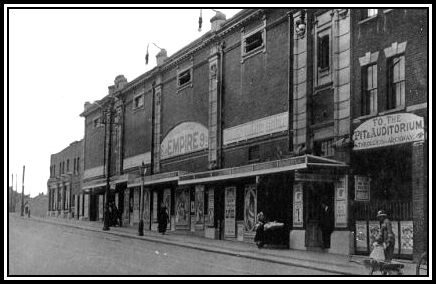 The Empire Edmonton
Just before the First World War, Alexander Bernstein saw that a number of cinemas were being built all over the country, to take advantage of the public's growing interest in going to the pictures.  This interest encouraged him and a partner to purchase the Ye Olde Paragon Music Hallin Mile End in 1912 and converted it into the Empire, a 2,000-seat theatre, where they then showed films.  Encouraged even more by the of cinema building at this time, he opened his first-purpose built cinema, the Empire Ilford in April 1913.  This led to the construction and operation of a number of Empires throughout London.  In addition, he also began a company, Film Agencies Ltd., which built and sold cinema equipment and also booked and distributed films.
In 1916, Sidney Bernstein joined his father's company, Film Agencies, and by 1920, he became a director and its general manager.  He was also involved to varying degrees in other companies owned by his father.  In 1921, it seems that he developed an interest in supplying American film-making equipment to British producers.  As a result, he went to the States with the aim of doing this.  During his trip, he not only studied the latest available film equipment, but also visited the huge Movie Palaces that were then under construction.  Upon his return to the U.K., he was promoted to Director of Entertainment for his father's cinema circuit and seems not to have set up a company to supply film-making equipment.  By this time, Sidney Bernstein was in good standing within the entertainment business and his were often sort by society.
With the death of his father in 1922, Sidney Bernstein took control of the family businesses.  As the eldest surviving son, he also took on the responsibility of caring for his mother and seven brothers and sisters.  Apparently one of the first things he did as Head of the businesses was to recover the lease of the Empire Edmonton.  The theatre had not been doing well and he ordered it closed and had it refurbished.  It reopened later in the year and, with himself running it, continued to operate as a Music Hall.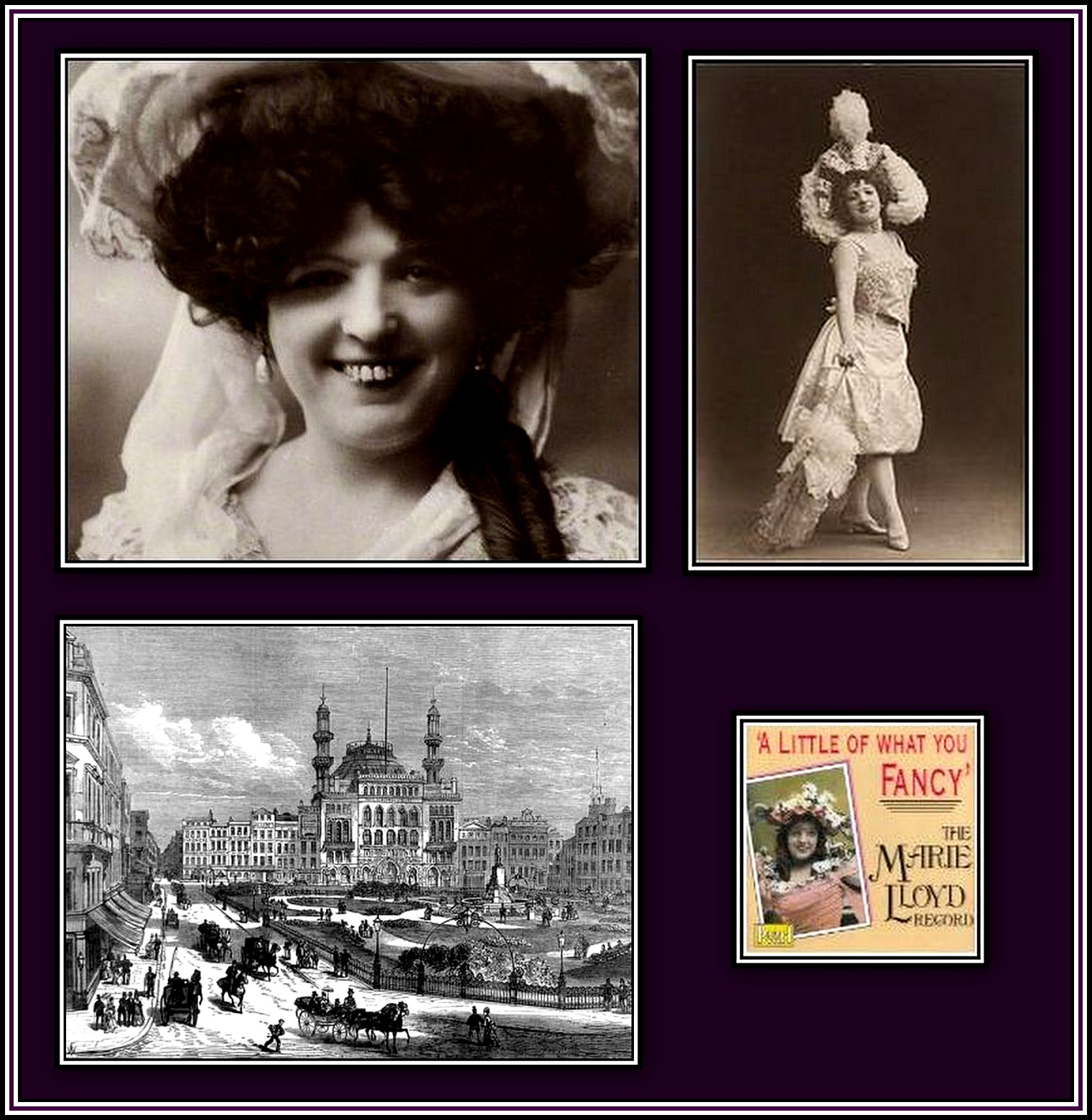 Marie Lloyd (1870-1922) – The Greatest of all Musical Artists (a relative of mine on Mother's side)
I am unclear where she gave her last performance: I always believed it to be at the Alhambra Music Hall (Bottom Left), but recently I read that it was at the Empire Theatre Edmonton.
Sidney Bernstein was in charge of the Empire Theatre Edmonton at the time and when the theatre was to be demolished, he apparently kept the star from her dressing room door as a momento.
(I prefer to believe that she gave her last performance here.)
The family business included the ownership and running of a number of cinemas.  During the next few years, Mr. Bernstein expanded the number in his father's old circuit and also expanded the other family-film-orientated businesses.  It was during this time, that he first employed the of Cecil Massey, the theatre architect, who had designed the Empire Kinema Willesden and which had been built by Alexander Bernstien's company, Empire Works in 1920.
In 1922, Mr. Bernstein's visited the U.S. and was impressed by the new Picture Palace cinemas being built. The visit encouraged him to bring the idea back to Britain.  Some time earlier, as a young man, he had gone on a walking holiday in Spain and visited the city of Granada.  These trips seemingly were to have an influence on Mr. Bernstein when it came to the building and naming of the cinema circuit that he and his younger brother Cecil were to build. (Although Mr. Bernstein was the first to use the name Granada for his cinemas in the U.K., it had been used several times earlier for the naming of a number of Picture Palaces in the U.S.)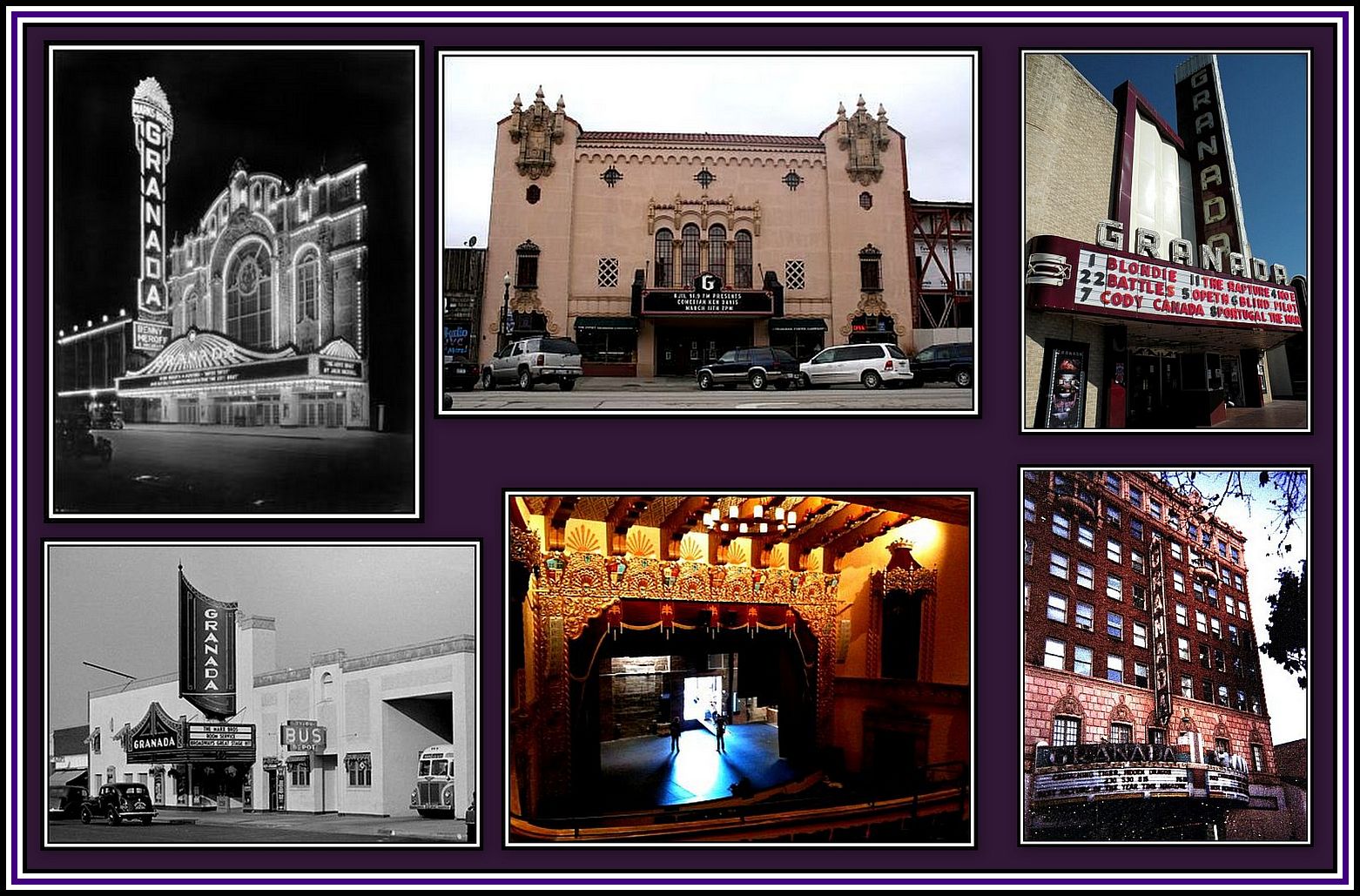 Some Granada Theatres in the U.S. – no relation to THE GRANADA THEATRE CIRCUIT
Top Left: Chicago; Top Centre: Kansas; Top Right: Dallas
Bottom Left: Lawrence, Kansas; Bottom Centre: Kansas, interior; Bottom Right: Santa Barbara
In 1927, Mr. Bernstein announced some ambitious plans, which included the rebuilding of a number of his Empires at Edmonton, West Ham and Willesden.  It was during this year that he began an association with the Russian theatre director, Theodore Komisarjevky, who together with Cecil Masey, led to the building of some of the most sumptuous cinemas ever to be built in the U.K. and which Mr. Bernstein would insist on call theatres, as Picture Palaces were called in the U.S..
At this time, the entrepreneur Oscar Deutsch was commissioning the architect George Coles to design cinemas in art deco style.  Although Mr. Bernstein was perhaps not as impressed as others with this style, he did allow its use in the design of the exterior of his theatres.  However, in general, it would appear that his taste favoured neo-renaissance, as his preferred style for the interior décor of the majority.  And for this, Mr. Bernstein engaged Theodore Komisarjevsky as designer.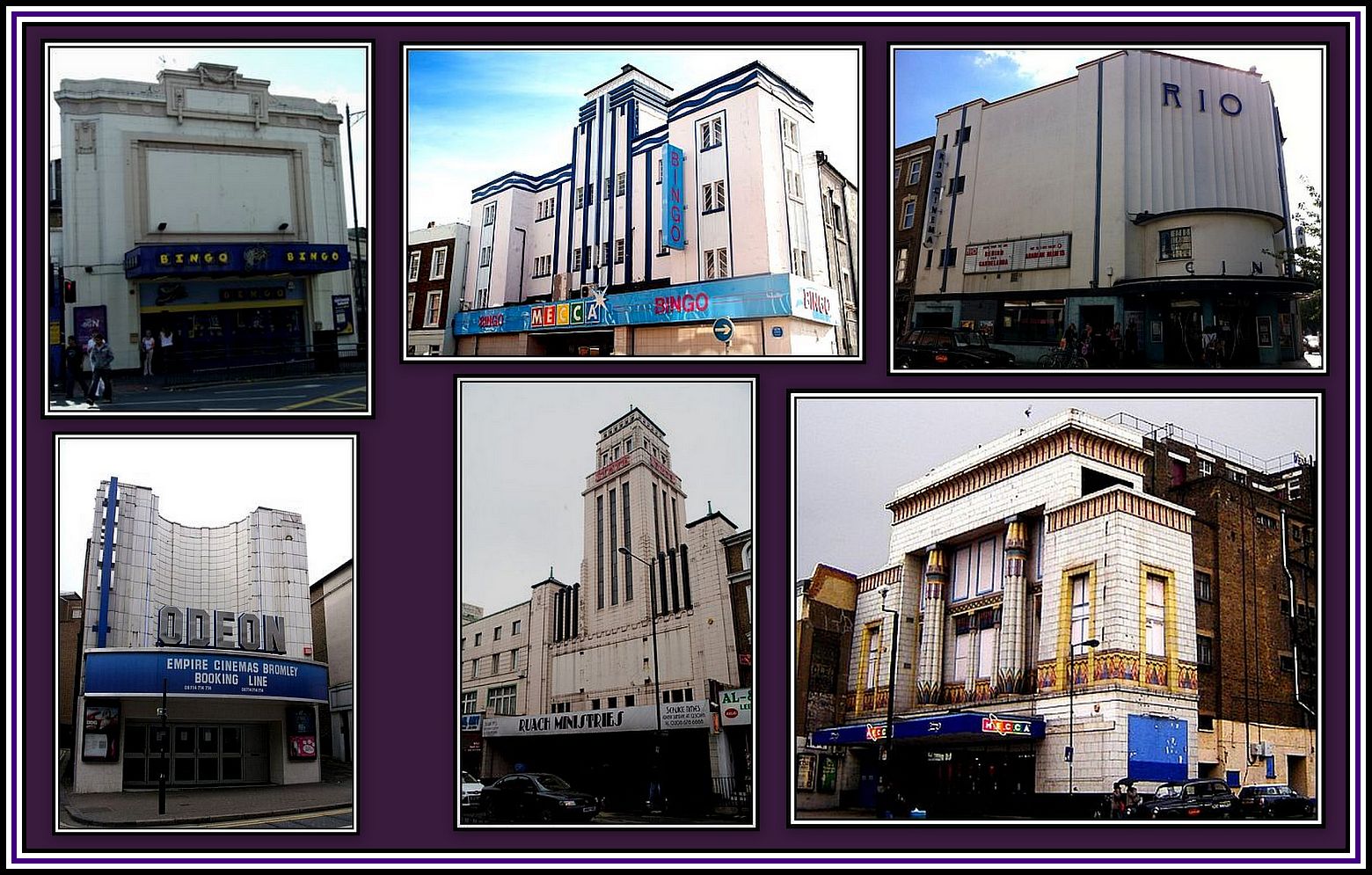 Some of the cinemas where George Coles was the architect
In 1928, together with his brother, Cecil, Sidney Bernstein increased the size of his fledgling cinema circuit by merging it with Gaumont-British with himself as managing director.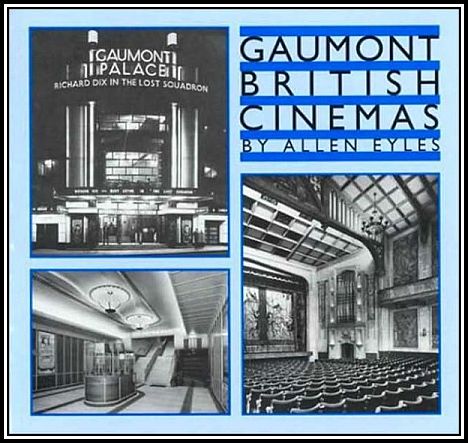 By the mid-to-late 1920s, Sidney Bernstein was the owner of a collection of converted Music Halls and less-than-ideal Kinemas.  Mr. Bernstein came to believe that it was the cinema and not the film that drew people to go to the pictures.  He felt that audiences wanted cinemas to be cathedral-like with palatial décor – in other words, establishments that were glorious to look at.   He felt that few, if any, cinemas in operation in the U.K. at this time offered the public such an experience.
Evidently Sidney and Cecil Bernstein began to plan the building of a series of cinemas/theatres where this belief would be put to the test.  Their hope was to provide the public with awe-inspiring temples of entertainment at prices within their reach.  To achieve this aim, Mr. Bernstein embarked on a quest to find suitable sites where he hoped to build new cinemas and now had people constantly on the lookout for suitable .
And as will be seen, each of the theatres that was built did indeed prove to be special …… several were even extraordinary ….. and a couple were spectacular …… but one in particular turned out to all of this – special, extraordinary, spectacular and totally breathtaking!  But more of these palaces later.
After a long search, a site in Dover was chosen to be where his first purpose built cinema would be built for his company, Country Theatre Dover Limited.  The theatre was originally intended to be named the Country Theatre and Tea Room.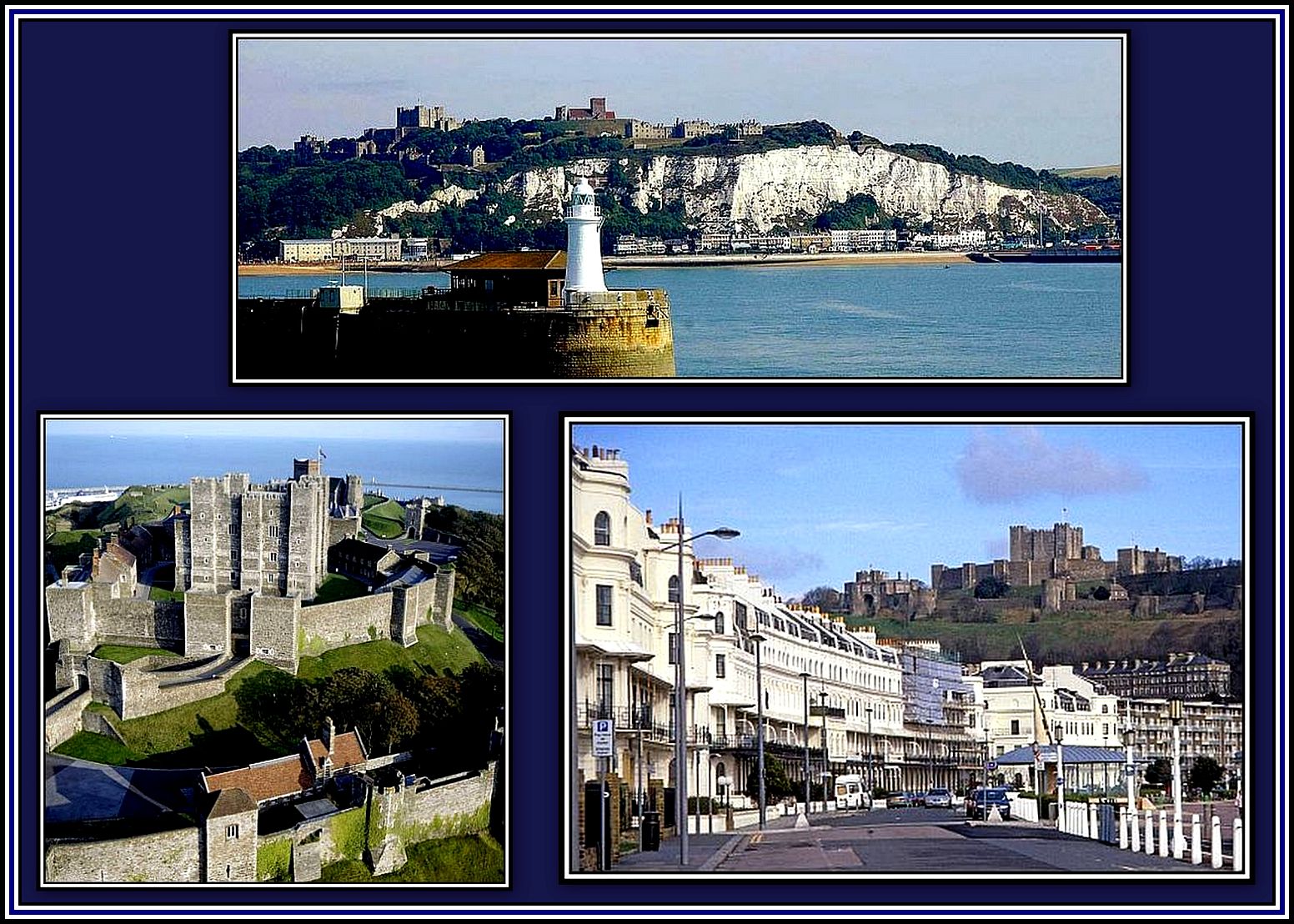 Views of Dover Castle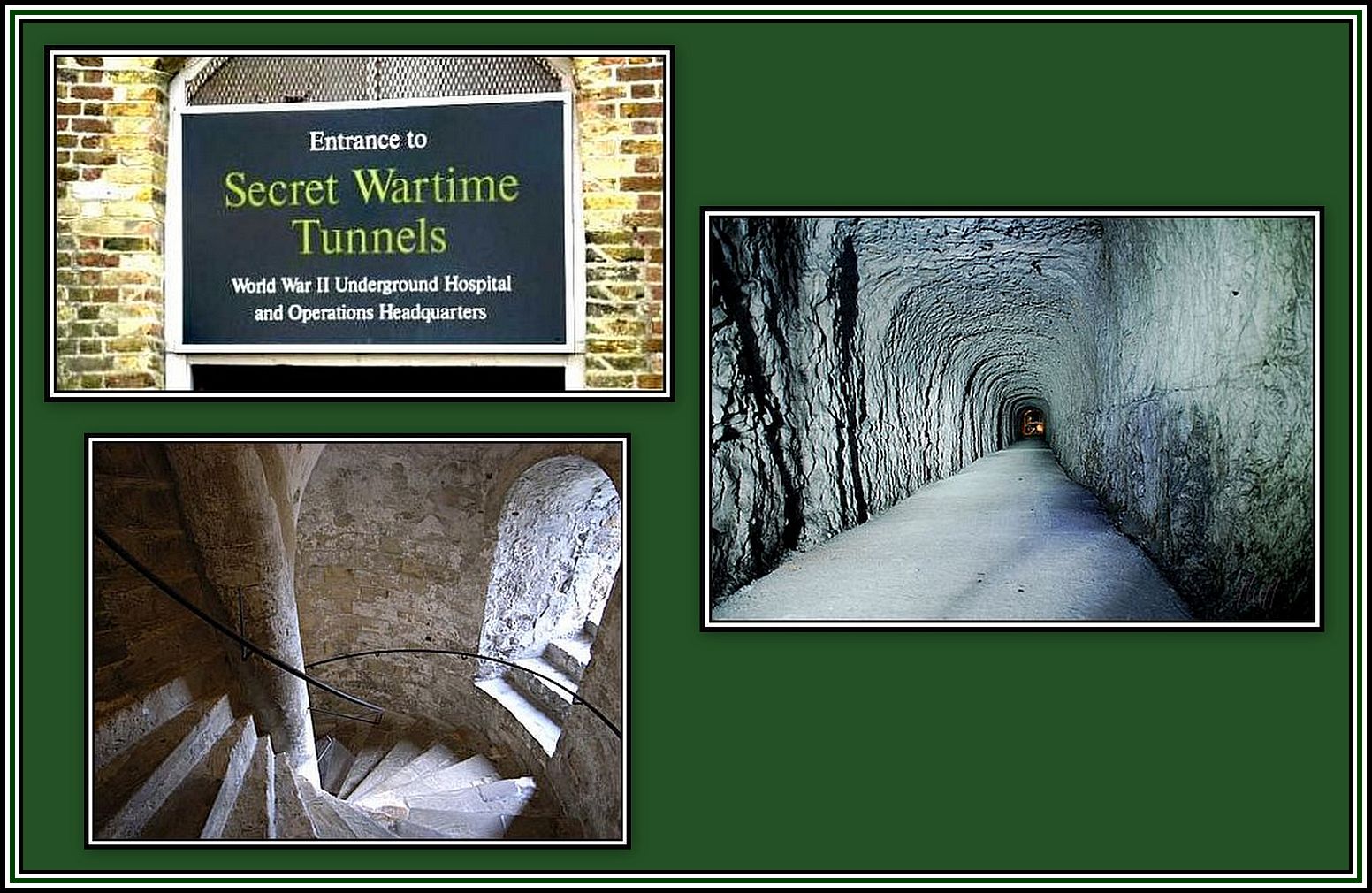 Wartime Tunnels, Dover
Mr. Bernstein said that he decided to name the theatre, Granada, as he was looking for something original and with an exotic feel to it.  He said that he had visited Granada (part of the territory of Andalusia) as a young man during a walking holiday in Spain and had been particularly impressed by the architecture he found there and that this had been the inspiration for the name of his first cinema and later for the Circuit.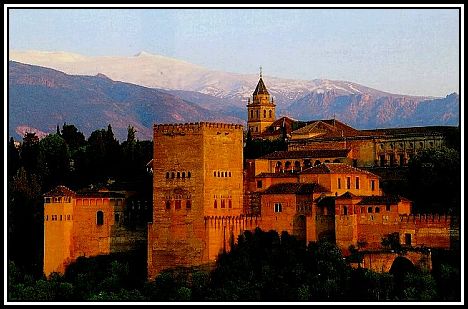 The Alhambra Palace …… just before sunset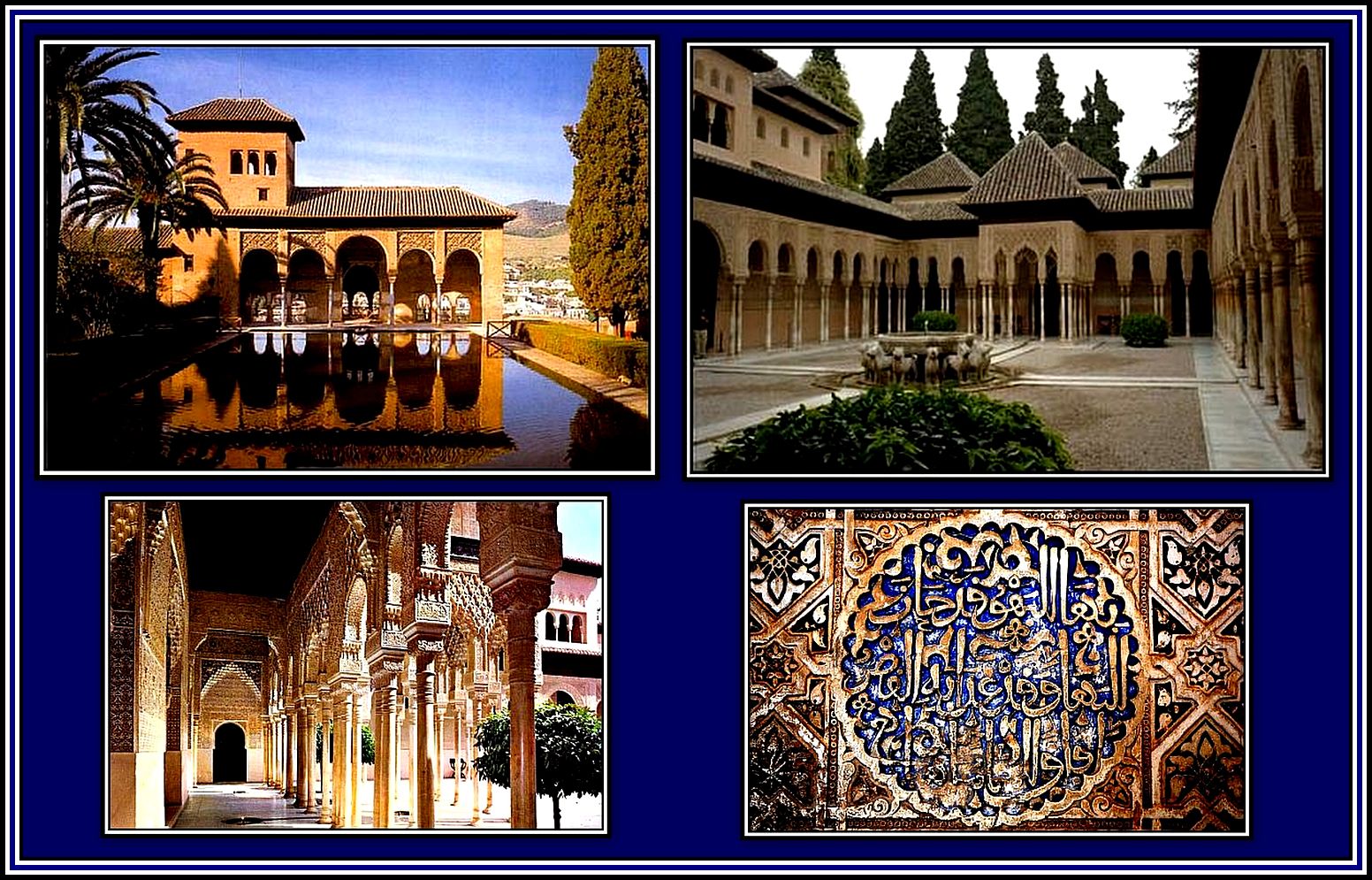 Scenes of The Alhambra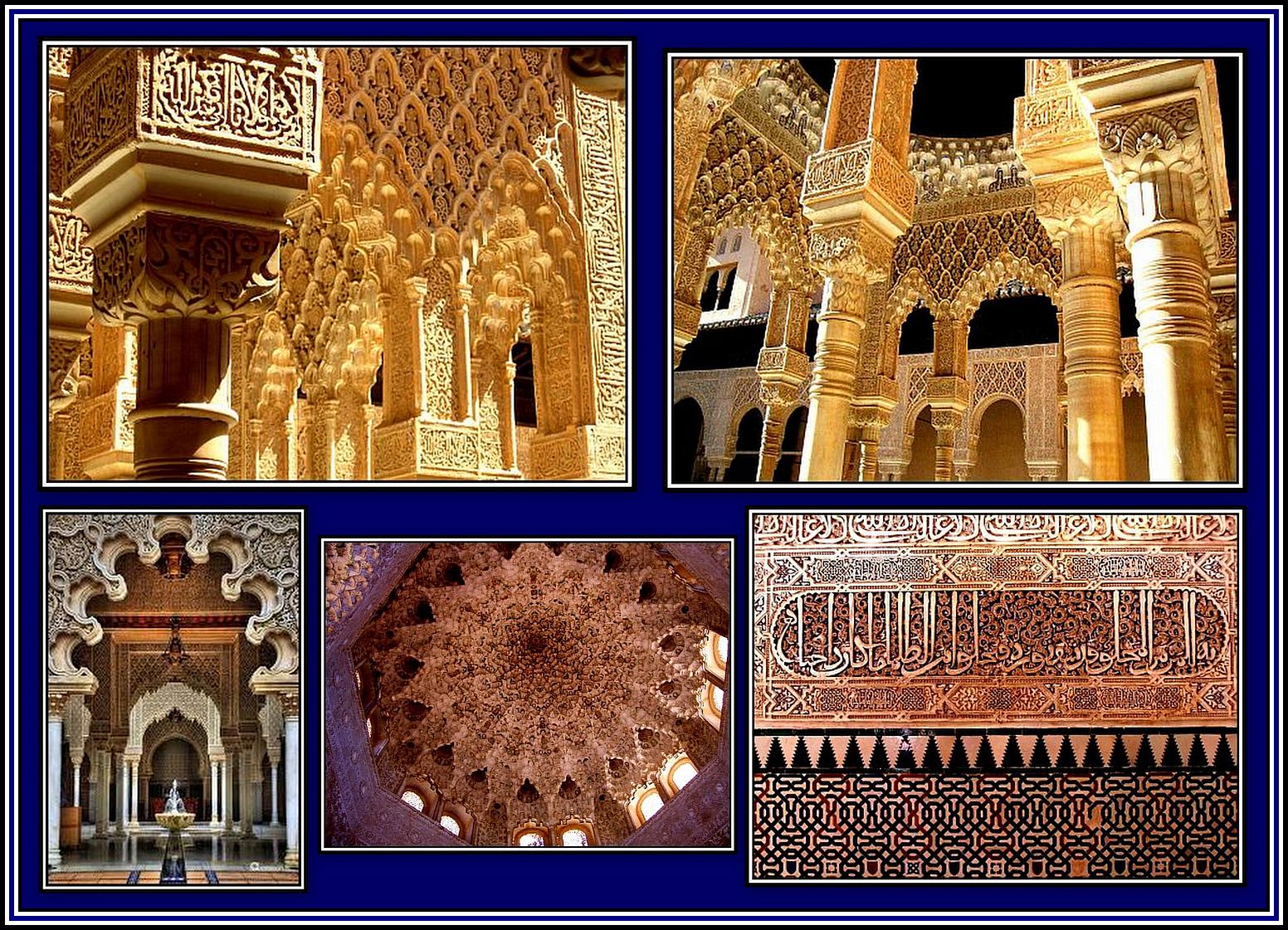 Additional scenes of The Alhambra
Scenes of Granada
(After watching the short films of The Alhambra and of Granada and after listening to the music of Andalusia, is it any wonder that Sidney Bernstein was impressed!)
The Granada Dover opened its doors to the public for the first time on 8th January, 1930 to much fanfare and showmanship.  Mr. Bernstein had chosen Cecil Audrey Massey as the architect and Theodore Komisarjevsky to oversee the interior design.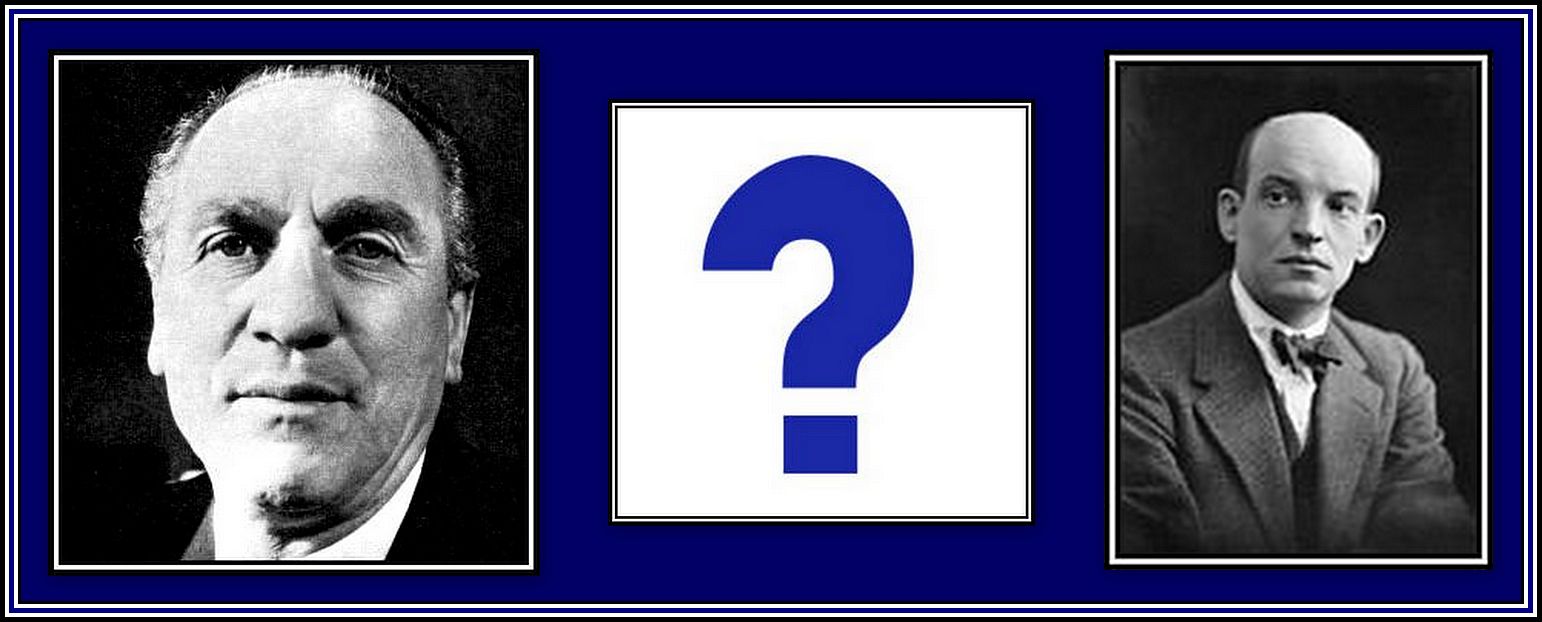 The Giants who Built The Granada Theatre Circuit
Left: Sidney Bernstein; Middle: unfortunately, I have been unable to find any photographs of either Cecil Bernstein or Cecil Audrey Masey; & Right: Theodore Komisarjevsky
The Opening Ceremony of the Granada Dover serves as the perfect example to illustrate the showmanship of Sidney Bernstein!  To begin, it seems that Mr. Bernstein, his wife and Theodore Komisarjevsky helped with the final touches to the painting of the cinema to help ready it for opening later in the day!  While they painted, the various variety acts to perform went on around them unimpeded!  And with paint still drying and with the last of the workmen passing through the back door, dignitaries and other members of the specially invited audience including trade people transported from London in a special coach, the Granada Pullman, entered the theatre through the front doors!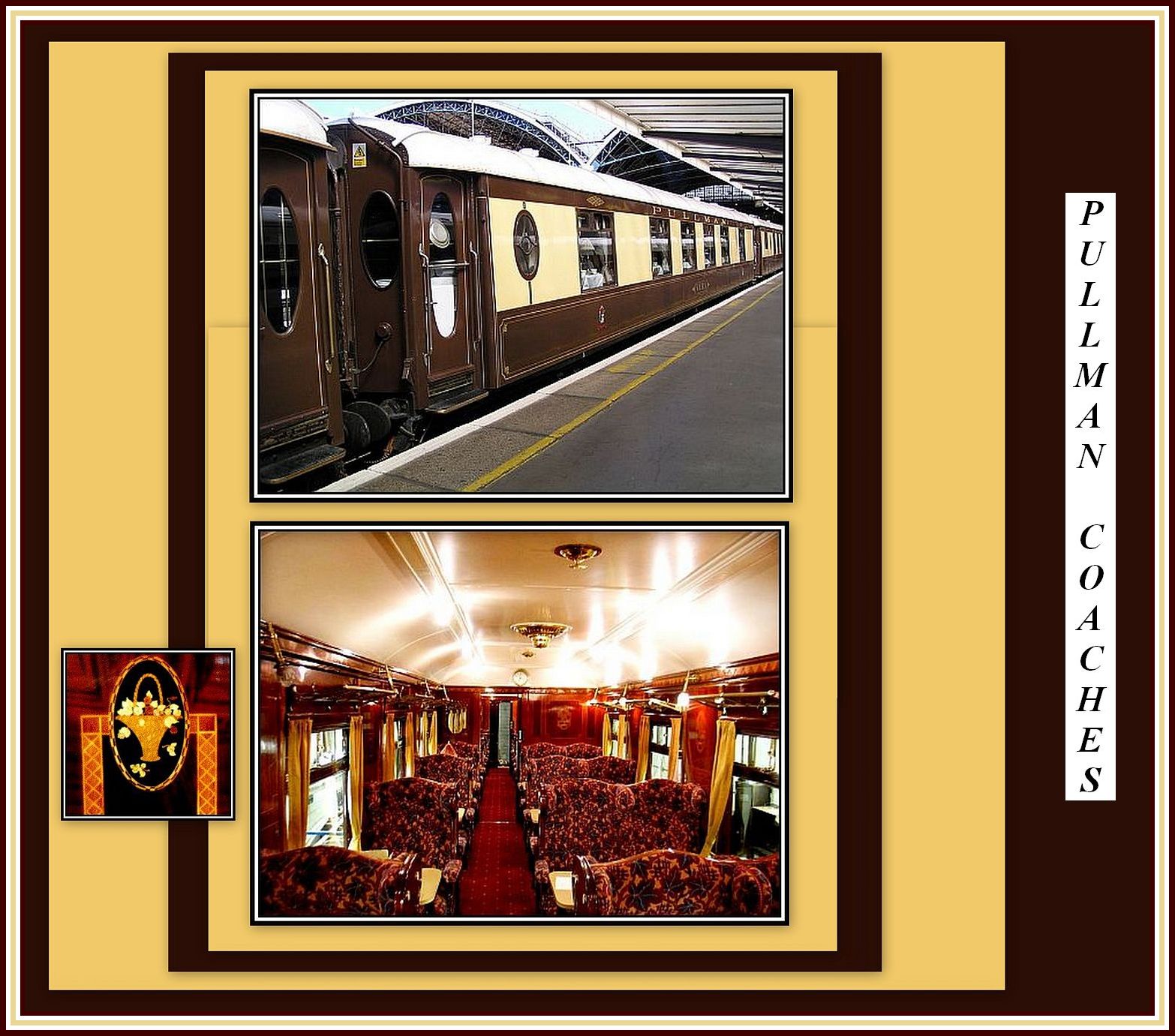 Pullman Coaches – poineered by George Pullman
Once seated, the audience was treated to an Opening Ceremony not to be forgotten!  Following a trumpet fanfare, a renowned toast master appeared on the stage and began a discourse, which led to the introduction of some of the leading people responsible for the erection of the theatre!  As the curtains opened, a somewhat unusual tableau vivantappeared: on stage, before a table covered with plans, stood – with quill pens in hand, and appearing to be feverishly working – stood Cecil Massey, Theodore Komisarjevsky, the musical director, the Clerk of Works et al!  Above this group hung a sign reading ……  The Granada must be opened by January 8th.  In this manner, and in true Barumesque style, Mr. Bernstein introduced his new theatre to the public!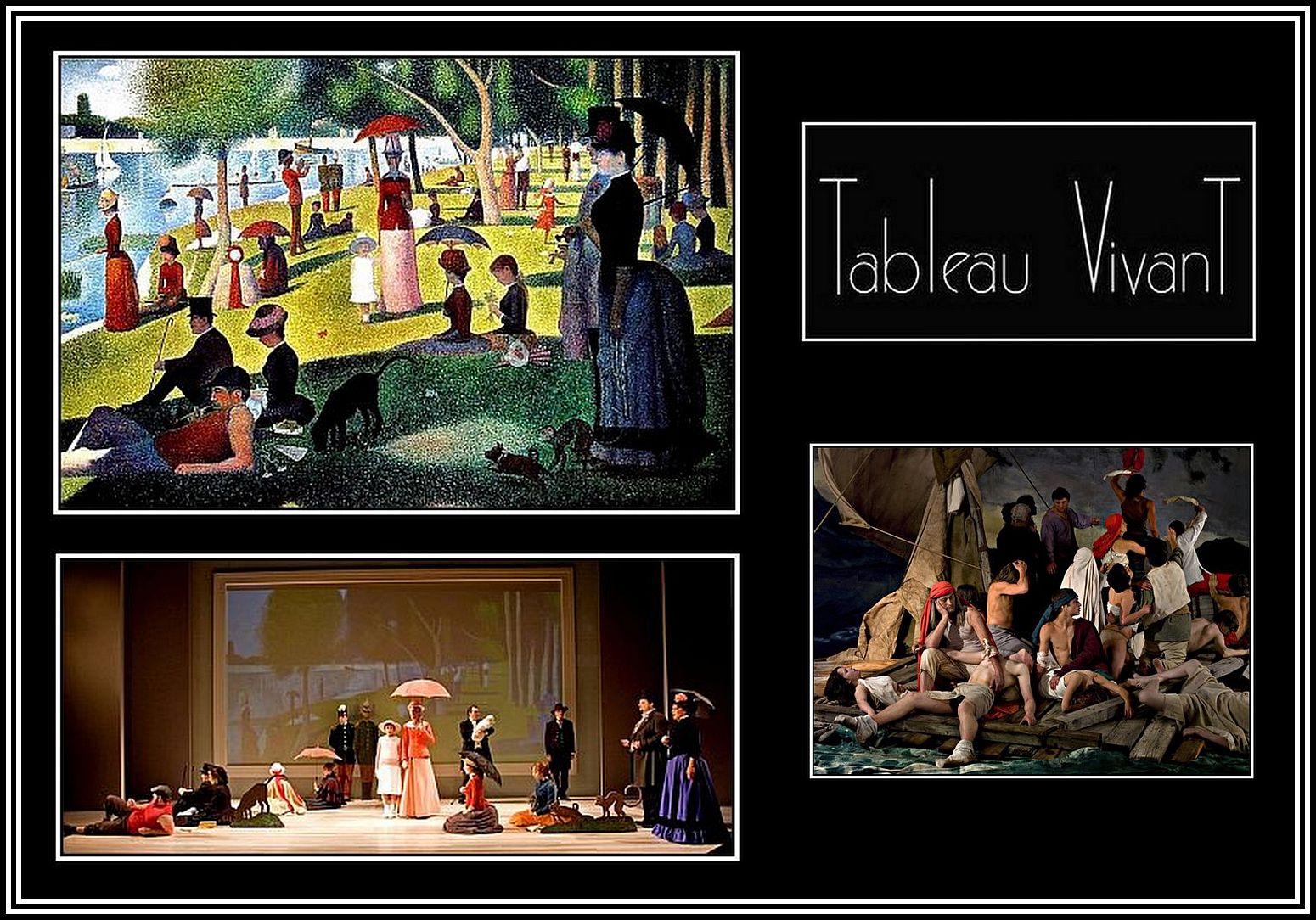 Tableleau Vivant
Top Left: Georges Seurat's Un dimanche après-midi à l'Île de la Grande Jatte (1884);
Bottom Left: the painting reproduced as a tableau vivant in the Stephen Sondheim-James Lapine musical, Sunday in the Park with George;
Bottom Right: Adad Hanna's rendering of the The Raft of Medusa expressed as a tableau vivant
Apparently the opening ceremony of a new cinema was generally a dull event, but here Mr. Bernstein offered something new while letting the trade and public know that the building had been constructed and made ready for use in a mere six-and-a-half months.  Apparently, Mr. Bernstein repeated this living tableau at other openings, which seemed to have been well received.

The first custom-built Theatre built for the Circuit – The Granada Theatre Dover
Meanwhile, while seemingly involved with the construction and opening of the Granada Dover,  Mr. Bernstein had people looking for in Walthamstow and Tooting where he planned to build new theatres.
The Bernsteins founded Granada Theatres Limited to oversee their new cinema circuit.  In 1934, the company was incorporated as Granada Limited and Granada Theatres Limited became a subsidiary.  In 1935, Granada Limited became listed on the London Stock Exchange and, in one form or another, has continued to be listed since then.
Top Left: Royal Exchange; Top; Right: Paternoster Square – the building on the right has been the current London Stock Exchange (LSE) since 2004; &
Bottom Right: the LSE on Threadneedle Street from 1972 until 2004
Sidney Bernstein, in conjunction with his brother, Cecil, owned thirty-nine theatres by 1939, and by 1949, the number had increased to fifty-six.  By the mid-1950s, the total number of theatres eventually rose to over sixty and formed what was to be the first of a number of leisure-orientated ventures that they would oversee.
Granada Limited did not limit its portfolio of companies to theatre owning and managing, but went on to diversify and develop interests in real estate, motorway , publishing, retail shops, bowling alleys, Bingo Social Clubs (formed in 1960 by conversion of many of the theatres as a result of the decline in cinema going) and a television rental business. However, it was with the creation of the Independent Television Authority in 1954, that Mr. Bernstein would perhaps enjoy his greatest success with Granada Television.
But to return to the theatres of The Granada Theatre Circuit: the Circuit consisted of both take overs and a number of especially built theatres of which a number were amongst the most glorious cinemas ever built.  For more about some of these theatres, please go to:
Sidney Bernstein was not just interested in owning cinemas; he had an interest in all aspects of film.  In 1925, he helped found the London-based Film Society, which introduced the films of a number of celebrated European directors to British audiences.  At one time, he even ventured into legitimate theatre.  Possibly influenced by Theodore Komisarjevsky, in 1927 he formed Sloane Productions in partnership with Arnold Bennett and leased the Royal Court Theatre.  Although they enjoyed some success with the staging of Mr. Bennett's play, Mr. Prohack, based on his novel, the venture ended in 1928, as it proved not to be a financial success.
Mr. Bernstein was a lifelong socialist and was believed to be a Soviet informer by MI5 prior to the Second World War . Following the outbreak of war, Mr. Bernstein became a film advisor to the Ministry of Information and by 1944 was Chief of the Film Section at the Supreme Headquarters Allied Expeditionary Forces (SHAEF). He was responsible for bringing Alfred Hitchcock back to the Britain to make several tribute films to the French Resistance. In 1945, he produced a film based on the footage shot of German concentration camps however this film was not screened until 1985 having been buried in the archives of the Imperial War Museum.

Right: SHAEF shoulder patch; Centre: plaque commemorating site of SHAEF Headquarters;
Left: Imperial War Museum, London
Immediately after the war, although the cinema business was booming and cinema ticket sales were at an all-time high, the Bernsteins, like other cinema circuit owners and builders, found themselves unable to build any new theatres because of the shortage of construction materials.  As a result, they searched for more take overs, which they found in five of the cinemas of the London & District Cinema Circuit.  The Imperial Cinema at Clapham Junction was not included in the sale since the Bernsteins did not consider it to be a good earner!  In fact none of these cinemas were great profit makers, but by virtue of the location of three of them, they were able to screen first-run releases and so ensure good ticket sales each week.
Sidney Bernstein was always on the lookout for a good business venture.  Being interested in all aspects of film, it is perhaps not surprising that he eventually became involved in the making of movies.  After the war, Mr. Bernstein went to Hollywood where, together with Alfred Hitchcock, he formed a production company, Transatlantic Pictures.  Unfortunately, the films that they made, Rope (1948) and Under Capricorn (1949) were not box-office successes and other productions were shelved.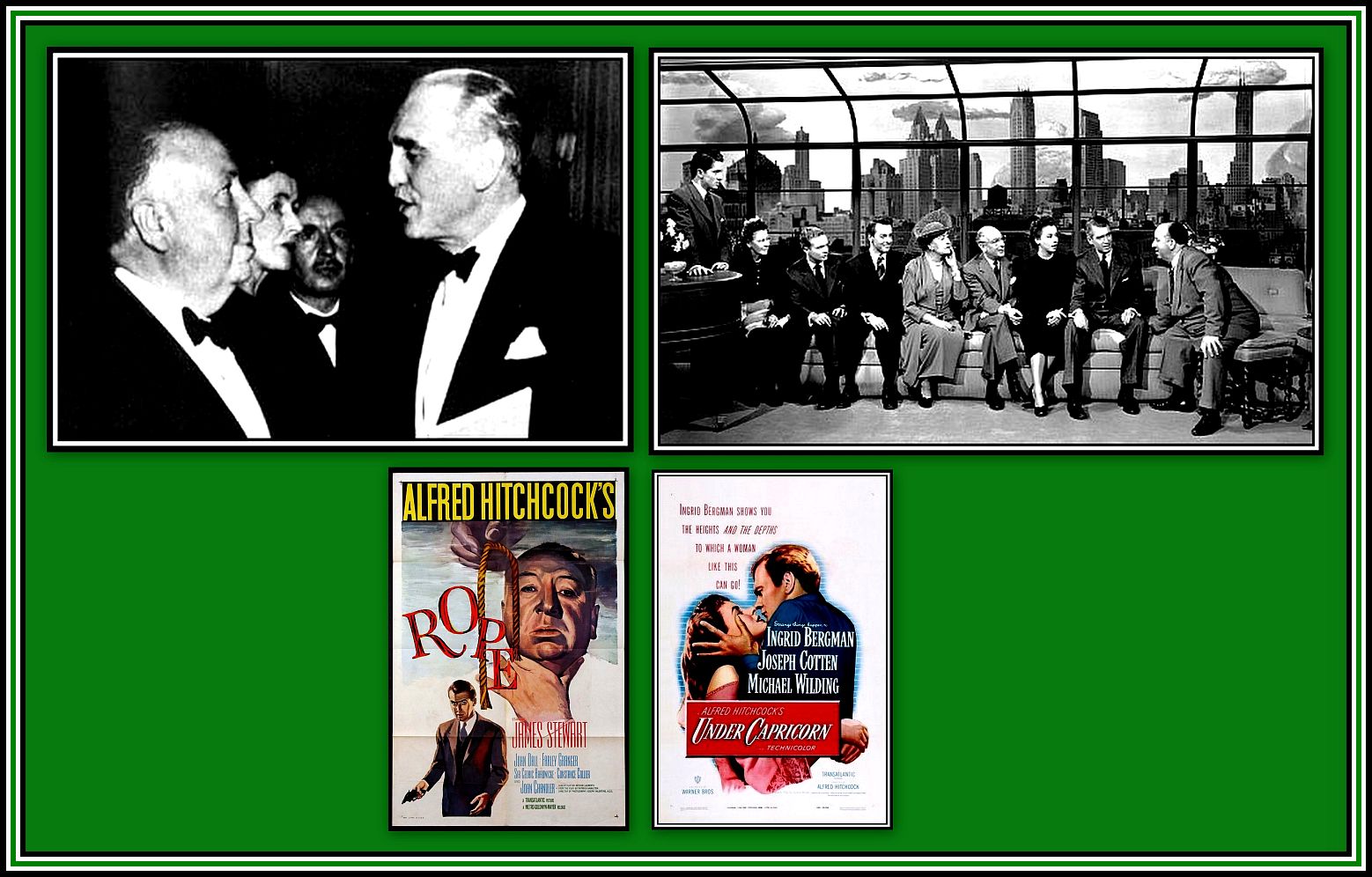 Top Left: With Alfred Hitchcock; Top Right: The cast of Rope
Bottom Left: Poster for Rope; Bottom Right: Poster for Under Capricorn
Note Mr. Bernstein's nose in the photograph: he broke it as a child while playing football (just like me!)
-oOo-
Once the glory days of cinema-going peaked in 1946, it began to decline.  Television was blamed for this.  Hollywood responded with 3-D and widescreen processes.  Things looked rosy, at least for a while, once 20th Century Fox, the company that pioneered CinemaScope, made a deal with Granada Limited and Essoldo to screen their products.  The first films of 20th Century Fox in CinemaScope were spectacles and set in exotic locals and attracted people in large numbers.
CinemaScope – Listen to the Fanfare
Despite the agreement between 20th Century Fox and the Fourth Circuit (i.e. the Essoldo & Granada Circuits), eventually the number of patrons going to the pictures each week started to decline once more  Television sets were now appearing in more and more homes, which meant that people were tending to enjoy an evening out at the pictures less and less.  The ABC and Rank Cinema Circuits were also suffering from the continued fall in ticket sales.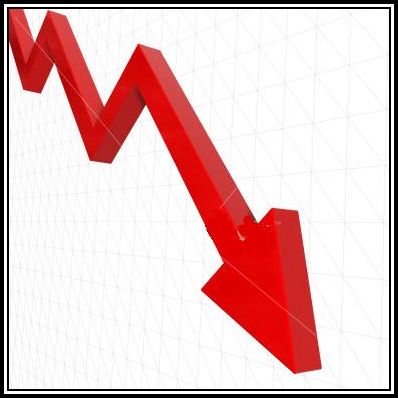 Cinema Ticket Sales
I have been reading the book by Allen Eyles, The Granada Theatres, and realised something that should have been apparent to me from the start of investigation into the life of Sidney Bernstein.  Since I was, and still am enamored of Granada Theatres, I naturally assumed that Mr Bernstein would be too!  He may well have been, but what I failed to appreciated was that Sidney, like Sol Sheckman and Oscar Deutsch and J. Arthur Rank etc, was first and foremost a businessman!
How many times have you heard the expression …… it's only business!  Nothing personal! …… when a deal is made?  To many, this may sound hard and perhaps even cruel.  Sentimentality, it would seem, has no place in business …… so I am told.
And with seriously declining ticket sales, Mr. Bernstein and Granada Limited obviously looked elsewhere for business opportunities, which they found, and which they quickly moved into and took advantage of what they found.  Just as cinema had replaced Music Hall as the pastime of the general public, television was now replacing cinema.  Mr. Bernstein had not been afraid to convert his Music Halls to cinemas in response to changes in public taste and now with the decline of cinema-going, he was not fearful to look at the Granada Theatre Circuit with equally realistic eyes.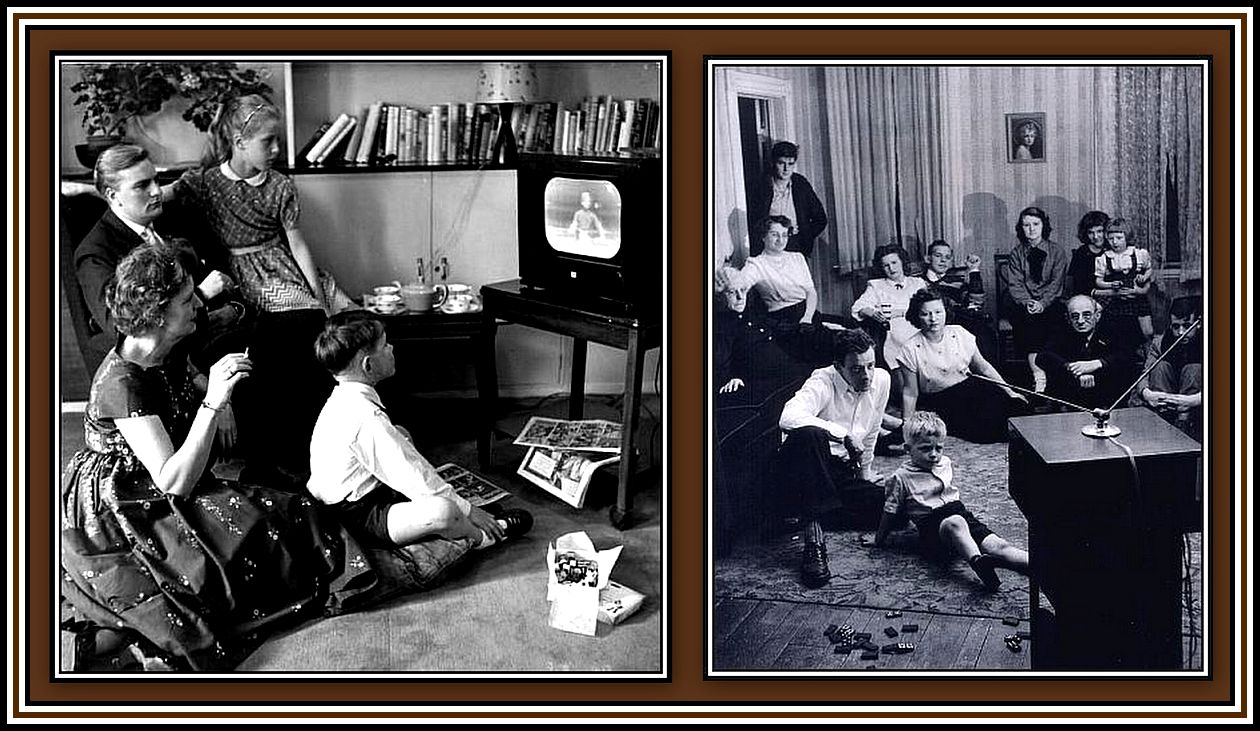 Watching Television in the 1950s
Once Mr. Bernstein won the franchise to set up a television company for transmission to the North of England, this fledgling television company became his main area of interest and it began to take up more and more of his time.  Granada TV soon necessitated his flying between London and Manchester in his own aeroplane to oversee his new business leaving his brother, Cecil, in charge of the cinemas.  Soon Mr. Bernstein, as a result of the growth of Granada TV, brought his brother over to the television side and delegated their cinema interests to others.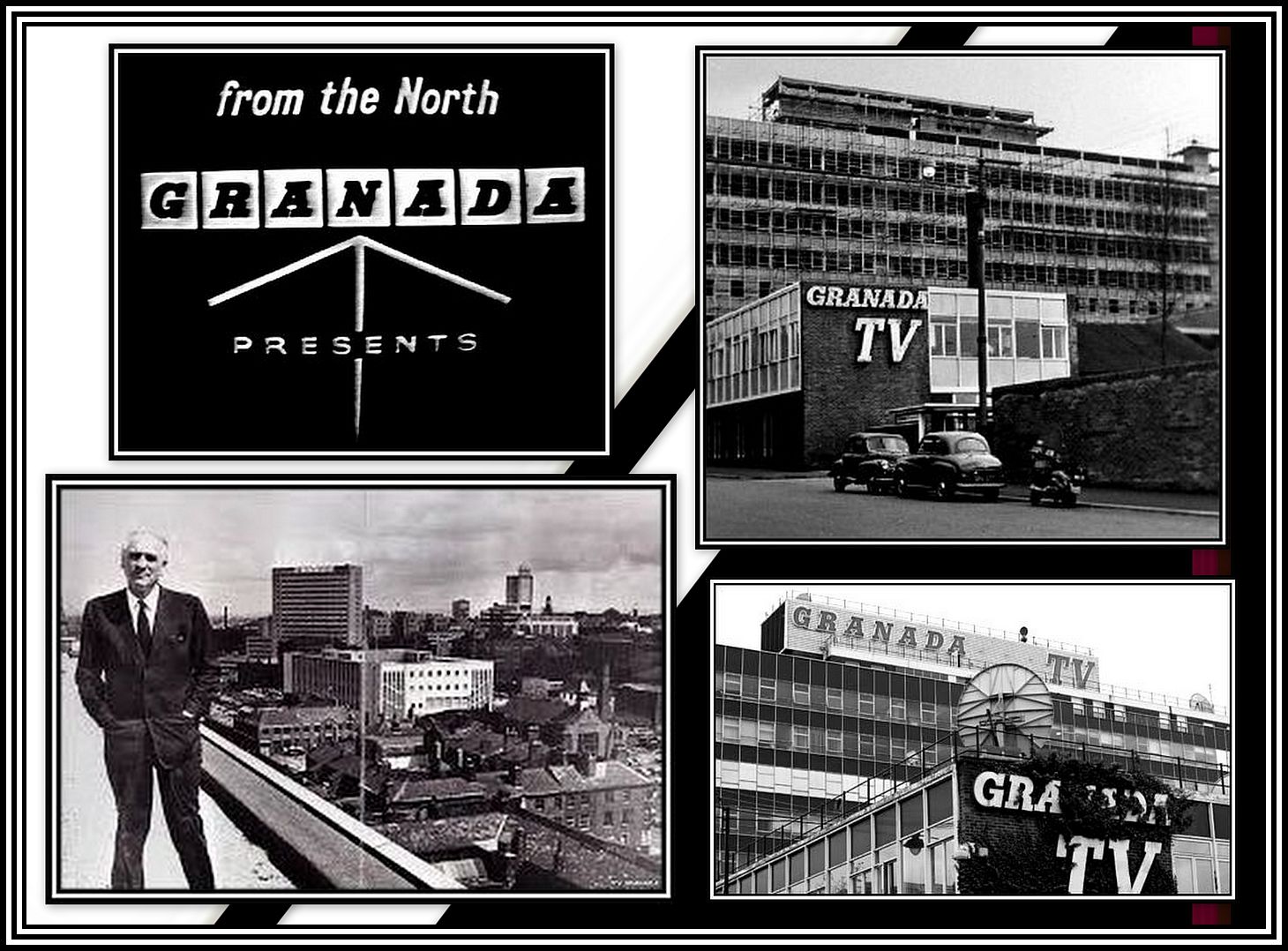 Granada Television Studios, Manchester – known as Granada Land
Top Right: Granada Television Studios during building
Bottom Left: Sidney Bernstein on the roof of Granada Television Studios in the 1960s
The Bernsteins once oversaw a Theatre Circuit of sixty-six theatres.  However, times change, and by the late 1950s with the sharp fall in ticket sales, the least profitable cinemas of the circuits began to close.
I remember this time well and was horrified by the vast number of closures that I saw on a visit to South London in 1959.  So many Gaumonts were suddenly closed and many of the buildings were left empty and slowly began to decay until they eventually had to be demolished.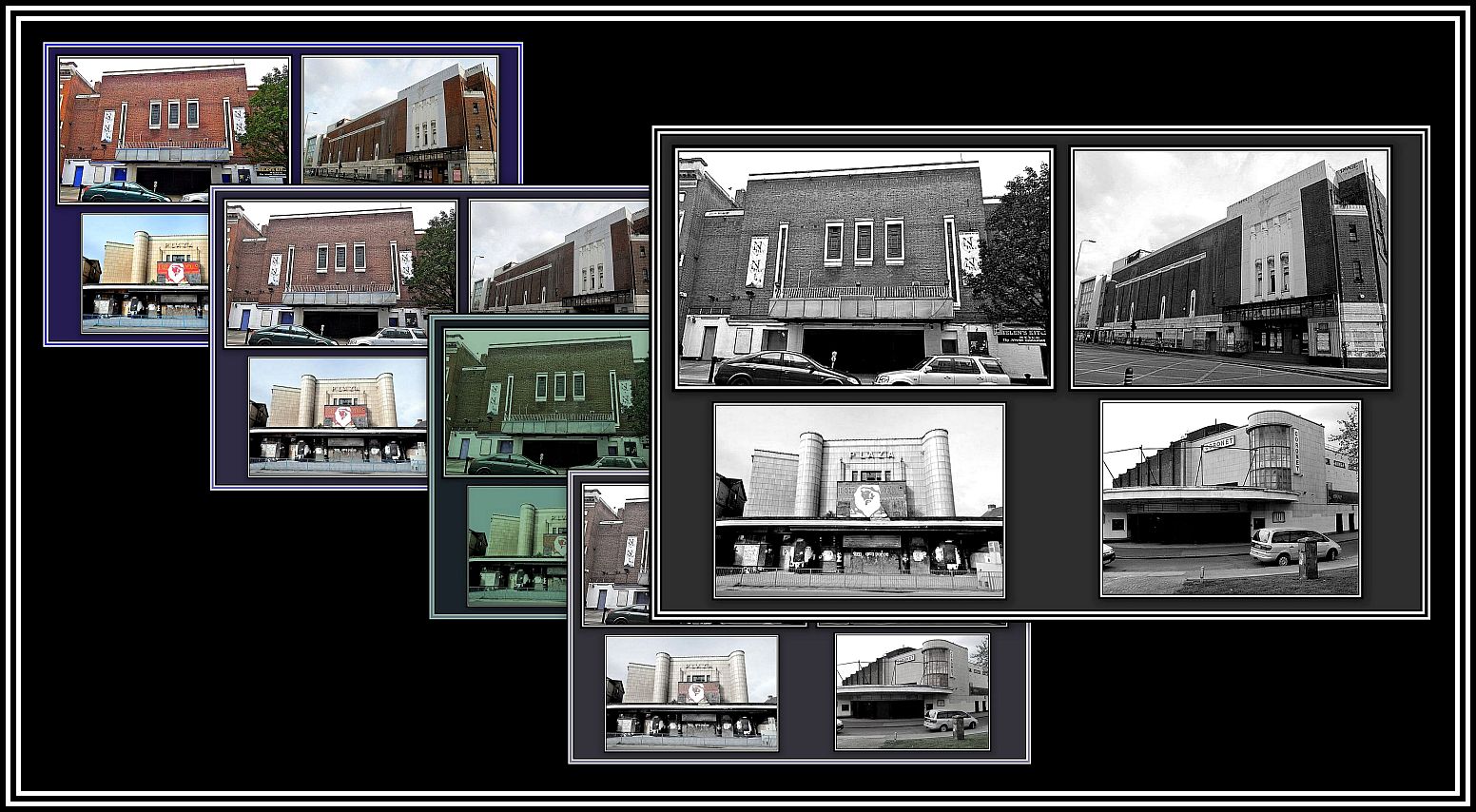 Cinemas were closed, left & allowed to decay
From the late 1950s, the major cinema circuits, including Granada, attempted to diversify the use of their cinemas in the hope of maintaining profitability.  This took the form of allowing them to become venues for One-Night-Only-Rock 'n' Roll Shows and Wrestling Extravaganzas.  Only the largest theatres in the Granada Circuit were used for such stagings and, as profitable as such events were, they only filled the theatres where they played for one night only.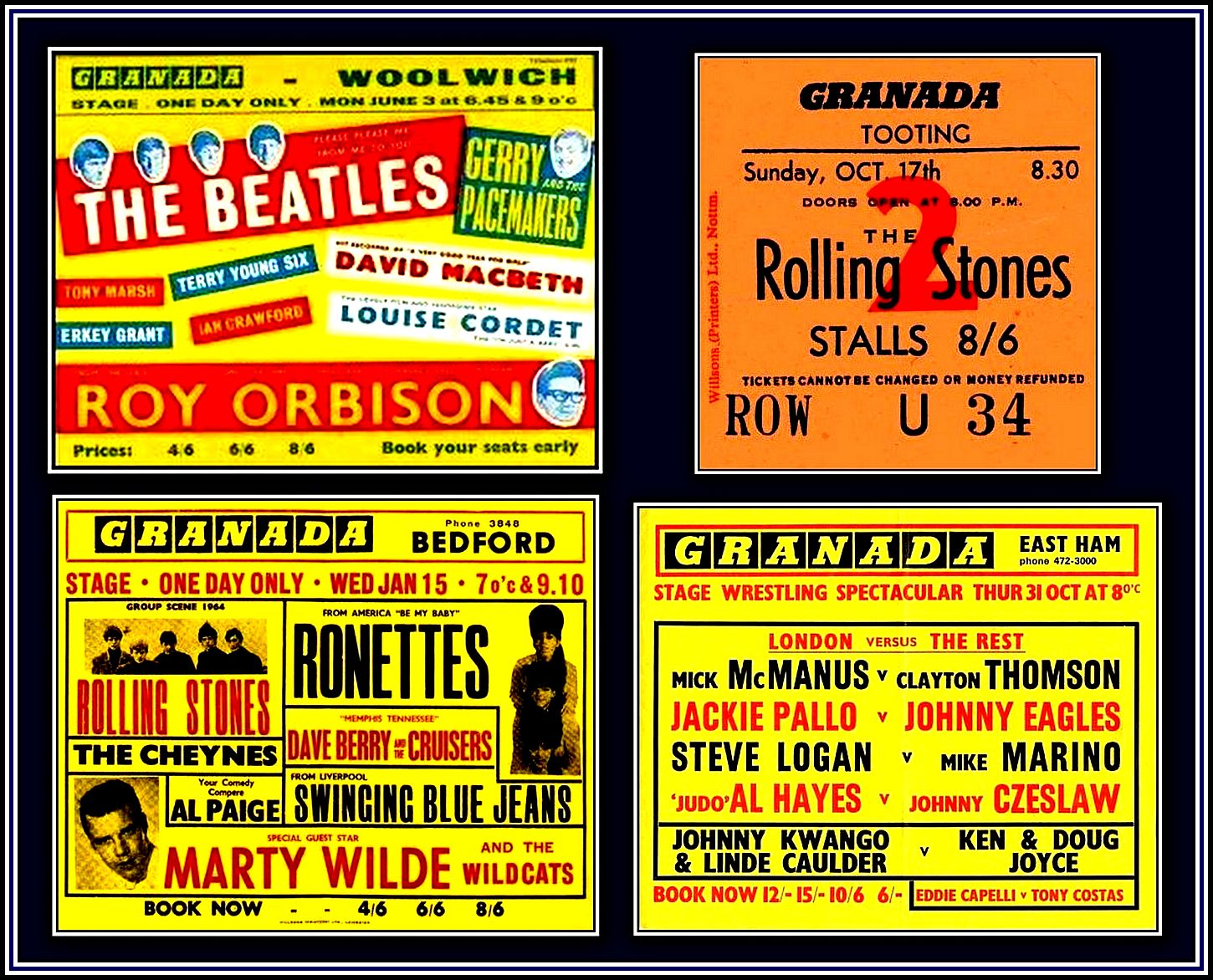 In a further attempt to improve ticket sales, many theatres and cinemas were converted into twins or even triples, but even this did not reverse their fortunes.  Throughout the 1960s, cinemas continued to close and the once gigantic Cinema Circuits were now but mere shadows of their former selves.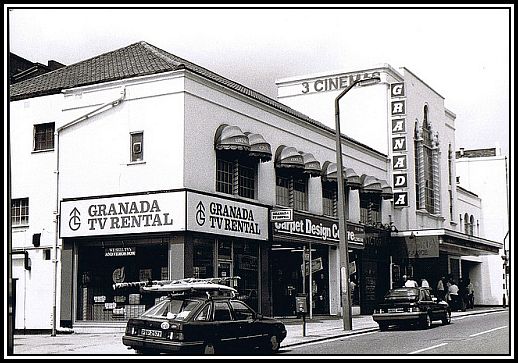 The Granada Theatre Walthamstow – here with three screens
However, there was one hope left that was to save many of their remaining cinema buildings from demolition, at least for a while that is, and this was Bingo.
The Rank Organisation began to convert cinemas into Top Rank Bingo Clubs in 1961.  As the reader will know, I was somewhat upset by the closure of the Odeon Hackney Road, which was one of the first conversions to occur.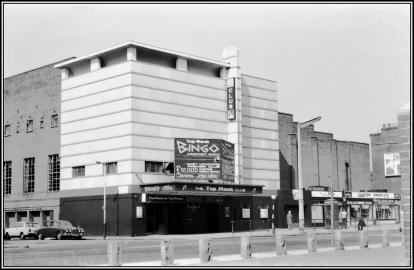 Odeon Hackney Road (1970?) as a TOP RANK BINGO CLUB (part of The Rank Group)
Soon the ABC and Rank Circuits were converting their cinemas into Bingo Halls and Social Clubs at a furious rate in an attempt to keep many of them in operation.  Granada moved cautiously into Bingo, even though it was lucrative business and maintained a low profile until the 1968 Gaming Act legalised Bingo and permitted the company to feel more comfortable about its business involvement and the longevity of the game's consumer appeal.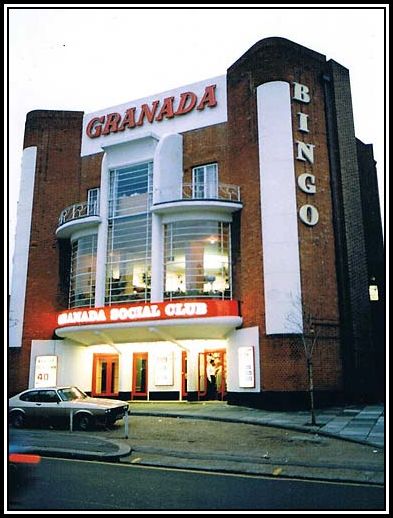 The Granada Theatre Acton as a Granada Social Club
Granada started by allowing some of its theatres to offer Bingo sessions on a limited basis – at first just several afternoons each week – with films being screened during the evenings.  Once Bingo's popularity increased, the number of sessions likewise increased and eventually the remaining single screen theatres were converted into full-time Granada Bingo Social Clubs.  Despite the apparent success of Bingo, not all theatres were converted: for example, the Granada Clapham Junction and the Century Slough were sold and became supermarkets.  And the Granada Theatre Tooting was deemed inappropriate for Bingo!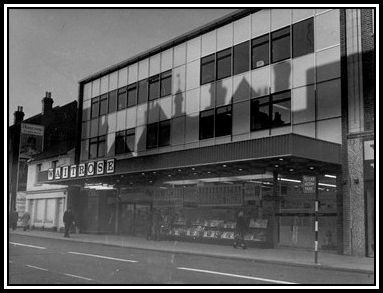 The of the erstwhile Century Theatre Slough
The site was redeveloped as a Waitrose Supermarket,which itself was later demolished and replaced.
I find it difficult to believe that even the flagship theatre, The Granada Theatre Tooting – The Jewel of the Circuit – was not immune to the decline in ticket sales.  The situation was proving ominous: by 1965, the circle was generally closed during matinees and by 1972 ticket sales had fallen to an all-time low.  The future of the theatre suddenly appeared tenuous especially since Mr. Bernstein felt that the architecture of the building precluded it from being converted into a Bingo Hall.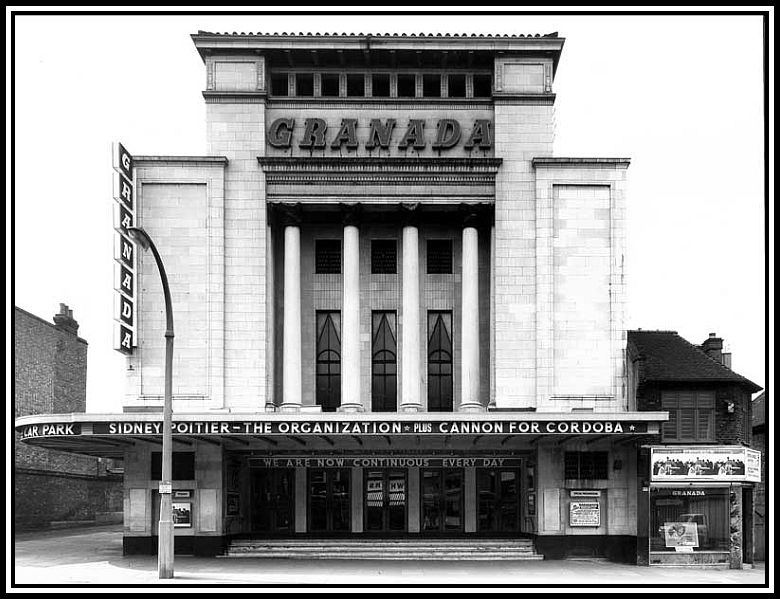 By 1972, Mr. Bernstein believed that this glorious theatre has served its purpose and should be demolished.  This intention led to a battle between the public, borough councils and Granada PLC, which may be read about more fully later in  this series in the story on The Granada Theatre  Tooting.
Eventually most of the theatres in The Granada Theatre Circuit stopped screening films due to the continued decline in attendance.  Some were demolished, others were sold, but many were converted into Bingo Social Clubs, which allowed them to maintain profitability until these too were eventually sold.
-oOo-
With The Bernsteins at the helm, Granada TV became the crème-de-la-crème of the television companies that made up Britain's Independent Television.   By January 1957, Granada was responsible for all the top ten rated programmes receivable in its region and the company soon came to be regarded as one of the most progressive of the Independent Television contractors. The Granada Group's profits during its first year were £218,204, which had grown to £43 million by 1980.
Over the years, Granada TV has produced a wide range of programmes in all areas – drama to comedy to documentaries – and which have been shown around the world.  In 1985, Granada TV was called the commercial television company in the world in a citation by the Banff International TV Festival.
Granada TV Personalities Over The Years
Mr. Bernstein although a Southerner, chose to set up Granada TV in the North of England.  In an early interview, he explained the reasoning for his choice by saying:
The North and London were the two biggest regions. Granada preferred the North because of its tradition of home-grown culture, and because it offered a chance to start a new creative industry away from the metropolitan atmosphere of London …… the North is a closely knit, indigenous, industrial society; a homogeneous cultural group with a good record for music, theatre, literature and newspapers, not found elsewhere in this island, except perhaps in Scotland. Compare this with London and its suburbs–full of displaced persons. And, of course, if you look at a map of the concentration of population in the North and a rainfall map, you will see that the North is an ideal place for television.
Michael Parkinson, the television personality, and one-time presenter of Granada TV's Scene at 6.30, wrote:
We were part of a unique enterprise and were one of the most important cultural factors in the cultural revolution of the 1960s. That alone would make working for Granada an exceptional experience, but it was much, much more to do with being based in Manchester and having that special point of view which was different.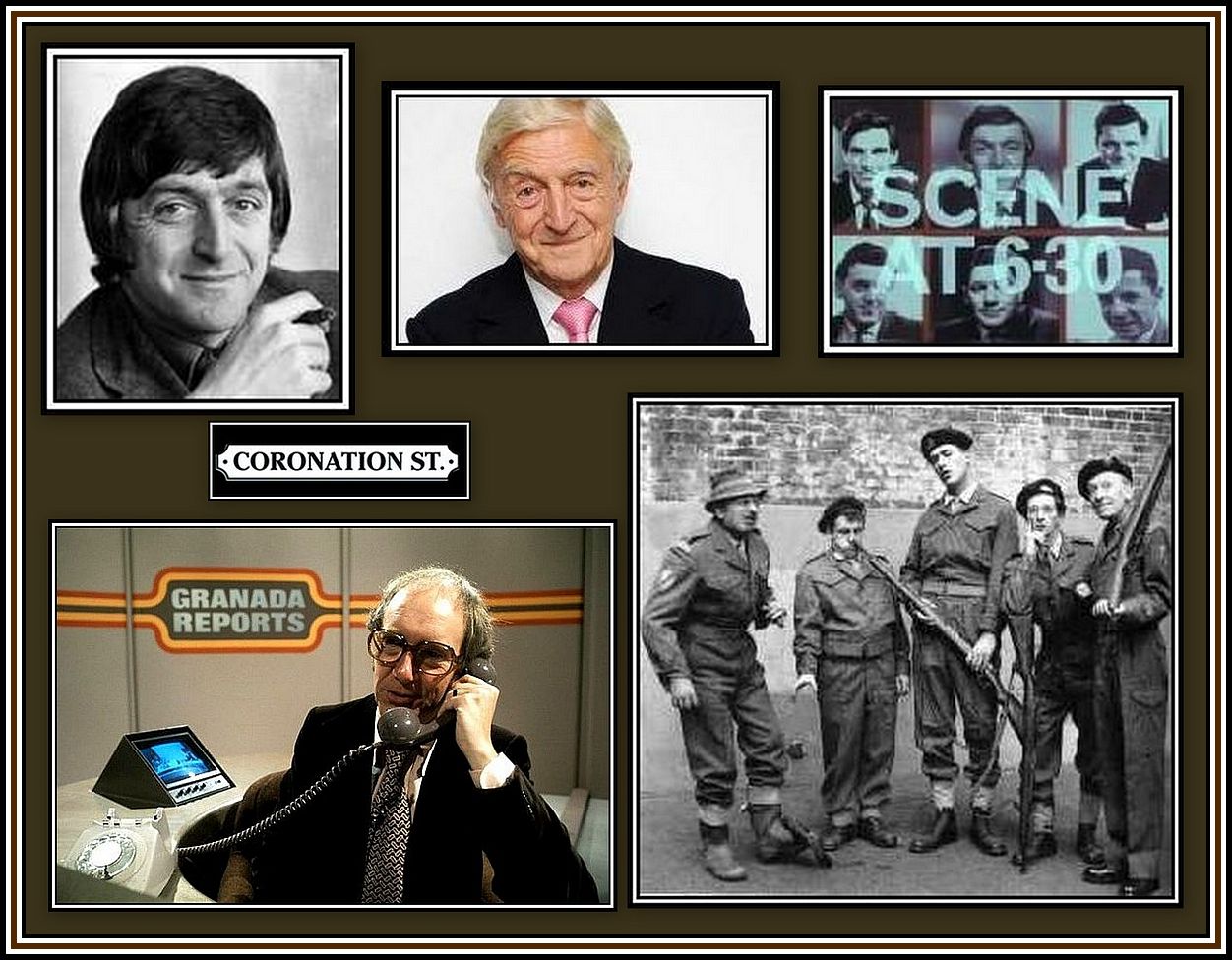 Early Granada TV Personalities
Top: Presenters of Scene at 6.30, a news magazine
Top Right & Middle: Michael Parkinson, then and now
Bottom Left: Bob Greaves on Granada Reports; Bottom Right: a later cast of The Army Game
Granada TV, as I have already said, was responsible for producing Coronation Street (whose working title was Florizel Street).  Cecil Bernstein was sent the following memo towards the end of the 1950s where a new drama serial was suggested:
A fascinating freemasonry, a volume of unwritten rules. These are the driving forces behind life in a working-class street in the North of England. The purpose of Florizel Street is to examine a community of this nature, and to entertain.  
Despite the misgivings of Sidney Bernstein, the programme was produced and has become the longest running soap-opera in the world and has been sold to some 40 countries over the years.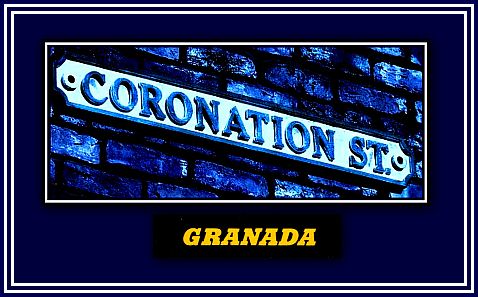 Click here to listen to the theme music of the programme
-oOo-
In 1965, Mr. Bernstein resigned as chairman of Granada Television and moved over to the business side of his empire retaining his title as chairman of Granada PLC and continued in this capacity until 1979 when he retired.
Sidney Bernstein became Baron Bernstein of Leigh in 1969 and in 1984 was awarded Fellowship by the British Film Institute for his achievements in film and television. Following retirement, he became chairman of the Royal Exchange Theatre, Manchester. He was a keen collector of art and upon his death at the age of 94 on 5th February, 1993 in London, he left much of his collection to the Manchester Art Gallery.
Mr. Bernstein was a man of vision and someone with much vim and vigour who saw and opportunity and took it!  I am forever grateful to him for his wonderful theatres and for the great television programmes that his company produced during my younger years.
-oOo-
As a footnote, in 2003, Granada Television merged with Carlton Television to form ITV PLC with Granada holding 68% of the shares. Those involved in television production apparently lamented the disappearance of the Granada name, however it was retained for the name of the overseas sales operation.
——oooOOOooo——
Cecil Bernstein was Sidney Bernstein's younger brother and helped form the Granada Circuit of Theatres in 1930. He also was involved in Granada Television. I can find little else about him except that he was responsible for keeping the character, Lucille Hewitt, in the television soap opera, Coronation Street. Lucille's television parents (Harry and Concepta Hewitt, played by Ivan Beavis and Doreen Keogh) were sacked in 1964 and were written out of the series by having their characters move to Ireland. Lucille was scheduled to move with them and so leave the series.  However, Cecil Bernstein stepped in and said that if she were to leave, there would be no children left living on Coronation Street, which he thought would ring false.  Lucille stayed in the series until 1974.
Recently, I heard from Cecil Bernstein's nephew, Dr. Richard Stone, who kindly sent me a photograph of his uncle presenting film stars to the Queen at the Royal Film Performance on behalf of the Variety Club of Great Britain, of which he was Chairman for a number of years.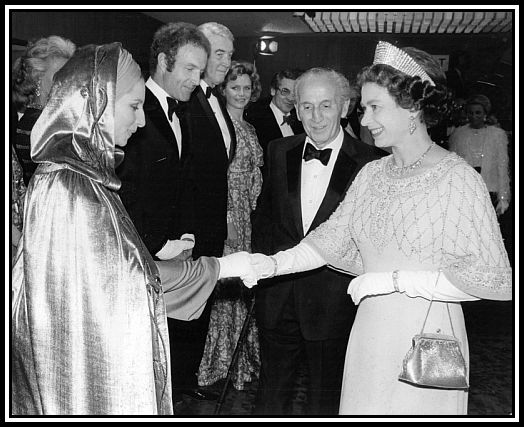 Cecil Bernstein with The Queen
He is seen here presenting Barbra Streisand to the Queen
Also present in the photograph, from left to right, James Caan, James Stewart & Lee Remick
I would like to thank Dr. Richard Stone for allowing this photograph to be reproduced here.
——oooOOOooo——
ACKNOWLEDGMENTS
Some of the history appearing here came from The Granada Theatres by Allen Eyles.  I am grateful to Mr. Eyles for this great book.