PAGE EIGHT

:
CONTINUING TO EXPORT
WURLITZER ORGANS TO THE UK
BRITAIN'S SECOND WURLITZER THEATRE ORGAN
-oOo-
It is of interest to note that the second Wurlitzer Organ to be installed in the U.K. was actually the third to be exported!
The second organ to be exported (31st December 1924) was destined for the Plaza Cinema, Regent Street and had 3-manuals and 15 ranks together with a piano attachment.
However, due to the cinema-building not being complete at the time of the organ's arrival, its installation was held back and it thus became the fourth organ to be installed in the country.  The Plaza Cinema eventually opened on 1st March, 1926.
The Plaza Cinema Lower Regent Street shown here as a Vue Multiplex
The organ was removed from the Plaza Cinema in 1967 and was sold to a private owner.  At some unknown time, it was sold and installed in The Dreamfactory in Degersheim, Switzerland where it remains today.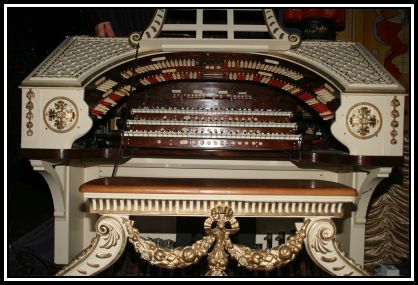 The Console of the erstwhile Plaza Cinema Wurlitzer Organ now installed at the Dreamfactory
-oOo-
Mr. John Wright of The British Dance Band website sent me a Dance Band recording of Harry Hudson's Melody Men playing How About Me, featuring actor-singer Phil Arnold (1909-1968) and the Wurlitzer Theatre Organ of the Plaza Cinema played by Charles D. Smart, and recorded (Edison Bell Radio Records) in March 1929.
How About Me – Written by Irving Berlin (1888-1989) in 1928
-oOo-
BRITAIN'S OFFICIAL SECOND WURLITZER THEATRE ORGAN
-oOo-
The official exported second Wurlitzer Organ to be installed in the U.K. was at the Palace Cinema Tottenham, which was the former The Tottenham Palace Theatre of Varieties.  The organ was shipped to the U.K. on the 21st February, 1925.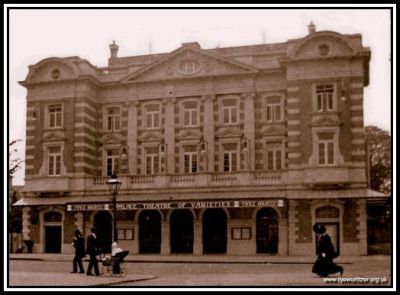 The Tottenham Palace Theatre of Varieties
The organ has 2-manuals and 6 ranks and was installed at the cinema and opened to the public by Jack Courtnay on 6th April, 1925.  The organ remained in place until August 1957 when it was bought by Rye Grammar School.  
The school became Rye College and the organ was eventually installed in its Milligan Theatre, named for Spike Milligan who once lived in Rye.  In 1993, the Friends of Rye Wurlitzer was formed to raise funds to restore and maintain the organ.  Recently the Friends have added three ranks to the organ and completed a number of other restorative projects including a lift to allow the console to rise up from beneath the stage where it is stored.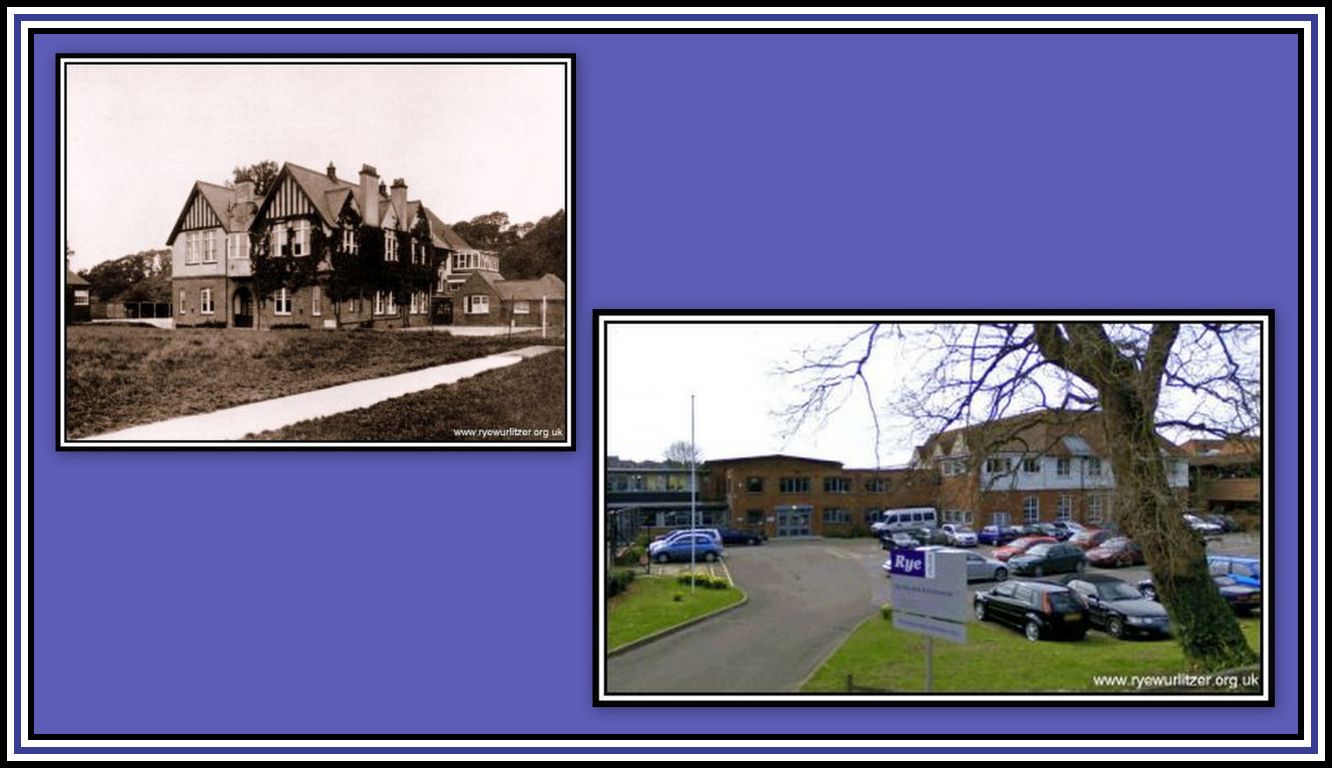 Left: Rye Grammar School; Right: Rye College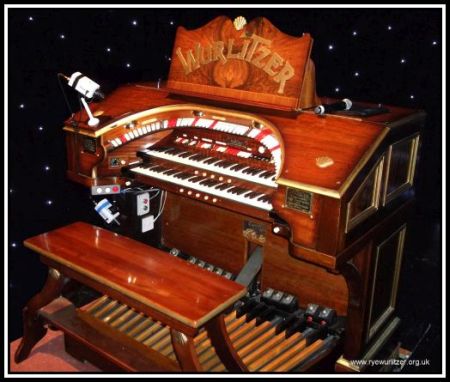 The Rye Wurlitzer
The photographs that appear here do so with the permission of the Friends of Rye Wurlitzer
Click here to hear the organ being played at the Christmas Concert of 1988
I would like to thank the Curator of the Rye Castle Museum for her help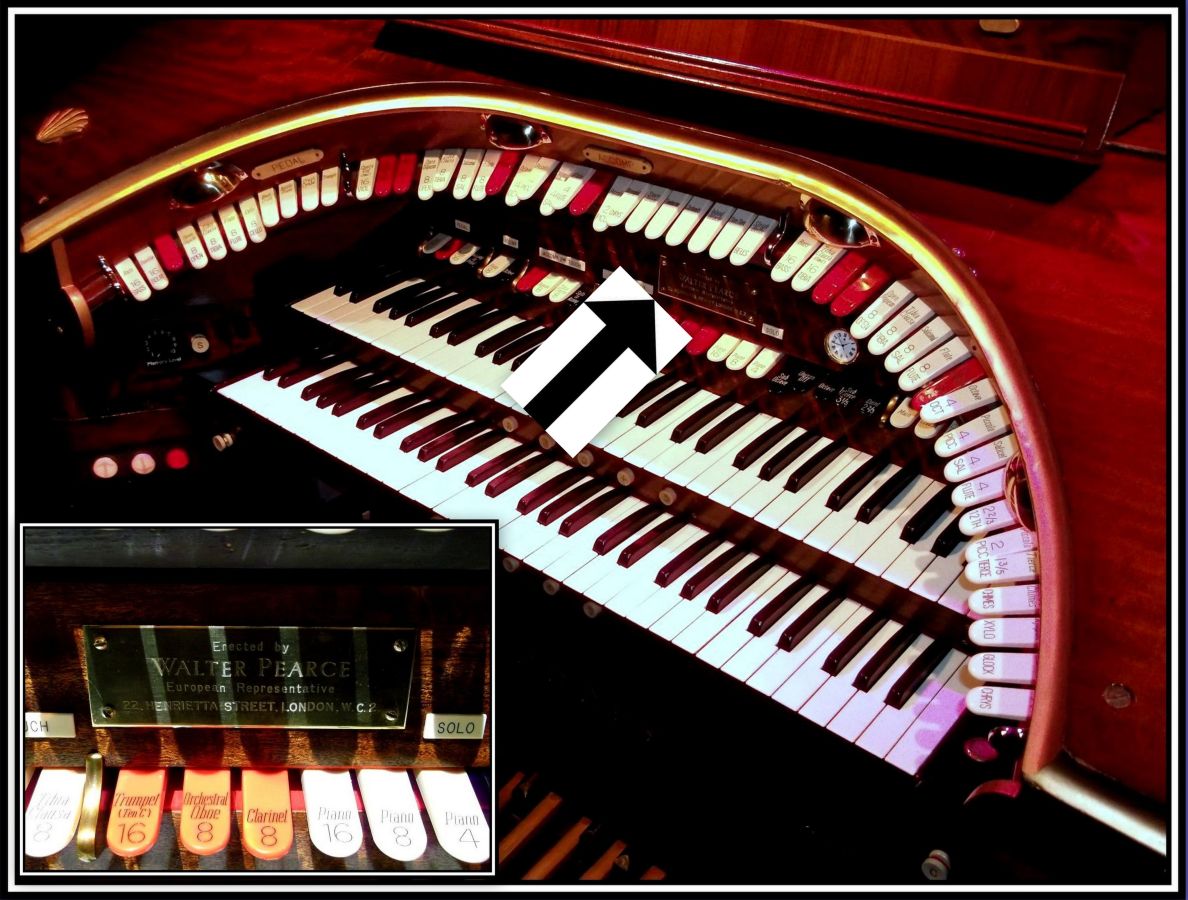 Plaque showing the name of the Wurlitzer U.K. representative on the Rye Wurlitzer Keyboard
-oOo-